Are you a startup founder or digital product owner who is looking for a dedicated team to build a product? If yes, then an offshore development team is the best option to develop your software product quickly and cost-efficiently.
In the current fast-paced competitive market, developing and launching software or digital products on time matters a lot for startup founders and business owners. Digitalization and advancement in IT have broken global barriers.
Today, businesses can connect to any team or resources to build any product. Especially in software or mobile app development, offshore development stands out as a highly suitable option. According to Verified Market Research report, the offshore software development market size is estimated to attain $283.4575 Million by 2030 at a CAGR of 10.13% by 2030.
However, hiring an offshore development team is not a straight-line task. There are many crucial things to consider while hiring a development team to create your application successfully.
We know being an early-stage startup, you need more resources to invest. You can't bear the risks of making any wrong decisions or selecting the wrong team. Therefore, to assist you with this. Here we have shared the complete guide on hiring offshore development for startup founders.
By the end of this blog, you will learn everything to make the right decision and invest your budget wisely.
What is meant by offshore development?
Offshore software or application development is a business process outsourcing method. In this process, clients or business owners hand over their software or app development project to a third-party vendor or agency in an offshore region. It means a startup based in the USA would hire a third-party agency from outside countries to build its product.
Hence, in the offshore development process, business owners don't build their products on their own. Instead, they hire dedicated mobile app developers or recruit an entire team from an outsourcing firm or company.
Offshore development companies offer multiple engagement models for app development. Businesses can choose any approach to allow businesses to build their products or apps in suitable ways. For instance, in an offshore or outsourcing process, you can hand over your entire project for development. You can hire dedicated app developers or resources to augment your staff or in-house team.
Benefits of hiring an offshore development team
Offshore development is an outsourcing method. It opens the doors to connect with development companies that are outside or native countries. Since the entire process works digitally, it offers plenty of benefits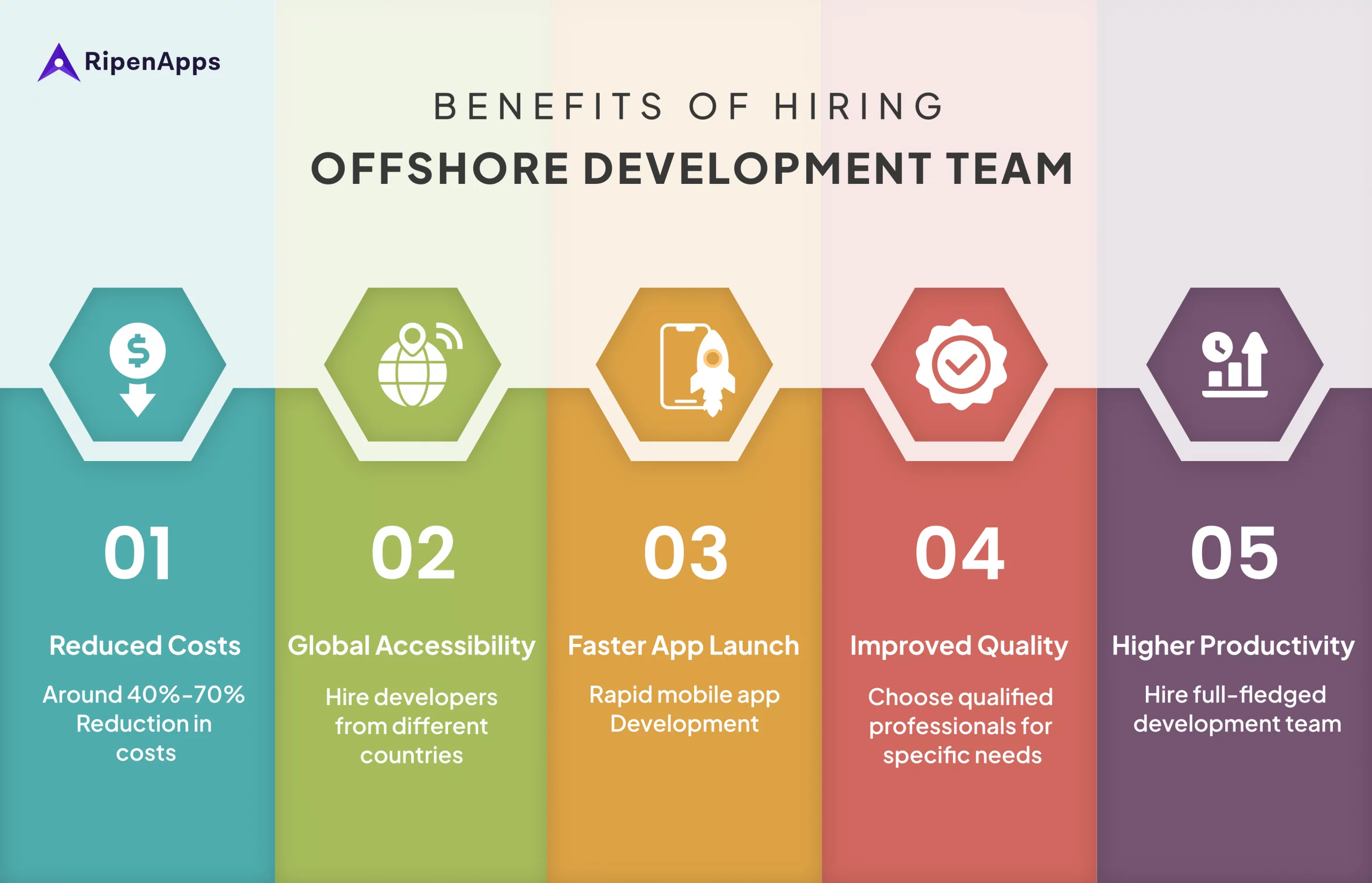 1. Reduced costs
It is one of the top benefits of hiring an offshore development team. Through this outsourcing method, you save significant costs in software or app development. According to a market report, businesses can achieve between 40%-70% reduction in development costs through an offshore approach. It is because every country has different rates of development services.
In the USA, the cost of mobile app development might go between $100,000-$200,000. Whereas, the cost of the same development service in India might go $50,000-$80,000. Thus, every country has different rates for software or mobile app development services. As a result, the offshore method gives a wide opportunity to build software or applications at lower costs compared to the home country. However, merely considering the cost factor is not enough to hire a mobile app development company. Pay attention to other aspects while choosing an offshore team.
2. Access to global talents
Offshore hiring opens access to global talents. Businesses or startups are not bound to work with developers or companies in their native country. The offshore allows to hire developers from a wide pool of talent from multiple countries. They can choose from the top-skilled developers at the most affordable costs. And this is highly beneficial for startup founders who look for top-qualified developers or digital product development companies at a cost-efficient rate.
3. Faster time to market
Startups heavily rely on faster market launch to gain competitive advantage as well as funding from investors. The more startup founder delays their launch, the more delay they capture audience attention and investment. Therefore, hiring an offshore development team is the best method for startups and business founders. It allows them to choose and hire desired teams and kick-start the development process very quickly.
4. Improved product quality
When you get access to a wider pool of talents across the globe you get better chances for quality solutions. You can hire offshore development teams from top mobile app development companies. You can choose qualified and specialized professionals in your team and get assurance of quality in your product solutions. Through the outsourcing method, you get the opportunity to properly evaluate the working methodology of companies. This, in turn, helps you determine which company better suits your project.
5. Higher productivity
When you develop a mobile app or any software product by hiring an offshore development team, you don't have to take the entire responsibility of the project. Your offshore development team or outsourcing company takes complete responsibility for your project. They have expert professionals, developers, and technology resources for turning your concept into a fully functional product. As a result, you don't have to involve so deeply in the development part. This gives you the liberty and space to focus on your core business.
How to hire an offshore development team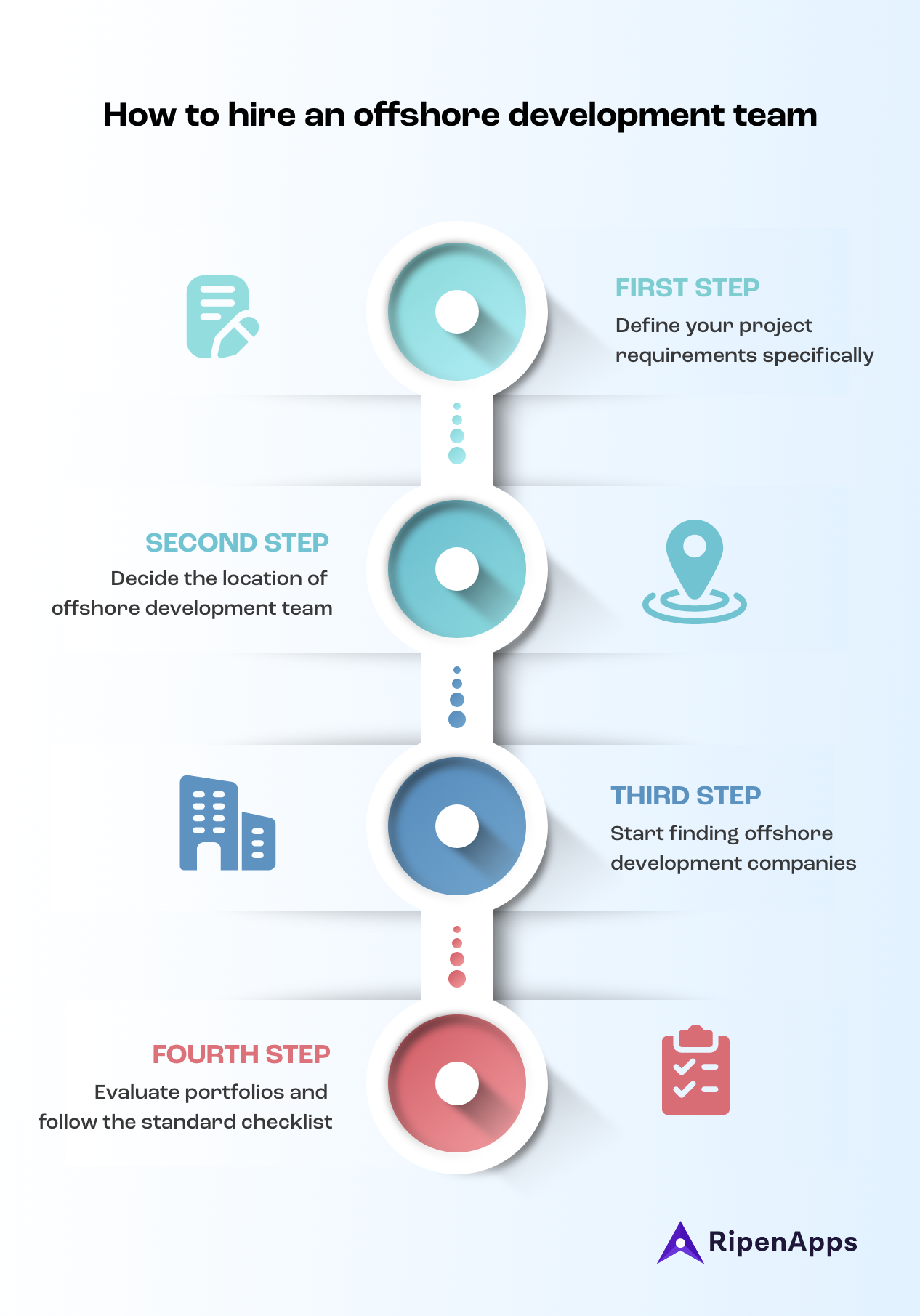 1. Define your project requirements
Before you delve into hiring an offshore development team the first task is to define your project requirements. Create a well-defined and written document that contains all the required information about your business or product concept.
What is the product or app concept?
How many are there features?
What are the business goals?
Which type of developers do your need?
How much is your budget?
This project documentation is important. It is because this will give a clear picture to the offshore development company. They would be able to allocate the right resources and deploy suitable tech stacks for development. Hence, define your project requirements.
2. Decide the location
You can hire offshore development teams or agencies around the globe. There are many numerous software or mobile application development companies in the world that offer a wide range of development services. You can hire dedicated app developers as per your project requirements from various locations.
For instance, if the cost of mobile app development is high in the USA. Then, you can hire mobile app developers from India, Australia, Ukraine, Malaysia, and other Asian countries. These countries have relatively lower rates of development services. And each country also has different rates and policies. Therefore, choosing a location is the foremost task in this process.
3. Start finding offshore development companies
Once you have decided on the location, it's time to find out offshore development companies. For this, you can search online at various websites or B2B company directories like clutch. These sites provide a wide list of companies, agencies, or firms that offer services for software or mobile app development. They also allow business clients to hire dedicated resources as per specific project requirements.
For instance, you can hire iOS developers or Android developers for your app project. But since you would find a huge number of companies on these platforms. Hence, you should take a look at reviews, portfolios, and previous customer feedback about the company or agency which you are choosing.

4. Go through the standard checklist
Every company claims to be the best of all. You can even get tons of positive reviews and attractive portfolios. But since you are hiring an offshore development team, you can make the final decision based on merely promoted things. Therefore, to ensure the right selection of the team, you need to follow a standard checklist.
Proven expertise and skills of developers
Previously delivered projects
Development methodology and pricing
Tools and frameworks they use
Team size
When you should hire an offshore development team?
There are various methods to build your software product or mobile application. You can recruit on your own and set you an in-house tea. You can also collaborate with your local agency or firm. But there are some special cases when hiring an offshore development team becomes crucial for the success of your business. Hence, when you are facing such situations, signs are you need to hire an offshore development team
Development from scratch
If you have got an innovative business or digital product idea. Then, you would need a full-stack development team for turning your idea into a fully functional application. This development approach would require feasibility analysis for digital product development success. Starting from ideation to development and launch. Hence, in this case, you would need an offshore development team.
Startups in the growing stage
Startups that are in the growing phase often need cost-efficient solutions to scale up their growth. When your product or application gains traction and requires the addition of some advancements or innovation. In this case, startup founders need faster and more affordable ways to enhance their products or app. Thus, they can hire an offshore development team as per their startup growth strategy.
Utilize specific skills
Sometimes startups only need specific development skills to upgrade or innovate their existing or newly-launched product. Startups don't require a large team to build a product from scratch. They only need to hire single or two-three developers for particular development requirements.
In this case, the offshore approach stands out as the perfect solution. It is because startups can hire any number of developers for specific skill set requirements. For instance, if you want to make changes in the UI of the existing app or product, then you only need to hire an offshore UI developer.

Limited budget
This is one of the top reasons why startup founders should opt to hire an offshore development team. Startups generally run on limited budgets and resources. They highly depend on cost-efficient ways for developing product solutions. Hiring offshore development teams is less expensive. So, startup founders can easily afford to hire app developers or other resources at the most affordable costs.
| | |
| --- | --- |
| Country | Average Cost (Per Hour Rate) |
| India | $25 |
| USA | $100 |
| France | $54 |
| Germany | $61 |
| United Kingdom | $93 |
| Sweden | $52 |
| Netherlands | $69 |
| China | $30 |
| Malaysia | $33 |
How RipenApps can assist you?
RipenApps is a globally-recognized company that provides best-in-class facilities to hire app developers for web and mobile app development. Here, we have the industry's top-qualified and certified in-house developers who possess years of expert skills in modern development technologies.
We can help you provide skilled offshore developers for multiple purposes. Our flexible hiring engagement models suit your financial and business needs. We value your custom project requirements, therefore, we allow you to choose and review our developers from our entire in-house team.
Wrapping Up
Hiring an offshore development team is one of the best ways for startups and business founders. It offers great flexibility and liberty to choose any developers or resources from global locations. With offshore methods, startups and businesses can quickly hire skilled professionals and build high-quality products or applications at the most affordable costs.
RipenApps is the leading offshore mobile app development company. We have the industry's top-qualified and skilled developers and different professionals who possess extensive expertise. You can hire dedicated app developers with highly cost-efficient and flexible engagement models.
Contact Us Now To Hire Developers
FAQs
Q1. How much does it cost to hire an offshore developer?
There is no certain figure for this since it depends on various factors. For instance, country, experience of developers, project requirements, etc. If you hire an offshore developer in India, it might charge you between $25-$30 per hour. Whereas, hiring the same developer in the USA would cost you somewhere between $100-$180 per hour.
Q2. From where I can find offshore development teams?
You can search for offshore development agencies or firms on popular B2B company listing platforms. For example, Clutch, GoodFirms, TopDevelopers, etc.
Q3. What are the typical roles of a development team?
A software or mobile app development team consists of different team members. For instance, project managers, business analysts, UI/UX designers, app developers, and QAs. Each member has a specific role and duty concerning the development process. However, the size of the development team depends on your project needs.
Q4. What services you can ask from offshore developers?
An offshore development team can offer your multiple services. You can hire dedicated app developers for specific tasks. Or you can also set up an entirely new team for your project. They can also be hired as staff augmentation to strengthen your existing development team on ongoing projects.
Q5. What are the challenges while hiring offshore developers?
Since hiring offshore developers involves various different things, you might find a few challenges. These could be different working time zones, cultural differences, Quality assurance and control, communication barriers, IP rights, data security concerns, etc.