Full Stack Web
Development Company
RipenApps is the leading full-stack web development company that brilliantly develops both the front-end and the back-end of a web application. We firmly grasp the technicalities of full-stack development and understand the end-to-end process from marketing to engineering, enabling us to provide a more seamless service.
Why consider a Full Stack Web
development Solution for your business?
You need to find the best software solution to fulfill your business requirement as a business owner. When you need to digitalize your business with the power of web app solutions, you should pick the full-range solution that enables your technical need of front-end, back-end, and other web development requirements. Full-stack development refers to the development of both the web application's front-end (client-side) and back-end (server-side) portions.

Since Full stack development is the new rage amongst enterprises trying to save on their development cost, full-stack web development is increasingly becoming the most in-demand skill in IT companies. Full-stack development involves both the backend and frontend of development taken care of by a single developer. Full-stack developers build the frontend user interface and the backend engine that powers the web applications.

The full-stack development team ensures that the frontend is engaging, the backend is bug-free, and the databases are properly integrated and managed. They provide all-in-one.
Having a full-stack web development solution can provide many advantages for any company. Having all the skill sets in-house is essential because this allows for better quality control and timely execution. Full-stack developers can provide an all-in-one service that will help take care of the whole process from start to finish. This means that no middle or third parties are involved, and everything is handled internally, which lowers costs and takes the stress off them.
500+
Apps Deployed on Stores
Leverage Plethora of Benefits by Hiring an
Experienced Full-stack Development Company
RipenApps is the top-approached full-stack development company that craft every possible web experience with the power of full-stack web development. We have a talented stack of a whole stack development team that possesses excellence in product development at every stage that consists of UI & UX strategy, DevOps services, web development stack, modern Agile, or cost-effective web solution.

We offer top-of-the-line expertise to develop high-performing web and mobile app solutions for your startup, SMEs, and large-scale enterprises. With a team full of tech geeks, we adhere agile software development approach and provide result-oriented Full stack development services.

At RipenApps, our team consists of full-stack developers, designers, QA and production deployment, and optimization experts to build scalable products. Outsource a full-stack development team from us to leverage the expertise of skilled MEAN.JS, ReactJS, VueJS, NodeJS, Meteor, PHP, and LAMP experts.

Frontend Development that fulfills Your Vision
We have a skillful team of full-stack developers who are experts at the latest front-end technologies like React, Angular, etc. Our team comprehends every tiny requirement of your business and then suggests the right framework, language, and library. At, RipenApps, our team adopts the agile approach that helps shape your vision with superior digital solutions. Committed to code quality, we follow result-driven CSS principles to operate large-scale projects.

Secure, Stable & Fast Backend development 
We possess an innovative team of custom back-end developers who adhere to a comprehensive knowledge of backend tech-stack. Hiring our backend developers helps you get your aim product as our team is experienced enough to adopt every latest technology and trend associated with the back-end web development. Keeping security, stability, and speed in mind, we channel every process that guarantees successful deployment.

Seamless Integrations & Tools utilizations
With capability and efficiency in seamless integrations and tool utilization, RipenApps come up with a team of full-stack developers. Our canny team performs pixel-perfect integration, e.g., payment systems, social networks, GEO services, business tools, email marketing, etc. We are also experts at building APIs that third-party applications can use.
Hire Dedicated Full-stack
developers at RipenApps
Full-stack web developers can design complete web applications and websites. They work on the frontend, backend, database, and debugging web applications or websites.
RipenApps is a top full-stack development company that possesses a team of talented full-stack developers. Our developers are skilled enough to build multiple web, mobile or desktop applications from start to end. They comprehend the insights of front-end and back-end tech stacks and adapt at every stage of software development, servers, databases, APIs, MVC, and hosting environments, among others.

Full-stack developers at RipenApps are experienced in developing flexible and reliable digital solutions. They are veterans enough to assist you in finding your path throughout the development life cycle. Full Stack Developers of RipenApps are adept with the knowledge of frontend technologies like Angular, React, Vue, and Backbone JS along with server-side technologies like PHP, Ruby on Rails, Node.js, Laravel, Python and databases like MySQL, MongoDB, Firebase, PostgreSQL.
Why Hire Full-Stack Developers from the Leading
Full-stack Development Company-RipenApps?
Every business aims to grow its customer base with a digital solution. Being a leading full-stack development company, we offer a valuable and well-designed product, communicate with your customers effectively, and understand their needs. The growth may come from new customers, but it often comes from the existing ones. We create and maintain relationships with current customers, which isn't easy when you are dealing with many people simultaneously.

These days it's not enough to have just one set of skills – we have a team of talented full-stack developers who are experts at delivering robust, scalable, and flexible digital solutions. Our team is well equipped to design a website, develop a robust digital solution, research competitors' products, etc.

Look to hire expert and experienced full-stack developers from a first-rate web and app development company to provide the best solutions cost-effectively. Our full-stack developers can brilliantly strategy and implement everything from design to configuring the server with the integration of APIs and third-party apps.
We have a team of full-stack developers with an average of 5+ years of experience and possess sharp skills in developing complex projects.

A Dedicated team of Full Stack Developer
A full-stack developer is a web developer with broad expertise in front-end and back-end technologies. Our full-stack developers are responsible for the whole stack of an application, including the front end, backend, and database. With this knowledge, they can choose which problem to solve first, based on their skill set and understanding of the problem domain.

On-Time Delivery of Full Stack Project
RipenApps possesses a team of specialized full-stack app developers who can work independently and deliver a project on time. With Agile methodology, which advocates frequent deliveries and high quality, it is possible to avail a successful full-stack project on time by handing RipenApps as your technical partner.

Cost-Effective Full-stack Development Solution
RipenApps is a leading company that provides clients with cost-effective, scalable, and innovative solutions. We are one of the best developers of custom software products in India. Our expert developers are skilled enough to execute your full-stack development project according to your budget and timeline requirements.

Continuous Maintenance & Support
With the shift to the all-mobile world, the demand for application development has never been greater in today's digital world. We, a leading full-stack development company, provide maintenance & support to Full-stack app development Solutions are experiencing significant growth in this area.
Swish Fintech
A smart digital solution to track the progress of a child at school.
Case Study
eGurukul 2.0
A Digital Gurukul to aid PG Medical Entrance Exams Preparation.
Case Study
Henchens
Bringing thousands of flavours at one platform to change the way India eats.
Case Study
Power Your Web and Mobile App Development
with Rich Full Stack Development Tech-stack
Our Full Stack developers gather and organize mission-critical information from vast amounts of data & tech-stack. We have a team of database developers with vast knowledge and experience in all the most popular custom database development services, technologies, and techniques.
Front-end
Mocha
HTML
CSS/SCSS
Bootstrap
JavaScript
Angular.js
Vue.js
Node.js
React.js
Backend
Ruby on Rails
Python
PHP
SQL
Java
Node.js
ASP.NET
Laravel
Team
Composition
Veterans, Trained by Talent, lead us; our full Stack developers craft SUCCESS under Roof.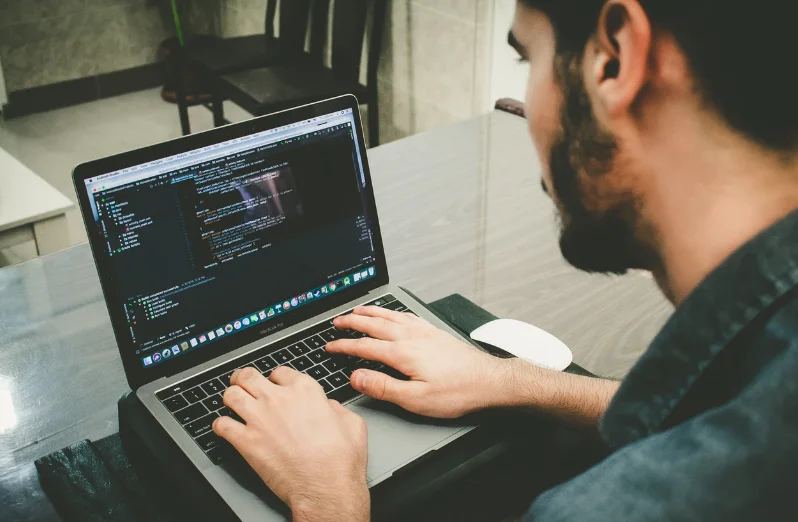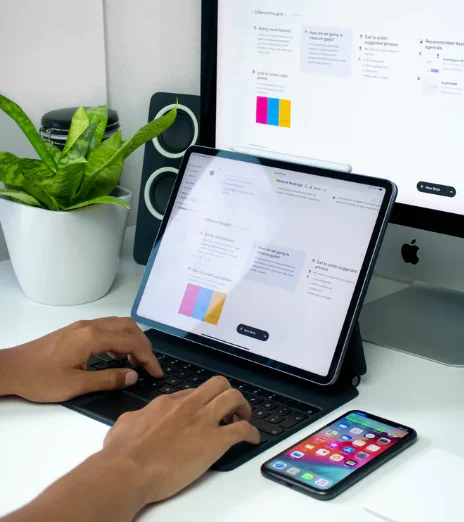 Business
Engagement Models
We help startups & brands work elegantly in mobile product innovation through problem-solving skills & profitable business engagement models.
Extended Team

We offer the Extended Team model to provide our client the flexibility to control the development team remotely where client can hire the unit remotely and pays only for the team but not for infrastructure under this is the cost-effective model.
Time & Material

We offer T&M model that is best suited for Agile projects and can use an hourly, weekly, or monthly rate for the amount of resources, materials or other expenses that were applied in the development process.
Fixed Budget

This model is best suited for small-scale projects with defined requisite. This follows a milestone-based roadmap; to be done under a fixed budget & all your operations and optimizing deliverables making them an expeditious affair.
Leverage the adeptness of full-stack development to achieve your business goals across industries
Hire full-stack developers from RipenApps to achieve your business goals across industries and business niches. As a leading full-stack development company, we conduct a thorough assessment of all factors to ensure the delivery of high-quality web development, along with testing applications and products. Some major industries covered by our tech-fit services:
FAQs
In case, you aren't able to find your answer, do write to us through our contact page.
A full-stack developer is a software developer with deep knowledge and experience in query language for front-end and back-end technologies, web services, frameworks, databases, and APIs.This is often contrasted with developers specializing in either the front-end or the back-end. A developer specializing only in the front-end will be good at HTML and CSS but not so good with JavaScript.
A developer specializing only in the back-end will know SQL but not work with UI code.
A Full Stack Developer is a developer who has experience in both front and back-end development.
The most common answer to the question "When do you need a Full Stack Developer?" would be, "If you don't know what a Full Stack Developer is, you don't need one."
Full Stack developer's job can range from developing a new app or improving an existing software to analyzing the data for specific business needs. The vast majority of jobs require the technical skills that Full-Stack developers have; therefore, they are not available hourly.
Some Full Stack developers charge on a project basis, but these are usually in-house freelance employees or agencies with freelancers that do not work hourly.
The following skillset is needed to have a successful career as a full-stack developer:

Web front-end development

Back-end web development

Mobile application development on both iOS and Android platforms

Database design and management

Design of system architecture

User experience design
To choose the right company for my full-stack development project, you should consider the following factors:

Team convenience and experience

Project cost and timelin

Expertise in technologies

Company reputation and transparency

RipenApps is the top full-stack development company that holds an experience of 5+ years and a robust portfolio of chartbuster products in the list. Hire our talented full-stack developers and kick-start your project. 
Award

& Recognition Corner

We RIPE great products that form great brands.
And Success & Smiles of these Brands RIPES US to surpass.

Award Room


Discuss Your Project

and Request for Proposal

Convert your idea into a digital product with top developers