If you have an incredible mobile app idea, it could make you rich and turn your startup into a billion-dollar unicorn company.
Take a look at the latest market data of the top-grossing apps of 2022 which generated revenue in billion-dollar figures.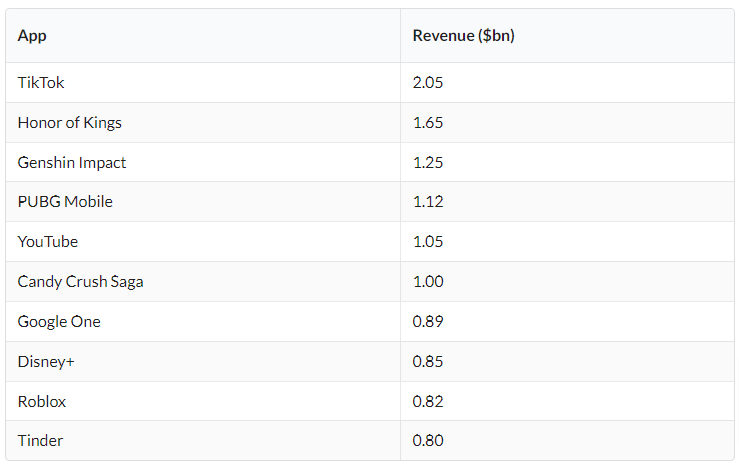 TikTok, Honor of Kings, YouTube, Candy Crush Saga, Roblox, and Tinder. These are the industry's widely-popular mobile apps which have recorded enormous profits.
This is the power of mobile apps. If you come up with a powerful and intelligent mobile app concept that has the potential to bring a massive disruption in the consumer market and business practices. Then, your mobile app idea could be transformed into a million or billion-dollar revenue-generating business model.
For startups and entrepreneurs, the mobile app market is a highly lucrative domain. At present, the way consumers and businesses are embracing apps in their routine life and daily operations, mobile apps are emerging as a future-proof and high-ROI digital product idea for business people.
However, developing a billion-dollar app isn't just easy. There are over 8.93 million apps worldwide. Out of that, very few apps have been able to make handsome profits. Source: Gartner
So to help you with this, today, we have brought a list of billion-dollar app ideas which have great market penetration potential and future scope. If you are a startup or aspiring entrepreneur willing to launch a startup with a highly-profitable mobile app development concept, these ideas can help you turn your dream app into a billion-dollar revenue model.
Let's dive into and take a look at the apps.
1. AR-based Virtual Tour App
Augmented reality and virtual reality are among the top emerging technologies in the modern age. It enables users to visualize their desired virtual environment easily and interactively on mobile and other electronic devices. And this ability of AR/VR technology makes it highly useful in developing an innovative travel applications. This app helps users to explore destinations and places virtually. It lets users get an interactive travel experience on mobile devices.
This AR-based virtual tour app eliminates the need for visiting places physically. As a result, it stands out as extremely helpful in travel planning, destination exploration, and making decisions. The best part, Google and other top brands have already introduced such apps. Many top mobile app development companies also report its growing trend in the travel industry.
Industry: Travel
Target audience: travel planners, tourists, hotels,
Why invest: Eliminates the need for a physical visit and gives a nearly similar travel experience
2. Women's Health App
Healthcare apps are undoubtedly future-proof app concepts. However, launching a dedicated mobile app focused on Women's health could be one of the great billion-dollar app ideas. Why? It is because of the growing prevalence of women-related health issues. For instance, osteoporosis, breast cancer, menopause, mental illness, post-traumatic stress disorder, etc.
This increased figure has widened the scope for more reliable women-centric healthcare solutions which are time and cost-efficient. As a result, women's health apps could stand out as a promising billion-dollar app idea. You can hire mobile app developers and consult a company for building apps. Particularly for women's healthcare features & solutions.
Industry: Healthcare
Target audience: Women
Why invest: Growth in women's health issues and the drastic need for solutions which offer easier and cost-efficient healthcare facilities.
3. Digital-Only Banking App
Digital-only is also among the billion-dollar app ideas. It could help you build a multi-million business model. Digital transformation has brought a dramatic shift in conventional banking. Days are gradually fading when people have to depend on physical banking. Nowadays, the concept of digital-only banking is evolving tremendously. According to GMI's report, the global digital banking market size is projected to attain a whopping $13.5 Trillion by 2032. Source
This app provides all banking facilities like opening bank accounts, saving and transferring money, getting credit/debit cards, and much more. It allows users to access all these services through a mobile app without the need to visit the bank office physically. Consequently, it reduces the cost and time of accessing banking services. Consequently, this gives customers better returns and profits as compared to traditional banking.
Industry: Digital banking
Target audience: General mass
Why invest: Offer better returns and convenient services than traditional banking.
4. Like-Minded Friends-Making App
Ever thought of a mobile app that allows people to make friends based on common interests? While there are many popular social media apps like Facebook, WhatsApp, Instagram, and Snapchat. All these apps have a million billion size user base. However, as consumer behavior and interest in changing, the need for a social networking app that matches like-minded people is high.
People are highly interested in using like-minded friends-making apps. There is a great demand for apps that makes it easier to find people who have common interests, hobbies, likes & dislikes. Therefore, building a like-minded friends-making app could be a billion-dollar app idea since there are very few apps in this category.
Industry: Social media
Target audience: People with a common interest in social networking
Why invest: There is a lack of such apps
5. AI Tutor App
eLearning app is among the fastest-growing mobile app development ideas. Due to the increased adoption of digitalization in the education system, the demand for more feature-rich and smart e-learning app solutions is enhancing. And AI tutor app is one such mobile app concept.  It has great potential to disrupt the online education and e-learning industry. Universities, schools, and educational institutions have to spend significant money and effort in hiring and managing tutors and SMEs.
AI tutor is an advanced and intelligent e-learning app development concept. This app utilizes artificial intelligence to create a human-like character that works like a tutor. It explains topics, interacts with learners, gives suggestions, and does other things. It is highly useful for both service providers and learners.  And it saves time and cost of learning platforms.
Industry: e-learning
Target audience: Educational institutions and learners
Why invest: Help in reducing the time and cost of learning services
6. Online Marketplace App
Developing an online marketplace could be one of the top billion-dollar app ideas. Today, online shopping has become a large industry. Hence, coming up with a consumer-friendly online marketplace app concept can assist you become a unicorn startup. You can analyze the current e-commerce and online shopping apps. And come up with a unique solution that is lacking in the present time.
For instance, develop an online marketplace app for buying and selling groceries, pet accessories, DIY crafts, creative arts, second-hand furniture, etc. However, this app may take substantial time to come to the top due to its competitive market. But how fast and great services you offer can help you take the lead in this domain.
Industry: e-commerce & online shopping
Target audience: buyers and sellers
Why invest: Most marketplaces are all-in-one concepts. People need specific and personalized buying and selling opportunities.
7. On-Demand Service app
On-demand service is one of the top-grossing segments in the mobile app development industry. According to the Grand View Research report, the global on-demand home services market size is expected to reach $14.7 Billion at a CAGR of 16.7% from 2022-2030. And due to its expanding growth, the demand for on-demand services will acquire more pace in the near time. It is because on-demand apps allow users to order or avail of a variety of services from mobile devices.
For example, using on-demand apps they can order food, call technicians for home services, etc. Thus, you can develop an on-demand app that provides a facility for accessing services that people need at present. Such as barber booking, home visits to doctors, electricians, SMEs, specific food or beverage, and more. For better ideation, you can also Accelerate Your Valuable App Idea By Picking the Right Mobile App Development Company.
Industry: on-demand delivery
Target audience: consumers
Why invest: Opportunity for solving consumer problems
8. Investment Apps
Investment apps provide expert guidance and facility to invest in stocks, trades, and mutual funds. These apps work as an effective and reliable way for investors. They help people who need good resources to make the right investment decision. Since it requires great knowledge and expertise in investing in stocks, trades, and shares. So, the popularity of investment apps has grown significantly at present due to their increased importance and market success.
Robinhood, Investr, Acorns, Wealthfront, and TD Ameritrade are famous investment apps. These apps have generated millions and some of them even billion-dollar business revenue. Hence, building an investment app could be a billion-dollar app idea in the near time.  It is because consumers will look for more intelligent and profitable platforms for investment.
Industry: Finance
Target audience: Investors, financial planners
Why invest: Huge market scope and a need for smarter apps for helping people make the right decisions.

9. Parenting App
Parenting apps are getting much more popular as people are looking for guided mobile apps for parenting. These apps provide curated content and expert tips on caring for and nurturing children. Parenting apps help families, single parents, and couples track and monitor their children's performance. It assists them to collaborate with experts anytime for getting assistance. These apps also help in blocking and filtering websites and content, recording child online activity, checking browsing history, etc.
Therefore, this app is acquiring the top place in promising app development ideas. As per The Insight Partners's data, the global parenting apps market is projected to rise from $472.4 Million to $788.8 Million by 2028 at a CAGR of 7.6%. Thus, you can come up with a useful parenting app idea that could help parents in maintaining their children effectively.
Industry: Parenting
Target audience: Families, parents, couples, schools,
Why invest: Need for an effective solution for controlling and maintaining children in a technology-driven age
10. Video Editing App
Remember the Face app? This app created a sensation worldwide through its incredible photo and video editing features. TikTok is another sensational mobile app. It penetrated the mobile app market rapidly due to its creative video editing feature. So by looking at the recent history of the mobile app market, video editing apps have demonstrated better capability to disrupt the consumer market.
This app provides a wider scope for bringing innovative features and offering something exciting to users. Thus, you build a mobile app with creative or intelligent photo or video editing features like Face app, or TikTok. And the chances are your app could also emerge among the billion-dollar app ideas.
Industry: Media & Entertainment
Target audience: Fun seekers, creative audience
Why invest: Data shows video editing apps have more chances of getting viral and quickly grabbing a large user base.

11. Sports Betting App
Online sports have become the fastest-growing market. It has broken the traditional barriers and empowered everyone to legally participate in sports betting and other activities. This app offer to invest and betting opportunities for a variety of sports and games. It empowers sports fans and the general audience to take advantage of their sports knowledge. This app also empowers them to use their experience for making money easily and quickly.
And therefore, the sports betting app stands out as a promising app concept. Startups and entrepreneurs who aspire to build a billion-dollar worth business model. Sports betting app is acquiring a bigger place in the eSports industry. It is due to extensive penetration of the internet and investment in sports technology by businesses. As per Statista, the sports betting market is rising by $218 Billion annually, with 30,861 companies generating handsome revenue.
Industry: eSports and online betting
Target audience: Sports fans,
Why invest: Online sports viewership is growing tremendously and contributing to sports betting
12. NFT Marketplace App
Non-fungible token (NFT) is the hottest trend in the current market. People are widely interested in buying, selling, and trading NFT collections and earning money and cryptocurrencies. It might sound astonishing to know some of the NFTs have been sold for over $90 million. As a result, the NFT marketplace has emerged as a new platform for people interested in trading NFTs. These NFT marketplaces allow users to publish their NFTs for auction. And also sell and also buy other NFTs and digital currency.
OpenSea, Rarible, NBA Top Shot Marketplace, and Nifty Gateway. These are the top NFT marketplaces that are generating million and billion-dollar revenues. OpenSea alone is the leading NFT marketplace which has reached a total valuation of $50.1 Billion in 2023. Thus, developing an NFT marketplace app that offers a facility for trading NFTs and cryptocurrencies. It could surely become a billion-dollar app idea for startups and entrepreneurs.
Industry: NFT
Target audience: NFT collectors, crypto investors
Why invest: The need for an NFT marketplace is already acquiring a fast pace due to increasing people's interest in trading NFTs.
The Bottom Line
Developing a billion-dollar mobile application is not a rocket-science work. You simply have to dig deeper and find out an incredible solution. And ensure it has great potential to solve consumer problems and disrupt the entire market in the long run. Conduct in-depth market research and analyze technology trends to forecast and you can come up with promising mobile app solutions.
And the above mobile app ideas have huge consumer demand and future scope. However, as the mobile app market is extremely competitive, you must take assistance from the best mobile app development company. They will help you validate your app idea and use modern technology to bring it into a billion-dollar revenue model.
How RipenApps Can Help You Build a Billion-Dollar App?
RipenApps is the industry's leading mobile application development agency. Here, we have a big team of highly qualified developers, experienced business analysts, creative designers, and diverse technology experts. We have helped a plethora of startups, entrepreneurs, and companies turn their dream app idea into high revenue-generating applications. Our team can assist you in ideating an innovative app concept and building a top-value mobile app solution.
FAQs
Which types of mobile apps are in high demand?
Gaming, entertainment, photo & video editing, productivity, and social media apps are the most-downloaded app categories on the Google Play Store and Apple App Store.
How to build a billion-dollar app?
Developing a mobile app is, however, easy. You need to consult a mobile app development company or hire app developers to build the app. The main challenge is to come up with a unique app idea that has great potential for market disruption. And then validate the app concept from an experienced team. It will allow you to check how it would solve user problems and what USPs your app has to offer for the audience.
Can I become a millionaire or billionaire by developing a mobile app?
Yes, there are plenty of examples of app owners who started with minimal investment and funding. And with constant improvement and innovation, their apps started generating revenues in millions and billions of figures. Connect with us to discuss your Project.
Contact Us