Online dating as the standard way to meet someone special isn't surprising news anymore. Nowadays 'meeting on Tinder' is plausible than 'meeting at a bar'. The Internet has digitalized many things revolving around us and finding soulmates is one of them. After the inception of the Tinder dating app in 2012, the online dating industry is growing faster year after year.
The new realm is entirely shifted on dating apps for their perfect match on Valentine's and for forever.
You must be thinking "Does it make sense to create a dating app in 2021?"
Of course, it does!
The market is flooded with various dating applications and out of all, Tinder has grabbed a huge marketplace and compelled many entrepreneurs & businesses to make a dating app that would be similar and yet unique
Of all similar platforms out there, Tinder is probably the most successful dating app and has compelled many entrepreneurs and software houses to make a dating app that would be similar and yet unique.
57 million users spend over 1.5 on the dating app on daily basis makes this business a high ROI generator & the largest user-base carrying business.
Top Market Players:

Some Astonishing Statistics of Current Dating App Market
Since the emergence of dating apps, users are finding it more convenient to find their love on the Internet and last year 2020 has added more users & revenue in the bags of dating app owners. Because due to pandemics, dating apps are more socially accepted than ever.
 Global Dating App Revenue in 2015 is $1.69 billion that has increased to $3.08 billion in 2020.
Global Dating App Users in 2015 is 185 million that has increased to 270 million in 2020.
Global Dating App Market Share of Tinder is 55 M
US Dating App Market Share of Tinder is 7.8 M
Global Dating App Projected Revenue is $5.71 Billion in 2025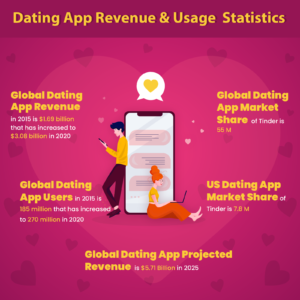 These mesmerizing stats prove that this is high time to dive and create your dating app. Having a mind-blowing dating app development idea? Here, we are ready to have the insights and expertise to take your idea on the road of success & will make your business a perfect match-making in 2021.
What are the Perks of Developing Dating Apps?
Online dating apps have marvelous advantages as it allows people to meet their perfect matches. People can search and find their matches in few swipes. It enhances communication and bridges the gaps between two unknown souls. With online dating applications or websites, one can increase & expand the search radius to meet people outside the area where you spend most of your time. Here find the other benefits that come with the dating apps.
Fast accession to the service
Cost-efficient option for busy people
Possibility to find a soulmate nearby
Remind you there are plenty of people out there
Clarifies your priority
A good option for introverts
Refine your wants/don't want in a partner
It builds confidence
Easier to walk away from the mismatch
Technical Aspects of Dating App Development
Uncover the core tech components and aspects in terms of significance and features of dating apps.
Key Features of Dating app
Here, find the major features of the dating application that make it widely usable among singles who look for their perfect match on the web.
Push Notifications
Push notifications are gentle reminders that notify users to stay updated with the events occurring inside the app. Notifications update you about the messages, matches, and profile recommendations are updated to the users through push notifications. Users need not waste time waiting over the app for the activity to be noticed. These are the major features that are necessary and will ensure frequent returns & user engagement to the dating app.
Login via Social Channels
Users can log in with their social networking channels I.e, Instagram or Facebook. Then, users can integrate their Facebook and Instagram profiles with a dating app account. Such social authentication helps the platform to become more trustworthy.
Users Profile
Creating a user profile is a significant feature in any dating app. Users need to create a profile with the help of any existing social media profile because this is the more authorized way to enable access to users without having an app remember the login credentials every time a user logs in. Creating an account on any dating app is a hassle-free & smooth option.
Matching
Matching is a significant part of dating apps. People log in to your app with the hope of a positive end and if you are building a dating application then a match-making/swiping feature is necessary to integrate. Users can browse the pictures that pop out at the screen where the user is allowed to like or dislike them.
Real-time Chat Feature
The real-time chatting feature is one of the necessary features after match-making as the couple having a mutual interest can easily get connected on chats. Hence, the foremost thing is to have a match and then a real-time chat option should also be there to keep users hooked with the app. In the chat option, users can send emojis & Gifs to keep messages interactive.
Geolocation & Communication
One of the cardinal strength of your dating app development is the feature of geolocation. The main concept to integrate this feature is to find the people nearby within some fixed radius. When you place your app development team to process the dating app development, just make sure that implementation of geo-location API & Core Location should be done there.
User Blocking Option
To give the users full privacy & flexibility, the users blocking option should be there because when it comes to dealing with the user's issues, the app should be fully functional. If a particular user chooses not to get a message from another user, then they can block the users. This is to ensure that the chatting does not reach the point of complexity.
Technical Attraction: Different Matching Algorithm
After unlocking the benefits and features of the dating app, it's time to have a glimpse of technical attraction because a business owner should know the matching algorithm before going to dive into the dating app development process.
The dating app uses a wide variety of matching techniques to match up partners who like each other.
Location Awareness
It's always great to find the match in your area because it increases the chances of a positive outcome. Dating apps integrate GPS components in their matching algorithm to find the match in your selected location and enables you the choices to like or dislike & app lets you decide whom you want to chat with or whom you don't.
Mathematical Basis
A mathematical algorithm is also a widely used technology that connects people by finding based on answers they have given to a questionnaire. This algorithm is based on the compatibility generated through the answers given by the people to have in their match.
Behavior-based Matching
Question-based compatibility checking is quite interactive & productive way to find the perfect match but in some case, people hide their qualities and provide inaccurate data about themselves & this lead a miss-match. The solution is using behavior-based matching. This matching algorithm is quite complex from the previous two because it operates with the data collected from outside sources such as profiles, social networking accounts, their playlists, visits, etc. Here, the usage of the Big Data approach helps to find the right match.
How Much does it Cost to Develop a Dating App?
The amazing facts and stats, captious developments, innovations, and features have already been covered above. Let's talk about the cost of developing a Tinder-like dating app right now. Several factors depend on the total price. Your development team's hourly rate, the number of functions, as well as their complexity, contribute to the overall budget.
The Cost of the Creation of Dating Apps Depends on:
Platforms for mobile app development (iOS or Android or both) that you want to choose.
Features and innovations you want to create
The whole of incorporation that you want to protect.
Hourly rates of developers of mobile apps that you can employ.
Be clear about your budget as to how much you want to spend in the creation of the dating app. Also, describe the main dating services to your chosen mobile app development company that you want to offer your clients.
Place your curiosity at [email protected] and let your online dating business grow with us. Connect with us to discuss your Project.
Contact Us