"Health is Wealth" is not merely a phrase to speak but it's a factual statement that simply means that our good health is our real wealth which gives us good health & intuition and enables us to fight against all the challenges of life.
If good health is this important, then it should be cured at any cost. Whether it is an outbreak or any hurdle, nothing could stop curing the health of yours.
Technology, along with zeal of curing people's health, becomes a marvelous combination and has given rise to mobile healthcare apps. Mobile apps are like a boon to the healthcare segment that helps people to make their wealth safe-health safe.
Mobile apps can break any outbreak and makes everyone's lives healthy.
Recently, the entire world is struggling with an outbreak, and healthcare apps are playing a pivotal role to cure the patients via making them all alert about the rise of disease and also make seekers connected to the doctors directly for the healthcare consultants.
mHealth devices & apps have already paid vast support to medical segments. They have already found themselves a hero into clinical trials, medical practice of several doctors & into the life of diverse health-seeking users & patients as well.
How stats prove the demand & importance of Healthcare apps.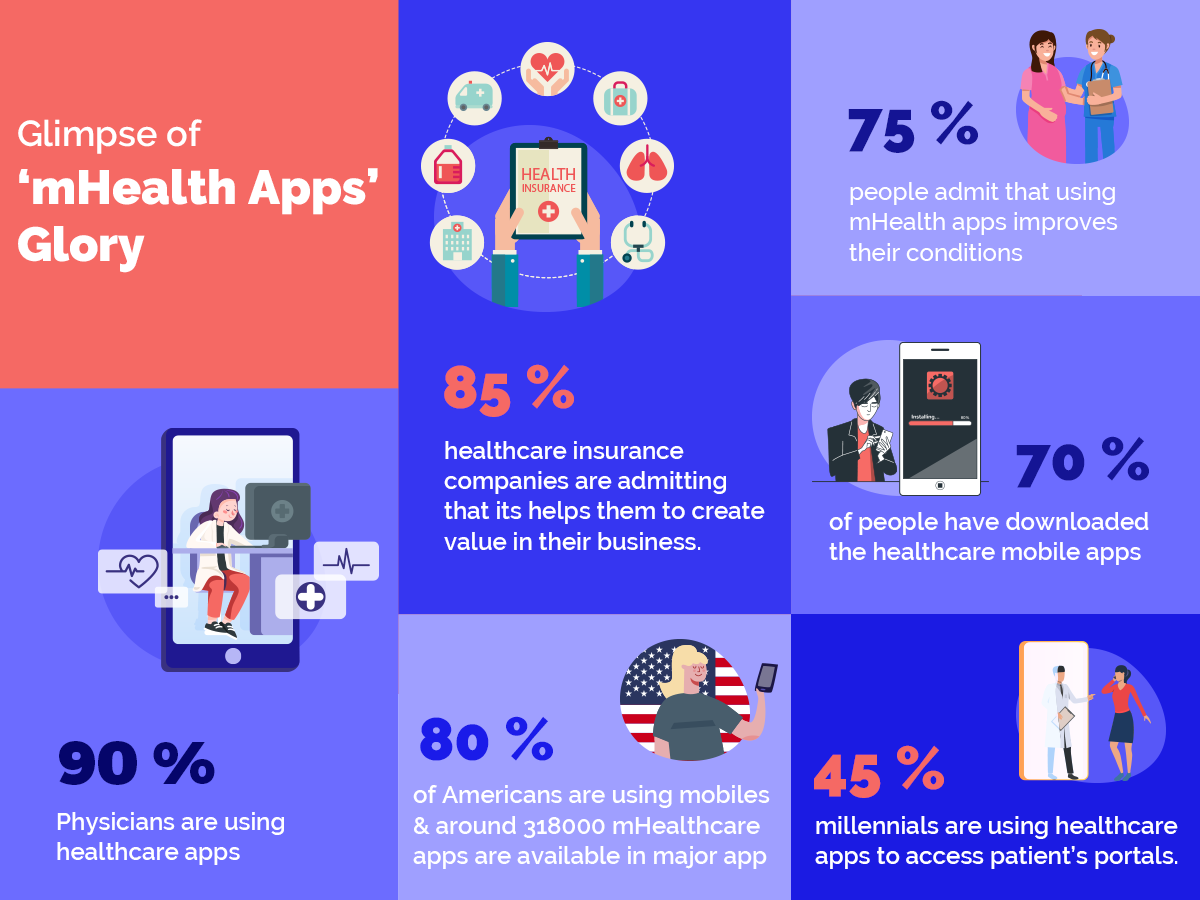 The market says:
80 % of Americans are using smartphones, & around 318000 healthcare apps are available in the major app store to cure the people's health, and over 70% of people have downloaded the healthcare mobile apps.
90% of Physicians are using healthcare apps.
43% of millennials are using healthcare apps to access patient's portals.
74% of people admit that using mHealth apps improves their conditions.
85% of healthcare insurance companies are admitting that it helps them to create value in their business.
 Why a business should opt mHealth Apps: 
Healthcare apps are reducing various hurdles coming in between the healthcare system.
Comfort & Convenience
In numerous zones the world over, particularly nearby and remote ones, there are relatively few clinical advantages. Thus, they need to head out far to see a specialist and get the correct treatment. Or then again trust that weeks for a specialist will visit their place. Also, this circumstance turns out to be much increasingly basic when the patient is a child or a senior individual.
Healthcare apps connect patients directly to their concerned doctors via eliminating the glitches like traveling very far to see the doctors. Healthcare apps give ease to the people that live in remote on taps.
Patients overwhelming by the app solution
A healthcare mobile app gives patients a getaway from visiting facilities and clinics for subsequent appointments, having medical facilities, appointments lack, or getting some data about remedies over and over.
Medical apps remove the in-between glitches and make appointments easy. Healthcare apps give better help to all the patients continuously by a call or message, which improves their experience level and results.
Elimination of administrative work 
One of the prime favorable circumstances of healthcare apps is that they let medicinal services professionals and patients track all the details on mobile. This facility of healthcare apps makes timeless for the people and eliminates the paperwork of the people who seek medical facilities.
Lessen hospital admit phase
Healthcare apps give people an opportunity to make their health issues lessen and make patients get their medical facilities. With the help of healthcare mobile apps, people are making their health get balanced without getting admitted to hospitals. Most of the issues can be eliminated via a connection with the mHealth apps.
Cost-effectiveness comes via mHealth apps adoption
By providing healthcare services accessible via healthcare apps, the expenses have been lessening due to the elimination of traveling to hospitals, appointment papers, etc. cut down the expenses of availing medical services.
Balance in work-life
One of the top favorable circumstances of these apps is that they empower doctors to talk with patients in any event when telecommuting or traveling. Mobility solutions let them make a virtual visit to patient's homes and convey the perfect healthcare solutions. This makes doctors and patients ease in balancing their situations.
ROI is also appreciable 
Healthcare apps let doctors have an ordinary progression of patients without spending more regarding medical clinic staff, framework, and hardware. Along these lines, these apps help doctors in getting a charge out of higher ROI.
Major Pointers that should be considered in Healthcare App Development
The purpose should be focused  
There are various healthcare apps in the market that are catering to the wellness of people like fitness tracking, doctor booking app, telehealth apps, medicine delivery apps, etc. These all the medical offerings that a healthcare mobile apps provider to all and apps falls under these all categories. Focusing on a single operation that needs to cater to the audience should be chosen wisely.
Focusing on single services to everyone's application could be more beneficial to target. So the recommendation is that one should pay clear attention towards a single operation that apps are going to perform within a single platform. 
Easy & flawless UI & UX
Eye-captivating UI UX is the heart of any application. The bad presence of UI UX could ruin the value of the app. You must ensure that the UI UX that your application posses should be eyes-captivating and highly innovative so that once userland to your app, they feel a smooth and flawless experience while using the app.
Security should be Tight
Apps free from any fear are the most approachable apps. Hence the mHealth apps should be compiled with all the security barriers that could stop any unwanted threats that come while using mobile healthcare apps. Everyone should focus on all the apps features.
Brilliant testing of mHealth Apps
Healthcare apps should be tested wisely before its launch. Because once handed to the people it should have no bug and no other hurdle related to its operative and interfacing terms.
Wisely chosen tools & technologies
Tools and technology play vital roles in the success of mHealth apps and healthcare app development. Choosing a particular tech-stack is the torchbearer for healthcare app development. The latest technologies consisting of AR, VR, Artificial intelligence, makes healthcare apps more interactive.
Advanced Technologies can Make Healthcare Apps more Interactive: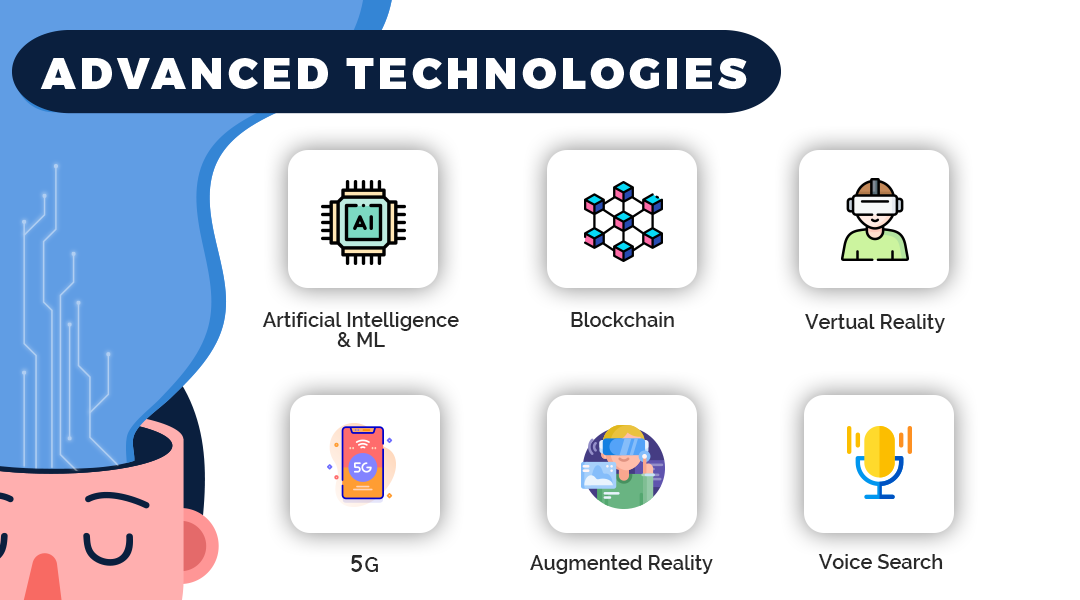 Major Features that need to be integrated into Healthcare app: 
Admin Panel
Simple login to admin: 
An administrator can sign-in effectively to deal with the app and records of patients and doctors.
Dashboard:
The dashboard has total bits of knowledge of healthcare app, for example, reports, and analytics and data records. Admin can get to or deal with doctor's and patient's profiles.
Send push notification from admin panel: 
Admin can send notices identified with the offers, new updates, products to the clients.
Promoting tools: 
Marketing exercises, for example, email marketing, social sharing, online campaigning, and publicizing, are overseen by the admin.
Oversee payments: 
Payments made by clients/patients utilizing in-app payment choices are overseen by admin.
Get the subscription sum from doctors: 
Admin can deal with the Subscription sum paid by the Doctors and patients.
Deals with the list of doctors:
Super Admin deals with the lists of Doctors and Sort it According to the need and prominence.
Deals with the category and sub-classification: 
Admin can make the classifications for patients and specialists. That which branch they are managing in and deal with the pursuit channel and list the specialists as indicated by them.
Oversees appointment request and updates between the doctor and patients: 
Admin deals with the arrangement demands as indicated by the date and time inclinations of both the patient and the doctors. Additionally, the admin refreshes the data change between the Doctor and the patient.
Doctor Panel 
Registration for the doctors:
It simply pursues doctors. They can enlist by giving their own data and mail ID. It's anything but difficult to click and go.
Simple login: 
They can without much of a stretch login to the app with their Email or Gmail they have given while enlisting themselves.
Making a profile:
Creating a profile is simple and convenient. Transfer an individual identification size photograph. Filling the necessary data in the form. Giving the specialty, Experience, Clinic Details, Check Up Fee, Address, and Contact.
Oversee appointment time:
A doctor can oversee/show their appointment time and accessibility to meet the patient on the app.
Doctors confirmation: 
A doctor can give affirmation if he/she acknowledges the request dependent on the date and time inclinations of the client and himself.
Patients Panel 
Simple sign up or sign in: 
An individual can undoubtedly Sign Up or Sign In utilizing their personal accounts.
Required information:
An individual ought to enter the necessary clinical data if he needs to counsel on the web or need to have a registration.
Looking and counseling doctors:
It's simple with this app to counsel a Doctor. Give the data with respect to your condition, your favored area, and if you know the doctor's name or emergency clinic name, look for it. You will locate the proper outcomes, and as indicated by it, you can visit a doctor, or you can counsel the doctor on the web.
Choosing doctors: 
You can likewise choose the Doctors as per your indexed lists or from the list of specialists as per your channels you have entered.
Profile of doctor: 
A patient can likewise check the doctor profile and his claim to fame; additionally, you can check what are his meeting hours, registration expense, and the center area.
Search medicine: 
A patient can look through the medication online in the app itself.
OPD consultation:
A patient can book OPD Consultation through the Application and can have a conference ID.
Care plan: 
A patient can set his consideration plan as indicated by what services are required. In this arrangement, an individual can likewise add a measure of money to be paid when an individual counsels doctors. They're a lot of services gave.
Different Features 
Easy to use :
An easy to use or simple-to-use User Interface enables your clients to comprehend the usefulness of the app with the goal that they can without much of a stretch discover a doctor or book arrangement in an exceptionally helpful manner.
Prescient search: 
Having this component in the healthcare app will assist you with finding the doctors, medical clinics, centers by their names and areas.
Update :
Having this component in the healthcare app is commendable. This element reminds you of the time and date of the arrangement. You can set an update for medicating solution when required.
Geo area: 
You should have this component in your healthcare app. It causes the patients to discover the doctor's center or clinic using the briefest conceivable way.
Keen filter: 
Keen channel encourages you to search the doctors by their specialization, experience, rating, counseling charge, degrees, area, rating and surveys, and so on.
Call A practitioner or an emergency: 
Utilizing this component, you can straightforwardly approach a crisis from the featured clinic's list.
How much does it cost to build a Healthcare app?
Healthcare apps have changed a ton lately. Mobile App Development is the main purpose of the boon of healthcare applications. Each industry has its own application. These days' individuals no more need to book an appointment over approaching the phone, yet they book it by doing as such on the app and can leverage various medical facilities.
The cost behind healthcare app development changes as indicated by your requirements. Creating Mobile Healthcare application in one Native Platform (iOS or Android) is very higher or costly than building an application in Hybrid, React Native, and Progressive Web App.
RipenApps Technologies gives app development & app consultant services and IT solutions for medicinal services, Doctors, Hospitals, pharmaceutical, Fitness Trainer, and others. The expense to make a Healthcare application could be run in as per your requirement arrives. Contingent upon what you need in your Healthcare app, what services you need to be there in the mHealth application.
For further inquire, we welcome here at sales@ripenapps.com. And our business consultants would be happy to serve you their best.