Craving for home-made food? And you want to cook for yourself? But imagine, you have headed towards the kitchen but you didn't get the related ingredients. You must be getting sad. Now, there is the only way to get those ingredients is hanging your bag at your shoulders and heading towards the market. It will surely kick your mood off but what if you get your desired ingredients at your doorsteps in few minutes without stepping a single step ahead? The ease of getting your daily desired items delivered at your place is a heavenly experience and it's not only for customers but the entrepreneurs who want to make their business at its highest peak in this productive market by providing customer's need at their place whether it is a normal situation or an outbreak. One answer- Grocery app development.
Mobile App Streamlines & Stimulates Grocery Business
Delivering desired grocery items to every customer's doorstep is establishing a revenue-generating business as users are turning & relying on their Smartphones completely.
Well, leveraging the benefits of mobile apps for grocery business and looking for grocery app development will be an astonishing business idea that will yield impressive revenue.
Unlock the essentials related to grocery app development like-, features, and its market here.
Amazing Facts of Grocery App's Popularity
30.4 M Grocery app users (adult) is projected in 2022 in US
$59.5 billion Online Grocery App's revenue is forecasted by 2023
55% of people aged between 25 to 34 purchase their groceries online
45% of people aged between 34 to 45 prefer grocery shopping via apps
35% of people aged between 45 to 54 rely upon online grocery shopping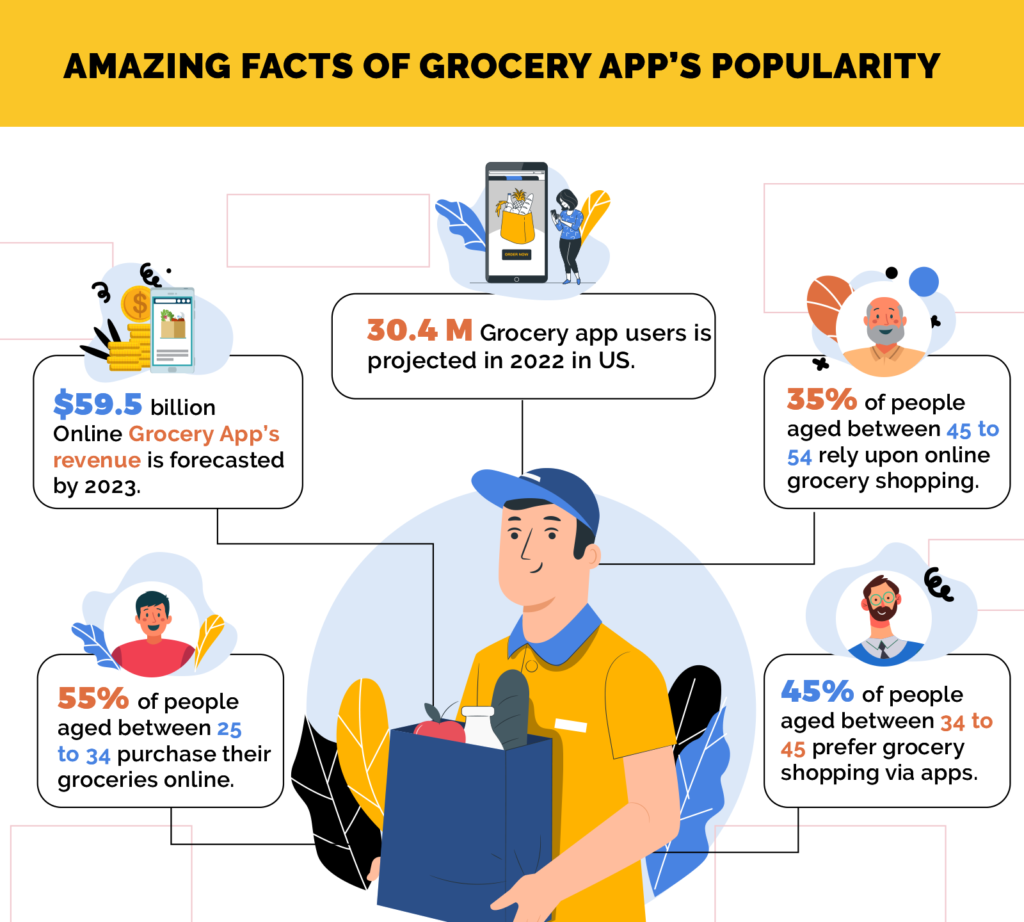 Well, the positive and amazing growth of online grocery shopping in terms of revenue forecast, users' forecast, and mesmerizing number of user-base made grocery app development a smart choice for the leading business owners.
Many market players are already in the race who will be the competitors as well as your object to observe and make your grocery app a winning one among them.
Top Market Player in Race of On-Demand Grocery Delivery Market
InstaCart
Grofers
Farmigo
FreshDirect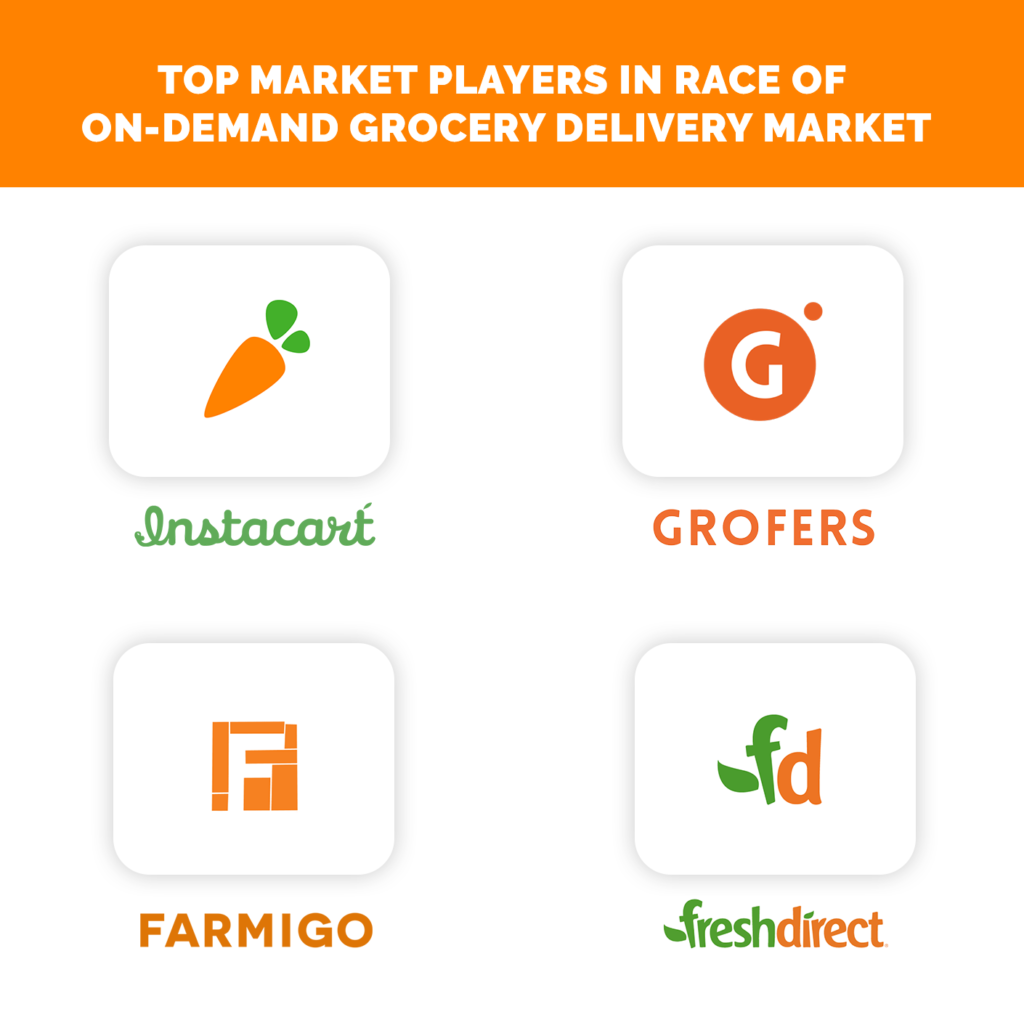 After seeing the mesmerizing growth figures & market value of grocery apps will surely turn you towards thinking about developing grocery apps for your own business. So, all you required to know now is how to build your grocery shopping app?
How to Develop a Grocery Shopping App?
To start with, make your necessities what you need to sell online and what location you going to catch that dependent on that no one but you can set up your delivery impediment to delivering your order.
Here we are bringing up some significant focuses that you ought to consider before begin building up your grocery app:
Demographics:
First conduct small research using on the web or even you can do around you what age gathering of people groups are the greatest use the mobile app to buy online. If close by most extreme youngsters around and there is the max likelihood they have been doing shopping online since they would prefer not to go to the shop.
Interest:
Conduct extensive research on the interest of the people. Attempt to hear a few people's points of view, what they have thought about that climate they are searching for such sort of alternatives, And keep make a note dependent on their demography and interest that will get you out to build your app with customers practices and what are they searching for?
Geo:
The first and most significant thing is the Geography or area where you need to do online business. Simply do a study through the internet and discover what number of internet users and mobile users are accessible as your focusing on your business area.
Delivery:
Are you ready to deliver your products where you are focusing on your business.
Products:
Which product would you like to sell online, regardless of whether you need to sell lightweight, small goods or you likewise need to sell overwhelming products online.
Payment Options:
Do you need to save an online payment choice for your users or you need just COD choices.
Zone of interest of Users:
Do a study of what individuals love and what they are searching for online to purchase.
Costing:
You should check what will be the costing charges for your vehicle and delivery alongside government cost.
After knowing the important area of focus where we need to look before developing a grocery mobile app, app development companies have curated amazing features that should be embedded in the grocery app to give mesmerizing results.
The Primary Features of On Demand Grocery Apps
Features that makes grocery apps a smooth operating & vast approaching and that need to considered while grocery app development is listed here.
Feature List Of Customer's Side Application
Sign In/Up:
The main screen of the app where user can register via landing their and social media should be integrated to make the sign in/up process a bit easier.
User's Profile:
User can update or make their profile by filling the required details consists of name, contact number and account details etc.
Product Listing:
App should be filled up with various products so the users can browse their favorite or desired one.
Search and Filter Bar:
User can have option to search and filter the items according their need and budget.
Cart & Check-Out:
Add to cart & check-out functionalities should to be accessible in the app to make the entire ordering process simpler.
Payment Options:
App should be integrated with various payment methods so that users can get their payment done via their convenient option.
Wallet:
Wallet integration should be there to streamline the payment process and keep users free from carrying cash or adding money again and again.
Coupons:
There should be facility of coupon and vouchers should be added into the app to simplify the discount option.
Real-Time Tracking:
Real-time tracking of the orders reached to the users should be added into the app.
Time-slot for Delivery:
Time allotment should be mentioned there to make the workers committed towards the delivery so the users can get the delivery at the time.
Visit Order History:
Users can check and visit their order history to cross check their order- current, pending, delivered.
Review & Ratings:
Experience should be shared via customers on every specific orders.
Help/Customer Support:
User can get the help and assistance at any point of query.
Notifications:
Pop-Up messages should be there to notify users about the current and upcoming notifications.
Feature List Of Driver's Side App
Delivery Request:
The drivers' app managed with your app ought to be allowed to allow or deny a specific order.
Notification:
A notification for every order arrival, dispatched, ordered through pop-up messages.
Map Navigation:
Map navigation should be integrated within the app that lets the drivers notifies about the location of delivery every time.
Guide:
Inside the navigator guide, you should give the direction to assist drivers with turn by turn route being told so anyone can hear.
Availability:
If the driver is available at time of order of time and if available how far the driver is- all is accessible in the availability or accessibility section.
Delivery Time Bars:
Users are allowed to choose the delivery time slot according their convenience.
History of Work:
How much time drivers have worked, the login time etc, all are required to consist within the driver app's work history section.
Earning & Reports Analysis:
The total earning amount, hour and other required details would be present with the invoice and other prescribed details here.
Ratings/Reviews:
Drivers can also review and rate their users based on receiving behavior and others.
Help/Customer Support:
Same as users, driver's app is also integrated with the help & support features so that the proper assistance and help can be deployed to the drivers where they needed.
App's Admin Side Features
User Analysis/Management:
Admin of the app have right to manage the users within the app, they can edit and include the users.
Item Analysis/ Management:
Admin will have the option to manage the product within the app according to their details and can alter them also.
Delivery Management:
Admin should be on the orders that are being made inside the app and allowed to look-over the orders.
Driver Administration:
Driver management is one of the specific features that should to be available in the admin board so that admin can manage the driver's details within the app.
Password Arrangement:
Choosing password is the right of the users, but admin can likewise have the passwords in the database.
Edit & Removal:
Edit and removal can be done in the admin app where user's data and product arrival can change according design of the app.
Payment Supervision:
Every payment detail made inside the app including the discounts and coupon to be made accessible to the admin easily.
Promotions and Discount:
The admin would be given the total access to run discounts and limited-time offers over the entire app.
How Much Does It Cost For Grocery App Development?
You may be looking to get the notification of How Much Does Grocery App Development cost. All things considered, as we know that Online shopping for grocery apps urges the users to make an upfront investment the most invaluable way using their smartphones, tablets promptly accessible.
Everybody looking for more easiness, the grocery apps will moreover be boosting the market economy later on. Along these lines, don't make any misgivings in your brain and approach the reliable & leading mobile app development company in app development to create your grocery app by understanding your pocket weight.
Conclusion
RipenApps is the leading grocery mobile app development company that delivers chartbuster & feature-rich grocery apps and will make your business a high-profit yielding business and will make your business a weapon to fight against all the outbreaks that are coming in our way to live our lives with comfort.
Let your all the doubts waived off by hitting a mail us at sales@ripenapps.com and we would love to be your tech-hand.