Are you searching for a mobile app development company to outsource your app project?
Before you start digging the internet and finalizing your outsourcing partner, it is important to understand engagement models and choose the right one for you.
Why?
Mobile app development is a complex process. It involves various teams and technology resources to turn a raw idea into a fully functional mobile application. From ideation to design and development to deployment, every phase affects the quality and overall cost of your project.
Any flaws in managing your mobile app project may not only hamper the outcome but also increase your budget. Choosing the right engagement model can help you achieve the best result and save valuable resources. Therefore, it is important to have the understanding of different engagement models and determine the right one as per your project requirements.
If you need assistance with this, here in this blog, we will discuss various engagement models for partnering with a mobile app development company. By the end of this blog, you will get in-depth knowledge and ensure you build your app successfully and avoid potential financial loss.
So let's get started.
What Is Meant By An Engagement Model?
An engagement model is an agreement or framework that defines the working methodology between the client and its outsourcing company or agency. It primarily involves the obligation, responsibilities, commitment, rules, tasks, and deadlines of the engagement. It specifies the level of control and duties for all the involved partners. All of these things are set as a legal contract fully documented in written form and signed by both parties.
Why There Is A Need For An Engagement Model?
Developing mobile apps is not an easy task. It incorporates various tasks like product research & discovery, app design, project management, business analysis, development, quality assurance & testing, and deployment to the app stores. Every process required a dedicated approach and sufficient hours and cost to successfully deliver a fully functional product.
Hence, when you choose a service provider or an app development agency for outsourcing your project, you will need a predefined set of guidelines. And this agreement would work as an engagement model. It will clearly and specifically define roles, responsibilities, level of control, number of hours, price, and other key factors. You can even accelerate your valuable app idea by picking right mobile app development company.
But why ultimately do you need to have a defined engagement model?
It is because mobile app development is a dynamic process. For creating every feature, functionality, or making any changes to your project, you will have to spend money. As per market reports, 16% of outsourced projects fail because of poor communication and improper engagement. Without having a predefined contract, you might face many problems in
Project management
Budget planning
Mobile app development cost
Timeframe for the final product delivery
Quality of the application
Dissatisfaction with the final product version
Therefore, an engagement model is required to avoid all these problems. When you choose the right mobile app development company with your suitable model, it enables you to
Efficiently utilize resources
Save cost
Hassle-free project management
Transparency
Communication
Better control over project
Access to expert developers
Eliminate potential risks and losses
Types Of Engagement Models For Mobile App Development
1. Fixed Price Model
This is the most popular and widely-adopted engagement model in the market. In this model, the price of cost of mobile app development project is already fixed. The client or app owner has to define the project scope, requirements, and deadline, and pay the calculated price for the final product. Here, everything is decided before the development process begins.
The fixed price engagement model reduces the risk possibilities for the clients which might arise due to flexibility in development. Since the app owner has predefined project requirements it leaves no scope for any sort of disagreement during the process.
However, this model requires accurate and detailed documentation and project scope. Any undiscussed points or clauses may lead to bringing unexpected changes in the cost or timeline of the final product.
Advantages of the Fixed Price Engagement Model
It gives good transparency to ensure the timely delivery and release of the app.
Full access to reports and progress status of the development.
A better overview of the entire workflow and the right estimation of product delivery
No scope for any hidden charges, only pre-discussed milestones of the project are charged.
It requires less management and involvement from the client with the development team
Disadvantages of Fixed Price Engagement Model
Fewer flexibility
Limitations in communication and control over the project
Less scope for in-between changes
Relatively high cost
It requires great time and effort in creating a pre-defined project scope
When to Select This Model
When you have a small-scale app development project
You are clear with your project requirements and unlikely to make any changes
Best for a short-term project that can last up to a few months (3-5)
2. Time and Material Model (No-Fixed Price)
In this engagement model, there is no clarity or pre-defined details for the app project. The client has no crystal-clear vision of the final product. The project scope is dynamic and processes with continuous evolution depending on the client's requirements. Therefore, the Time and Material Model doesn't contain fixed pricing since it has no predefined points.
The project stakeholder might bring multiple changes during the process. Here, time and material mean you only cover or define the time of the app development and spend on a certain scope of work which are essentials. For instance, hosting, software licenses, etc. But you can't decide the cost of features because it is not clear what features or functionality is required to build at what moment.
Advantages of Time and Material Model
Highly flexible model for app project that has no clear vision and detailed scope of work
Complete usage of the Agile software development methodology
Much better control over the project from the client side
Reduced risks for both clients and mobile app developers
Faster time to start the development
Disadvantages of Time and Material Model
Lack of certainty of time and price
Requires a broader overview of the project from the client
Chances for the discrepancy between the estimation and final project cost
High fluctuation in the price based on time and effort invested
When to Choose This Model
You don't have clarity of project requirements
The project is large, complex, and needs great iterations
Company that follows agile methodology in mobile app development
When the project needs to quickly adopt market trends or emerging technologies
3. Hire Dedicated Team Model
In previous engagement models, you have to outsource your mobile app development project to a company or agency. You get limited access and control over the team. This not only increases the risks of data privacy but also needs constant supervision to ensure quality. But under this model, you don't hand over your project. Instead, you hire a dedicated team and take full control over your project and the entire developer team.
In this hire dedicated team engagement model, you hire app developers as per the project scope and set up your own in-house team. It gives you the liberty to select expert and skilled developers of your choice and keep the entire project under your control. You only need to pay a fixed monthly charge for each developer or human resource you use.
Advantages of Hire Dedicated Team Model
It gives full control over the development team and project
Quite easier to change tasks and related priorities
Accessibility to choosing skilled developers
Better data privacy, IP protection, and secrecy of the project
Great flexibility and compatibility with the agile methodology
Disadvantages of Hire Dedicated Team Model
Expensive for small-scale projects
It requires huge involvement in the project from the client
Sole responsibility of the quality and project delivery on the client
Needs constant monitoring over the developers to ensure the workflow as per project guidelines
When To Choose This Model
When you want to augment your existing in-house team
Need to set up a new dedicated team
It requires higher expertise in project management from the client
When there is need for full control over the project and team
4. Offshore Development Center Model
This engagement model allows you to set up a development center outside your location. You basically handpick a team of required developers and members as per your choice. This team works as an extension of your team fully aligned with your project. You get complete control over the team and set up the infrastructure. An offshore development center (ODC) is maintained by a firm, company, or agency with one you have partnered with.
Advantages of Offshore Development Center Model
It is best for long-term projects
When you want to extend your team at offshore locations
Wide accessibility to skilled developers
When the project requires to work in different time zones
Disadvantages of the Offshore Development Center Model
Communication barriers and relationship handling challenges
Collaboration and project management problems due to remote handling
Requires a significant amount of investment for security and data exchange between multiple ODCs.
When to Choose This Model
Suitable for large enterprises and MNCs for expanding development centers at reduced costs
Best for large-scale and long-term projects
When to utilize a country's best resources
Fast and easy access to full-fledged app development teams
5. On Site Model (Outstaffing or Cost Plus)
This engagement model is used for outstaffing developers or other professionals. Under the on-site model, a mobile app development firm or agency sends its developers or other resources to the client's work location.  This model is required when businesses have a team already but they need an in-house expert for the project at their own workplace.
So in other words, you actually borrow or take the required resource on lease and pay all the expenses incurred during the process. The on-site model allows project owner to get the expert resource from a professional mobile app development agency. They don't have to spend money on interviewing and recruiting.
Advantages of On-Site Model
High transparency since all expenses are managed by the client
Cost plus fixed price which means the cost is extra but it is fixed already
Save time and cost in fresh recruitment
Access to reliable ad expert resource
Disadvantages of On Site Model
Requires additional costs
Need a well-defined contract of the agreement
The client needs to inform the deployed resource before 2-3 months for contract termination.
When to Choose This Model
For short-to-medium term project
Suitable for app development project based on waterfall methodology
When you have clearly defined your project requirements and are unlikely to make any changes
Needs only an expert for an already set up team
Comparison Overview of Different Engagement Models
| Factors | Fixed Price Model | Time & Material Model | Hire Dedicated Team | Offshore (ODC) | On-Site |
| --- | --- | --- | --- | --- | --- |
| Suitable For | Startups | Enterprises | Startups & Enterprises | Large enterprises | Startups & Enterprises |
| Project Size | Small to Medium | Large | Large | Large & long-term | Medium to large |
| Requirement Type | Fixed | Evolving | Evolving | Evolving | Dynamic |
| Client's Involvement | Moderate | Low | Low | High | Low |
| Timeline | Fixed | Estimated | Estimated | Estimated | Estimated |
| Cost | Fixed | Not fixed | Not fixed | Not fixed | Not fixed |
| Level of Control | Limited | Better | Full | Full | Full |
| Modification Flexibility | No | Flexible | Flexible | Flexible | Flexible |
How to Choose The Right Engagement Model For Your App Project?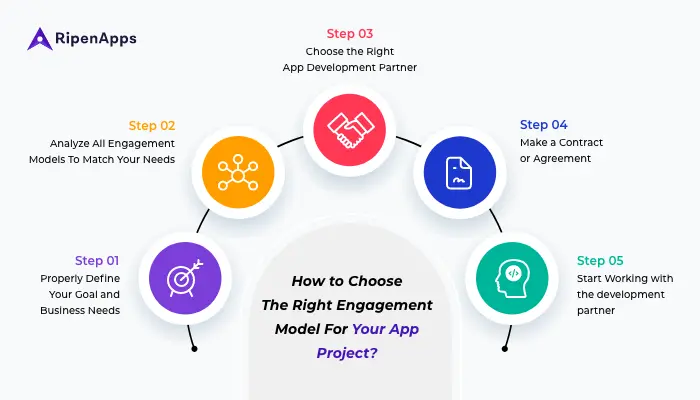 So after reviewing all the aspects of different engagement models, you must have got an idea of how much role an engagement model does play in determining your project's success. In fact, implementing the right engagement model in app projects can help you achieve 50% growth in efficiency. (Source: Forbes).
Therefore, it is highly critical to properly analyze your project requirements and choose the suitable model accordingly. While there are multiple types of models available, you should follow the below steps to determine the right engagement model for your mobile app development project.
Step 1: Properly Define Your Goal and Business Needs
At first, you should be clear with your project goals and business needs. How many resources do you need and how much does it cost you? What is the size and flexibility of your project? Try to define essential pointers. You also need questions to ask your customer before developing a mobile app.
Step 2: Analyze All Engagement Models To Match Your Needs
As we have discussed there are different engagement models available through which you can partner with your service provider or company. You should try to assess all engagement models and compare which better suits your project
Step 3: Choose the Right App Development Partner
Once you have selected the engagement model, you need to hire mobile app development company that can collaborate with you as per your required model.

Step 4: Make a Contract or Agreement
Before you start partnering with the firm you need to have predefined documentation of the project. It will include the scope of work, timeline, technologies, and other important things. This document will include all the information in written and specific form. Make sure it also contains security measures to be taken while developing your mobile application.
Step 5: Start Working with the Development Partner
Now, you can join hands with your mobile app development partner. While you work on your project, it is important to have constant communication and involvement with the resource you have set up. This will ensure the workflow goes in the right direction and brings the desired outcomes.
Our Approach to the Engagement Process
RipenApps is one of the best mobile app development companies in the industry. We are known for providing world-standard app development services fully customized to every business need. Here, we offer all the engagement models to our clients which suit best their project requirements and business goals. Our team is composed of experienced developers and business analysts who help you better understand your project and choose the right development methodology for your app.
Conclusion
Engagement models play a crucial role in determining your project's success. It directly affects the cost, timeline, investment, and other critical factors of your project. Therefore, choosing the right engagement model matters a lot.
As there are different models available, you should wisely analyze your business needs and find the perfect partner who can work on your project accordingly. This will ensure your entire investment brings high ROI and avoid all the potential risks and expected price fluctuations.

FAQs
Q1: Which engagement model is right for your app project?
There is no exact answer because every app development project is unique. The selection of an engagement model totally depends on your needs, budget, and business goals. Therefore, it is advisable to directly consult the top mobile app development company and get specific answers.
Q2: Does an engagement model affect the cost of a project?
Yes. Every engagement model is different in nature and requires different development projects. If you are sure what your project exactly needs then you can go with a fixed price model. Or else, analyze other models.
Q3: Which is better fixed price model or hourly price model?
It depends on your budget and goal. The fixed price model is suitable for startups and entrepreneurs who run on limited resources and fixed costs. Whereas, the hourly model is suitable when there is a large project or a short-term requirement like making some changes to the existing application. Connect with us to discuss your Project.
Contact Us