Wedding is a big day in everyone's life, where we want everything PICTURE-PERFECT without leaving corners for flaws. The success of this special day depends on how perfectly you plan it out. Years back, the process of planning a wedding right from finding a perfect match for the wedding, mediator consulting, looking for different vendors for different rituals, arranging & managing the venues accordingly was quite a lengthy process.
Still, today, things are at new-height where technology is adding perks in your every task and providing seamless & pleasant experience.Mobile apps & websites came into the picture to settle the chaotic process of finding match & planning weddings for you. These special needs are given rise to Matrimony & Dating app development to find matches & wedding planning app development to organize the perfect wedding.
These apps are assisting various dating & wedding planning businesses in their way to making their audiences more comfortable at enjoying their Special day without taking worries about its management.
Let's View Some Fantastic Facts About Wedding Planning Apps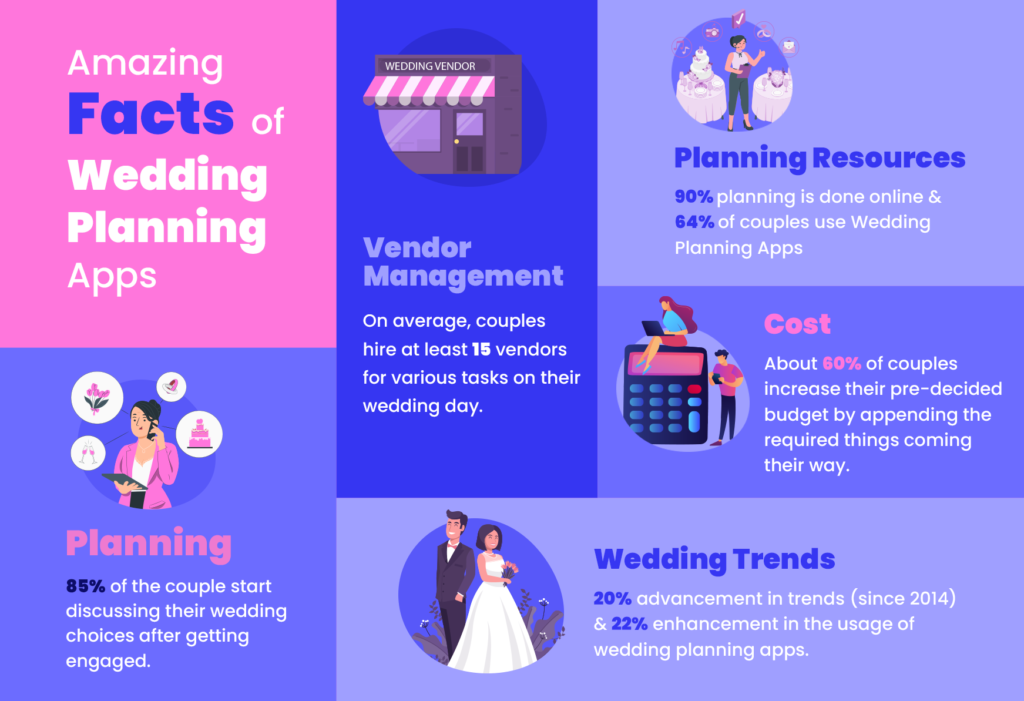 What are the Benefits of Wedding Planning Apps for Individuals?
Today the power of mobile apps is incredible. Mobile apps have made the lives of people more accessible and convenient than ever. If you are taking about managing your BIG day- Wedding, then a wedding planning app can add various perks and can be the cherry on the cake.
For the individuals, various perks can be avail and manage the wedding flawlessly. Using a wedding planning app, caters benefits like:
Can Save Time
The wedding management clasps a messy yet lengthy process that takes much time, but embracing wedding planning apps, one can save time and have the management smooth.
Round the Clock Assistance
A Wedding planning app development can help the consumer to get aware of all the activities running in their wedding planning, and the consumer can stay in touch with their Vendors to their time to time query resolution. Along with 24*7 assistant and support, consumers also can get the push notifications that keep them notified about the offers and discount that vendors have offered in the app.
Guest Management
With a wedding planning management app, the consumer can easily manage the guest list and every arrival at the wedding via making the guest list online.
Activity Tracking
With a wedding planning app, couples are allowed to track everything from RSVPs to thank-you messages and can manage all the entries at one place and maintain a checklist that can be aware of them to keep checks on to-do tasks.
Key Market Players in Wedding Planning App Market?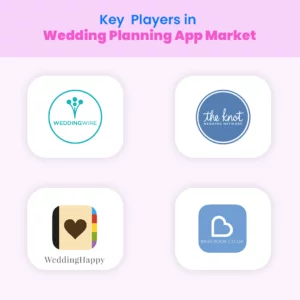 Why Wedding Planning Business Need Mobile App Development Perks?
Those who belong to the wedding planning business have lots of perks. If they go for event management app development/wedding planning app development because, in the end, every wedding planner's vision is making their consumer's wedding a Picture-Perfect wedding for which they were dreaming. Via adopting a mobile application for your business, you can keep your customers satisfied, and then you can earn the customer trust from there.
You can ask the top mobile app development company to create the best wedding app consisting of various features that can give your amazing business benefits.
Your wedding app will give you a plethora of benefits on the way to satisfy your customers and earn huge revenue.
Implementing the e-Commerce feature within the app, wedding planning business owners can allow their customers to search, compare prices, and book from thousands of wedding destinations and venues.
By implementing video and images within the app, business owners can provide a complete view of venues and can provide the venue listings.
With the help of wedding planning app owners can provide location-based venue directories with multiple listings.
Your wedding planning application can provide your users with extensive scheduling via enabling event calendars, and that will help users streamline their management & arrangements.
Mobile applications help you to give your users access to various online boutiques with e-Commerce pages that provide users with a highly made list of brands in a variety of styles with social sharing options.
Opting Wedding planning mobile app development gives you the easiness that you can provide your users with an online honeymoon registry creation solution so that guests can book beautiful experiences for couples with e-Commerce features.
Specific Features in a Wedding Planning Mobile Application:
User Panel
Social Signup and Login
This section gets the login & signup details where the user/vendor can get their account creation done via using their contact number and other social information that required them.
View Event organizers/vendors
This section provides the view of event organizers/vendors, where users can opt for their suitable vendors as per their needs and requirements via viewing their details.
Filter event organizers/vendors/service providers based on location/price
Within the app, users can search wedding planners and wedding service providers via keeping a filter on price and location as per their requirements.
Improve the search based on service needed (makeup, catering, etc.)
Here, the user can ask or choose his/her preferred service within the app search feature about the required services like makeup, catering, etc.,
View vendors profile, reviews, ratings, and portfolio
The app allows users to view the vendor's profile that consists of their details, ratings, and past work is done.
Call and Chat with Vendors
The app allows users to request a call and chat with their chosen vendors and can simplify the communication process.
Vendor profile sharing
The consumer can share the vendor's profile with their friends and relatives to have a look and ask for feedback.
Search wedding venues based on location
The user is allowed to search for the venues as per his suitable location and choose as per his choice.
Filter through wedding styles
Here, users are open to choose the wedding theme or style if he/she is looking to have a theme-based or any wedding style.
Create a wedding checklist
Users are allowed to create their wedding checklist to keep checks on the activities or tasks they need to track.
Wedding Budget calculator
Users are open to calculate the budget here by putting all the requirements and activities that are going to happen.
Create/Manage the guest list
Users can create and manage their guest-list or can add and manage their guests as per their preferences.
Create/Send online invitations to guests
Users can create or send online invitations to their guests and can manage invitation within the app.
Create/View Wedding Albums
Users can create & view their wedding albums in the apps.
Multiple payment options
There are multiple payment options are there for the user convenience.
Write reviews and ratings.
Users can review or rate the service of vendors/wedding planners to encourage them and share their wedding experience in the app.
Wedding Event Managers/Vendor/Suppliers Panel
Social Signup/Login
The wedding app allows the vendors to sign up quickly using their existing social accounts & other specific details.
Create/Manage Business Profile
The app allows the vendors to create & manage their business profile via creating and adding details like work experience and others.
Manage inquiries and bookings
The app allows the wedding planners to manage & inquire about the bookings made within the app by the consumers.
Manage Catalog
The app allows the vendors to manage catalogs to showcase their varieties and specialties with a portfolio of everything like venues, other services.
Set and manage availability preferences
The app allows event planners to set & manage their availability status.
Accept online payments
The app allows the vendors to manage the payment handles and can accept the payment within the app.
Request for reviews
The wedding planning app enables vendors to request reviews and feedback from their clients.
Call and Chat with Users
The wedding planning app enables vendors to chat and communicate with their users for flexibility.
Track attending guests
The wedding planning app enables managers to track the list of the guest and can mange tracking on their guest attendance.
Manage employees
The app allows vendors to manage their employees within the app via keeping checks on their employees and assigning & monitoring tasks in-app.
Create/Export reports
The app offers vendors to create and export reports of their tasks and management they have done at the wedding.
Additional Advanced features in Wedding Planning App:
Venue 360 View
It is perhaps the best component of an on-demand wedding planning mobile app that permits the users to have a virtual visit through the settings from 360 perspectives, so they may get the assistance to pick the best after merely seeing through their eyes even while sitting at home.
In-App Doc Scanning
With regards to wedding management, there show up numerous edges that request fundamental archives, for that this element licenses individuals to check their papers using the application just with no fret to go to the particular shop and take care of business.
Guest Management
A wedding is a big occasion, so we have to make a list of guests we need to welcome. Such short functions don't request a group; hence, the number differs for each. Here comes the visitor the board include, which facilitates the users to deal with the numbering of their guests serenely.
VOIP Calling
This component, Voice over Internet Protocol, is a genuine saver for the users of a wedding arranging app when the phone administration isn't satisfactory to settle on or get phone decisions.
IVR Application
Internet Voice Response, a technology grants approaching guests to associate with the app's host framework and return with the pre-recorded answers to their questions
Real-Time Analytics
At the point when an application is coordinated with real-time analytics, it ends up being gainful from different viewpoints.
AI/Chatbot Support
It is an automated talk assistance feature that users the right innovation to help in connecting with the users to utilize a wedding planning app.
Live Chat Support
Indeed, when a request for a specific prerequisite emerges, and the user gets a moment arrangement through live chat support, this lays a significant effect on the appraisals and surveys of the app. Also, this is the head procuring of any mobile app.
Various Payment Gateway
It's much fundamental to facilitate the payment cycle. As various individuals will use multiple payment entryways; along these lines, it is essential to coordinate different payment passages with a wedding planning mobile app.
Powerful Customer Relationship Management System
For customer relationship management, this component assumes a crucial job. It permits the office to deal with the users efficiently and effectively.
Client Loyalty Program
Satisfying loyal users with various discounts help in keeping the customer's loyalty towards the service or the app as it assures them that they are getting extra perks along with the best wedding planning services.
How much does it cost to develop the wedding planning mobile application?
The cost estimation of the wedding planning or event management app development can be done based on technologies we integrated, the time we invested. These features integrated and depend on the various other factors too. The platform for the app is going to develop as it is with iOS or Android app development or on the both like cross-platform app development is another major factor.
Conclusion:
If you are running a wedding planning business and still haven't deployed it on a digital medium, i.e., a wedding planning mobile app then this is the right time to ripe your business with a fabulous wedding planning app.
Weddings are the events that happen every month and gives a lot of business as well as revenue. We are the leading event app development company that creates the feature-rich and reliable mobile application where you can place your requirements, and the development plus enhancements of your on-demand wedding planning app are upon us. Our team of event mobile app developers understands how important it is to offer an enjoyable experience and bring the experience to your fingertips.
Place your curiosity at [email protected] and let your wedding planning business grow with us. Connect with us to discuss your Project.
Contact Us