Food Ordering &
Delivery App Development Company
We are the leading online food ordering app development company. We have delivered a wide range of highly successful apps for restaurants and food delivery businesses. Our customer-centric on demand food delivery app development allows you to offer high-class online food ordering & delivery services. Collaborate with us to build an app that accelerates your food delivery or restaurant business.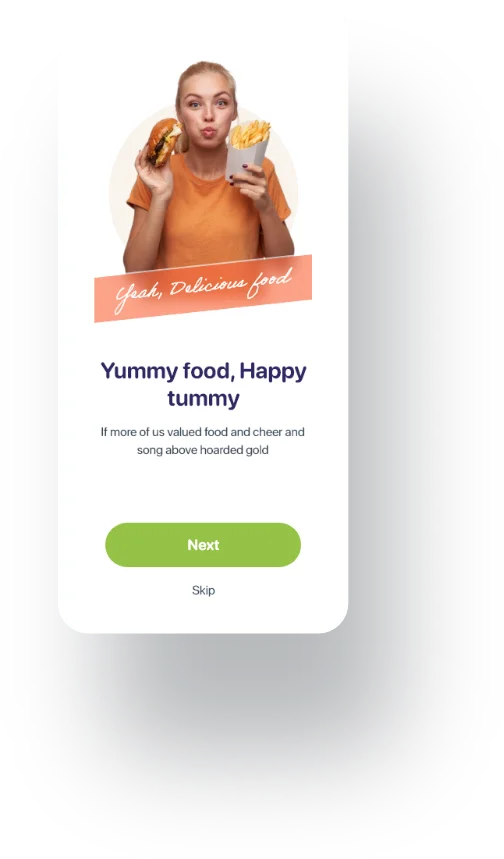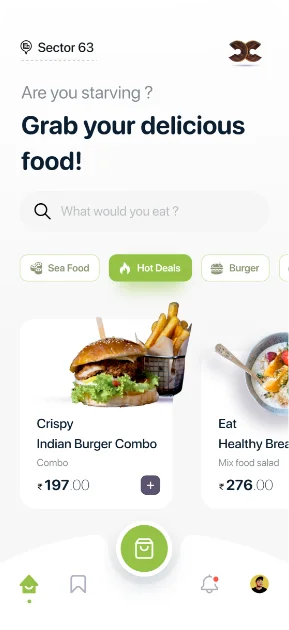 Best Food Delivery App Development Company To Create Top-Performing Food Delivery Apps
On-demand food delivery industry is skyrocketing as consumers and restaurant businesses are adopting mobile-first approach. Today, people prefer using apps to search their favorite foods and get them delivered at their fingertips. On demand food delivery app development gives a wide business opportunity for startups and restaurants to create a food delivery app dedicatedly for their customers.
RipenApps is the leading online food ordering app development company and restaurant app development company. We have the industry's best food delivery and restaurant mobile app developers in India. They possess years of excellence in building a variety of mobile apps for the food delivery industry.
Being an expert on demand food delivery app development company we know what today's customers look for. In addition to this, we have stood out as the top-rated grocery food delivery app development company and food ordering mobile app development agency for helping numerous business entities achieve success in the food delivery sector.
We Offer Result-Driven Online
Food Delivery & Restaurant App Development Services
The on demand food delivery industry is reaching new heights with growing innovations and consumer demand. And here we enable you to take an edge over this competitive market by building leading-edge food app development solutions. We have established ourselves as the top on demand food delivery app development company in USA and grocery food delivery app development company in India. And it is because we infuse your app with superior features.

Fast And Secure In-App Payment System
We integrate the most reliable & multiple payment solutions. For instance, e-wallets, online transfers, coupons, card payments, fingerprints, multi-step verification, instant OTP messages, etc. We perform a user-friendly and seamless In-app payment mechanism that is customized and tailor-made for your food & restaurant business.

Engaging Media Content
We make it the feasible process of embedding media content in your app where restaurant owners can embed high-resolution images, videos, and other graphical content for providing ease to the users. This feature enables restaurant bodies to implant various graphical views in their app to make it more interesting and exciting for the users & visitors.

Referral System For Increasing User Base
To open the door to more revenue, we played smart as we enabled you to acquire a referral system in place enabling your users to earn some bonus points at the time of food ordering from the restaurant. Through this, we help you to unlock the number of loyal users as well as more channels to earn more money through app download subscriptions.

Cross-Platform Accessibility
Being an experienced on-demand food delivery app development company in India we know what smartphone screens your app acquires. Our developed mobile apps are platforms independent as we build apps that perform seamlessly on Android and iOS. Our developed apps are much compatible with different screen sizes and versions and irrespective of which smartphone your users are on, your app embraces its presence on it.

Accurate Real-Time Tracking System
We have the best food app developers in USA who are aware of modern technology for building intelligent apps. Our team integrates a highly advanced Real-Time Tracking System (RTTS) for tracking and monitoring all food deliveries for optimal performance and customer satisfaction. This will give you complete access to have an eye on deliveries & other activities operating through your application.

Dedicated Restaurant App Development Solutions
Being a top-rated restaurant app development company, we hold broad excellence in building revenue-generating apps for restaurants. Here, our team makes the best use of modern technologies to streamline your business operations. And also enable your business to enhance userbases and sales growth with better efficiency and productivity.
Prime Features That
Give Foodies
A Flawless Online Food Delivery Experience
We are a leading restaruant app development company in India and among the top food app developers in UK for providing business-transforming apps for restaurants and food delivery businesses. We infuse your application with state-of-the-art solutions to ensure your customer gets delicious food and a flawless food delivery experience. And we ensure by enabling modernistic features.
User Panel

Restaurant management

Waiter Tracking

Location-Based deals

Digital Menu Card

Customer-engagement

Managing cash inflow

Navigation & Search option
Admin Panel

Category Management

Content Management

Location Management

Manage Add, Edit, Delete

Email Notification

Change Password

Backup & storage Database

Message To Customer/ Restaurant
Restaurant Panel

Coupon Code Generation

Social Media Management

Multi-Language Accessibility

Various Payment Methods

Timing Management

Delivery Area Management

Customer Messaging

Auto Sort Email

Why

RipenApps?

Because we know the taste of your customers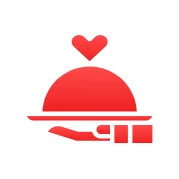 We are the best online food delivery app development company and restaurant app development company having a wide range of successful apps for the food delivery industry. When you decide to partner with us for online food delivery & ordering app development
We integrate intelligent features to enhance your app capability.
We follow agile-based app development methodology.
We keep Safety, Security & Data Encryption at utmost priority.
We allow you to get accurate data analysis to help you make strategic decisions.
FAQs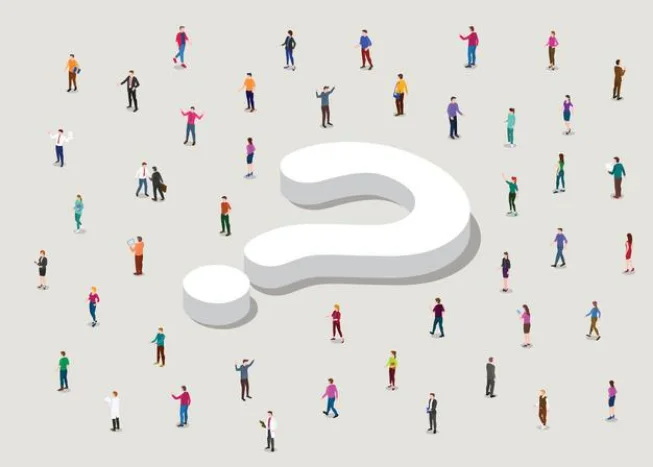 In case, you aren't able to find your answer, do write to us through our contact page.
Say Hi


Discuss a Project
For this, you would need a restaurant mobile app. Developing a restaurant management app can help you to have a digital medium to manage all the restaurant parts. To make a restaurant management app, all you need is to have sound knowledge about this particular industry and then find a dedicated restaurant app development company that has extensive experience in developing food delivery and restaurant apps.
Three main panels must be developed and designed for any food delivery app for large-scale and smooth business activity. The Restaurant Panel, Customer Panel, and Delivery Panel should be included to be accessed by restaurant owners, customers, and delivery persons respectively.
Food delivery apps can make money from different methods. One can make money through Ads, Subscriptions, Selling Merchandise, commissions on each transaction, In-App Purchases, Sponsorship, Referral Marketing, Freemium Upsell, Physical Purchases, Transaction Fees, and Crowdfunding.
It takes various processes and aspects to define the cost of app development. For example, features, third-party integrations, resources, time and effort, etc. The right method would be to approach the best food delivery mobile app development company and get a quote as per your project requirements.
We are reputed for providing high-class on demand food delivery app services in India and food application development services in USA. Here at RipenApps, we focus on empowering businesses by delivering result-driven solutions. And we do it through our team which is equipped with brilliant food delivery app developers and restaurant app developers. They have solid skills and extensive expertise in utilizing current technologies and practices. Our project management team professionally handles everything and ensures quality and on-time project delivery.
Award

& Recognition Corner

We RIPE great products that form great brands.
And Success & Smiles of these Brands RIPES US to surpass.

Award Room
Discuss Your Project

and Request for Proposal

Convert your idea into a digital product with top developers