What do we gaze for, while travelling to a new place? We always look forward to a uniquely rousing experience but at the most affordable rate. Just imagine that you can find all of this on one platform, just like a home away from home.
The on-demand economy has transformed the way people perceive many things today including Travel & hospitality.
The viral, on-demand platform that is raising the bars of travel & hospitality industry is none other than Airbnb.
Yes, Airbnb– a travel app that provides a platform for apartment rental opportunities to the entire world. Airbnb is a power-pack supplement for the owners of the property as well as for the people who are seeking for the accommodations. Airbnd has changed the visionary of the people who looks to have a platform for seeking the apartments. This digital platform serves as an interactive environment for the people, i.e., Host- who earn by renting their property to guest at an affordable price.
As people all over the world travel more often, Airbnb get billion-dollar valuations in less than five years and has become a splendid business idea worldwide. Now, the one question is there which knocks at every startup's head is that How to build an app like Airbnb? For that, one should have a book full of data related to Airbnb related to its growth rate, revenue generation, or market potential first.
You will have related data through this article…
Let's Sneak Peek over Stats & Facts of Airbnb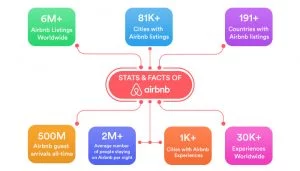 The Airbnb's History
From selling  cereals to billion dollars earning company, Airbnb had cross so many successive milestones.
In October 2007: Idea Creation
Brian Chesky & Joe Gebbia Came Up With The Idea Of Putting An Air Matters In Their Living Room And Turning It Into A Bed & Breakfast.2008
In August 2008: Launched Airbed & Breakfast
Nathan Blecharczyk, Chesky's Former Roommate, Joined As The Chief Technology Officer And The Third Co-Founder Of The New Venture, Which They Named Airbed & Breakfast
In 2008: August to Nov
Sold Cereals Boxes and Earned $30,000
2009
January 2009
Airbnb Raised Its First Funding, $20,000 From Y Combinator.
March 2009:
Website Name Becomes Airbnb.Com
2010
November 2010
Airbnb launches the iPhone app & the instant Book Feature.
Received Funding Of $7.2 Million
2011
February 2011:
Reach 1 Millionth Booking Mark
Airbnb begins international expansion with the opening of the German office.
July 2011
Received Funding Of $112 Million
2012
January 2012
Reaches 5 Millionth Booking Marks
June 2012
Reaches 10 Millionth Booking Marks & launches the Wish Lists features.
2013
Summer 2013:
Airbnb moves headquarters to 888 Brannan Street in San Francisco.
2014
June 2014
Airbnb hosts more than 100,000 guests during the Rio World Cup
July 2014
Airbnb launches rebranding and introduces the Belo.
August 2014
Received Funding Of $475 Million
October 2014:
A Law Named Airbnb Law Is Made In San Francisco
2015
June 2015:
Received Funding Of $1.5 Billion
November 2015:
Private Equity Funding Of $100M
December 2015:
Received Funding Of $1.5 Billion
2016
September 2016:
$554 Million Series F
2017
March 2017
$447 Million Series F
November 2017
The Company Acquired Accomable; A Startup Focused On Travel Accessibility
2017
Airbnb Generated $93 Million In Profit In 2017
2018
February 2018
Company Announced Airbnb Plus
August 2018
Airbnb celebrates 10 years
2019
In March 2019,
The Company Acquired Hotel Tonight, A Website For Booking Last-Minute Hotel Rooms, For Over $400 Million.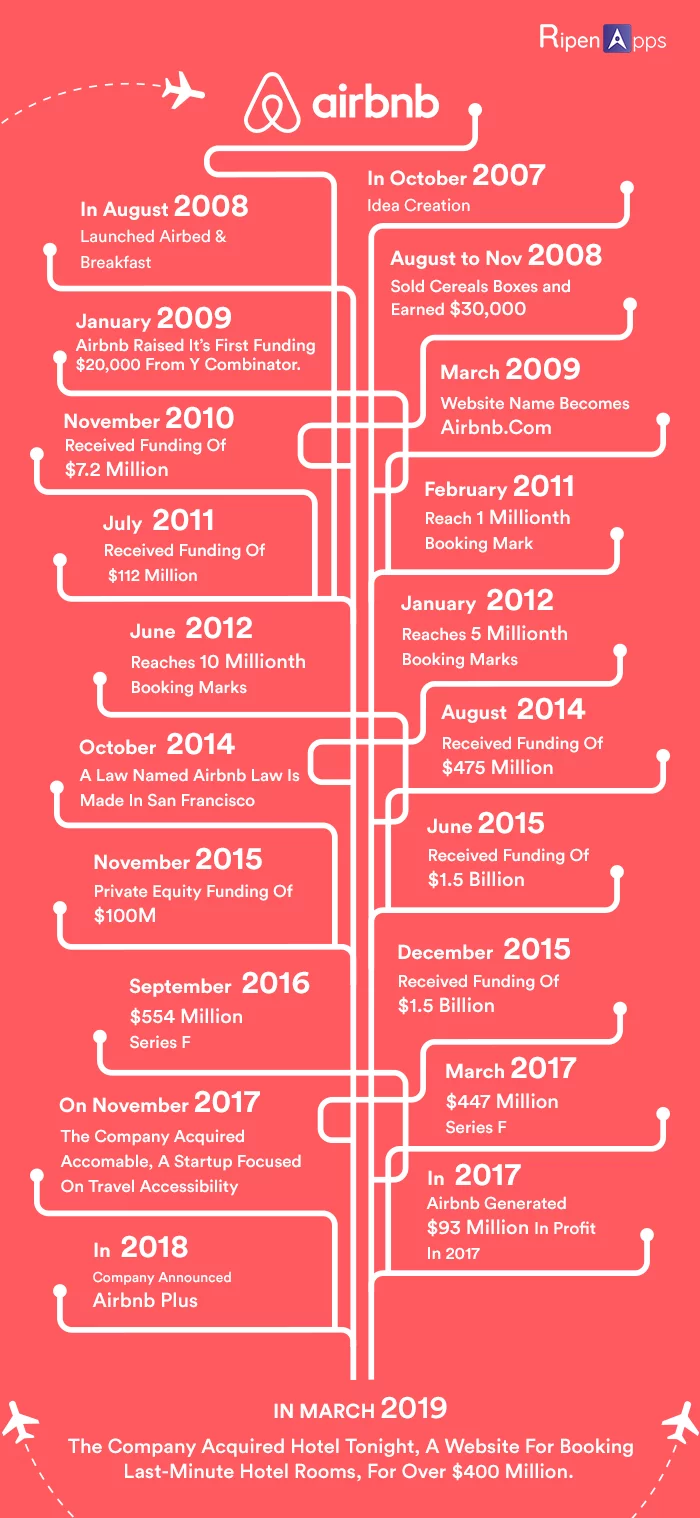 This was the complete history of the Airbnb app, for those who are ready to invest in Airbnb like app development and seeking the data for building their business model.
How Airbnb Works: Business Model
Okay, what do we know about Airbnb so far? Well, Airbnb is an international platform does people of two categories: one is those who like travelling and are seeking for the accommodation, and other are those who are ready to offer their property for travellers.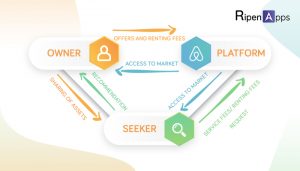 Major Associates
Owner: Owner/Host is the people who own a house or property and to rent them. Airbnb receives Commission from hosts upon every booking.
Seeker: Seeker/Travelers, families going for a vacation and or official work who want to stay comfortably at affordable prices. They receive a commission from guests upon every booking.
Platform: The combining place Airbnb where the owner and a seeker both perform their parts. Seeker requests for the services and owner requests for their renting fees as well.
Who Are Supposed To Be The Target Audiences?
Travelers, who need a simple and affordable place to stay while travelling can be a target of the Airbnb like the app development.
Business travelers, who need to visits frequently over many places regarding their job meetings and client handling can be the best target audience of the Airbnb App.
Travelers who usually go for vacations with their family members could easily be on the target of Airbnb like app.
The people who look to explore new places could lean on Airbnb like app.
What Would Be The Channels Of Distribution?
The website would be the medium of channelizing the Airbnb among people.
Mobile app on both iOS and Android platforms could be the best medium of distributions.
Digital Marketing could be the best medium to promote and channelize services.
Social Media is the best platform to promote or advertise the services among the people.
What Would Be the Cost Structure Based Upon?
Maintenance of the online platform
Employees (Airbnb has over 2000 employees)
Online payment platforms like to MasterCard, Visa, and PayPal
Marketing and promotional activities
Insurance
Expected App Features to Be Incorporated into an App like Airbnb
Travelers
Log-in/Sign-up-
The users should sign in with their pre-registered IDs or make another account by filling their details set like name, number, and so on they can likewise sign in using their email address or social media channels.
Manage Account
Edit, manage and update personal profile data like email id, mobile number, date of birth, sexual orientation, permanent address, and so forth. The account password phrase can likewise be changed.
Chat and Push notifications
Like some other informing app, Airbnb gave instant notifications to visits.
Search Filter
Users can search for the desired convenience by separating their travel like Dates, room type, price range, required amenities and so on.
Host Interaction
Users can speak with their host by means of messages even before booking their stay. They likewise have the freedom to acknowledge or decrease offers and make new demands.
Payments 
Users can choose the payment method and can get to the receipts and pay subtleties of the transactions. They can likewise see each transactions history. They can change to the ideal money as well.
Create Wishlists/Saved
Missed out a spot because of high rental or non-availability. No stresses, you can list of things to get them and get informed if the rental falls.
Booking
Also, the booking done by a user can be checked. It can pass cooking or an upcoming one.
Coupons 
Coupons can be utilized amid checkout. Referral codes can earn these coupons.
Maps 
Airbnb streamlines the booking procedure with maps. They help in exhibiting the area with rentals, around the zone the users wish to stay in.
Help
Users can see the FAQs areas and request help if there should be an occurrence of any perplexity with the booking or if there should be an occurrence of looking for any reserving or has related help.
Rate and Review 
Users can impart their experience to the hosts by rating and assessing them.
Sharing 
Users can invite friends too through social media account to download the App.
New Additions
These features can likewise be added to make it emerge even the more.
Receive SMS Notifications
Users can get messages to advise them about their booking and furthermore special offers.
Supplementary 
While performing mobile app development for the app like Airbnb, increasingly social media channels and payments techniques can be incorporated with it.
Host's App
Registration
The Host can fill in their details and register themselves by posting their empty property.
Log-in or Sign-up
The host should sign in with their pre-registered ids or make another account by filling their details like name, number, address and so forth. They can likewise sign in using their email address or social media channels.
Manage Personal Page & Profile Information
Edit, manage and update individual profile data like email id, mobile number, address, and so forth. The account password can likewise be changed.
Manage listings
The listings, for example, the property details like the amenities available and valuing can be taken care of under this area. New pictures can be transferred at whatever point required.
Booking Listing 
All the up and coming bookings can be found in an orderly manner, in a type of a timetable view. Each date of the month will grandstand the appointments.
Request
This is an entry for accepting or declining the user's request for your space.
Messaging feature 
Hosts can freely speak with their guests through the chat feature. They can return to every one of the inquiries of the visitors even before booking or affirming their remain. Make and send new demands to visitors.
Rate and Survey Guests 
Each guest can be rate and reviewed as indicated by their conduct and lead.
Account Details
This helps in including or evacuating data in the account.
Help
Guest can see the FAQs areas and request help if there should arise an occurrence of any perplexity with the posting of their property or in the event of looking for any reserving or visitor related help.
Sharing 
Hosts can invite friends too through the social account to download the app.
Booking History
All the past bookings and the payments got can be found here. Additionally, the revenue generated can be evaluated.
Admin Panel
Dashboard
The admin dashboard to see every one of the users registered(new and old), hosts(new and old) and the photographers.
Manage New Listing 
All the new posting transferred are investigated and handled further. The admin board gives the freedom to edit, add or delete listings, as per the need.
Booking History
All the past and new bookings can be checked here. There's likewise a report on the present status of every booking. These can also be edited, updated or deleted.
Feedback & Complaints 
As 5 Star rating is essential for every business, All the feedback given by the guest and hosts can be seen here. Any complaint as to the hosts or visitors can be handled here.
Insights 
All the details of the past and current activities can be seen here. These nitty-gritty experiences help in future choices.
What Would Be The Revenue Model Of Airbnb Like App Development?
The Airbnb income model keeps running on the listings and the stays. Airbnb offers a platform where these listings and bookings are made, and this is the place Airbnb wins from. Airbnb income originates from two noteworthy sources:
Commission From Hosts:
Every time somebody picks a host's property and makes a payment, Airbnb takes 10% of the instalment sum as commission. This is one of the segments of the Airbnb fee structure.
Transaction Charge From Voyagers:
At the point when travelers make payment for a stay they are charged a 3% expense for the exchange. This sum adds to the Airbnb revenue.
In this way, If you wish to go by the Airbnb model, here were the two income sources. In any case, if you want to take an alternate course, you can design a revenue model around supported properties, making has super has as a significant aspect of your top-notch model, among different ways.
Well since we have taken a gander at nearly everything that worries you and the Airbnb app developers straightforwardly, the time has come to investigate the response to – what amount does it cost to make an app like Airbnb.
Pieces of Advice to Consider For Making Your Airbnb Like Business Model a Success
Cancellation Flow
As a rule, your hosts and visitors should confront the circumstance of retractions wherein booking may get dropped from the two closures – something that hurts them as well as your business.
To deal with circumstances like these, you ought to have appropriate cancellation approaches to set up. You can keep a fixed sum in the name of crossing out charges as indicated by the property types.
What's more, to advance hosts from not dropping the booking, you should see them impetuses and identifications inspire them.
Money Exchange
As a rule, individuals use Airbnb like apps for cross-country travel, and in a circumstance like that, it helps in having a legitimate currency exchange program set up.
What you ought to do is have a currency exchange set up wherein you naturally convert the sum in the money type acknowledged by the host's country and charge a fixed percent on the transaction as transformation and trade chance expenses.
Property Price Fixation
While the daily charges of the property, the cleaning expenses, and the additional visitor charges are something reliant totally on the host, you will have total self-governance on the administration charges that you charge from the host and guest alike.
Other than these, guarantee that you are incorporating the accompanying during the time spent booking from Airbnb app cost in each posting –
Cash Exchange Fees
Esteem Added Tax
Any Location based Taxes
So here was the last segment with the three-pointers that you ought to consider to guarantee a smooth and gainful running of your Airbnb business. Since you have seen everything, there is simply thing left to do – Getting started!
Connect with our mobile app developers today and begin your Airbnb like a multi-billion adventure.
How Much Does It Cost To Develop An App Like Airbnb?
The mobile app development cost of the Airbnb like the app depends on what are the features you include in your app and what are technology stacks you are making you based on the development of the app.
If you wish to develop Airbnb like app for both the platform iOS and Android, then you can perform both the- iOS or Android app development for the Airbnb like the app.
We, At RipenApps, would assist you with all of your queries regarding features, costing, and revenue of Airbnb like the app. Hence, drop us a mail at [email protected].
Conclusion
The new world gives us lots of options: where to go, which transport to choose, and, finally, where to stay. Traveling has never been easier than it is today. Airbnb has also contributed to the comfortable traveling and provided accommodations for every taste. It sounds like a great business idea to us.