Best MERN Stack
Development Company
RipenApps is the top-rated MERN stack development company that provides the best-value MERN Stack Development solutions picking up the finest technological & advanced web capabilities. We leverage the power of open-source key technologies. From MongoDB, & Express to React & Node.js, we are masters of trending tech. We build phenomenal MERN stack web apps according to the client's specifications and market standards.
Embrace the power of MERN Stack development
and develop high-end solutions for your business
Businesses today need digital solutions that not only rank well with users but make them stay with their business. Our solutions are always aligned with your end business goals. For businesses to compete with the competition, they need faster speed and more consistency across their digital platforms. That's why MERN web development came into the picture.
Due to vast adaptability, flexibility, and capacity to change according to the necessity, businesses are extensively adopting NodeJs to make their business digitally savvy.
MERN Stack is gaining boom in the recent technological space due to its dynamic & flexible nature. MERN stands for MongoDB, Express, React, and Node.js. It is a full-stack JavaScript framework that is designed to help developers create web applications of high quality.
MERN can be used for the development of RESTful APIs as well as single-page applications (SPAs). MERN is the preferred technology to build robust applications and websites, packed with features and a rich user interface.
MERN has been gaining popularity over the last few years and millions of websites are there in the market that are built with this framework. The framework's higher flexibility allows web & app developers to take advantage of new technologies quickly. We don't believe in making ample changes to the codebase because we use the latest and greatest features of dynamic technology. "Build it right, you wont need changes."
There are a lot of web development frameworks that are available for web developers to use for developing modern web applications. These frameworks include MERN (MongoDB, Express, React, and Node.js) which is one of the best options for building modern web apps.
500+
Apps Deployed on Stores
Partnering RipenApps as your MERN Stack
Development Solution Provider an Lock Success
We hold a firm grip over all the key technologies combined in MERN and are renowned for providing top-notch MERN stack development services. We are a truster web development partner with years of experience in the web development domain. Our key focus is to build various products delivering rich user experience and smooth interfaces.

With our very much selected web development services approach towards using the MERN stack framework, we assemble broad technical possibilities. We also enable outstanding user experience for our clients. This inspires us to drive innovation and stand apart as a dynamic MERN stack development company. We pile up on incredible web bases working to convey extraordinary web solutions for your business.

With our significant skill with MERN stack web development services, we have been conveying progressed tech-driven web resources offering dynamic, secure, and strong APIs and applications. We have pushed our learning and explorations along to create higher scores of achievement.
Our innovative solutions flawlessly address business challenges, targeted users, and end-client needs. All the projects we work on follow the most recent web development solutions. Our team of talented Web developers is skilled enough to code in multiple languages and frameworks.

All-inclusive end-to-end MERN solutions
MERN stack developers at RipenApps are fully equipped with the expertise of consisting key technologies (MongoDB, Express, React, and Node.js). Our team of developers is experts at creating the trendy solutions that power your business with the advancement of the MERN stack development services.

Innovative work labs and streamlined processes
At RipenApps, we adopt the streamlined development process that gets formulated under our innovative labs. As we channel the smooth process of web development using the MERN stack, our web developers are excellent at configuring the server side. We achieve it by connecting Node.js and Express.js to MongoDB on the backend, creating efficient APIs, and building the frontend. Technology like React allows it to build user interfaces and connect the frontend to the backend.

Highly experienced MERN development team
Hiring all those people with the right skills is expensive and time-consuming. The best solution is to hire an experienced MERN development team that can save your company both time and money.
RipenApps is a team of talented tech geeks who possesses sharp skills and vast experience in developing innovative web solutions using MERN technologies.

Flexible MERN development Solutions in your Budget
A project's success is often determined by its budget. It can be difficult to find a development solution that fits within the allocated time and budget. At RipenApps, our developers are technical enough to create scalable, manageable & cost-effective MERN solutions for your business. We made it possible because our team is extremely expert at using various tools for development, testing, and deployment.
Our expertise makes us a reliable
MERN Stack web development service provider
The MERN Stack is an open-source stack that consists of Mongo, Express, React, and Node. These technologies provide a full-stack solution for JavaScript programmers who want to work on the front-end and backend.
With this expertise, the company can serve its customers with web development services. Developing a web application in the MERN stack can be a technical challenge. To solve this problem, RipenApps offers its expertise in this area and become a global MERN stack development service provider.
Being a top MERN Stack Development Company we use the best tools and technologies to build the best MERN stack development service. If you are looking for the best MERN stack development service, then contact our experts & leverage the power of our robust MERN stack services.

Enterprise Application Development
MERN Stack is an emerging open-source web application development framework that is easy and quick to accomplish web development. It is specially designed for single-page applications which are rendered using JavaScript on the front-end side. The template engine of React enables the developers to build scalable and modularized applications quickly by focusing on key features rather than implementing complicated components.
Holding expertise in utilizing the potential of this rich technology, we create scalable solutions for enterprises to provide their business scalability and productivity. We access the adroitness of the MERN stack's wide range of features. It involves data access with MongoDB, dynamic and fast page rendering using React, server-side rendering with NodeJS, and simplified routing in the form of URLs, etc. Thus we create best-in-class solutions for enterprises.

Web Services and API Development
The MERN stack is a full-featured and powerful JavaScript framework that allows us to create web applications with ease. With this stack, we can easily build features such as user authentication and routing among others. Moreover, the simplicity of the MERN stack allows for a faster development time than other frameworks and languages like PHP or Ruby on Rails.
Being a top-rated MERN stack web development company we are experts at creating a scalable front-end web application using the MERN stack. Our MERN stack service-line focus on building an API server that provides a REST interface to backend data sources.

SPA and real-time app development
Being savvy at MERN Stack, we develop advanced web solutions to get you to have real-time customer engagement with dynamic Single Page web application development. Our expert MERN stack developers bring the best of React features to build engagement-driven single HTML pages
This aids their business growth as this helps our customers in getting a fast-moving solution for business promotions. It delivers a strategic user funnel by applying aggressive paid promotion techniques. The Web developers at RipenApps hold the expertise in clutching the benefits of the MERN stack. We create highly interactive applications that provide a great user experience.

Support & Maintenance services
We have a technically savvy team of MERN Stack developers who comprehends how to formulate result-oriented solutions. With solutions using MERN technology, we also offer supports and maintenance services. We have an all-equipped facility and advanced tech-enabled processes. It helps us to serve you with advanced MERN stack development solution requirements, support, and maintenance of the apps. You get to have the best of MERN support and maintenance services. We follow stringent service protocols and provide high uptime value to keep your MERN solution up and running smoothly. In all extreme cases, your app will work flawlessly.
Swish Fintech
A smart digital solution to track the progress of a child at school.
Case Study
eGurukul 2.0
A Digital Gurukul to aid PG Medical Entrance Exams Preparation.
Case Study
Henchens
Bringing thousands of flavours at one platform to change the way India eats.
Case Study
MERN
Tech-Stacks
Add the adeptness of MEAN web & app development solutions to your business via unlocking the mentioned tool-set.
Tools
Redis
Fabric
GIT
JSON
GIT
Fabric
GIT
Skills
Angular
React
HTML5
Express
CSS
Node js
Databases
MySQL
MSSQL
MongoDB
Oracle
Team
Composition
Led by Veterans, Trained by Talent, Our MERN Stack Developers are creating Wonders under Ninjas.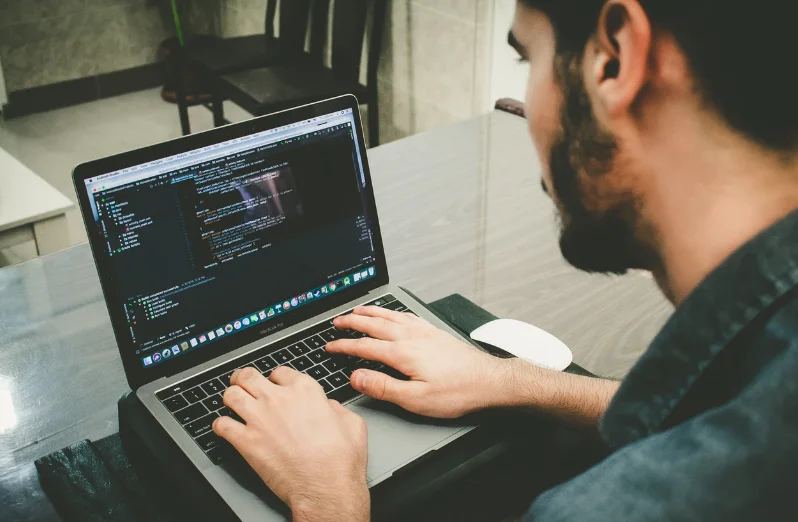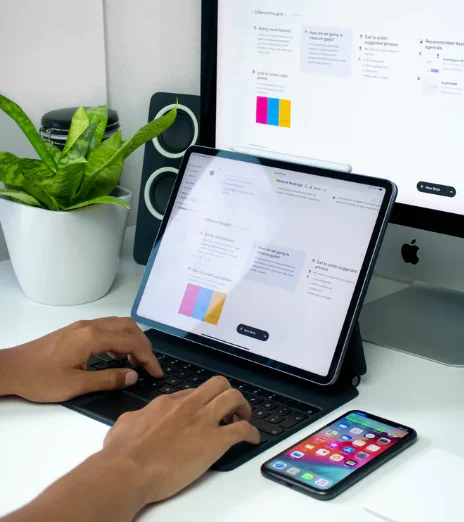 Business
Engagement Models
We help startups & brands work elegantly in mobile product innovation through problem-solving skills & profitable business engagement models.
Extended Team

We offer the Extended Team model to provide our client the flexibility to control the development team remotely where client can hire the unit remotely and pays only for the team but not for infrastructure under this is the cost-effective model.
Time & Material

We offer T&M model that is best suited for Agile projects and can use an hourly, weekly, or monthly rate for the amount of resources, materials or other expenses that were applied in the development process.
Fixed Budget

This model is best suited for small-scale projects with defined requisite. This follows a milestone-based roadmap; to be done under a fixed budget & all your operations and optimizing deliverables making them an expeditious affair.
Empowering you to transform, adapt, and build MERN stack solutions across diverse industry
With the adroitness of four trending technologies, MERN is spreading its awesomeness among a massive user base. Our certified MERN stack developers at RipenApps offer highly scalable development, maintenance, and consultancy to different verticals.
FAQs
In case, you aren't able to find your answer, do write to us through our contact page.
The MERN stack is a collection of JavaScript libraries that allow the developer to create robust web applications with ease. The three libraries are Redux, React, and NodeJS. All these libraries are open-source which means they will always be free to use without any restrictions or conditions.
A lot of developers aren't knowledgeable in deep programming languages such as Java or Python, whereas JavaScript which is used in the MERN stack is so much more beginner-friendly and can get the job done with less code needed when compared to other languages. The MERN stack has simplified the development process.
The MERN stack is a full-stack JavaScript solution for web application development. At its core, the MERN stack consists of MongoDB, Express, React, and Node.js. It's designed to give developers a head start in creating the best possible high-quality app as quickly as possible.
MERN stack is a full-stack JavaScript solution. It combines MongoDB, Express.js, Node.js, and React.js components to create a well-performing full website stack.
In simple words, the MERN stack gives you everything that you need to build a web application from the ground up in JavaScript and it also allows developers to switch between different languages as per the requirements of their projects: they can choose any combination of React, Angular or Vue as frontend library while using Node or Express for back end code in server-side development.
Developers can use this stack for both complex and basic web applications with ease without any additional work on their part of the project - it includes its routing system, pre-built templates for popular frameworks (React/Angular), etc.
It is not possible to say that a MERN stack will replace a MEAN stack. This is because the MEAN stack is much older. Also, a MEAN stack provides comprehensive coverage of all the three layers of an app, while the MERN stack only caters to one layer and not all features.
However, in the future, we might see more IDEs with MERN stacks as they are easier to use and are gaining popularity among developers.
As with any other technical advancement, it takes time for developers to get comfortable with new frameworks or new ways of doing things.
MERN stack is one of the most powerful and in-demand web stacks. MERN is a free and open-source JavaScript software stack for building dynamic websites and web applications. The MERN Stack development process is becoming increasingly popular while serving as a powerful end-to-end development framework to reveal great solutions for modern businesses.
Award

& Recognition Corner

We RIPE great products that form great brands.
And Success & Smiles of these Brands RIPES US to surpass.

Award Room


Discuss Your Project

and Request for Proposal

Convert your idea into a digital product with top developers