Real Estate App Development Guide: Making Property buying & selling easy
Introduction Part
What is the market coverage of the online real estate industry?
What are the Top Competitive Real Estate Mobile Apps
What are the significant benefits of Having a Real Estate Mobile App
What are the required Features to Build a Feature-Rich Real Estate Mobile App
Once upon a time, there was a dependency on the agents to sell or buy the property, house, or place because buying & selling a house is the most crucial factor in someone's life. In past buying & selling was dedicatedly focused on the availability of the real estate agent's time to visit properties to rent, purchase, or get prospective customers to visit their properties. Also, people spend months, perhaps years, combining through listings, comparing prices, calculating interest rates, most of all, analyzing the future value of making such a humongous investment.
But, But, But time has shifted towards modernization and shifted drastically ever since the entry of Millennial in the real estate picture.
That time when the millennial entered into the picture, it has brought several changes in the industry, just like their presence's impact on all the industries.
Just like everything people else in life, people look to the help of technology when talking about this gigantic decision. With a truly useful, well designed, and feature-rich real estate app, you can tap into an ever-growing, a highly profitable market that is genuinely looking for disruption.
Let's See the Glimpse of Online Real Estate Market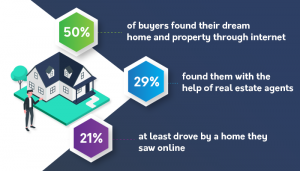 50 % of buyers found their dream home and property through the internet, while 29% found them with the help of real estate agents.
Virtual house tours are the most important to buyers that fall within the 53-71 age range.
29% of the home searchers found a real estate agent because of an online home search, and 21% at least drove by a home they saw online.
Top Competitive Real Estate Mobile Apps
Statista uncovers the name of top real estate market players that have a huge user base in US, 2019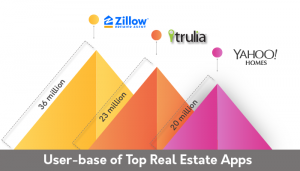 Zillow led the ranking, with approximately 36 million unique monthly visitors
Trulia is the second most popular real estate website with around 23 million monthly visits,
Yahoo! Homes comes in third with around 20 million monthly visits.
Benefits of Having Real Estate Mobile App
As, we have looked up the stats of top market players of real estate mobile apps like Zillow, Trulia, and Yahoo! Homes, now let's talk about on the basis of what benefits these top real estate market players have taken the market yet and what benefits a real estate mobile apps & real estate mobile app development can provide to their users.
Progressively Qualified Leads
More Smartphone users henceforth more lead. More leads mean more transformation openings and more income. Real estate apps are one of the opportunities of the most mainstream app to be downloaded, influencing everything stores. A single property mobile app can give 403% even warmer leads to the company.
Solid Online Presence
A mobile app on Google and Apple play stores is noticeable to more than 1 billion users who open them every day. A trending app (an app that has been downloaded commonly) appears in the featured segment of play stores, making them considerably progressively unmistakable. You cannot pick up this kind of introduction from a site or a customary advertising campaign. The web has contracted the world. Through a web application, you can meet customers and operators from any edge of the world. Managing worldwide customers augments your presentation and enhances your portfolio. All these, at last, bring about better customers and arrangements.
Meet Global Buyers
The web has contracted the world. Through a web app, you can meet customers and operators from any side of the world. Managing worldwide customers extends your presentation and advances your portfolio. All these, at last, bring about better customers and arrangements.
Keep up Large Inventory
Making a real estate permits keeping up properties from different operators and agents. The vast stock will astonish your app users with an assortment of home sizes, costs, neighborhoods, and amenities. Private or business, developed homes or land, new deals or resale, rentals, or buys, your vault of included properties will be gigantically, giving decision progressively to your app users.
Outwardly Appealing Showcase
You can't analyze the visual intrigue of mobile apps. Envision giving a virtual voyage through homes you're selling or taking buyers on a flying 4D perspective on the whole neighborhood; applications gloat of creative innovations that pull in aspects and guests quicker than some other technique. Geolocation, Bluetooth, cloud, computer-generated reality are innovative strategies that improve user experience and make medicine app compelling.
Paperless Office
You can keep up property blueprints, consent to the agreement, confirm loan papers, and execute enormous sums, all essentially and safely through the mobile apps. Smart integrations in land apps enable you to work without large files and tedious filing spaces.
Extra Income Source
Aside from benefits that you will make on bargains using mobile apps, paid memberships to your app, in-app advertisements, and outsider commissions are different ways by which you'll pick up fiscally from your real estate app. A heavenly device, it continues multiplying your revenues.
Beat Competition
One app does the elements of offers, activities, information passage, marketing, and users care divisions. You can decrease overheads and swell benefits by merely putting one time in an incredible real estate mobile app.
Colossal Cost Savings
The most significant advantage of having a mobile app for any business is to have a robust association with your users, without fail, all over. At the point when your users will have the option to get to data through their Smartphones, check postings, make inquiries, take virtual visits, converse with client care reps, and make worthwhile arrangements using your app the bond you'll manufacture with them will be everlasting and fulfilling.
Fulfilled Customers
You can't look at the visual intrigue of mobile apps. Envision giving a virtual through homes, you are selling or taking buyers on a flying 4D perspective on the whole neighborhood, apps brag of innovative technologies that draw in views and guests quicker than some other technique. Geo-location, Bluetooth, cloud, augmented reality is innovative strategies that improve user experience and make mobile app powerful.
Required Features to Build a Feature-Rich Real Estate Mobile App
After unlocking the huge pack of benefits, it is time to look at the real estate mobile app features at the back of which they have been able to create this place in the market and have been able to define how to perform real estate app development like Zillow, Trulia, and Yahoo! Homes.
Database
Everything identified with the achievement or even the simple working of the app relies upon the combination of the database in your real estate app development process.
The more extensive and refreshed it is, the more prominent would be the odds of keeping users intrigued by your app.
Onboarding
The initial five steps that the users take in the wake of introducing the mobile app are the most choosing ones. The simpler you make it, the more noteworthy the odds of users not surrendering your app on the first go.
It has an online networking API coordinated at this phase, for then onboarding turns into a matter of not many clicks.
Search and Filter
Property distinguishing proof and filtration is another most significant component that must be available in the real estate app design. You should target including whatever number shortlisting features as could be expected under the circumstances in the platform, which would, at last, bring your end-users at a lot greater safe place as far as the unwavering quality of your foundation.
Guide/Map
A legitimate guide/map combination is a significant piece of any property search mobile app. It is your best way to guarantee that the property searchers arrive at the correct area at the perfect time.
You ought to likewise target coordinating a map feature in the app, which would help in recognizing what all spots are in the region – schools, banks, emergency clinics, and so forth.
Calendars
The features prove to be useful, particularly for the real estate stakeholders. They can undoubtedly monitor the open house and property purchaser/merchant gatherings.
Apartments Details
Your platform would be viewed as successful just if you give inside and out bits of knowledge into each property that is recorded in the app. Everything from per sq.ft. Region to the area and individual contact details ought to be unmistakably referenced on the page.
Having the details of the property unmistakably referenced in the app expands its incentive in the market in general.
Message pop-ups
The advantages that appropriately applied pop-up messages offer are excessively and too huge to disregard. Furthermore, what applies if there should arise an occurrence of mCommerce works rightly so if there should arise an occurrence of property search app as well.
By ingraining the pop-up message included in the app, you will have the option to keep the clients updated as far as the message that they get or value variances and even get a report on the schedule arrangement.
Currency Converter
With everything now working on a one-world situation, the cross border development of individuals has carried with itself the requirement for cross border land buy also.
What's more, in such a circumstance where an ever-increasing number of individuals are getting open to having a property – rental or claimed any place they live, it turns into an unquestionable requirement must have a money transformation usefulness in the app, as any real estate mobile app developer group would propose.
Groups and Messenger
Having the group's functionalities in the app will give your user examine the property, its condition, benefit making capacity, and so forth in the open. Something that would legitimately expand your app commitment tally
The consideration of messenger functionality, then again, will assist you with giving your partners a platform where they can speak with one another and speed up the entire real estate exchange.
Virtual Tours
Albeit still not mainstream, giving the office to the end-users to for all intents and purposes visit the property before they cause the buy to can do miracles to your turnover. Virtual visits can be a stunning method to transform them going back and forth app guests into individuals who might want to decide and put resources into the property.
Along these lines, even though it's anything but an absolute necessity have now, virtual visits are, in reality, something that can affect your app's commitment and revenue-creating capacities.
Since we have seen the features set that have ended up being must-have in a total scope of property search apps working in the market today, the time has come to investigate the company, which can build it outstandingly. Then RipenApps is a top mobile app development company that makes real estate apps with full trust and transparency.
­­­­­­For having further more extensive knowledge, reach us at [email protected]