"We haven't lost affection in the digital age; we just have reloaded ways to deliver love."
It is Valentine's week, and numerous startups are targeting to initiate a dating app where Tinder-like apps act as a catalyst for entrepreneurs.
Before digitalization, communication and dating stood inconvenient due to the lack of smartphones. With digitalization, dating websites made dating easy by using nearby matches, video-calling, and other fascinating features. Even websites are losing their importance since people are shifting to apps. Dating apps like Tinder have become a preferred choice of users, and a new dating app or idea has to be unique with trending features to capture the attention in the market.
If you also have a dating app idea and are probing to step on a unique concept, Metaverse technologies can increase your probability of ruling the dating market. The blog aims to provide a complete insight about Trending Metaverse technologies that dating app ideas can inherit to provide a unique dating experience.
Before starting, let us show you the numbers involved in Dating and Metaverse keywords.
Dating and Metaverse- Trending Search Numbers
Metaverse is a hot topic in 2022 after the announcement of Facebook to Meta. The volume for the Metaverse keyword has already reached 303,967 in the count, and it will keep increasing since everyone is hyped about it.
Dating keywords like "Facebook dating" and "mingle2" have already crossed 1,47,500 and 142,500 search volumes. And the numbers are only from the United States, not worldwide.
Website dating has decreased with the new trends, and dating through apps has increased. 26.6 million users in 2020 were involved in smartphone dating apps in contrast to 44.2 Million users for dating websites in the United States (Source: Statista). Traditional website dating is an old player in the market, and apps have already achieved half of their level. 
It is obvious to question, "why have people started to consider apps more than websites?" Let us answer it.
Why are People Adopting App-based Dating Over Website Dating?
Valentines is the high time when the hunt for dating apps/ideas increases on the app markets. Sure, couples have met online through dating apps. In android, the google play store is a go-to search engine for keywords like Dating and friendships compared to an address bar in a browser. Since people are open-minded in the age of globalization, dating apps stand as a great idea to initiate an app corresponding to a website.
Following are some benefits that dating apps gain over traditional dating sites.
Easy File Sharing 
With an app, you can quickly gain access to a user's smartphone. Apps integrate with smartphone file systems and let users share data directly. On computers, users might have to transfer their pictures from smartphones before sending them to their friends and matches.
Better Push Notifications 
Websites can send push notifications to mobile, but users consider them spam most of the time. At the same time, they are more likely to allow notifications from apps. In the US, average smartphone users receive 46 app push notifications daily (Source: business of apps). Apps enjoy a push notification advantage where companies can send them promotional deals compared to websites. Dating companies can drop easy notifications about matches and activities taking place inside the dating world.
Faster
Smartphone interfaces are easy to understand for the majority of the audience. The reason is simple: the audience does not have to enter specific queries and website addresses to use their favorite platform. So, having a dating app will push you in accessibility availability, letting more people use your platform while on buses, trains, or even walking. Your app will launch in "just a tap" compared to a few more steps in opening a website. Plus, websites refresh themselves completely to load new changes, which is not the case in apps.
Rolling Out Updates
Apps are continuously updated with new and exciting features. Dating websites are also updated, but it is an excellent option to let users download content once and use it flawlessly. For example, games inside dating apps can be downloaded so that users do not have to wait like websites that download it every time.

App-based dating will be convenient for users in 2022. Not only for the users, but it is also easy for companies to deliver new features and user experience. But, the above features are available in every app but "why Metaverse features and technologies are in hype?" Well, Metaverse is in the hype because big players have already stepped into it.
Why is it High Time to Step into the Metaverse-Enabled Dating Platform?
Dating is not a new concept, but adding the Metaverse-related features in your dating app will let you enter the Metaverse race.
Looking at the Metaverse race, several big players have stepped into it, as mentioned below: 
"Meta spent $10 billion on the metaverse in 2021" (Source: NY Times).

Indian telecom giant Jio, "Steps Into Metaverse With $15 Million Investment In Pranav Mistry's 'TWO' AI Startup" (Source: news18).

Microsoft's "$68.7 billion deal, which was announced on Jan. 18" (Source: Blomberg) will let the company become the third-largest future-gaming company in the world.
Now considering the players in dating with the Metaverse approach, Kippo 2.0 stands strong. Kippo co-founder said, "Our vision always was to create a very immersive experience" (Source: dot.la). Although the application provides a gaming experience, 93% of the players have played games and met in person later. The application will allow the users to communicate like a dating app with the latest version.
So, with the trend, Metaverse is an excellent catchphrase to implement in the majority of the industries where Dating is a crucial one. But, what will filter a Metaverse dating app from a simple dating app? Let us look at features that convert a dating app to a Metaverse dating app.
Trending Metaverse Technologies to Add in Dating Apps to Appear Innovative
Metaverse will take a decade to push the audience to the virtual world. In the dating app world, Tinder is at the top letting users find their matches, friends, and partners. Let us consider a few elements from dating apps and connect them to the Metaverse to provide a better insight into new features to dating apps.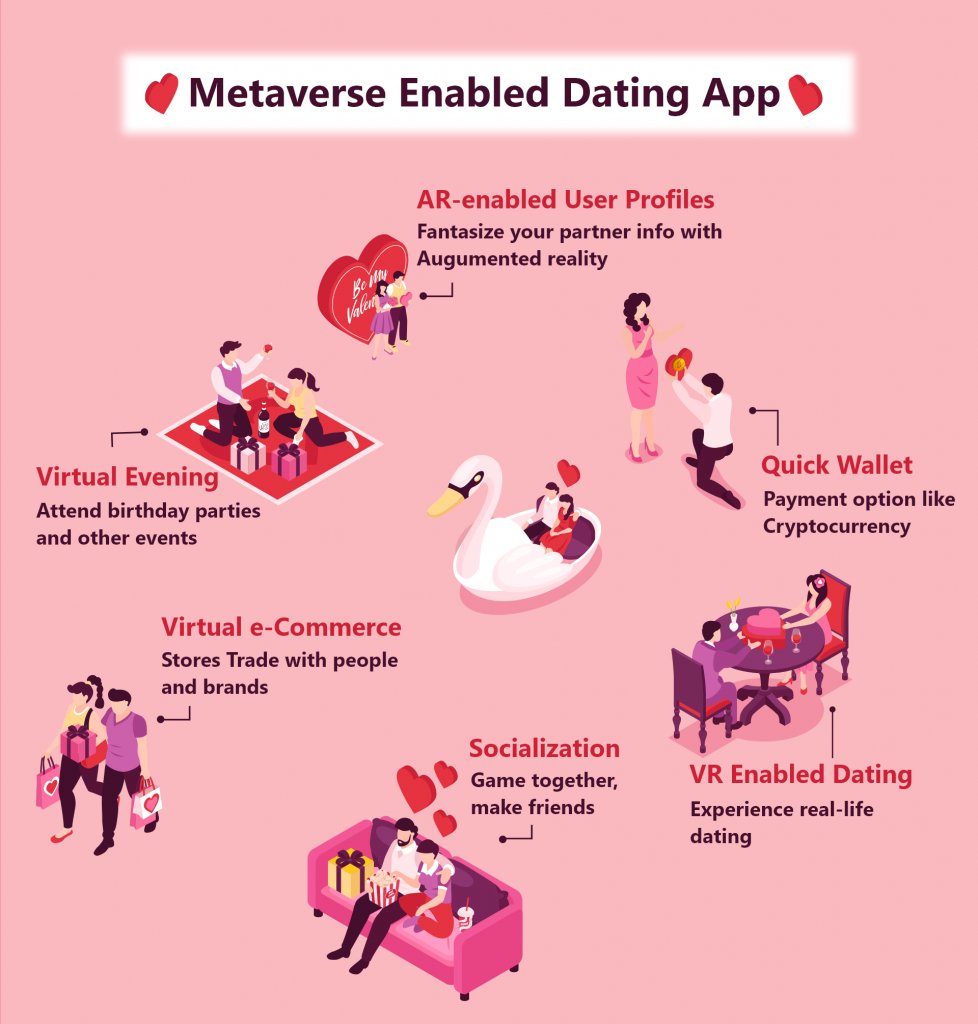 AR-enabled User Profiles

 
In dating apps like Tinder, we have a user profile section displayed in text. Elements like hobbies are descriptive. With Metaverse, users can have their 3d Avatars where other people can see them performing their mentioned hobbies through VR. It will give them a better connection when partners see how their match looks while performing their hobbies. For example, a cycling video with VR can provide a close to natural feeling. Further, through AR technology, matches can fantasize about looking while standing next to their partner.
VR Enabled Dating
VR provides an experience where users can emerge in the virtual world. Dating Apps like Tinder do not offer such an option. Metaverse apps can allow people to use VR-enabled Dating. Matches can wear VR's and fantasize naturally about sitting in front of their dates.
Socialization Through VR
With the Metaverse world, users can play games in VR technology and socialize with other people. Although a complete Metaverse world will take time, apps can at least implement options to game together through Virtual reality technologies and let users feel the real experience even from a distance.
Virtual E-commerce Stores
No dating app has reached this point. Although the E-commerce trade options are visible in the games, dating apps are still implementing them. E-commerce in Dating will let users sell and purchase gifts, clothes, and other accessories, providing an emerging experience through their virtual character.
Virtual Eventing

 
Dating apps with Metaverse AR and VR technologies can organize events where other 3d avatars can join it. Imagine a clubhouse where you have entered by wearing a VR and feel every virtual detail like a real-time activity. Dating apps can organize these events, or Avatars can organize birthday parties inviting others.
Wallet Possibilities for Quick Payments
When we have stores in the Metaverse, it is evident that dating apps have to work over the digital payment system. Companies will have to implement cryptocurrency as digital payment for assets, accessories, gifts, and other items exchanged by avatars in the Metaverse. Further, other stores can participate in dating apps and promote their products, providing users with a broader degree of choices.
Concluding Words
This is the high time when Dating and Metaverse appear in enormous search results. With more companies ready to integrate Metaverse into their ecosystem, dating apps should also consider Metaverse features and implement them. AR, VR, and Virtual stores are a new reality that can be implemented.

As the best app development company, RipenApps loves to work upon new technologies and trends, and Metaverse has already evolved. If you have a dating app idea, why not let us help you and enrich your app with futuristic possibilities. Connect with us to discuss your Project.
Contact Us