Evolution is a law of nature, and the mobile app development industry is, fortunately, no exception. With the designs and technologies upgrading every passing day, it has become appallingly obvious that a business begins to feel lagged behind if not taken care of well. To keep pace with time and technology, every business vertical needs to be reformed and redesigned.
Nowadays, businesses have become app based. So, today, we will figure out the importance of redesigning an app for a business to grow.
The App Redesign Planning
Mobile application designing is an always developing procedure. The pattern that is making its presentation crisp in the market today may wind up obsolete simply following a couple of days. In this way, the application designers need to refresh their insight separated from being inventively innovative. Also, in the event that you need to win the fight in the early introduction itself, at that point, mobile app designing can get you a major lead in the first round.
Reasons Explaining Why You Should Consider an App Redesign
Similar to the fashion industry, where the outfits are regularly revamped with some additions and cuts, mobile app development companies the same trend of reviving the application with better maintenance and other technical intricacies. With such a broad spectrum of redesigning, we get a chance to get a complete makeover of an app. With updates in designs at regular intervals, the applications begin to look more aesthetic than before.
Here are the top reasons to consider app redesign and start building UX strategy.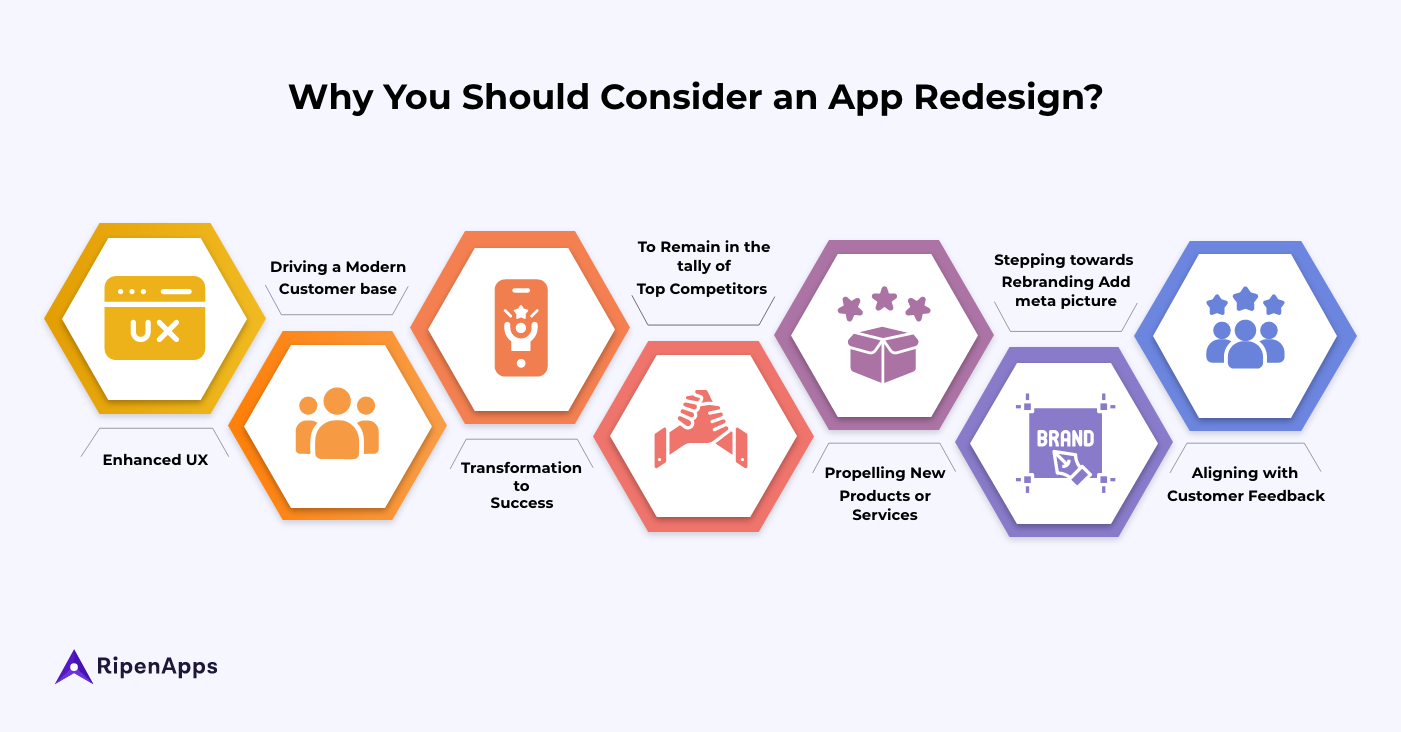 Enhanced UX
The UX relies upon the UI. Every one of the components ought to play out a particular assignment to make the utilization of an application simpler and lovelier. For example, current applications utilize implicit utilities to influence the information to include processes programmed (utilize a unique mark rather than a secret key entering). Thus, it is vital to stay aware of the most recent UX patterns to utilize them while upgrading.
Driving a Modern Customer Base
This is true in terms of the modern-day driven world where mobile app development companies are compelling the existing business app owners with their new and alluring designs of applications for a new business that leaves the existing apps far behind in the race. If you're witty and wise, you'd certainly opt for an app redesign in order to drive more modern people to your business.
Transformation to Success
All product owners have a strategy for success and hope to get a particular whole. In the event that the transformation rate has tumbled down or it's not exactly expected — it's an ideal opportunity to change the UI plan. And a changed UI plan is the right step toward success.
To Remain in the Tally of Top Competitors
This is one of the general answers that you would discover from the greater part of the business people. They have decided to update the application for discussion rate on the grounds that their rival has gone for the redesigning of his application. Also, this is self-evident. You need to prevail in the firm-winning rivalry.
Propelling New Products or Services
Mobile application redesigning is like the development of sites. You are more likely than not to say that when online business people dispatch new items or administrations, they go for another makeover. In this way, when you are rebranding your business, mobile app redesign becomes a necessity.
Stepping towards Rebranding
Facebook rebranded itself as Meta. And to support this rebranding, they built a new portal of accounts known as Account Center. In the account center, the company has idealized one account for both Instagram and Facebook.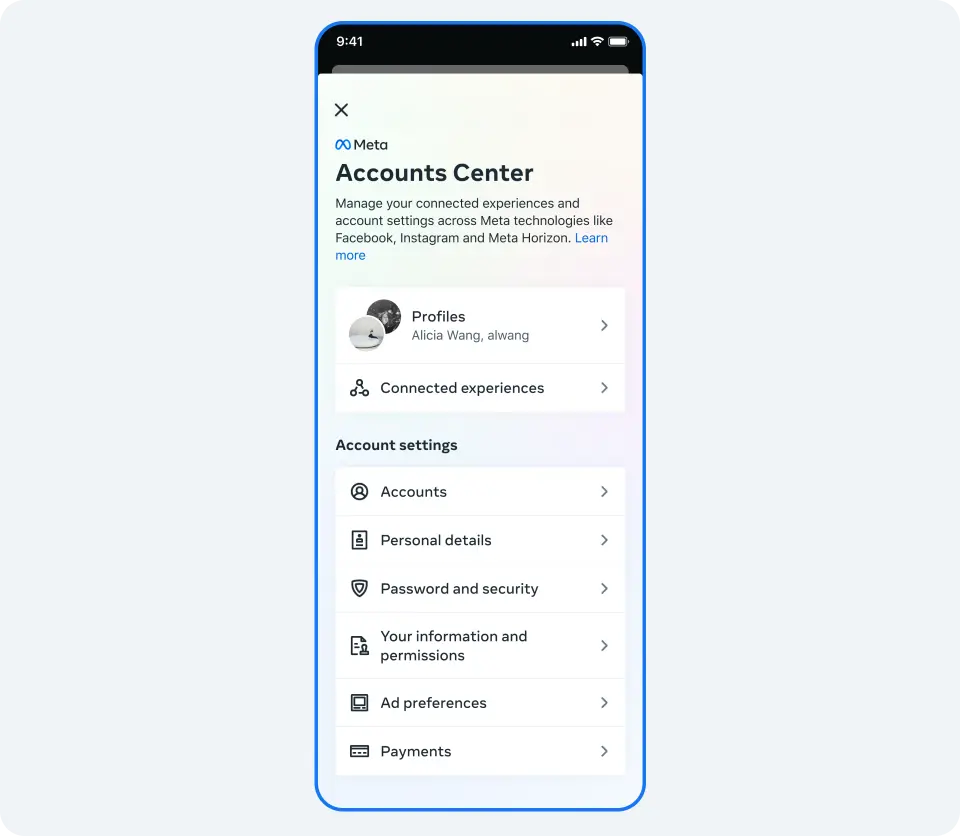 In case you are also trying to build a rebranding strategy, you have to introduce something new. And, there cannot be something new without giving a new touch to your existing application through design. In 2012, Facebook's app was different. In 2023, the Facebook app will cater to the new generation with an innovative, easy-to-use, and appealing-looking design. Hence, consider redesigning when you want to rebrand your business and give it a fresh feel & look.
Aligning with Customer Feedback
If you have prioritized your customers, you must be recording their feedback since your launch. And when you receive consistent feedback about your app, it is a good indicator to plan a redesign of your application. Rethinking the user experience gives a sense of feeling to the customers that you are actively hearing their feedback. However, this stage would require a sneak peek into customer feedback. Build a database and filter it according to the elements of user experience. Slowly implement the app redesign according to the customers.
A Quick Guide for Building the Right UX strategy for App Redesign
Minimalism, efficacy, and personalization are the key factors that can't be overlooked when you're redesigning an application. Let's dig a bit more about them in detail. In case you are building your app for the first time, you can read complete guide to mobile app design so that you build your design in the right way.
Minimalism
Keep in mind the structure. Every one of the components ought to be in their classifications. Users should discover everything instinctively. In the meantime, it's smarter to conceal all the optional components on alternate screens or on different menus.
Efficacy
Consider the freshest applications where a user needs to type a secret key, make a login, et cetera. There are none. Utilize present-day advancements, similar to the camera, unique mark, social incorporation, GPS mode, and all others. In this way, you'll get a similar functionality (or stunningly better), yet a user needs to do fewer activities.
Personalization
Personalization is one component that is inclining at the present minute, and the top mobile application development companies are putting forth significantly more accentuation on it. It is one of the prevalent apparatuses through which you can actually upgrade the engagement of the users.
Review user feedbacks
If your business has an app, it is for sure that you are establishing yourself in the digital spectrum. And your users must be sending you feedback on your emails, app pop-ups, review page, social media accounts, and more. While building your app redesign plan, consider the user feedback. Implement the suggestions proposed by your customers because it will help you gain loyal customers in the long run.
Competitive analysis
Do not forget to learn about the market. While building your app redesign strategy or redesigning the app, ensure that you also analyze what your competitors are doing. Analyze their design firm to take an idea about what is going on in the market and not miss the UI/UX design trends. It will help you gather better, innovative, and creative app redesign.
Do not forget to test the results
While building an app for the first time, you might have focused on quality assurance. During the app redesigning process, do not alter your focus on testing the results. Test your newly redesigned app just like the scratch app. It is possible that your new feature might affect the stability of your existing features.

The Final Words
Mobile app redesigning is one of the most vital aspects of app-based business in the modern-day app-driven world. To keep pace and remain in the competition, one needs nothing but a proven strategy and approach to revamping their business, and with mobile app development in the picture, the task has become much easier than before. You should consider the aforementioned aspects whenever you plan to redesign your application. Also, ensure that you hire UI/UX design experts when you want to redesign your application. An expert designing team will deliver you the best user experience in your mobile app.
FAQ'S
Q1. Why should we redesign an app?
When your application metrics go down, and you note the regular customer reviews about their bad experience, you should redesign your application. A new design will revive your application's user interface.
Q2. How do you approach an app redesign?
You have to build the right UX strategy for app redesign. Follow the below approach:
Define goals and objectives
Develop redesign strategy
Create wireframes
Redesign your product
Test your new design
Gather feedback and improve
Deploy your updated application
Q3. What are the benefits of UX redesign?
A new UX strategy towards app redesign will attract a more customer base for your application. Further, it will enhance customer retention and deliver you the desired growth and revenue.
Q4. What is the strategy for redesign?
While building your strategy, keep your user feedback in mind because, in the end, you have to satisfy your users. Analyzing the competition is also a part of UX strategy so that you do not miss what is going on in the market. Connect with us to discuss your Project.
Contact Us