It is true that "Sports creates a bond between contemporaries that lasts a lifetime." But the evolving world requires modern sports to keep the spirit of sports high. Keeping up with the changing demands of users and integrating digital technology remains a robust challenge.
However, just like modern problems require modern solutions, sports industry challenges have a solution: mobile applications. This blog will walk you through the most significant challenges in sports industry, with a brief solution targeting how mobile apps can solve those challenges.
Top Sports Industry Challenges & Their Solutions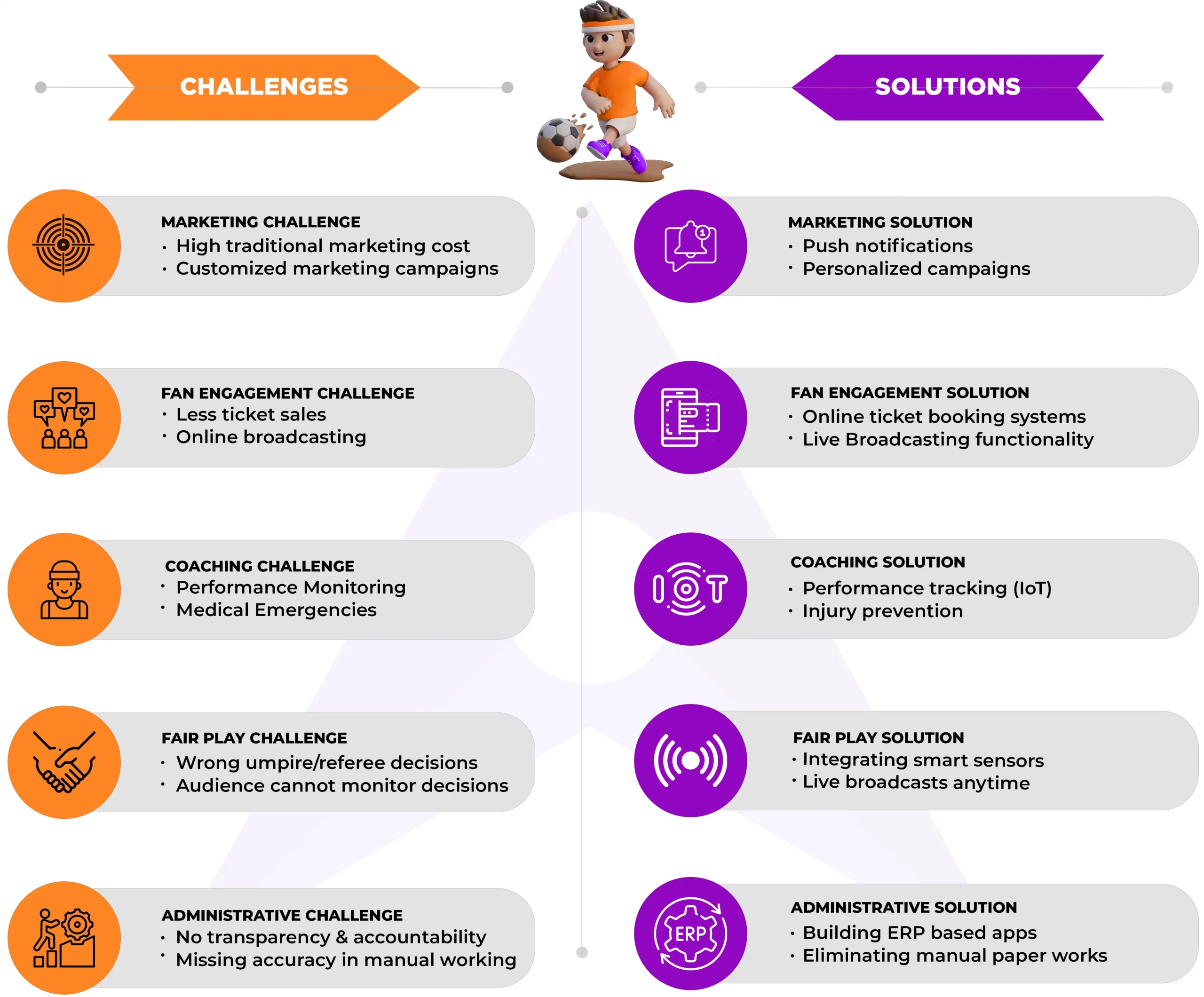 The Marketing Challenge
The sports industry is not new, and it has heavily relied on traditional marketing systems. Print media, television commercials, billboards, radio ads, direct mail, and whatnot. Authorities associated with the sports industry have spent millions of dollars on the marketing segment.
However, modern marketing systems work differently, and marketers are facing marketing challenges in sports industry. So how do they do it?
Solution
Mobile apps can solve the marketing challenges in sports industry. Once users install your sports app, intelligent personalization algorithms can target them through a push notification system. A push notification system within your mobile app allows you to send personalized emails to your users. And how would you get personalized information?
When customers agree to the permissions, you can get to know them better, leading to personalized notifications, marketing campaigns, and more. This in turn leads to a modern marketing system through mobile applications. Even if you want to target green marketing, you can do it easily through a mobile application.
The Diminishing Fan Engagement Challenge
It is natural to notice diminishing fan engagement in the stadiums. According to Capgemini Research Institute, 69% of fans prefer to watch sports outside of the stadium. It is a challenge for the sports industry because they spend millions of dollars organizing sports events, and when the audience does not join the matches, they incur heavy losses.
Solution
Mobile applications have a strong potential for applying data analytics to increase fan engagement rates. It can take surveys from customers right from their smartphones and analyze how many sports fans are going to attend the event in the stadium. Further, mobile app features like broadcasting can cater to young generations, where they can watch their favorite match live right from the comfort of their house. Additionally, the digital payment mode can help the audience book a stadium ticket and pay for it right from their smartphones.
When it comes to the development part, hiring cross platform app development services provider can further make fan engagement better. When you build an app for both iOS and Android, everyone can join on their respective platforms.
The Challenge of Coaching the Athletes
The communication gap between coaches and athletes is one of the most prominent challenges in sports industry. After the practice sessions, there are communication breaks. Further, coaches face challenges in tracking and monitoring the performance of the athletes. Every coach and athlete is looking forward to solving this challenge for better training and results.
Solution
With the Internet of Things(IoT), this challenge can be resolved. IoT devices like wearables can track the calories burned, running distances, heart rates, and more to give a proper view of training sessions to the athletes as well as coaches. Mobile apps with AI in sports can further deliver proper reports to trainers and trainees. Also, mobile apps can deliver suggestions for diets, injuries, and whatnot through data analytics.
Fair Play Monitoring Challenge
Every sport wants to apply fair play to deliver the best experience to athletes and fans. There are times when umpires are not able to make the right decision, causing tensions among the teams. Although smart systems are working to provide fair play, mobile apps can further take it to another level.
Solution
Intelligent sensors can track the pitches of balls using predictive analysis in sports like cricket. In the coming future, umpires' or referees' decisions can be completely supported by technology. If users watching the match on their smartphones directly want to check the fair play, they can go into AI-based tracking mode and check the decision of the umpire.
Administrative Challenges
The management and governance of the sports industry are still manual in the technological world. This leads to errors in the files. Also, the lack of transparency and accountability is among the common challenges in sports industry. Issues related to misbehaving with the authorities and women's safety have become a critical issue. Even the need to solve administrative challenges has become critical.
Solution
From budgeting to payments, people are adopting digitalization. ERP systems are spreading widely among the leading corporations to eliminate administrative challenges. The sports industry can leverage mobile apps in their administration.
For example, full-fledged sports coaching can track coaches' and athletes' performance through mobile apps. The information is accessible to them anytime and anywhere. This in turn will reduce manual administration, promoting the utmost accuracy, transparency, and accountability.
Ending Words
These were the most popular challenges faced by the sports industry. And, sports mobile app development can resolve all the challenges efficiently. However, it is essential to look for the right digital transformation company for successfully resolving the challenge. Once you go digital, you can generate the desired revenue and growth for your business in the sports industry. Connect with us to discuss your Project.
Contact Us