The pandemic has shown the importance of Health care to the world. It introduced a new wave of innovations bringing the potential of digitalization in the healthcare domain and raising Health tech market stats.
With many new technologies emerging in the healthcare domain and converting it to Health tech, entrepreneurs are actively monitoring the market insights of the health tech industry. These Health tech market stats are letting them analyze the trends and business opportunities that health tech industry brings.
By the end of this article, you will have a strong understanding of health tech and its market.
What is health tech?
Health tech, also known as digital health, uses the power of technology to improve the health care systems. These technologies can be in the form of wearables, mobile apps, databases, ERP systems, A.I.-based machines, and more. With the technology, the healthcare domain identifies its potential to the highest level providing flexible and convenient healthcare solutions to patients.
Why is the health tech industry booming?
Health tech opens a pool of benefits to consumers as well as entrepreneurs which is the reasons why healthcare & Fitness app development company are registering massive health tech app development demands.
Here are the benefits of answering the question of "why health tech is booming?"
A transparent yet secure way to access health care data to the desired members
Predictive analytics using Artificial intelligence and machine learning to make critical lifesaving decisions
Mobility solutions for the health care industry enabling remote treatments
Embedding electronic health records
Communication without any hindrances from anywhere in the world with the power of telemedicine solutions
Promotion of smart devices like wearables to deliver a healthy lifestyle to consumers
With the above benefits delivered to the population, Health tech is booming at a sustainable rate.
Ultimate list of Health tech market stats
The below insights into the health tech market stats will let entrepreneurs gather evidence about the sustainability of their Health tech product idea: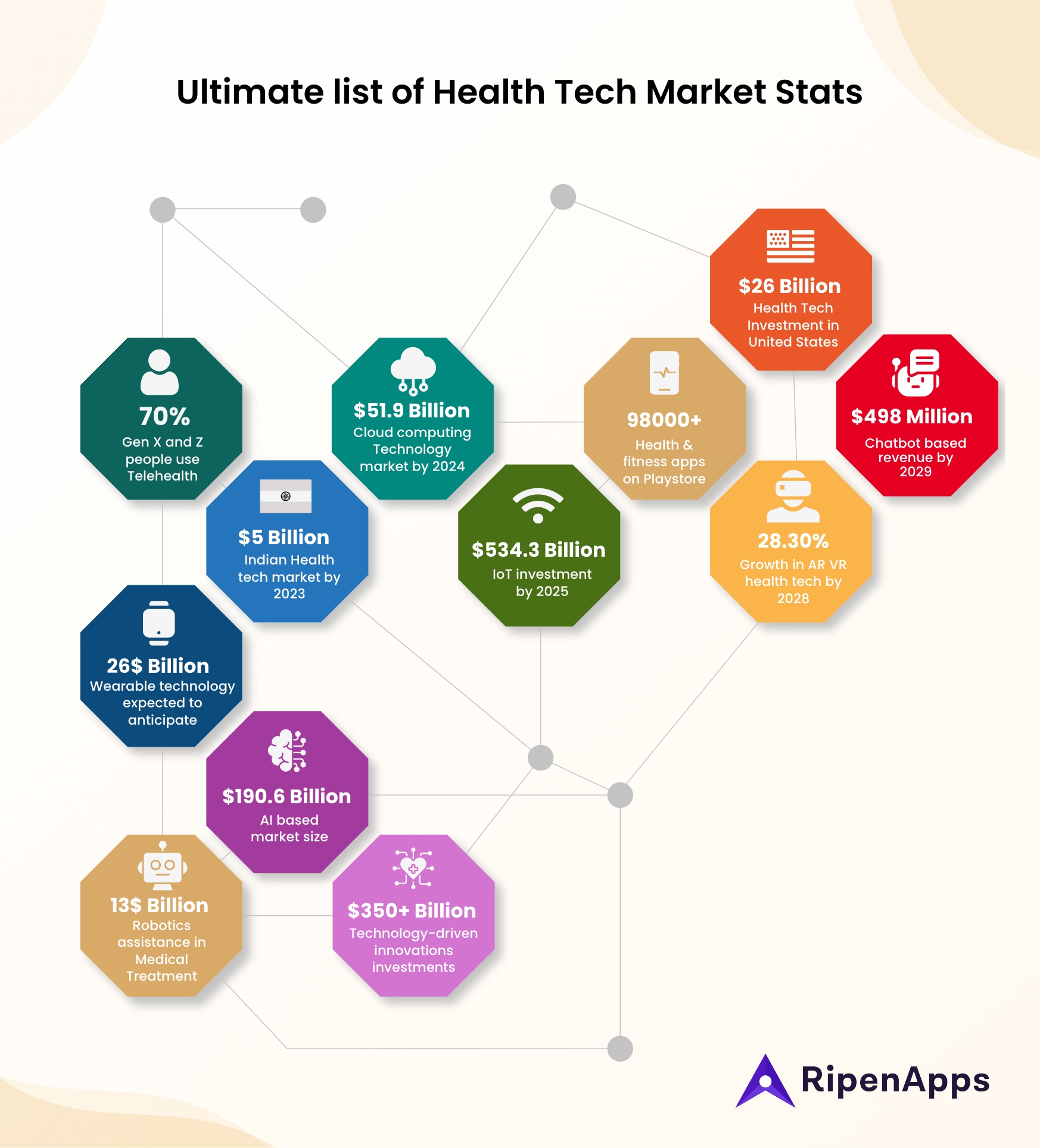 The United States is leading the health tech market stats
Top Health tech companies are from the USA and have registered billions in terms of revenue. For example, Johnson & Johnson Medical Diagnostics made 26$ Billion U.S. dollars.
Robots are assisting the medical treatments
The power of A.I. has further enhanced the health tech industry. The global market for surgical robots will be estimated 13$ billion by 2025.
India is becoming a promising market with health tech
The health tech industry in India will increase by a CAGR of 39%, reaching $5 billion by 2023.
Technology-driven healthcare to create $350 billion-$410 billion
By 2023, according to Mckinsey, the HealthTech market will create $350-$410 Billion as the annual value, where technology-driven innovations will play a key role. It can be in understanding the patients. Flexible delivery of solutions. Personalized caring and more.
Artificial intelligence to reach $190.6 Billion
According to Global Wire, the Analytics Market Size will be Worth US$ 52.2 Bn by 2026. The average CAGR will touch 36.6%.
Wearable technology will be a major part of the Heath Tech industry
Wearable technology was anticipated to achieve a $12.44 Billion market according to markets and markets. 44% of wearable device owners will use wearables for tracking their physical activity.
IoT investment will reach $534.3 by 2025
The annual growth rate of investments in Health tech IoT will reach 19.9% and $534 Billion in market valuation. Also, 60% of health care organizations have already adopted IoT technology.
Chatbots are on the rise for personal assistance
Chatbots are identified as a great engagement tech piece and are used by 22% of the people quoting chatbots are 2x more engaging. The revenue with chatbots in health care will touch $498 million by 2029.
70% of young people use some form of telehealth tool
Telecommunication in health tech is growing, where 70% of Gen X and Z people use some form of telehealth tool.
Cloud computing in global health tech will reach $51.9 Billion.
According to P.R. news wire, the Cloud computing technology market is projected to reach $51.9 by 2024 in the global healthcare industry.
A.R. V.R. will be an emerging tech by 2028
A.R. in the health care market will increase at the rate of 28.30% by 2028, as published by market research future. It will also register growth in education and training departments.
98000+ health and fitness mobile apps are available
More and more physcial and mental health care app development projects are leading the way to Google play store. On the Google play store platform, there are 98000+ health and fitness apps with an average rating of 4.5%. 64% of Americans use telehealth mobile apps for third treatment and diagnostics. In 2022, global users were expected to keep spending on mental wellness apps high and generate almost 500 million U.S. dollars.
Biggest health tech trends and opportunities
Trends follow business opportunities, and with a good knowledge of health tech market stats, you must also understand the trends and business opportunities in the health tech market.
Telemedicine
With the 3x rise in consumer preference, Telemedicine is a trending business opportunity in the health tech industry. You can build a smart telemedicine app that lets users stay in communication with doctors and health consultants. A telemedicine app development will promise a great level of online consultation with flexibility and convenience to the users.
Pharmacy application development
Gone are the days when consumers relied on physically going to the Pharma stores and buying medicines. E-pharma marketplace development is taking off the health tech trend, where either a web app or a mobile app will promise you a sustainable business opportunity.

Smart wearables
Health tech industry is noting a strong Prominence of Wearable Devices. When we talk about smart wearables, there are two trends- Smart wearables apps and smart wearable devices. Either you opt for Smart wearable app development or manufacture a smart wearable device.
App development with diverse opportunities
Another key trend in the health tech industry is application development. You must decide if you want a website or mobile app, or both. You can target a range of niches according to your preference and expertise:
Health & lifestyle app
Workout app
Healthcare news app
Personalized care app
and more
What is the cost of healthcare app development?
The healthcare app development cost varies as per your requirements. For example, building a health tech for iOS and Android varies in cost. Similarly, if you target all the complex features in your app, your budget will vary. Further, the cost of the health tech app is also determined by the location of your app development partner. For instance, India can be a budget-friendly choice compared to the USA.
So, we advise you to discuss the cost factor with your app development partner. Or you can also inquire about the same at [email protected] in case you are interested in building a health tech app.
Do you have a digital product idea for Heath tech industry? Ripen Apps can help you
If you have a digital product idea for the health tech industry, Ripen Apps can be your idea and reliable app development partner. We have built diverse solutions for the health care industry, and our customers have registered growth in millions of dollars. Our team of experts highly concentrate on the requirement of our clients and brainstorm with your dedicated I.T. teams. No matter how complex your idea is, we have no stones unturned. Further, when you partner with us, you unlock a pool of benefits that you do not get through the globe:
Dedicated Health care development experienced I.T. experts
Cost-effective solution with top-notch technology integrations
Trending U.I. UX designing process to retain your customers
Transparent and open-ended communication throughout project
Proper support and maintenance of your app Connect with us to discuss your Project.
Contact Us