Industries are blooming with the power of mobile apps by increasing the customer base, and the same is visible in the Pharma industry. Earlier, pharma stores were only physical in nature, where customers had to leave their houses and travel to buy the medicines. With the mobile apps, the physical stores are adding the functionality of on-demand medicine delivery and assistance. Further, mobile apps are letting pharma businesses reach a wider audience since everything is available at customers' fingertips.Entrepreneurs from non-technical backgrounds are looking for Pharmacy app development guides that can explain the complete information about pharmacy app development.
The guide below is everything they need to know about pharmacy app development: benefits, features, available apps in the market, the tech stack to use for development, and the cost to build a pharmacy app.
Let us take a deep dive into the guide and start with the current statistics in the Pharmacy industry aligning the digital revolution showing the possible growth and revenue if entrepreneurs build a mobile app for the Pharma industry.
Pharma App Key Statistics
Pharma apps have already made their steps in the mobile app market. And, a good amount of users are enjoying the benefits it provides. Here are some stats published by Statista about the Pharma industry and apps.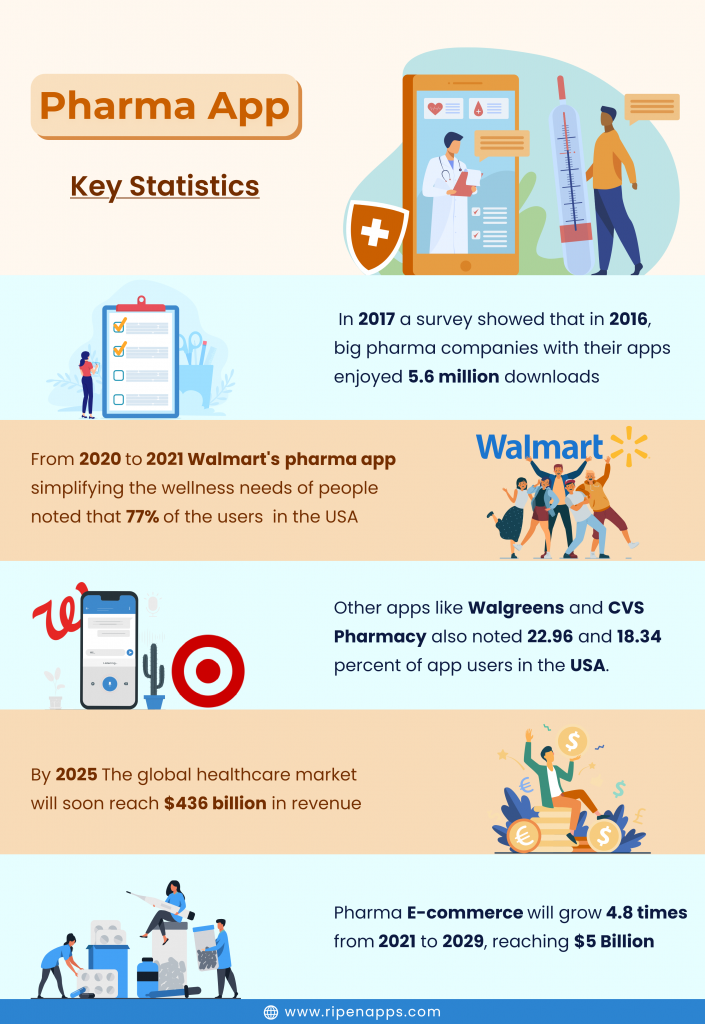 In 2017, a survey showed that in 2016, big pharma companies with their apps enjoyed 5.6 million downloads

.

From 2020 to 2021, Walmart's pharma app simplifying the wellness needs of people noted that 77% of the users  in the USA.

Other apps like Walgreens and CVS pharmacy apps also noted 22.96 and 18.34 percent of app users in the USA.

By 2025, The global healthcare market will soon reach $436 billion in revenue

.

Pharma E-commerce will grow 4.8 times from 2021 to 2029, reaching $5 Billion

.
Building a pharma mobile app promises growth and revenue to entrepreneurs. But, entrepreneurs from  non-technical backgrounds  can also build a technical startup, all they need to know about Pharmacy app development in detail. If the stats do not convince you, it is time to learn about the benefits of building a pharma app.
Benefits of Building a Pharmacy App
Building a pharmacy app brings several benefits to your business. Here are 4 most important benefits:
A Marketing Platform
Since mobile apps are available to everyone, you can use your mobile app as a marketing platform. Users throughout the world can install your app and see what you have to offer them. Further, mobile apps are free for users, making it easy for them to connect to your business. Using AI, you can record and analyze the preference of users and perfect your product.
Staying in the Competition
It is no doubt true that every business wants to connect digital service to their business. Since tech giants like Walmart have rolled out their pharmacy apps, a mobile app will keep you in the competition. Ignoring the digital revolution will impact your business in the long run.
Online Sales Platform
What can be better for the customers if they could order the health drugs directly from their smartphones? You can use your mobile app as an E-commerce platform where customers can flexibly order your products and services from the comfort of their houses.
Faster Patient Support
Traveling to a physical office, booking an appointment, and sharing the health issues eats time and effort for the patients. With the mobile app, you can let your customers book an appointment straight from their homes. Also, you can provide a discussion forum where customers can post their issues and get expert answers digitally.
Now that you have understood the benefits, understanding the features of the Pharmacy mobile app will assist your understanding of Pharmacy app development.
Features of Pharmacy Mobile App
The pharmacy app packs numerous benefits since it converts your store to an EMedStore. Here are some features of a Pharmacy mobile app:
Option to Search and Buy Medicine
Do you like window shopping? Window-shopping in the digital world does not require any physical movement since customers can do it from the comfort of their houses. Not only window-shopping, but they can also even book the desired product from their smartphones. Pharmacy apps provide the same benefit to your customer. You do not have to hire staff as a physical shop to manage the shop. Customers can search, apply filters and add the desired medicines to their cart.
Uploading the Medicine Stock is Quick
You do not have to display the stock physically on a mobile app. Uploading a picture of products and altering the available quantity is enough to start selling immediately.
Push Notification for Offers and Discounts
Mobile apps provide a strong advantage of push notifications where you can send new offers and discounts directly to users' smartphones. It will create an alert asking them to either remove the pop-up or avail it.
Real Time Delivery Tracking
The feature is essential for online E-commerce delivery systems. Both businesses and customers enjoy the benefit from it. Customers can track their order details in real-time, ensuring where their delivery partner and the product are. Similarly, when a query is raised, the same is helpful for businesses, too, since they can track the records of the delivery process and assist their customers.
Locating the Physical Lab & Beacon Technology
Physical labs are important for tests and checkups of patients before the pharmacists finally prescribe the medicines. Customers can locate physical labs directly from their smartphones effortlessly. Businesses, too, get a faster way to increase customer base, redirecting them to their labs from the E-medicine store. Further, Beacon technology is integrating physical stores with mobile apps because customers get a notification of "welcome to stores" even if they are just crossing by.
Online Payments
Online payment systems are a big feature in mobile apps. For every order your customer makes, they can quickly pay for it using a diverse mode of payment. It is very comfortable for customers and businesses.
AI & ML Based Patient Screening
Imagine a mobile app screening the health issues of a patient. When you integrate Artificial intelligence into your mobile app, you create endless situations for your screening process. And with every process of screening, the mobile will analyze and learn from the patients to create better screening. Customers will get a checkup facility directly on their phones, and pharmacy businesses do not have to hire separate staff for customer checkups.
Knowing about the benefits and features of Pharmacy mobile apps, you must be curious to know if there are some pharmacy apps already working with mobile app models. Yes, a number of businesses are operating as  E-Pharmacy.
Top Pharmacy Apps in 2022
Below is the list of the best pharmacy apps operating and generating good revenue.
1MG
It is an on-demand pharmacy delivery app offering its customers a wide range of products and services. The registration process is simple and quick so that no user faces issues while becoming a customer. Customers can even opt for lab tests and chat with doctors for free or book appointments.
MedPlus
One of India's largest pharmacy retail units, MedPlus operates more than a thousand offline shops other than an online business. Registration on the app is easy since it automatically detects your location and fills most of your information directly. It provides browsing for medicines, locates the nearest physical store, and allows lab facilities to the customers.
NetMeds
Currently, this online pharmacy is serving 3 million customers with 100 years of experience in pharma. It is a clear example of a digital transformation where the business transformed itself from a traditional approach to a modern approach. Besides the medical facilities, the app also provides special footwear and health checkup devices.
RiteAid
One of the popular pharmacy apps in the USA, RiteAid, falls under the fortune 500 company, becoming one of the largest drugstores. Besides pharmaceutical products and services, the app offers customers electronic items.
Undoubtedly, many apps are operating as online pharmaceuticals, providing massive customer benefits. But, how to build a Pharmacy app? What tech stack is best for building one? Let us find out.
Best Tech Stacks for Pharmacy App Development
In 2022, you have several tech stacks available as an alternative. Different Pharmacy app development companies use different tech stacks, but here are the best ones to use to build your pharmacy app. You can choose any tech stack from the below options.
Front-end
In 2022, there will be many frameworks to choose from to build a pharmacy mobile app. But, Flutter and ReactNative are two of the robust frameworks to use while building your pharmacy mobile app.
Flutter: It has won the trust of pharmacy app developers since tech giant Google built it. Flutter App Development has been delivering iOS and Android apps on the cross-platform model empowering businesses to boost their business revenue and growth. 
ReactNative:

A framework developed by Facebook and follows the same model, Cross-platform app development.
Back-end
Like the front end, there are multiple options for the Back-end tech stack.
Hybrid clouds

include private clouds focusing more on a combination of different ecosystems. It is a single entity.

Multi Clouds

involve more than one cloud, meaning they are public but offer a wide range of functionalities.
You can choose any option for frontend and backend development. You can explore more alternatives, but the above are the best tech stacks for Pharmacy app development.
What is the Cost of Pharmacy App Development?
There is no fixed factor in deciding the price of a Pharmaceutical application. Why? Because pharmacy app development projects are decided on timelines, size of the organization, clients' requirements, the complexity of the features and functionalities, and much more. Instead of laying a cost, we would suggest you to consult it directly with our consultancy team.
Ending Words
The guide considers all the information needed for a pharmacy app development. So, what are you waiting for? Undoubtedly, the pharmacy mobile app market is booming, and ignoring the trend might lead you towards sustainability in the future. You must be wondering what I should do next?
Your best take would be to lay down a plan, discuss it with a top mobile app development company , and prepare a prototype of your project. Once you are done with preparing the MVP of your product and have received positive results, it is time to build your pharmacy application and jump into the market. Connect with us to discuss your Project.
Contact Us