Phycological issues have always been a significant part of human-being lives, but pandemic & home isolation made people highly inclined towards mental healthcare apps as curing mental health is as important as curing physical health.
Talking about mental health has always been a judgemental subject, though. People are often diffident in taking their mental health in front of society, friends, and even family members in fear of getting judged. Traditionally dealing with anxiety, depression or stress & speaking about mental wellness was considered a toxic task, but now there are various options and channels to talk about mental health & get cured.
For the past two years, pandemics made people home-isolated, and talking to loved ones and sharing things became tough. As a result, people survived various mental traumas and faced lots of emotional breakdowns, where they needed a friend, companion, and psychiatrist to talk to. But how could they have to get that?
Just suppose the situation, how do you deal with anxiety, depression while being home quarantine? How do you see a therapist if visits are only reserved for emergencies? Then, the mental Healthcare App came into the picture; it can become a life-saver in such a situation.
So, we thought it would be the right time to take maximum insights from our mental healthcare app developers and curate an informative blog post on cost, cost, features, and other aspects.
If we talk about mental health stats, the whole world is facing mental illness.
Uncover Global Mental Illness Rate
Mental illness is the global problem, as people from different countries across the globe are facing this issue. If we talk about country-wise,
US Mental Illness Rate:
A report from NAMI (National Alliance on Medical illness) says-
1 in 5 U.S. adults experience mental illness each year
1 in 20 U.S. adults experience serious mental illness each year
1 in 6 U.S. youth aged 6-17 experience a mental health disorder each year
50% of all lifetime mental illness begins by age 14, and 75% by age 24
Suicide is the 2nd leading cause of death among people aged 10-34
Mental Illness Rate in India
WHO also estimates that about 7.5 percent of Indians suffer from some mental disorder and predicts that roughly 20 percent of India will suffer from mental illnesses by the end of this year.
According to the numbers, 56 million Indians suffer from depression, and another 38 million Indians suffer from anxiety disorders.
Mental Illness Rate in Australia
1 in 5 (20%, or 4.8 million) Australians reported that they had a mental or behavioural condition during the collection period females reported a higher proportion of mental or behavioural conditions (22%) than males (18%)
Mental Illness Rate in UK
Approximately 1 in 4 people in the UK will experience a mental health problem each year. In England, 1 in 6 people report experiencing a common mental health problem (such as anxiety and depression) in any given week.
This is the current situation of mental illness across the globe, and this made the huge spike in the digital mental healthcare revolution. Also, Mental Health services have occupied a major portion of the mobile app industry, and the demand for mobile apps is continually growing. So, have a glimpse of its statical representation.
Women are more prone to major depression than men. However, men commit suicide more than women. However, suicide attempts are more among women.
Digital Revolution of Mental Wellness Industry:
The overall behavioural software market keeps growing, and mental health solutions make up about 30% of the estimate: $589 million in 2018.
Market Size of Mental Healthcare Services: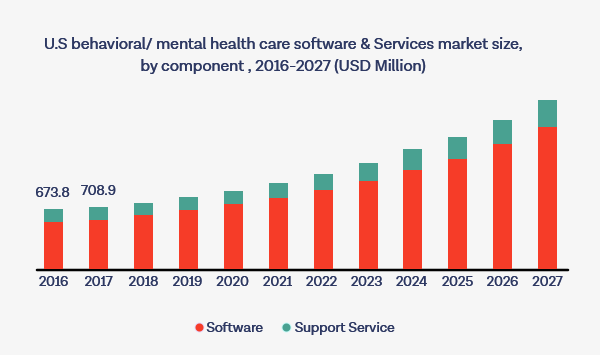 Growth in Mental Healthcare Apps:
⦁ First-time downloads of the top 20 mental wellbeing apps in the US grew by 30% from January to April.
⦁ Talkspace has recorded a 500% increase in requests from therapists to join
⦁ BetterHelp nearly 2x the number of users seeking help with stress and anxiety
⦁ US government has granted $5.5 billion for the Substance Abuse and Mental Health Services
⦁ Administration (SAMHSA) in 2020
⦁ FDA has eased entry for counselling apps during the COVID-19 pandemic.
Growth in Mental healthcare app development from 2013 to 2020:
The number of healthcare apps dedicated to mental health therapy for anxiety was 96 in 2013 in the USA.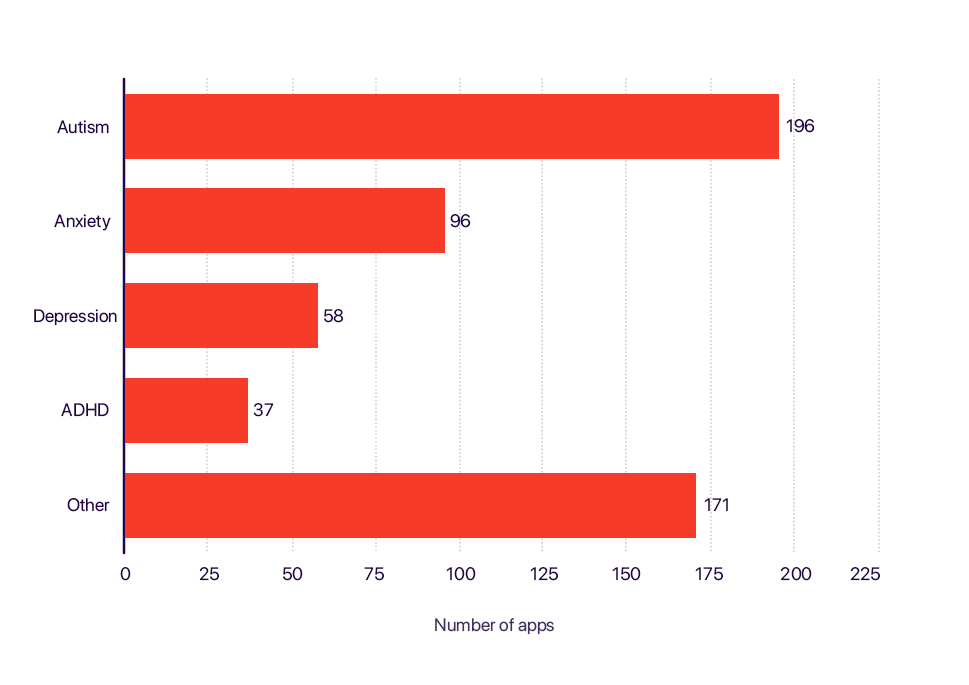 However, in 2020 the number of downloads of mental wellness apps accounted for 215,000.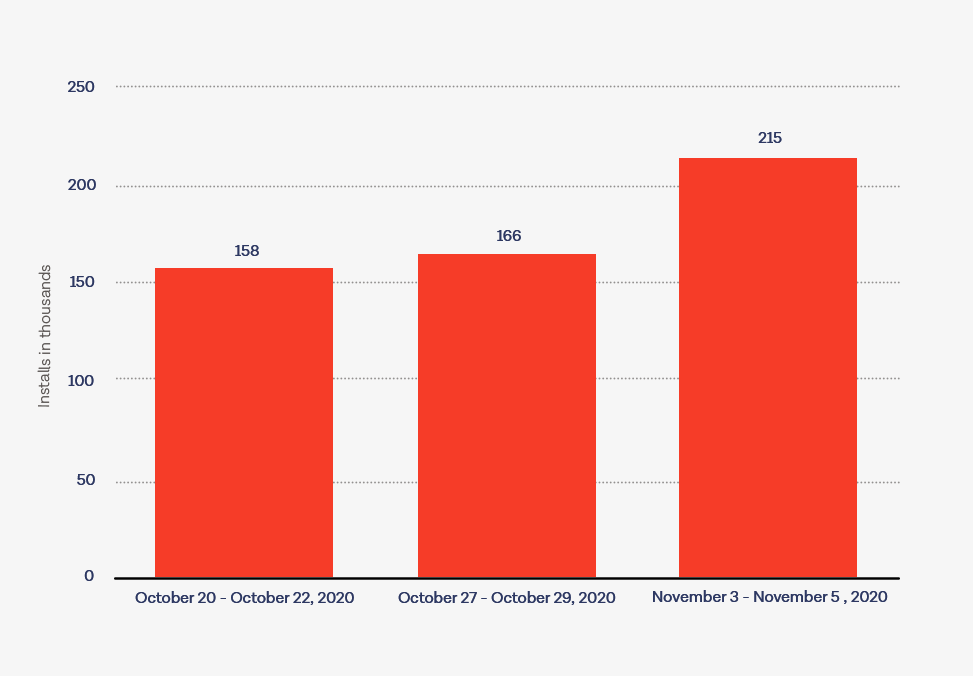 How does Mental Healthcare Apps are helping people to treat their mental illness?
Mental healthcare apps target the varied range of mental illnesses/disorders and vary in UI/UX and features/functionalities.
NIMH categorizes mental healthcare apps into six different categories based on features and functionalities. Categories are self-management, cognition improvement, skills-training, social support, symptom tracking, and passive data collection.
Mental healthcare apps provide an overall mental cure, including immediate crisis intervention, prevention, diagnosis, primary treatment, supplement to in-person therapy, and post-treatment condition management.
Mobile apps are a good choice for psychological treatment delivery compared to other platforms due to:
ease of habit
low effort expectancy
high hedonic motivation.
How mental healthcare apps let people manage and improve their mental health?
Instant & Remote Mental Cure from Experts:
Mental healthcare apps let people access fast cures for their mental illness. They do not need to wait in long queues to get to the top mental care facility instantly. The mobile app lets therapist and psychiatrists talk to patients remotely & virtually.
Mental Status Tracking & Progress Report:
App users can manually add their current mood and mental state and track their mood accordingly. Furthermore, they can add the instances that track their moods and reminds them about the happiness & trauma of both situations.
Such data are very useful to heal the mental health & and generate according to plans.
Mental Health Exercise with Music & Yoga:
Music is an escape. Mobile apps help users to maintain their emotional, mental areas with good music and lower their anxiety level & stress.
Apps help to assist people with good health exercises such as Yoga and other exercises.
Medication Reminders:
Apps not only remind people to get their medication on time but also helps them to get the right diet. People and have their diet chart with the help of mental healthcare apps.
Types of Digital Solutions for Mental Health: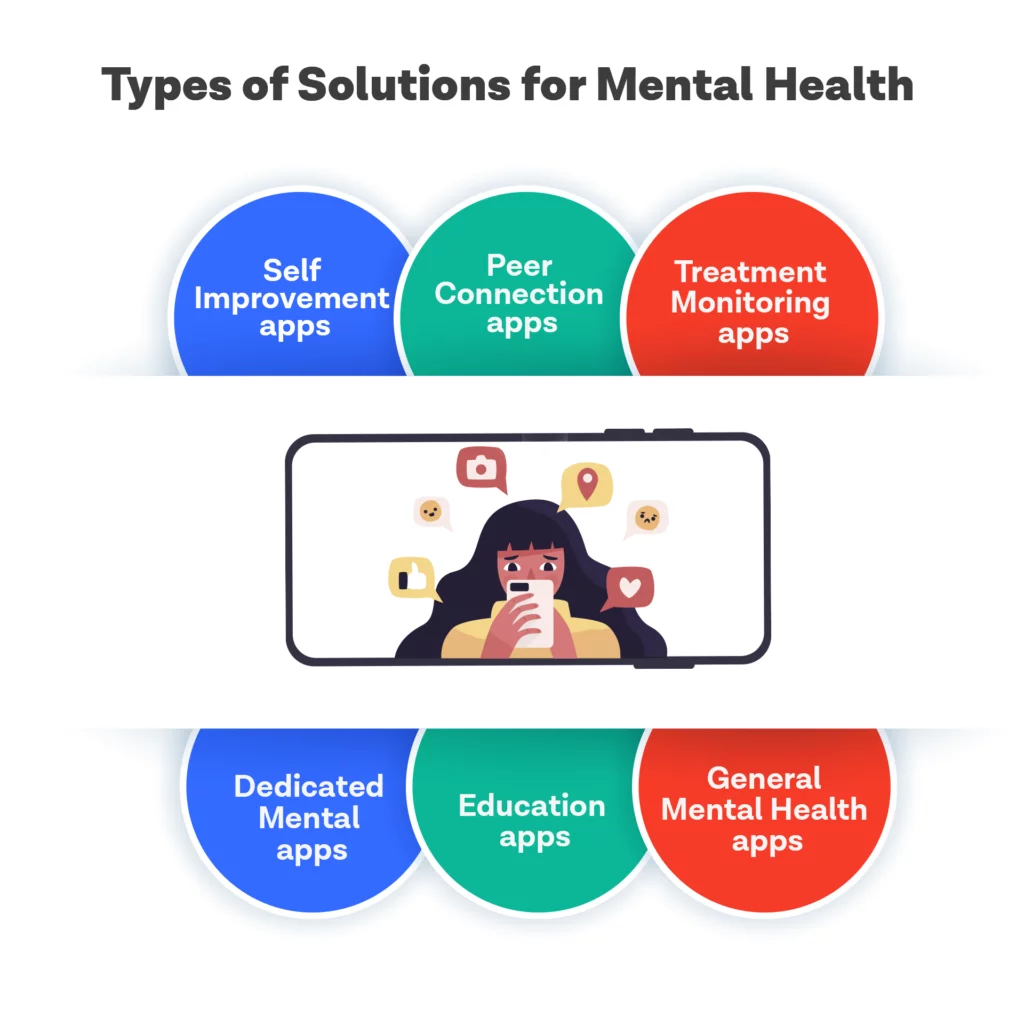 Top Mental Health Apps of the Market: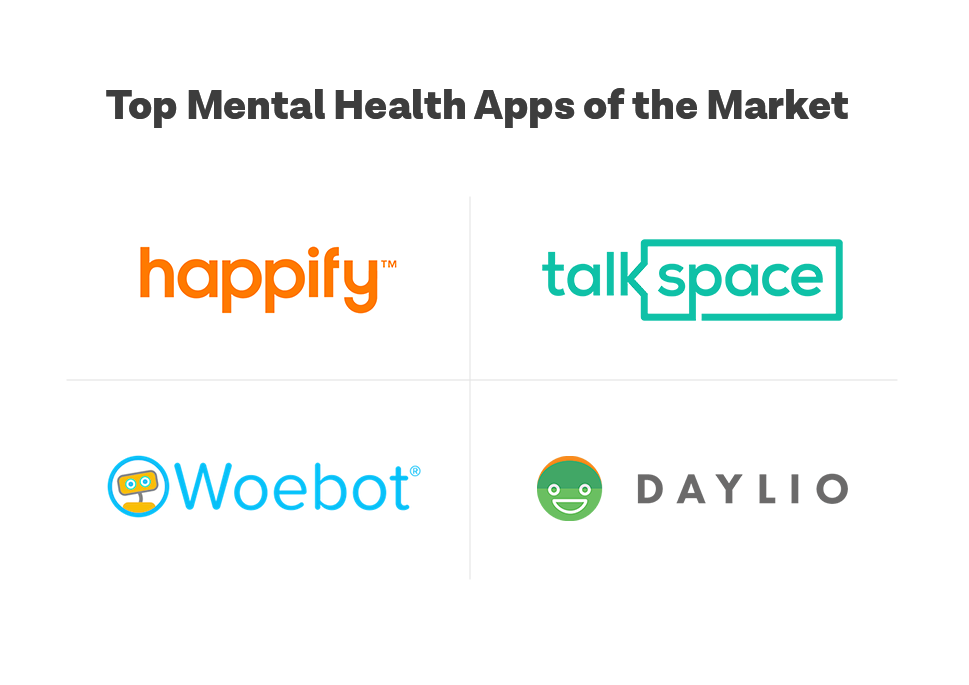 What features makes mental healthcare apps more effective at treating mental health?
An intuitive mental healthcare app should have mind-blowing & interactive features that aid people in treating their mental health and provide ease to patients and therapists to treat & cure the health.
User Profile
While a user profile might appear like an easy decision, what we mean here is your app should feel individual. Also, the speediest method to accomplish that is by having a profile with users' details that influence how the apps feature, for example, "what time do you head to sleep/awaken" or "how frequently do you exercise."
Calender and Checklists
A schedule can assist users with dealing with their lives altogether. As an extra, you can add an award framework for achieving awards. Along these lines, the user will feel propelled to do somewhat more the following day, and surprisingly more, the following day, keeping the interaction they keep on improving.
Sleep Trackers
The sleep tracker investigation features can help those working away at their sleeping propensities. Although it is intended for manual data or associated with a rest looking at the devices, these features permit clients insight into their sleep technique and assist them with overseeing strength and intensity for the day.
Triggers Checkers
A trademark for tracking their triggering points can assist users with looking at them and devise a bunch of legitimate reactions. User would then be able to examine these conditions with an advisor and discover the ideal methods of managing them.
Reminders:
A few groups need to take medication at a specific time for the day. Many updates with cautions can give the notices by assisting them with taking meds at the right time.
Relaxation Techniques
Carefulness is an incredible method to change regular daily existence. Breathing procedures, directed and unguided reflection, supplications, and positive affirmation are only a couple of the features you may remember for the app.
Expert's Communities
Managing something is more agreeable when others around you are likewise managing it. So incorporate a native area into your app, offer content or video visits, let individuals share development and put out objectives, etc.
Journals
Journaling assists individuals with appropriating their contemplations and get what's happening inside. As everybody isn't happy recording their considerations and sentiments, journaling features in your app could be an adaptable and secure arrangement.
Sharing information
A mental wellness mobile app can empower users to impart their dispositions to loved ones via social media or with care suppliers. It can likewise empower users to trade information or send it by email and different configurations.
User techniques and therapists match
After choosing a user's medical data through a set of bunches, a mental health app can practice a calculation to recommend becoming a therapist.
Self-monitoring
For stress the board, individuals like to investigate the state of mind designs. In addition, patients experiencing mental problems like to follow indications and progress. Along these lines, oneself checking features assists the patient with taking note of their activities, considerations, and sentiments.
Dashboard
The dashboard assists suppliers with overseeing and check patients' development. The dashboard shows insightful reports of users' gathered data. The specialist can design the meetings appropriately.
Messaging
Empower communication through instant messages or in-app messages features and functionalities. This assists the users with conversing with security specialists.
Calls
Audio and video calls give a pertinent setting to the patients to converse with experts. Improve admittance to mind.
Gamification
Small, intuitive games work on intellectual abilities as well as assist patients with unwinding. Mental consideration turns fun with the gamification features/functionalities.
How to develop mental healthcare app: Best Practices
Let's discuss the major mobile app development process of mental healthcare apps. But, take a pause before uncovering the major mobile app development steps and uncover the pointers because considering that pointers will make your app stand out best among the rest of mental healthcare apps.
Customer-centric Design
When you put yourself in the shoes of the customer, then you'll get to know about the pain points of the users. Hence, the design of your application should be user-centric.
Right from the App's logo through onboarding and to its main screens, the designs are your primary focus to build trust.
Majorly your app designing should be done by answering these questions:
⦁ How smooth is the onboarding process?
⦁ Is it immediately apparent to users what they can do in the application?
⦁ Does the UX follow the platform trends, simplifying user interactions?
Colours, designs and elements should be user-centric.
App Security:
It is quite natural that people will care about their personal data and always appreciate the product that keeps their personal information safe and secure. Hence, besides HIPPA compliance, prepare a transparent privacy policy and inform your users about security best practices.
Therapist-Centric Backend:
The Doctor-centric backend is also a mandatory point that should be implemented wisely. Remember that doctors will also use the mobile app to interact with the patient to give them treatment, providing a separate solution to track the patient's progress, patient data and other information.
Multiplatform Availability
The app should support multiple platforms because the world is becoming techie and using smartphones, tablets and laptops.
It may be hard to pull from day one; the developed product should follow the customer accordingly on all these platforms.
Interoperability
Mental health data should flow freely from a mental healthcare app to other providers' psychiatry systems. You'll never know what partnership opportunities will come knocking on the door unless you make patient data readily available for secure, anonymized sharing.
AI Implementation
With this type of app, you can't rely on training your healthcare machine learning algorithms on real patients. And there should always be an option for seamless human handoff. We know examples of AI engines that recommended a glass of bourbon to relax.
Process of Mental Healthcare App Development
Ok, now let's uncover how you make a mental health app.
Select the right target audience and platforms
Whether your app will target seniors, grown-ups, or teens people will affect your selection of platforms. It assists with finding out about your proposed patients to plan relevant experience.
Note important features and start quick prototyping
When developing a feature-rich mental healthcare app, having a list of features and testing them with a prototype permits you to confirm your design's thoughts and guarantee that the product will fill in as proposed.
Making a prototype first not just assists you with saving 10x the expense when compared with bouncing straightforwardly into development; however, it can likewise essentially reduce how long it takes to build your app.
Coding via keeping patients and doctor solutions
This part will require some investment. We prescribe to follow the Agile standards and go through interval tests with every cycle. Follow these tips to ensure a convenient delivery:
Utilize third-party HIPAA compliance audio/video calling SDKs if you're building a mental wellness application-
⦁ Use other interactive components like chats to expedite delivery
⦁ Setup the DevOps pipeline to liberate developers
⦁ Follow cybersecurity best practices for HIPAA compliance
Testing at every aspect:
As we've referenced, testing is a significant part of the mobile app development cycle. Notwithstanding, this progression portrays a significant testing exertion that happens before delivering the solutions. You'd need to go through such things as:
• Functional testing
• Performance testing
• Unit testing
• Stress testing
Launch & Maintenance
When your application has been altogether tested, it's prepared to invite users. But then, a series of app store accommodations comes out, and the application is out.
Presently it's an ideal opportunity to track its performance with the in-app analytics tools you carried out during development, address users' concerns and demands, and keep the application updated.
How much does It Cost to Build a Mental Health App?
The cost of developing a mental wellness app fluctuates relying on the extent of the product, the application's sort, and the number of platforms you want to support. If we are discussing a mental app, its expense depends on team size, tech-stack and development time.
Like other mobile apps, we saw that app owners regularly neglect to incorporate the back end into the expense condition. You will require a data set and most likely some services region to oversee contents, and so on, So whoever is dealing with your statement, ensure they incorporate this into their cost.
Conclusion:
The mental digital wellness market undoubtedly remains among most huge fragments supporting society in these tough times. So, if you have an interesting idea of how to assist with peopling battling their psychological issues, then, at that point, it is about time to set it in real life and contact a top healthcare app development company to create an app that will turn into a lifeline for your customers.

Drop your curiosity at sales@ripenapps.com