Top mobile app development company or best mobile app development partner, the most trending keyword for Google search across the globe for everyone who has an idea and wishes a Mobile Application to be developed or add Mobile Technology to their business processes. And every search from any corner of the world returns a lengthy list of articles available on the web to simplify the same.
In the last several years, we have talked much about this, and the web is flooded with suggestions on the same but are these parameters still the same. Things have changed with time; a decade is enough, mobile application development has reached a curriculum of training, and almost every Software Development Agency has extended its support.
So, when every requirement has hundreds of responses, it is now more challenging to find the best Mobile App Agency based on traditional parameters like the portfolio, their credentials on portals, or how much you are influenced by their sales front face. Of course, you shall narrow down the list with the above but what when you are left with the best five or three with almost equal credentials.
Before diving deeper, let's understand some statical insights about the mobile app market.
Rising Demand for Mobile Apps for Businesses:
The commencement of mobile apps has helped various startups & enterprises grow their business visibility and enhance customer service. Apps have supported the ventures to unlock the maximum benefit and touch every market segment like never before.
Total revenue in the App market is projected to reach US$420.70bn by 2022 end.
Total revenue is expected to show an annual growth rate (CAGR 2022-2026) of 6.58%, resulting in a projected market volume of US$542.80bn by 2026.
By 2023, mobile app revenues are expected to reach 935.2 billion US dollars.
In North America alone, the number of mobile app downloads is set to reach 15.2 billion by 2023.
In 2023, it is estimated that the annual number of app downloads worldwide will amount to 299 billion.
These numbers indicate that the best way for businesses to reach consumers is through mobile apps. Adopting mobile app development is the goldmine to avail massive success for your business, but after having a unique business app idea and a mind-blowing concept to channel the app, selecting the right mobile app development partner is crucial. Hiring the best mobile app development company can help you create a roadmap for business success.
To hire the top app developers, one has to intervene deeper to find the real blood and a few of the updated parameters we are identifying that could help areas-
How to Choose the Right App Development Partner?
The App development team contributes a significant role in developing mobile apps for startups. Therefore, it is vital to prepare once with the right pointers while choosing the right app development partner for your startup's app development.
Here find some significant tips for selecting the right app development partner for your app development need: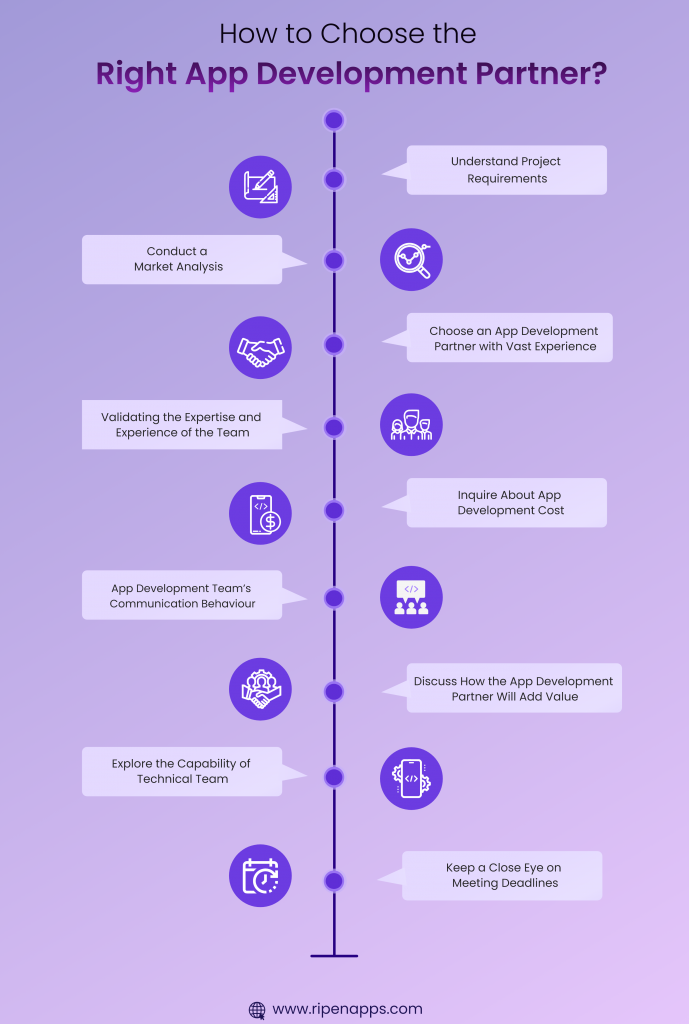 Understand Project Requirements
While walking on a path to hire the best app developer for your business app development, it is an imperative task to have clarity of your project in your mind. Make sure you have a clear understanding of your project, your company goal, your targeted audiences, significant requirements, and your expectations from the app developers.
Comprehending the right requirement of your business in your mind is a must, and catering for the right need to your app developer is crucial. Because if you are unable to furnish your requirement to your app development partner, then it is hard to ripe the collaboration, and it might be difficult for your technical partner to build the exact match as per your desire.
You should be very clear on specific pointers before hiring the right app development partner, and those pointers are:
What is the aim of your project & who are your target audiences?
Market scope of your app idea & your budget regarding app development
Knowing the strategies your competitors follow
What will be the communication medium between you and your hired technical team?
Conduct a Market Analysis
Market analysis is required at every phase so in the mobile app development process. Before you begin hiring app developers, conducting the right market research is essential.
The market analysis consists of knowing about your niche's ins and outs, learning about the market's current demand, what tools and technologies are currently gaining the hype in the market, etc. Being a business owner, if you are new in the app development race, it would be wise to consult with some industry and market specialists.
Additionally, learn something about the tech-stack the app development companies are currently using in their projects, their app development rate and rest essential insights about the companies. This step helps you to select the right app development company.
Choose an App Development Partner with Vast Years of Experience
Well, "experience carries expertise" is not only a phrase but a proven tactic. While searching for the right app development partner, it is essential to check the company's experience. Check if the company has prior experience developing the apps that you find suitable or similar. If the company has practical knowledge about creating a similar app, it is a value-adding point for your project's success.
This factor is valid and will give you the confidence to hand over your project to the right hands with expertise in developing excellent solutions of similar taste.
Besides, this factor will help you have more chances of value-added features in your app as the experienced company can give the extra suggestions that could help your product reach heights.
Validating the Expertise and Experience of the Team:
Validating the knowledge and expertise of the mobile app development company is the crucial thing to perform. Here are some significant pointers that help you to validate the same.
Ask for Existing Client References – Interaction with existing clients is the best possible approach; it would be of more value if there were some references for your reason. Request feedbackregarding services and support from them, get on a few minutes call with them if possible, and you will have things clear.
Check the Portfolio for Implementation of Features and not Just Designs- Everyone has his perspective on designs, and being in the services domain, companies would always go with the choice of clients for this, but what you can nail is core functionality; always check the apps showcased for core features if they have been implemented well or how that work. You shall always ask for an explanation if you find some glitch.
Inquire About App Development Cost
App development costing is one crucial factor that every business or startup owner should first grasp. Since app development cost is a critical factor, it also helps in choosing the right app development company for your business app development.
Selecting the most in-expensive app development team is also not suitable as considering the lowest one is not always better because quality matters for every business.
The right way to execute this step is to pen down the proposals of various companies along with the benefits and past work done. Also, compare the time duration in the recommended cost and the quality the firm has developed.
Also, understand the average hourly rate and the team composition they are allocating for your project. After digging all the pointers, have a comparative analysis and consider the suitable one for your app development need.
Also, understand their payment structure, whether they work on a module or else.
App Development Team's Communication Behaviour
Regular communication is one of the essential factors that help you to identify the best app development partner. Grasping the knowledge about regular contact with the team is the factor that allows you to lead the project in the right direction.
Because regular communication with the app development team always furnishes the right direction to the project's success as it clearly defines the picture of the project understanding.
Additionally, following the proper communication procedure always helps in maintaining transparency.
There are several factors that you should keep in mind during the communication with the app development partner.
The platform to communicate.
Keep in regular contact with project managers and leads.
Also, keep understanding how your app development team is taking whole the process of app development towards completion.
Discuss How the App Development Partner Will Add Value
While in the discussion, don't just share a walkthrough of the requirement but also ask for inputs, i.e. as per their experience, what they think is more relevant and shall add value. This works both ways – you would get to know your development partner's analytical and creative skills, and while talking with a few, you would have some genuinely excellent content for your app, which shall be of value.
Explore the Capability of Technical Team
If nothing assures and doesn't share that level of trust, you shall opt to have a Minimum Viable Product developed initially with the most relevant you find at that stage. We are not asking to invest much in it. Still, just a small app with very minimal and required features could help to identify the design quality, technical competency, analytical approach, and communication process. These are the pillars to get the right product; your team must fit on it.
I have tried to cover a few very realistic parameters that could help you have the best and the most appropriate app development partner for your kind of concept.
Keep a Close Eye on Meeting Deadlines
While looking to develop a project that can win the market always requires an on-time delivery. This means that launching the project on time is a significant success factor.
Hence, while hiring the proper mobile app development, keep a close eye on the date of on-time delivery. As the expert and experienced app development company always relies on on-time delivery to maintain their name and fortune in the market, the top app developer like them is always a winning choice.
Hence, on-time delivery is the factor that also needs to be considered while hiring the technical team. If the provider misses the deadlines, then you can have multiple losses at the same time.
If you are hiring an experienced team of app developers who can handle the most complex task, there would be less chance of missing the deadlines.
Final Stroke on Hiring the Top App Developers: Conclusion
The excellent team of app developers and other key persons plays a crucial role in startup app development and its success. Since RipenApps is the leading app development company, we have developed various mobile apps for iOS, Android and Cross-platforms across diverse industry domains.
We have a talented team of app developers, UI UX designers, QA and other team members. We have developed more than 800+ mobile apps for multiple domains and have raised our clients' revenue bar.
Hence, if you are seeking the right app development company, contacting RipenApps can be the best option.
Contact our team of veteran business consultants and get the right understanding of the pre-requirements of your project.
FAQs
Q1: How many projects have you handled so far?
Before hiring the right app development company, this is important to ask how many projects they have handled so far? Who were your clients? How many businesses you have catered your services? These questions help you to find the capabilities of your technical team.
Q:2 Have you built anything similar to the app I want for my startup?
This query will help you understand that your selected app development company has the excellence and expertise in developing a similar application. It will give you the confidence to handle your project with experienced hands.
Q3: What is your development process?
Asking about the app development process of a company gives you an understanding of the workflow, how your project will be developed and the roadmap of the complete product development lifecycle.
RipenApps follows an agile work methodology that assures our Client a satisfactory result.
Q4: Do you sign an NDA?
NDA (Non-disclosure Agreement) is the mandatory or security-specific documentation that helps clients get assurance that the app development team will not breach any of their information in the market.
Always ask companies if they sign the NDA.
Being a top-rated and trusted app development company, RipenApps always sign the NDA as we put our Client's secrecy as our top-most priority.
If you are also looking for the right app development partner and finding the above in alignment, we would be pleased to interact with you here at RipenApps, since we are prepared to satisfy all mentioned parameters before starting. Connect with us to discuss your Project.
Contact Us