We live in an era where everyone's eyes are fixed on their smartphone's screen, and mobile apps are the hero of the picture. Mobile apps are embraced in almost every sector, but the education sector is where mobile apps play a significant role in streamlining the learning process. Whether it is about attending classroom lectures, having an online course, and, most importantly, cracking any examination, e-learning applications are no less than a boon. Those Learners who have dreamt of competing & cracking competitive exams can download mobile e-learning apps to dive into the learning materials to crack their dream examination.
Talking about civil services exams like UPSC/MPPSC exams have a benchmark, and many learners wish to compete & crack UPSC Prelims/ MPPSC Prelims. E-learning mobile apps are the masterstroke to learn and earn, as well. eLearning quiz apps are something like the cherry on the cake where the learner can get educational stuff in the form of a quiz to test your knowledge and gain assured rewards & value.
Introducing a Sensation in eLearning Application Market- Be EggHead
Speaking glory of sensational e-learning app, EggHead is the most-approached torchbearer on the route of becoming A "Topper," EggHead is an app that is all set to supplement the best preparation materials for learning the professionally offered Civil services courses.
Being a leading Online Exam Preparation App with the best content supplementing features like UPSC/MPPSC prelims daily practice Quiz, learning materials, test papers, question banks, video lectures for UPSC Prelims & MPPSC competitive exams, EggHead creates value both to learners & educators and also bridges the information gap between them smoothly.
With App, learners can practice for their target and can EARN with every correct answer.
Taking About the EggHead's UNIQUE & PROLIFIC Features
"LEARN, PRACTICE & EARN" EggHead- aimed to create the COMMUNITY of Learners and educate them with the best possible earning values. The platform gives you a key to access your success by learning, practicing & earning with well-curated UPSC/MPPSC Prelims Quizzes.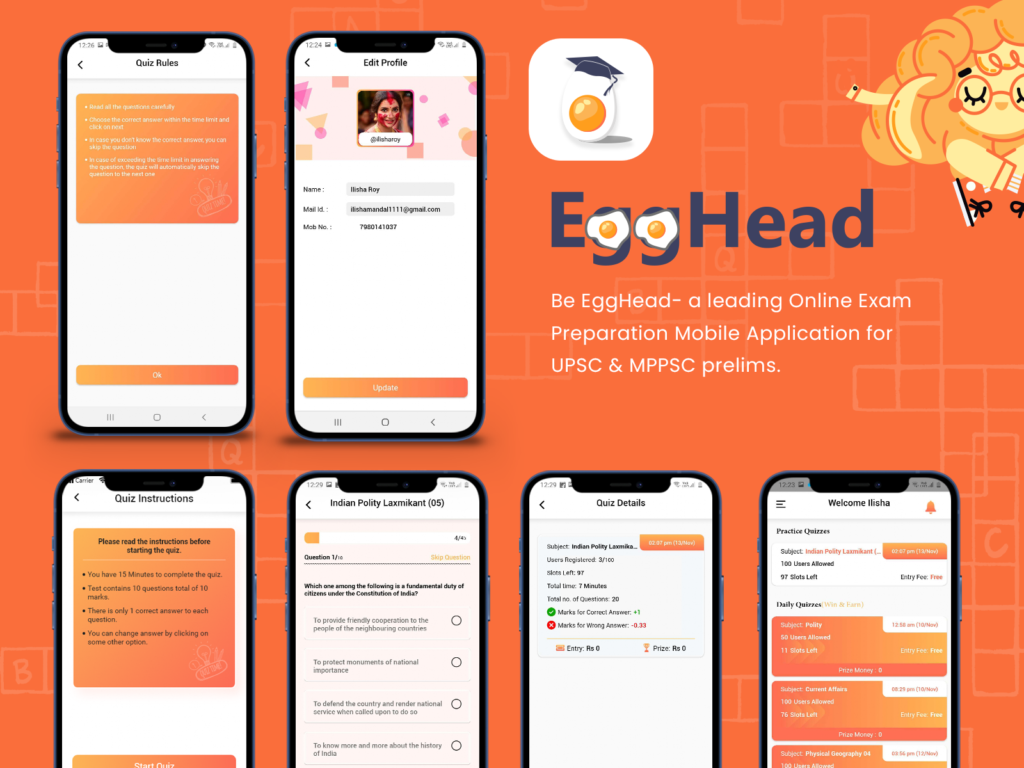 Key Features of Be EggHead:
Boost Your Insight: Wide range of Questions, UPSC solved previous year question papers, facts & information for UPSC and MPPSC Prelims exam's preparation.
Earn Real Money: Learn & earn at the same time. Practice & attempt the daily UPSC, MPPSC prelims practice quizzes and earn real money as per to rank.
Performance Analysis: Access a detailed & exclusive progress report & improvise your preparation in particular & each subject separately.
Compare your performance with other aspirants: Students can compare their performance with other aspirants seeking to compete and improve their performance.
Daily Practice Quiz: Attempt the daily practice quizzes under unlimited practice Quality & standard questions that are ensured by India's top educator's questions & assured your performance.
Subject-wise Quizzes: Attempt subject-wise quizzes & improve & boost your performance and growth in every subject separately.
Weekly Current Affairs: Take the weekly current affairs quizzes, various competitive exams quizzes, and current daily affairs update to boost prep for UPSC and MPPSC prelims exam.
Safety & Privacy: EggHead is not only the source of learning, but it is also your trusted education partner that gives sheer certainty in terms of security & privacy.
Report Analysis: While leveraging the potential of our encyclopedism offerings, aspirants can also perform analysis under EggHead Student Potential Report Generation.
Now, get the perfect & more than sufficient supplements for civil services course- UPSE Prelims/ MPPSC Prelims with the power of Egghead- one of the leading e-learning apps and earn money daily via winning the quizzes. Build your next e-learning platform to provide learning digitally.
Cheers to Development Partner- RipenApps!
Big Cheers to RipenApps for being a top choice for education app development.
EggHead & team were seeking the top educational app development company for their app development & designing partner and landed at RipenApps. Being masters in education app development, RipenApps has deployed a complete team of techies, and App came into the development phase with some robust technologies. The team has done their outstanding job and deployed a feature-rich and beautiful UI/UX enriched mobile app, creating a buzz on App stores.
"Congratulations RipenApps for adding another success trophy to their Shelves and again delivering excellence in the Education industry."
Be EggHead is available on Google Play Store and you can explore the beautiful and eye-captivating UI & UX at our social platforms like Behance & Dribbble.
If you have an amazing eLearning app idea & you wish to flourish your idea into an outstanding mobile app that will rule the market, Share it with the top educational app development company at [email protected]. Connect with us to discuss your Project.
Contact Us