The traditional landscape of medical education has long been plagued by inefficiencies, with teaching methods remaining largely unchanged for decades. Auricle, a groundbreaking digital platform, is set to transform this stagnant paradigm. Developed by a team of visionary doctors in collaboration with a leading elearning app development company- RipenApps, Auricle is poised to revolutionize how medical education is delivered and received.
Introducing Auricle: A Digital Learning Companion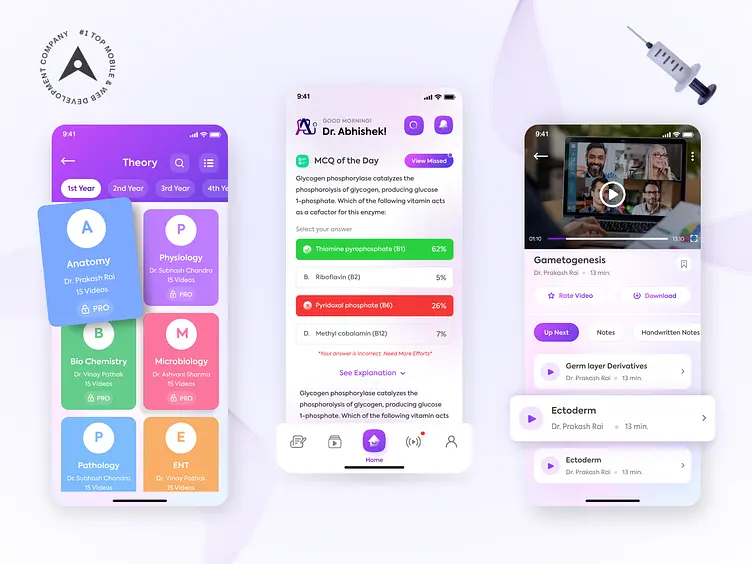 Auricle, a brainchild of visionary doctors, is a dedicated platform designed specifically for the next generation of medical professionals. It serves as a comprehensive solution to age-old challenges that have plagued the medical education system for decades.
Addressing a Long-standing Need
For years, the medical education system has grappled with outdated teaching methods and offline learning systems. These inefficiencies have hindered the true potential of aspiring medical professionals. Recognizing this critical need for change, Auricle was conceived.
A Visionary Approach to Learning
Auricle's vision is clear: to reimagine and evolve the way medical education has been delivered for decades. By seamlessly integrating top-tier educators, captivating content, and cutting-edge technology, Auricle offers a learning experience unlike any other. This dynamic blend ensures that students not only receive superior education but also witness significant improvements in their academic outcomes.
Unique Features Tailored for Medics
Auricle stands out for its distinctive features and tailored teaching patterns, which cater to the specific needs of medical students. Here are some of the key functionalities that make Auricle a game-changer in medical education:
Customized Learning Paths: Auricle recognizes that each student has a unique learning style and pace. It offers personalized learning paths that adapt to individual needs, ensuring optimal comprehension and retention.
Rich Multimedia Content: The platform provides a diverse array of content formats, including audiovisuals, audio recordings, pre-recorded lectures, and written material. This multifaceted approach ensures that students have access to information in the format that best suits their learning preferences.
Live Interactive Sessions: Auricle facilitates real-time interaction between educators and students through live audiovisual sessions. This dynamic engagement fosters active participation and allows for instant clarification of doubts.
Content Provider Collaboration: Auricle serves as an online service platform for content providers, enabling them to create and disseminate high-quality educational content. This collaborative ecosystem empowers educators to reach a broader audience and contribute to the advancement of medical education.
By Doctors, For Budding Doctors
Developed by a team of seasoned medical professionals, Auricle is more than just a platform—it's a mentorship from those who have walked the same path. The platform is a dedication from doctors to aspiring doctors, leveraging firsthand experience to provide invaluable insights and guidance.
The Innovative Development Process of Auricle: Behind the Scenes
The creation of Auricle was a collaborative effort between medical experts and RipenApps- a leading eLearning app development company. The technical prowess and strategic vision of the development team were instrumental in bringing this revolutionary platform to life.
Technicalities and Team Composition
The development of Auricle involved a multidisciplinary team with expertise in various domains:
Software Engineers: These professionals were responsible for the architecture and development of the platform, ensuring its stability, scalability, and user-friendliness.
UX/UI Designers: The user interface and experience designers played a crucial role in creating an intuitive and aesthetically pleasing interface that enhances the overall user experience.
Subject Matter Experts: Collaborating closely with the development team, medical professionals provided valuable insights into the specific educational needs of aspiring doctors, ensuring that Auricle's features were aligned with the curriculum and learning objectives.
Quality Assurance Specialists: These professionals rigorously tested the platform to identify and rectify any bugs or performance issues, ensuring a seamless experience for users.
Auricle is set to redefine the future of medical education, bridging the gap between tradition and technology. With its innovative features and collaborative ecosystem, Auricle promises to equip the next generation of medical professionals with the knowledge and skills they need to excel in their field.
Experience the Future of Medical Education! Explore this innovative platform on Behance and Dribble for a glimpse of our cutting-edge designs.
Download the app now from the Play Store to unlock a world of unique features tailored for aspiring doctors. Connect with us to discuss your Project.
Contact Us