"Education has no boundary, it is limitless & endless"- And for those who want to leverage the power of education constantly, at any cost, they deserve all knowledge from top educators & resources, whether there is an outbreak or o their hurdle.
Because gone the era where the education system was only restricted to classrooms or institutions that were very far from the villages. And even that time has also gone where people use to kill their dreams due to having a lack of resources.
In the present time, education has broadened their boundaries even at a fast pace via making it flawless resource with the inclusion of mobile apps.
With the inclusion of mobile apps, technology has completely altered the phase of the educational segment. Various new approaches have come into play to make learning more interesting & innovative & even has lessened the burden of holding & carrying lots of books and notes.
Right from carrying long-distance learning institutions into the pockets of people, to providing continuous knowledge in any outbreak, mobile apps are constantly benefiting the education sector via performing education app development.
Stats Says- a Blend of Mobile & Education is Mind-Boggling Combo Ever: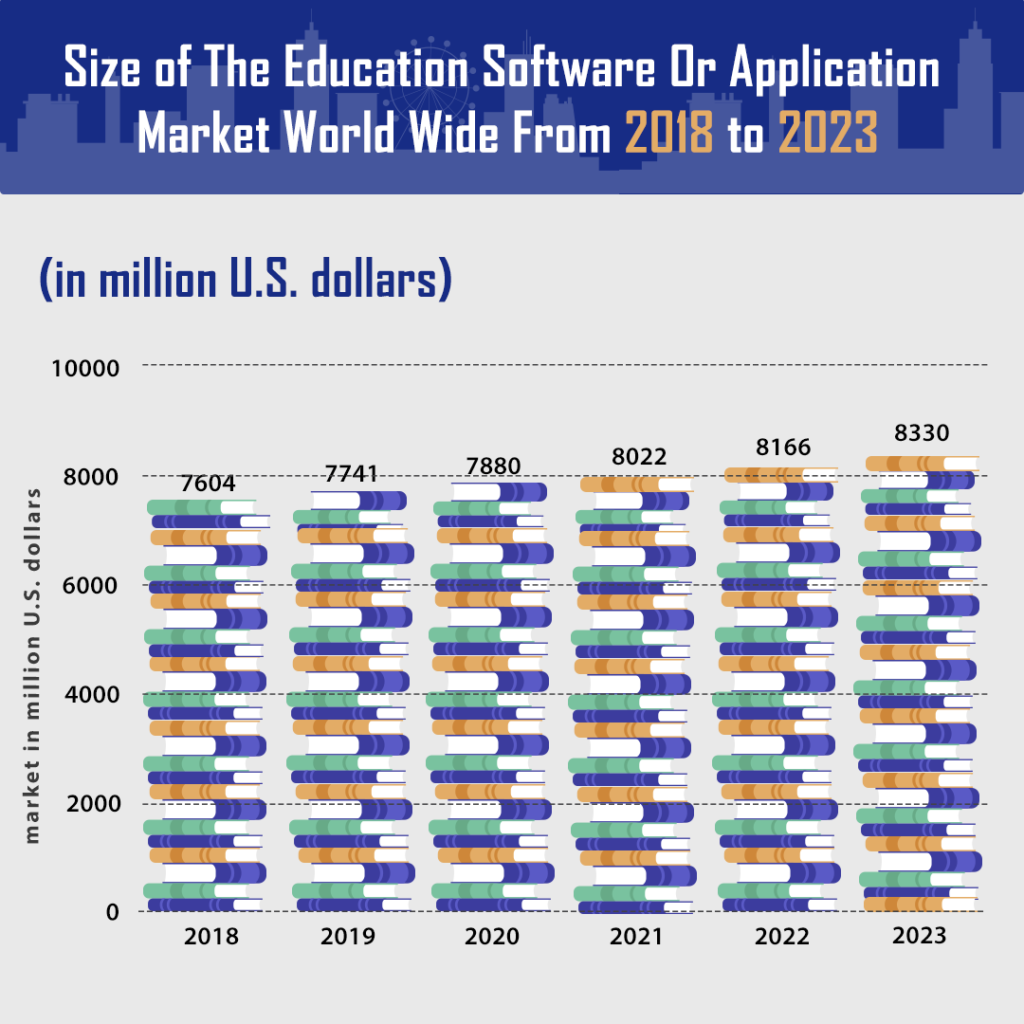 Forecasts suggest that the education software market will amass worldwide revenues of around 7.9 billion U.S. dollars in 2020. Should this forecast hold, it would represent year-on-year growth of over 100 million dollars. Estimates suggest that this trend of strong growth will continue for years to come, reaching 8.3 billion dollars by 2023.
Top Players in Educational App Domain:
The market in which learning is very much popular and converted into e-learning, Top market players are there which are catering to a vast-crate of knowledge and convince to the learners.
With all of them doing wonders and spreading learning and collecting earning, why don't you go for one?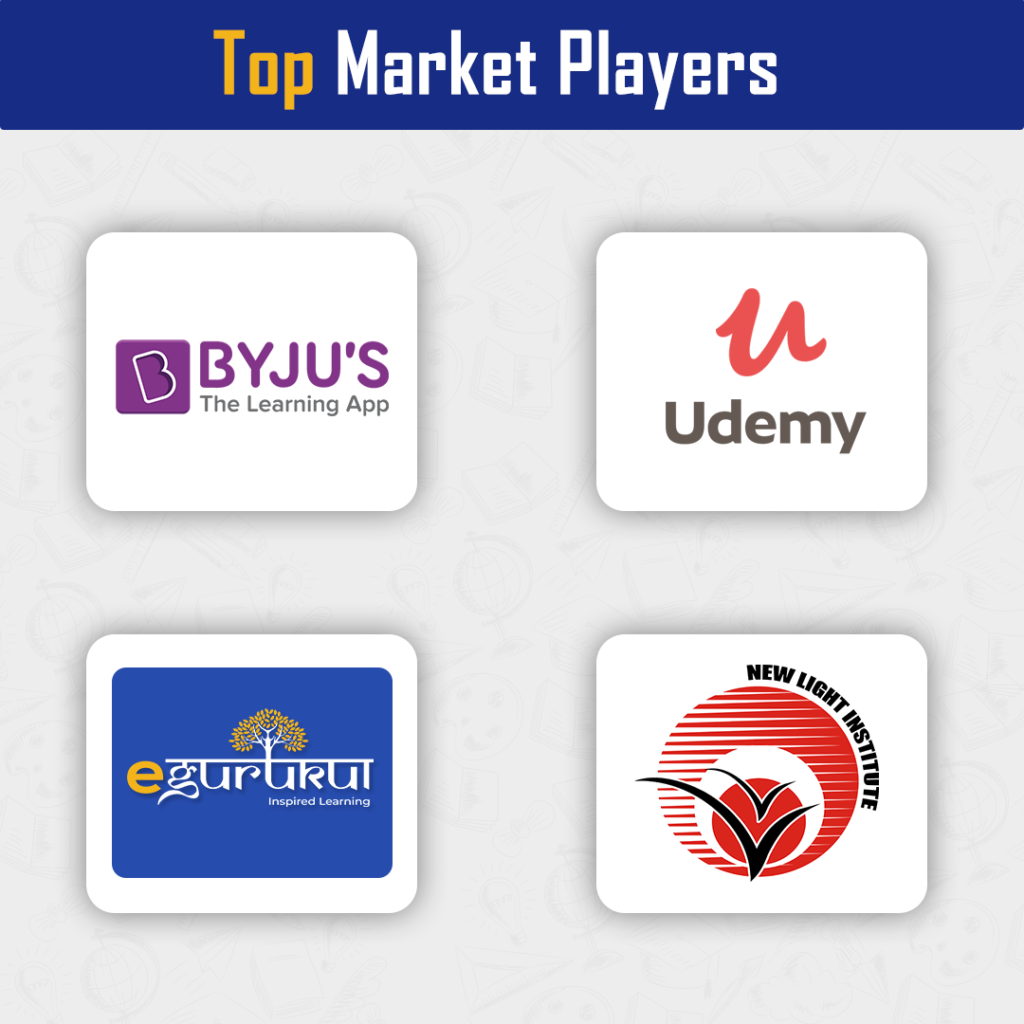 Why Startups Should Adopt Education App Development: More Benefits:
Whether it is an outbreak or any hassle occur in earning education pathway, technology & mobile app development adoption is the golden road to recovery. While the idea of providing online education to every learner who is unable to reach the institutions due to any cause, education apps are helping the business leaders to provide their business strength as well as resources to the learners.
Let's discuss the major benefits that education apps provide…
Easy Approach to Learning
The mobile apps have taken the figuring out how to the following level! With apps, one can gain admittance to the learning materials and considerably more whenever and anyplace. This has helped different individuals who wish to seek after their examinations however couldn't do so as a result of their everyday plan. Presently, they can have the discussion and study at whatever point they get time. Isn't this astonishing?
Diminished Learning Costs
On account of the education app developers, better learning isn't a heritage of rich individuals. You need not pay a heavy sum in the foundations or purchase several note pads, books, and different materials-all you need is a mobile phone, a web portal, and energy to examine.
Limitless Learning
The most intriguing thing about utilizing a mobile app for education is that you can learn as much as you need; your instruction isn't confined to the content written in your book. With this office, you can without much of a stretch learn and improve your abilities in a specific field, and subsequently, anticipate a more promising time to come.
Better Student Engagement
Coursebook learning has become history! Presently, students concentrate on sound video media and envision the entire idea. This lifts up the learning's advantage and causes them to comprehend and hold the entire idea at a quicker pace. As per our experts, trendsetting technology like AR and VR are additionally assuming an extensive job in this field.
Better Collaboration Among Students and Teachers
Not only for students, but different mobile apps have also been intended to support the educators and foundations in giving the best of their insight bother free.
Education Mobile Applications for Students
Mobile Apps to Learn Explicit Subjects
In any case, called specialty to advertise training applications. They're made to show users a solitary subject at once. Memrise, Duolingo, etc are language learning mobile applications. There are apps that offer driving lessons, instruct you to compose code, and assist you with acing solitary tools. This classification most likely records for the biggest piece of instructive apps out there.
Mobile Apps for Children to Encourage their Development
Nowadays, kids get tightly to tablets rather early. Thus, a few aptitudes past ages learned with the assistance of grown-ups would now be able to be endowed to mobile apps. Educational apps for kids are basic, bright, and worked with an accentuation on gamification.
Mobile Apps that Offer Reference Resources
These mobile apps could give a word reference or a reference book, an index of archives, or sound or video sessions on a particular theme or on a wide choice of points. Essentially, these apps are advanced libraries.
Mobile Apps for Online Courses
Educational learning services like learning the syllabus and cracking the exams on the basis of contents provided by the applications is the apps that provide online courses. There are many apps in the market that allow learners- online learning materials by providing the classroom like feel. And with them, they can learn from anywhere, anytime.
Mobile Apps for Cracking Competitive Exams
Exam preparation apps are centered around a particular exam. Standard math taking in the application will be unique in relation to an application that assists students with planning for the IIT, ILETS, PMT, etc.
Mobile Apps for Aiding Class
Carefully, these are regular frameworks comprising of two diverse apps — one for students and one for educators. These apps help students with their learning syllabus and help teachers with progress checking & evaluating the work. Apps for online courses can once in a while be viewed as class help apps too.
Educational Mobile Apps for Teachers
Educational apps aid the teacher's work as it aids the students. Just like a student needs the different portion of the apps to get the learning, educators/teachers also needs the educational apps but their requirement can be fulfilled into a single app as they require to plan, manage, monitor, arrange, investigate and checks the students progress process & stats.
Features from your Educational Application is Loaded with:
The features you'll need to incorporate will differ contingent upon the sort of app you're building — regardless of whether for learning or teaching. However, a few features are absolute necessities in any education app.
Login/Signup:
Login/Signup is the way to join the app with Google or by creating the account on the particular app and by this one can get many benefits. It takes a few principle information to login/signup like mobile number and email ID and other details. Students can also add other alternatives to gain learning.
User Profile
In the user profile, students can check their progress, explore the product, and make changes in accordance with their timetables. A user profile can let educators set their calendars, transfer materials, and see examination and insights about students to more readily oblige their necessities.
Learning Contents
Contents must originate from a respectable source as well as be demonstrated experimentally. Contingent upon the subject, taking in materials can profit by classification: by theme, intricacy, time important to finish an exercise, and so on. Additionally, learning materials come in various kinds, so partitioning them by type will likewise prove to be useful:
Theory, lessons
Text Exercises
Video & audio lectures & exercises
Live video lecture streaming
Mock Test & Model Papers
Search Functionality
Students ought to have the option to search areas they need and return to finished exercises. Educators should have the option to make changes in accordance with the projects they instruct. Search functionality adds more significance to the app as it directly provides users what they are looking to see.
Push Notifications
Message pop-ups bring users back quicker than messages. For educators, pop-up messages are much increasingly significant: missing an exercise as a teacher can be a tremendous hit to one's reputation. Push notification can be used to leave the feedback and review at Appstore.
Stats & Analytics
Both students and educators profit by observing insights. The capacity to recognize vulnerable sides in information assists educators with modifying the program and wipe out issues.
Cloud Incorporation and Cross-Platform Support
It's basic for the two students and educators to utilize a few devices. Schools may give devices of their own, and app user can have their very own mobile. Some choose smartphones, some use tablets and some use another device to use the app. Cloud incorporation supports to access the learning data from anywhere and in any device.
A few features will be particularly valued by students. For instance, social network integration is convenient for students; imparting progress to companions helps certainty. What's more, by actualizing a one-click sharing, for instance, you upgrade your app's odds of increasing new users among your current user's companions.
Scheduling
It is a flat out must for teacher' apps and for students' apps that offer live streams of discussion or constant communication with educators and different students. Notwithstanding, the selling purpose of most of the self-learning apps is that users can read when it's helpful for them, so it's not constantly an unquestionable requirement to have included as we would see it.
Monetization Techniques: How to Monetize your Educational Apps
Freemium
The Freemium app monetization model the most exciting model to monetize the educational apps. By means of the freemium model, you offer your users an alternate form and propose they purchase the full form if they choose it. In any case, even the free form ought to be completely utilitarian.
Free Preliminary
Offering a free preliminary/trial is another normal monetization model among educational app developers. The mainstream brainstorming preparing app Elevate uses this model. With a free preliminary, you give the users entire access when they required. Fourteen days is normally enough to get to know an app yet insufficient to become weary of it.
Advertisements
Advertisements are a monetization model is the best educational app. Intruding on an exercise with ads disturbs the user's concentration and is viewed as a major downside. The educational app development company always adds the value to market the apps.
Paid download
The paid download is the last monetization model that will generate money for the education app. This is a legitimate alternative for education specialist co-ops with a built-up business that as of now has customers. Education-related institutions are enlisting app developers to make their educational app developers to educate the people.
What Amount Does it Cost to Build up an Educational App?
With education app development, a lot of things should be viewed while assessing the expense of an app. For instance, will your app need to help sound playback? Spare mobile games, few apps require sound joining as much as apps for considering. Moreover, for educational apps, it's strongly prescribed to fabricate both for Android and iOS immediately since even in a single classroom there are generally students with the two sorts of devices.
Localization will add an extra innovative layer to the expense to make an educational app. So will VR or AR integration in the educational app development, if you choose to let it all out. In case you're making a language learning application, you'll additionally need to recruit native speakers to record words and sentences. There are numerous additional items for various kinds of learning apps. However, if we consider building up the main app, educational app development services will cost you as its components required.
Conclusion

:
Education is a must for all seekers. A business person should adopt developing education mobile app as their startup idea because mobile apps are a way that benefits education sectors constantly. If you have questions about how to create an educational app or would like an estimate for your own learning app, hit us up on at sales@ripenapps.com.