In the competitive market of mobile applications, building a successful application and winning the app development game is highly challenging. If you do not have a unique idea with the right approach to implementation, then you will surely be out of the race. With the right approach, we meant that you should strategically decide on the right engagement models from outsourcing or hiring dedicated mobile app developers.
Although outsourcing the complete idea is one of the most popular mobile app development methods, it might be possible that it is not right for your business requirements. Then what should you pick?
The choice is hiring a dedicated tech app-building company that will ensure your win in the app development game if outsourcing is not the right fit for you.
So, who are dedicated developers? Do they really help in solving the challenges associated with hiring the app development partner? If yes then how can you find dedicated developers and what would be the process to hire a dedicated mobile app developers team? We will cover a wide array of dynamics associated with dedicated developers.
Who Are Dedicated Mobile App Developers?
A team of dedicated mobile app developers refers to a professional team who works to bring the app idea of entrepreneurs to life. The term might sound like outsourcing however unlike outsourcing where the control of the project stays with the app development partner, you have the whole control of the dedicated developers team. You convey your requirements to an app development partner, and they pick the right developers to work dedicatedly with your business.
In terms of time, scope, and cost, the dedicated developer's engagement model follows a different approach as compared to outsourcing agencies.
Scope: It is defined by you since the developers work with you just like they are in your team.
Time: The time is flexible and you can agree with the app development partner according to the specified time. Until the project is completed, the dedicated team works with you.
Cost: Either you have to pay monthly, at a fixed cost, or according to time and material.
The global business process outsourcing market size was valued at USD 261.9 billion in 2022. However, hiring dedicated developers is changing the scenario leveraging business with a successful app development process.
Challenges Faced By Entrepreneurs While Hiring Dedicated Mobile App Developers
Hiring mobile app development companies has always been a challenge for entrepreneurs. Nearly 20 to 25% of outsourcing projects fail within two years and 50% fail within five years. No doubt there are numerous challenges associated, and here are the key ones.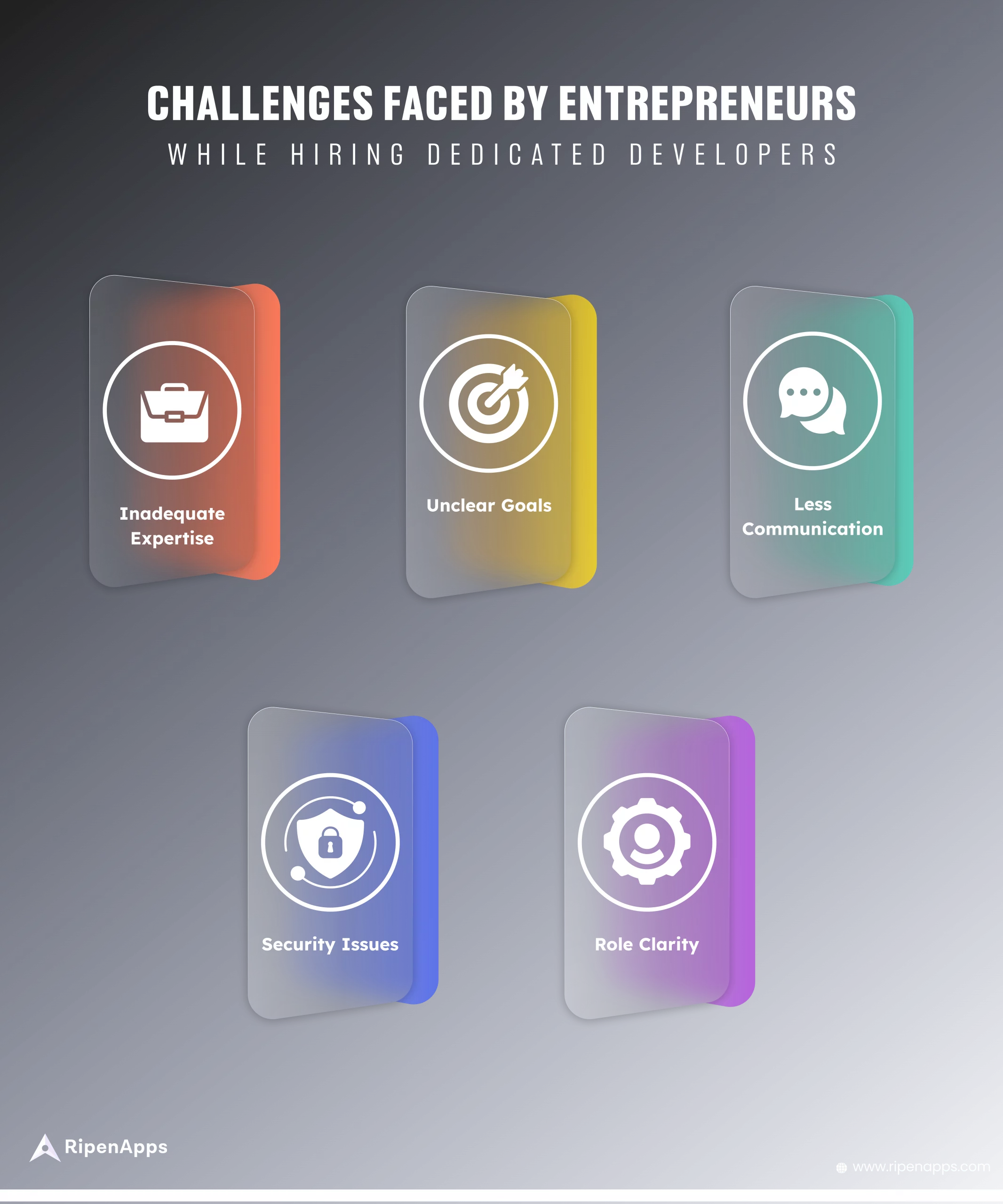 Lack of Dedicated Technical Expertise
The scarcity of dedicated technical expertise stands as a challenge for the entrepreneur. This results in hiring unfit mobile app developers who can handle multiple requirements without having core technical expertise.
Unclear Goals and Expectations
One of the key reasons for project failures is unclear goals and expectations. An inadequate vision will hamper the direction of app development. And, when a company is not able to explain its requirements to the offshore app development team, the success rate of the project affects causing extra misunderstandings, efforts, and time.
Lack of Communication
With outsourcing, communication stays a problem. When a business outsources its app idea to a mobile app development agency, it causes communication gaps due to the distance. Language barriers become critical if a client and service providers are from different cultures and countries.
Security Issues
When opting for outsourcing your app idea to a third-party app development agency, the infrastructure, teams, and location vary which is not under your control. The third-party agency has all the minor details of your data and assets involved in your project which might be a risk if you want to target 100% compliance.
Role Clarity
Within the mobile app development lifecycle, there are people involved from multiple domains. However, it becomes a challenge to identify if the right resource is deployed on your project or not since your app development partner determines resource deployment.
How Hiring Dedicated Mobile App Developers Solve The Challenges?
When you hire dedicated mobile app developers, you are able to cope with numerous challenges that you might face while outsourcing your app idea to an app development partner. 25% of British companies have not outsourced any part of their jobs to a third party.
It might be possible that these companies might be hiring in-house teams or have hired dedicated mobile app development partners. It is because hiring dedicated mobile app developers brings ample solutions for the present challenges. Some of the solutions are:
Core Knowledge
In the process of hiring dedicated developers, you give your app development partners your requirements for resources. The agency finds you the best fit of resources who can convert your ideas without any hindrances. For example, if you need a Node.js expert, your app development services provider will ensure that you get a core Node.js expert with years of dedicated experience in the technology.
Complete Project Control
If security is one of the challenges you have been facing while hiring app developers, then hiring dedicated mobile app developers will solve it for you. The experts working on your project are dedicated to your business irrespective of your service providers. All the meetings and work taking place for your project stay only with you.
No Communication Gaps
Generally, timing becomes an issue for businesses. For example, if the app development partner is based in India, and the client company is from the USA. Then the company resources will have to be available whenever the client wants to take the call.
Or sometimes it is vice versa, disturbing stable communication between the two parties. However, when you hire dedicated programmers for your project, you can prescribe their working timing according to your time zone or requirements. Ensure that your app development partners ask you the right questions before developing your mobile application.
Where Can You Hire Dedicated Mobile App Developers?
Now the question arises, where can you find dedicated developer services? Although there are a number of platforms, here are the most common methods to find a dedicated developers team for your app development project.
Directories: Online directories like Clutch and Good Firms have a huge database of verified companies providing hired developers services worldwide.
Google: Search engines like Google will display the most relevant results around you. You can search and hire dedicated programmers and there will be ample options available.
LinkedIn: One of the key professional platforms, LinkedIn should be your go-to platform for hiring dedicated developers.
Freelancer websites: Upwork and freelancer.com are a few of the websites where you can hire dedicated mobile app developers for your project.
Social media: A lot of companies are active on the majority of social media and from there you can contact them. Also, hashtags are a great way of finding the relevant topic.
Steps Associated With Hiring Dedicated Mobile App Developers
While searching for a dedicated tech app-building company it is important to know the steps involved in the process. Here are these: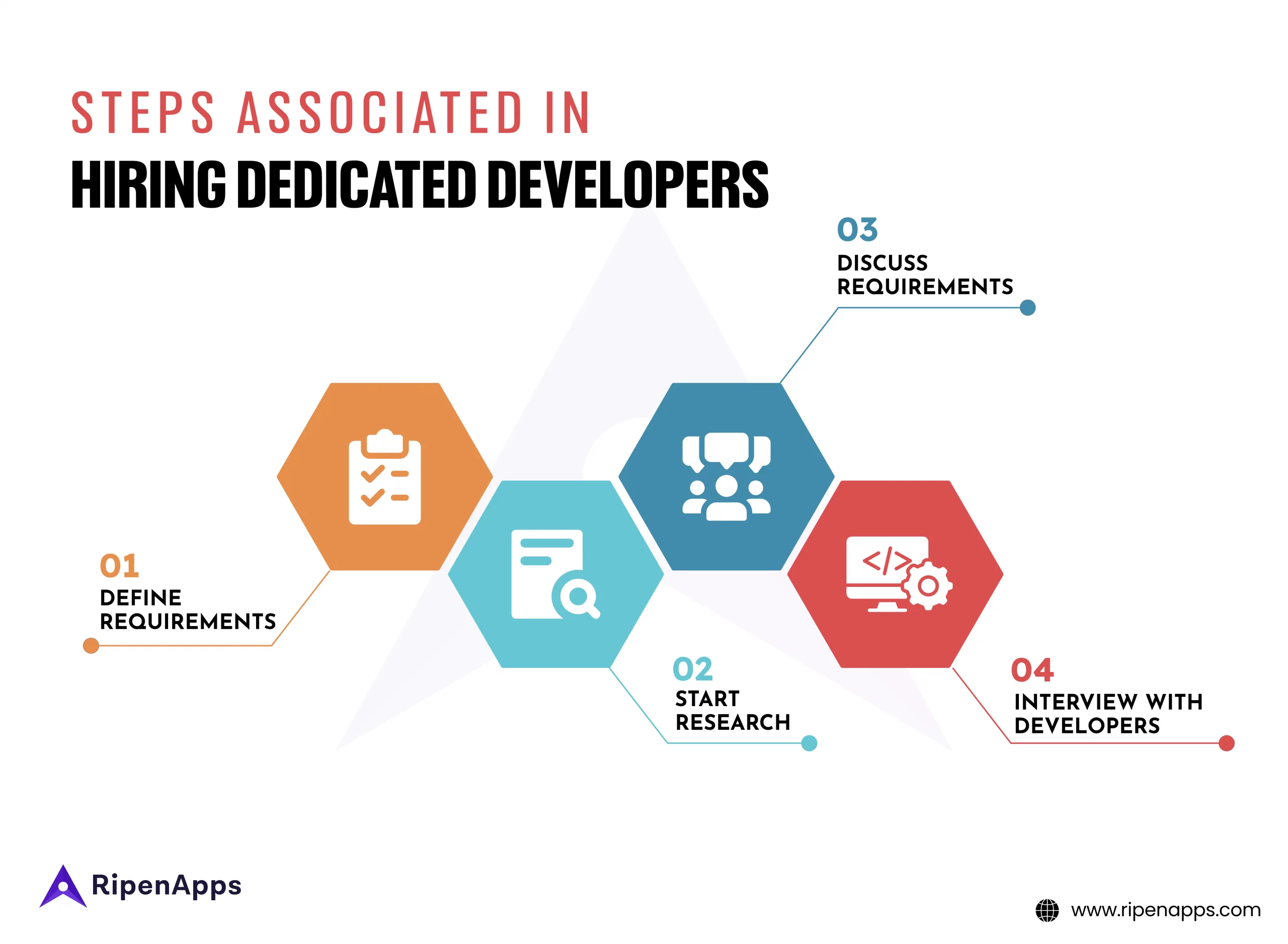 Define your requirements clearly Ensure what are your requirements in terms of time frame, time zone, qualifications, experience level, and all the related information.
Start your research on the platforms we have mentioned to you in the above section. It can be Google, LinkedIn, business directories, or more. Make a list of all your choices.
Discuss your requirements clearly with the dedicated app developers and service providers. Pick your model as per your convenience from their offerings.
Interview with the app developers! Make sure that your upcoming team has what you require.
Win The App Development Game By Hiring Dedicated Mobile App Developers with Ripenapps
We are a renowned name in the history of deploying dedicated developers from Fortune 500 to startups. In a decade of experience, we have built up a team of top mobile app developers who have years of experience in their dedicated domain. No matter what qualifications, skill sets, and experience you want, you can hire dedicated developers with RipenApps with a flexible engagement model. You are the one taking control of the certified experts deployed on your project.

FAQs
Q1. How do I hire a dedicated mobile app developer?
When you want to hire a dedicated mobile app developer you must check out the below platforms:
Business Directories like Clutch and Good Firms.
Search engines like Google
LinkedIn professional social media app
Q2. What are the benefits of hiring a mobile app developer?
Hiring a mobile app developer brings ample benefits for businesses.
Dedicated technical expertise
Customized Solutions
Full control over the project
User-centric design
Q3. Is mobile app development a good investment for my business?
Yes, mobile app development is a sustainable investment. With a mobile app, you increase customer engagement and deliver a flexible solution to the users aligning with modern trends. Connect with us to discuss your Project.
Contact Us