The world spent more than $120 Billion on physical security in 2021. India also has a multi-billion dollar thriving physical security industry with around 40 million CCTV cameras operational today. However, despite tremendous technological breakthroughs, security remains late, reactive, limited by human capacity, and expensive.
If we look at the chronology of developments in the physical security space, we started with CCTV feeds in the 1990s, where an operator needed to watch the stream continuously. But it was realized that human attention is a scarce commodity.
According to studies, a viewer will miss 95% of screen activity after 22 mins of continuous viewing. To help, motion detection with primary Computer Vision (CV) was innovated in the 2000s, object detection with primary AI came in the 2010s, and very recently, we see research in contextual awareness that brings computer vision closer to human vision.
But despite precise needs, adoption of technology has been minimal. The demand for innovative breakthroughs that can give people peace of mind is met with a technology supply that is too less for too much. Every second counts in a threat scenario. But the best case with Indian customers today is first to wait for the incident to happen, and then if noticed, pull the video, if not stolen, and work from there.
Problem Statement
This status quo disappoints tech enthusiasts at Quippy Secure, a vision intelligence company founded by ex-Apple engineers with a pedigree from Stanford University and the University of Michigan, USA. They see a clear gap in the supply of technology and consumer demand.
A survey reveals that while 95% of consumers want to adopt AI believing AI-based video analytics provides great value, only 6% of consumers have adopted it.
This begs the question – Why? According to them, the reasons are – Affordability, Network Cost, Accuracy, Privacy, and Ease of Use.
"Companies, for lack of innovation, have continued to use out-of-box AI inefficiently and lazily, leading to exorbitantly priced, network hungry, hard to use, security risking and poor performing physical security solutions. The current market offerings miss fulfilling the core consumer needs and hence do not see serious adoption. While the majority of consumers have not upgraded to smarter options because of infra replacement expenses (buying new cameras, DVR/NVRs, replacing wiring, etc.), some who have opted for smart seeming CCTV cameras complain of missing important events as they happen and being irritated by false alarms and noise. As a result, more than 95% of them turn off these analytics within a month." says Ayush Gupta, co-founder of Quippy.ai.
Quippy feels it can solve these issues and move the market to a more context-aware framework. They imagine a world where a trusted, vigilant, astute & fully automatic guard is available to all at their fingertips in an affordable, private and network-friendly way.
About Product
Quippy is now launching its first product in the market – Quippy Hub. Quippy Hub is an edge AI device that retrofits into existing security infrastructure and AI-fies any of your analog or IP cameras within minutes to provide advanced video analytics on-premise. It runs highly optimized state-of-the-art AI models with proprietary algorithms that help users get real-time threat detection, prevention, and investigation.
It comes with lifetime free access to the Quippy Secure Mobile App, where users can receive important alerts, highlights, and much more.
(a) Intrusion Detection
Users can create motion zones with custom periods to monitor areas like entrance, office locker, or anything else. This helps them detect and prevent suspicious events while improving premise monitoring. Quippy's AI algorithms can distinguish between persons, vehicles, animals, etc., and alert when something untoward or of notice occurs. Moreover, as for other features, users can filter by day, time, or type of alert and get more insights into events.
(b) Missing Alerts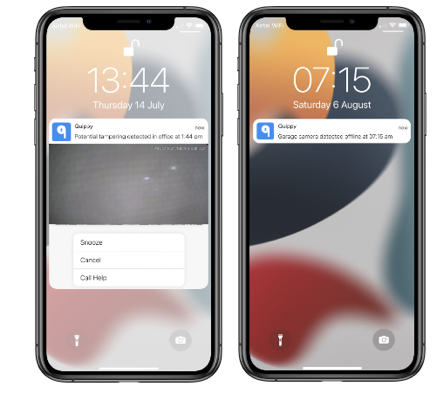 Quippy hub is smart enough to detect missing objects or people and alerts owners so that they can take proactive actions. Users can configure the monitoring interval, after which they should be alerted. For example, users can ask to be notified in their app's screen if their car is not in parking for more than 10 mins, and an alert is triggered if the car is not seen even once in that interval. Similarly, they can check if the security guard is missing from duty or if machines are left unattended by operators using the app
(c) Tampering Protection & Offline Alerts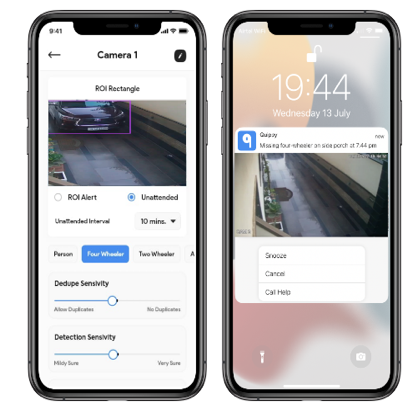 Most times, intruders tamper with or obstruct the CCTV to destroy evidence. For example, they could disorient the CCTV, turn it off, or cover it. Quippy immediately alerts about any such attempt with recorded evidence to catch the criminal.
(d) Highlights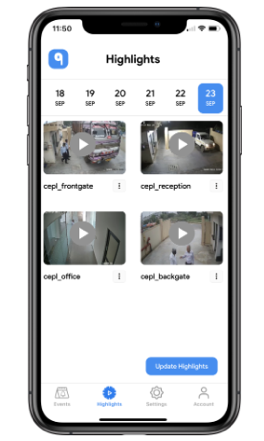 Though people often want to review complete activity on their premise, who can replay 24 hours of video? To solve this, quippy generates smart highlights that wrap up the day in 5 mins for quick review through the Quippy app.
Technical Insights about Quippy:
Along with such unique features, algorithms, and technologies, Quippy is extremely easy to set up in minutes, provides intuitive usage, and makes the system more context-aware. Each tech has been carefully designed to surprise and delight the consumers at an impressive cost and network benefits.
Quippy's tech stack features state-of-the-art AI models that have been optimized to run on edge so that they can process around 2 crore frames daily. They have algorithms that try to understand the scene and alert if something new and unexpected has happened, per the security settings added by the user. Same time, users can set up notification intervals so that they are not bothered by alerts all the time but get the most important ones frequently.
Quippy claims to have also solved the major problem of dancing IPs in the local network so that users can operate it efficiently on edge without using a static IP. They have also imparted on-device learning, where the system improves based on user feedback. Moreover, they have algorithms to pick important events and compress 24-hour activity into a 5 min highlight video for users.
Quippy also claims to have put extra emphasis on privacy. Their system stores most of the user data on-device and un-clouds as much as possible without comprising user experience.
RipenApps perceived the intensity of the product and developed a feature-packed, customer-centric, UI/UX-rich Mobile App that helps Quippy handy at every palm.
Our team of app developers(iOS, Android) worked on the end-to-end creation of the Quippy Secure application. We used industry-loved technologies and frameworks across native Android, iOS, and backend to build a secure & robust experience for the workplace & business owners. To make the experience the most secure and advanced, we implemented strategic advanced machine learning & AI algorithms for faster application performance and eliminating redundancy.
Push notification, on the other hand, is the main highlight of the app that has increased the app engagement and conversion rate through alerts. On the frontend front, we added video components where users can get the video highlights of the incidents in time-lapse mode. Every front-end effort we made was directed toward bettering the application quality.
To see this beautiful application, you can hit the link mentioned.
Dribbble
Behance
Download the Quippy Secure app from AppStore , Google PlayStore Connect with us to discuss your Project.
Contact Us