Derivation Of 'Deriving Hotel Menus At Home' Came From:
Someone has said that there is nothing better than having your favorite food when you are feeling low. It is a proven truth that food is the only thing that can bring a pleased smile to anyone's face.
What is better than that having your favorite food in front of your eyes in a short span of time?
However, due to the hectic lifestyle, no one wants to rush into the restaurants and go through the trouble. This is why online food delivery app development is getting so much popularity nowadays.
MENOS is the only way to foodjan all the foodies. This idea of deriving your favorite restaurant's menu at your home table eliminates all the glitches that come in the form of your hunger. MENOS is the only platform that is capable enough to fulfill all the needs of the foodies at once.
MENOS is the Answer to All Hunger Pangs 
Now, Taste the Lavish dishes, dessert, soup, pie, drinks, and many more eatables at your home's table with only mobile app MENOS. The app offers various types of cousins from a number of restaurants and takes the guarantee of on-time delivery in Mumbai.
Menos answers its customer's hunger pangs with delicious and freshly cooked meals that are delivered right to the customer's doorsteps. Menos deliver food from your neighborhood local joints & with Menos, foodies can make their taste buds happy with the pocket-friendly budget by applying Coupon Codes.
What Makes MENOS Unique Among Others
"Vada Paav & Chai" is an all-time favorite food of the people of "the fashion city MUMBAI," and MENOS is a perfect hand to carry their favorite food to them.
The fast & furious types delivery plus more energetic delivery boys with their dazzling bicycles are there to foodjan people with MENOS.
MENOS has a very easy and simple interface to order and get your food delivered in the minimum time.
The app enables the users to search and order their favorite food from their favorite restaurant to feed their craving instantly without any trouble.
Best ever features that make your 'finger-licking good' as early with MENOS 
The users don't need to put up the pajamas and leave the room anymore for dinner or snacks. Just grab the phone order from MENOS.
Search for delicious food
Don't leave your couch and get your food menu there
Order lavishing food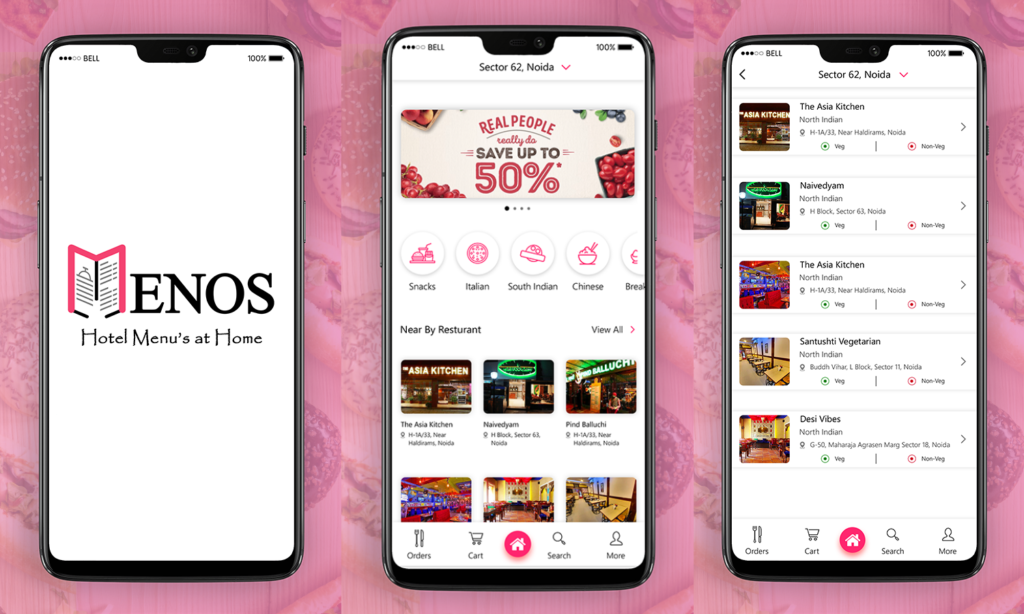 Reach: MENOS is a free mobile app that you can carry in your pocket everywhere, which provides services Mumbai with a number of restaurants as partners.
Review/Ratings: Discover new food; check the detailed menu of each restaurant with ratings and reviews.
You will be able to track the restaurant's food quality with all the authentic reviews from the earlier customers.
Real-time Tracking: The app offers real-time tracking of your order with the takeaway facilities. This will help you in knowing the exact location of your order and when it will be delivered.
Customer Support Service: In case the user needs any assistance, they can call the 24/7 available support to get help from the dedicated customer care executive.
Good Food Filter:  Easily, filter the restaurants by distance, newest, top-rated, food delivery from restaurants, and more.
Coupons: Save money also with Menos as you can acquire coupons from cash coupons on the orders in the MENOS app.
RipenApps is Behind this Masterpiece
MENOS is the one outstanding hotel menu serving/ online food delivery app with a wide range of food items that are available all the time nearby you. Ordering food with the MENOS is very simple; whether it is a Chinese you want to eat or planning to discover something new, you will get at your home in no time.
For the creation process, the mind behind MENOS chose RipenApps Technologies as their official design and development partner.
They contacted RipenApps seeking end-to-end help with design, development, QA, and deployment.
We deployed a team of 5 tech-nerds to bring the "MENOS" into production with the help of some of the most robust technologies in the industry. With the support of the engineering and design team, we were able to launch the application before the schedule.
Now, MENOS is feeding people in Mumbai with a great and high pace. A big round of applauds for all the Ninjas of RipenApps who worked and made this superb app that is like a sword which is killing hunger in no time.
MENOS is exclusively available on Google PlayStore. Connect with us to discuss your Project.
Contact Us