Origination of Astonishing App Idea of "Clazma" 
Being a parent, it becomes imperative to play a vital role in a Child's schooling rather than just letting the teacher take care of everything. Parents ought to track their child's every move, whether he or she is fairing in class, or about the activities of the child. Moreover, to know this record of the child, parents have the only way to attend a parents-teachers meeting.
Parent-teacher meetings provide the opportunity for parents to discuss the child's performance, child's growth, and Child's extra curriculum activities. But working parents find it impossible to make time to attend these meetings that most probably fall during working days in schools.
As a solution, an astonishing idea of Clazma has come up to ensure schools and parents to track student learning whenever possible.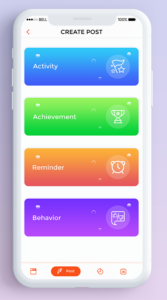 Ambition Behind Building This App 
When parents get involved in their children's education, children are more likely to do better in school, be better behaved, have more positive attitudes toward school, and grow up to be more successful in life. Educational apps are the most emerging way to connect teachers & parents.
To provide absolute care towards the child, Clazma is scripted for. It is a magnificently structured provision that acts as a bridge between parents & teachers' communication, to view the child's daily academic exertion report via different social media feed and reporting features.
Clazma Will Fortify Targeted Audience like the One No One Did 
As a beautifully conceptualized & marvellously structured mobile app- Clazma allows schools to operate smarter in the classroom through parent interaction.
Clazma is designed to spread a spotlight on Schools, Teachers, and Parents,   
Schools, Camps, Childcare centres, Parents, Institutions are the major target audience who can leverage the brilliancy of Clazma to smoothen their path of displaying children's daily activities, participation, results, and growth and to track the entire activities as parents.
Due to having a busy schedule, Parents are left in the dark during the day with no connection to their kid's learning and no easy way to communicate with their school.
Clazma has worked very closely with parents and schools to make it easier to manage classrooms and provide families with a connected learning experience.

Clazma Has Structured To Violate High-Bar Competition
Feature-rich & power-packed mobile app- Clazma is uniquely crafted and raising the competition bar and "bets to be the best" based on exclusively added features and functionalities.
The most innovative strategy of parents' involvement in their child's schooling chapter that has never been experienced in the previously launched concept ever is right here to raise the competition bar.
Never experienced, All-inclusive and High-competitive logic that makes Clazma stand at the top among all are–
Brilliant Concept at- 
School/Childcare/Campus' end: Manage your students and classrooms, track attendance and room ratios, share photos, and videos, assess learning milestones and communicate with parents!
Parents' End: Engage in your child's day with a real-time feed of photos, videos, reminders, and updates, use Clazma's digital check-in to securely sign in and out and keep track of your child.
Other Features & Functionalities that makes Clazma 'best among rest'—–
Central Database: Store all the data related to Students i.e Emergency contact Number, Child Infection's, Doctor Contact details and various important know about the Child and families in one secure place.
Student Check–In & Check-Out: Digital Check-in for students with notifications to parents
Attendance: Easily log attendance and absences for your school students
Photo and video sharing: Snap photos, record videos, and tag students with one click. Automatically saved to your account and shared with parents (with no extra work!).
Daily Reports: Log activities. Parents get a feed and daily summary through beautifully structured graphs and Pie charts. Daily sheet reports are a breeze with Clazma.
Assessment & Observations: Make a note of progress, achievements, and activities with pre-loaded state standards and a DRDP tool. Share with parents or privately amongst teachers.
Student Feed: Parents get a personalized feed throughout the day. Save time – no more paper tracking sheets or sending individual photos.
Parent-Teacher Communication: Manage parent communication with the teachers through chat.

Hands Behind This Marvelous Creation "Clazma" 
Clazma is an acumen creation that is crafted to innovate your classrooms and provide the visibility that parents want and need.
For the creation process, the mind behind Clazma chose RipenApps Technologies as their official design and development partner.
They contacted RipenApps seeking end-to-end help with design, development, QA, and deployment.
We deployed a team of  7 ninja's to bring the "Clazma" into production with the help of some of the most robust technologies in the industry. With the support of the engineering and design team, we were able to launch the application before the schedule.
And the platform that is today for smoothening & gratifying parents-teachers communication witnessed a record of success the launch with no issues and glitches.
It is a proud moment for our entire team, who worked to make the extension of providing visibility to the parents in terms of their child's growth. We congratulate the whole team of Clazma on making this fantastic thought of enhancing the involvement of parents in their Child's schooling chapter.
To see this amazing creation of CLAZMA-The Classroom Management App, our Behance & Dribble speaks alot.
Clazma is exclusively Available on AppStore & Google PlayStore. Connect with us to discuss your Project.
Contact Us