Social Media networking has become a necessary requirement for the digital world. Whether on the professional network or on entertainment platforms, people do require at least one social media App for their professional or personal life. And with billions of users active on social platforms, new social media apps are continuously introduced by entrepreneurs with unique aims and missions. If you are also planning to build and launch an application, here are the top new social app ideas.
Steps To Develop A Unique Social Networking App Idea
On average, a mobile app loses 77% of the daily active users within three days of installation. For social media app development, you need a solid idea before consulting a social media app development company.
How to develop a unique social networking app idea?
Money factor shall not be the driving force to build your own App.
Find your niche and inspiration with strong competitive research about the market.
Brainstorm your idea and make it organized
Look for loopholes in the existing apps.
Plan what you can offer for the identified loopholes.
Be focused while you Hire social media app developers, and they shall be experts.
With these steps, you diminish the chances of your app failure because more than 90% of the apps fall back to achieve the desired popularity. Now that you know how to develop a unique social networking app development.
Unique Social Media App Ideas For Entrepreneurs
In the competitive world, where the niches are continuously segregating, it is tough to find the right social media app development company and launch a unique social media app. However, if you analyze the available social media apps, you can identify the niches they are targeting. And from there, you can plan your unique and new social media app idea as an entrepreneur. Here are some of the ideas for you to refer to.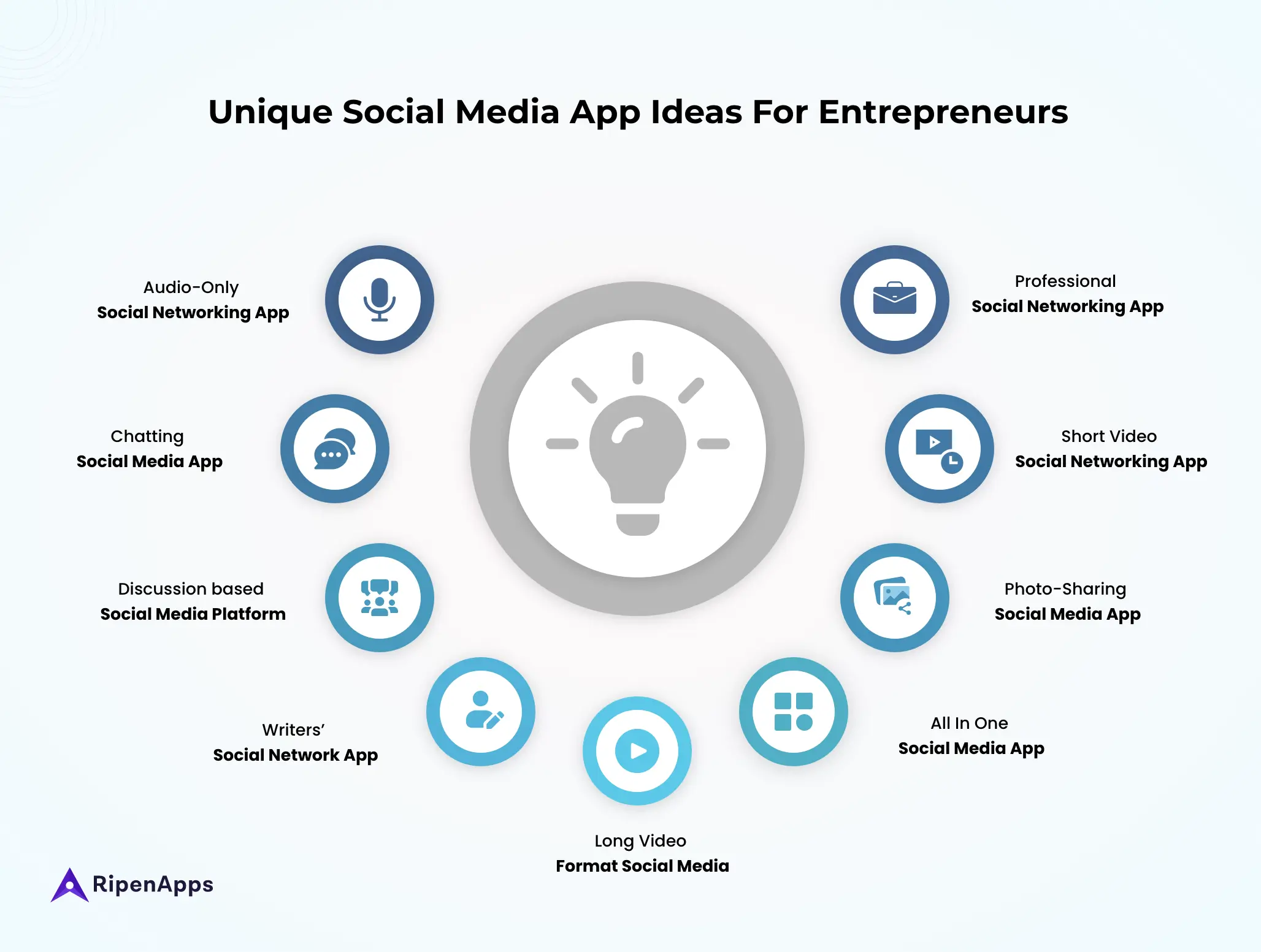 1. Professional Social Networking App
When you hear the term "professional social media platform," the chances are you might think of LinkedIn. LinkedIn is the world's largest professional network on the internet. 40% of LinkedIn users use the platform daily. From job search and internship to finding leads for your business, professionals love Linkedin.
You can target Job Search & Recruitment Mobile App Development or plan something broader like Linkedin, which is more than just a job search & recruitment platform. However, while planning a professional network social media app development, ensure that you bring your own unique ideas. For example, bringing a new social media app design with new features and monitored functionalities.
2. Short Video Social Networking App
The top developed nations love TikTok. Users spend more than 20 hours/month on average on TikTok. Youtube shorts is another example of a short video-only platform. However, youtube shorts are a part of youtube.
Planning a short video social networking app will generate massive revenue for businesses. Users on Instagram do not prefer textual content anymore and are more into reels. It seems that short videos are a great source of social media entertainment for users.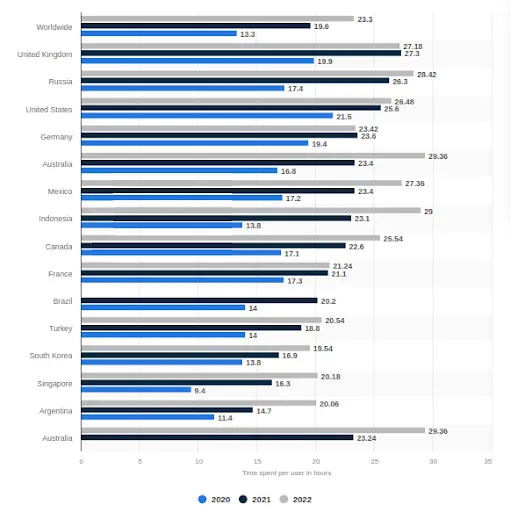 3. Photo-Sharing Social Media App
Instagram came out as a photo-sharing platform and was loved by photographers and travelers. The platform was popular for watching wildlife pictures or some brilliant photography skills, or soothing travel places. However, it is not just a photo-sharing app since the reels have taken over photography.
You can build a social media app specifically for photographers and travelers. But make sure that you do keep it specifically for photos and not embed video format on your platform.
4. All In One Social Media App
With the shift to mobile apps for everything, the demand for super app development has been surging ever before. A super social media app can be a unique and new idea. The App will be similar to Facebook with the added features. A super app can have below features:
Audio channels
Groups for discussion
Jobs portal
Chat messenger feature
Dating feature
Image, text, links, audio content format
E-commerce feature
Games with friends
Short video feature
Payment feature
Facebook is a great example to refer to if you want to build a super social media app that has everything for everyone. However, some features are location specific, and some features, like Jobs, have been shut down. You can take it as an opportunity and build a great super social networking app.
5. Long Video Format Social Media
We have talked about the short-form video format. However, another new social media app idea can be a long video format. Youtube is the best long video format app, though there are no limits to video length; the youtube shorts integration makes youtube more than just a long video format social media.
Building a long video format on social media can be a great idea. Users' comments and profiles will be the top highlights of this format of social media. On average, users spend 19 minutes a day on youtube, which is itself a robust statistic to plan a sustainable social media app for you.
6. Writers' Social Network App
Today, with the increasing video content on social media apps, writers do not have many options available. Twitter can be a good reference here. However, it limits the characters you can write.
Tumblr, on the other hand, is not used much today, limiting social media apps for writers. If you plan a writer's social networking app, your idea will be unique and new. Let writers make their blogs just like Tumblr but with a better-looking UI, monitoring, group support, and more. A writer's social network app will also hook readers who don't like to watch the short form of videos and believes in reading.
7. Discussion-Based Social Media Platform
Reddit is a powerful app, for sure. However, there are no other discussion platforms as strong as Reddit. So, this keeps competition low in discussion-based social media platforms. Facebook groups are another reference. However, groups are just a small feature of huge Facebook.
While building a social media platform, groups will be your major concentration. And monitoring algorithms will decide if your application registers a good amount of users or not. Further, you can add your own unique features and launch a brand new discussion social media platform.
8. Chatting Social Media App
Whatsapp is the leading chatting social media app globally. However, backing up chats on what's an app on Android and iOS is different. Ios backs up chats on iCloud, whereas Google backs up on Google Drive. Similarly, messenger stays prominent with Facebook users.
Building an easy chatting social media app will be a unique and new social media app idea. Keep your app platform independent so that users can easily transfer or check their chats from iOS to Android and the web easily.
9. Audio-Only Social Networking App
Text and video format content is popular on social media. However, podcasts are becoming popular. Celebrities, spiritual leaders, business tycoons, and all high profiles are actively doing podcasts to deliver their knowledge, experience, and learning. But, social media apps like Clubhouse have proved their prominence.
With an Audio only social networking app idea, you have a lower competition. Users could join voice channels, access profiles of speakers & listeners, and socialize around themselves.
Brainstorm And Build Your Social Media App Idea With RipenApps
Are you trying to brainstorm a unique social media app idea? Consult your app idea with us, and through our industry experience of more than a decade, we will together plan a unique and new social networking platform. Whether you want to build a short video app or a full-fledged super social media application with massive features, we have dedicated experts for all your technical requirements.

FAQs
Q1. How to develop a unique social networking app?
To develop a unique and new social media app idea, follow the below tips:
Do competitive research
Find your niche and inspiration
Look for loopholes in existing apps
Plan your solutions and added features
Hire the right social media app developers
Q2. What are some new social media app ideas?
Professional Social networking app
Short Video social media app
All in one super app
Writers' social network app
Audio-only social media app
Q3. What is the cost of social media app development?
It is not fixed, but on average, it might cost you from $25000 to more than $100000. Features, functionalities, location of social media developers, and tech stack affects the cost. Connect with us to discuss your Project.
Contact Us