Technology has changed the landscape of almost every industry and accelerated the working process, communication & user- experience. Due to digital empowerment, the current era is a technical era where every task can be accomplished with the help of mind-blowing technologies. Like all other industries, technology has accelerated the entire recruitment & job searches process. Now it's past stuff, where following a job selection process was a hard nut to crack.
Now the new technical era of recruitment is working amazingly to filter the candidates & desirable jobs sometimes better than a human brain with the help of some digital platforms, i.e., Job portal applications. According to Business Wire, the Online recruitment market is expected to reach $3.52 billion by 2024. And, after the pandemic the job portal apps grew significantly, and so does the development of the job portal app.
Such applications are bridging the gap between recruiters & job seekers meticulously. For recruiters and hiring managers, it's easier than ever to find candidates to suit niche skills or even sway candidates who might not actively job searching. More than that, job seekers can even contact the employer, create an amazing work profile to grab recruiters' attention, and directly apply for the jobs with a click.
Due to the vast benefits of digital transformation, companies are no longer using the traditional method to post a job vacancy in their firms & this is resulting in high demand for job portal apps like Indeed, Naukri etc.
Building a job portal app is a smart choice for entrepreneurs who are actively looking to build a successful recruitment firm. Those entrepreneurs who own recruitment firms are actively seeking to know how much it costs to build a job portal app and the features, potential and market players of this niche.
In this article, we are going to answer your every query and will curate the entire insight related to job portal app development:
Growing Stats of Job Recruitment Industry & Market Potential
Since the internet is a central resource for various services and has gained a massive rise in the 2000s, the internet has also given rise to the online job recruitment industry. Both the job seekers & recruiters are inclining towards the digital platforms.
Speaking about the worth of the online job recruiting industry, Indeed is a well-known name that has seen huge growth in the past few years. On the play store the In deep app has 4.33 million reviews with 100 million+.
The market potential of Job search & recruitment app development is sustainable enough to drive growth in revenue and opportunities. 20 million downloads are from US alone and 50% of traffic is measured from smartphones.
Significant stats of Job search apps requirement: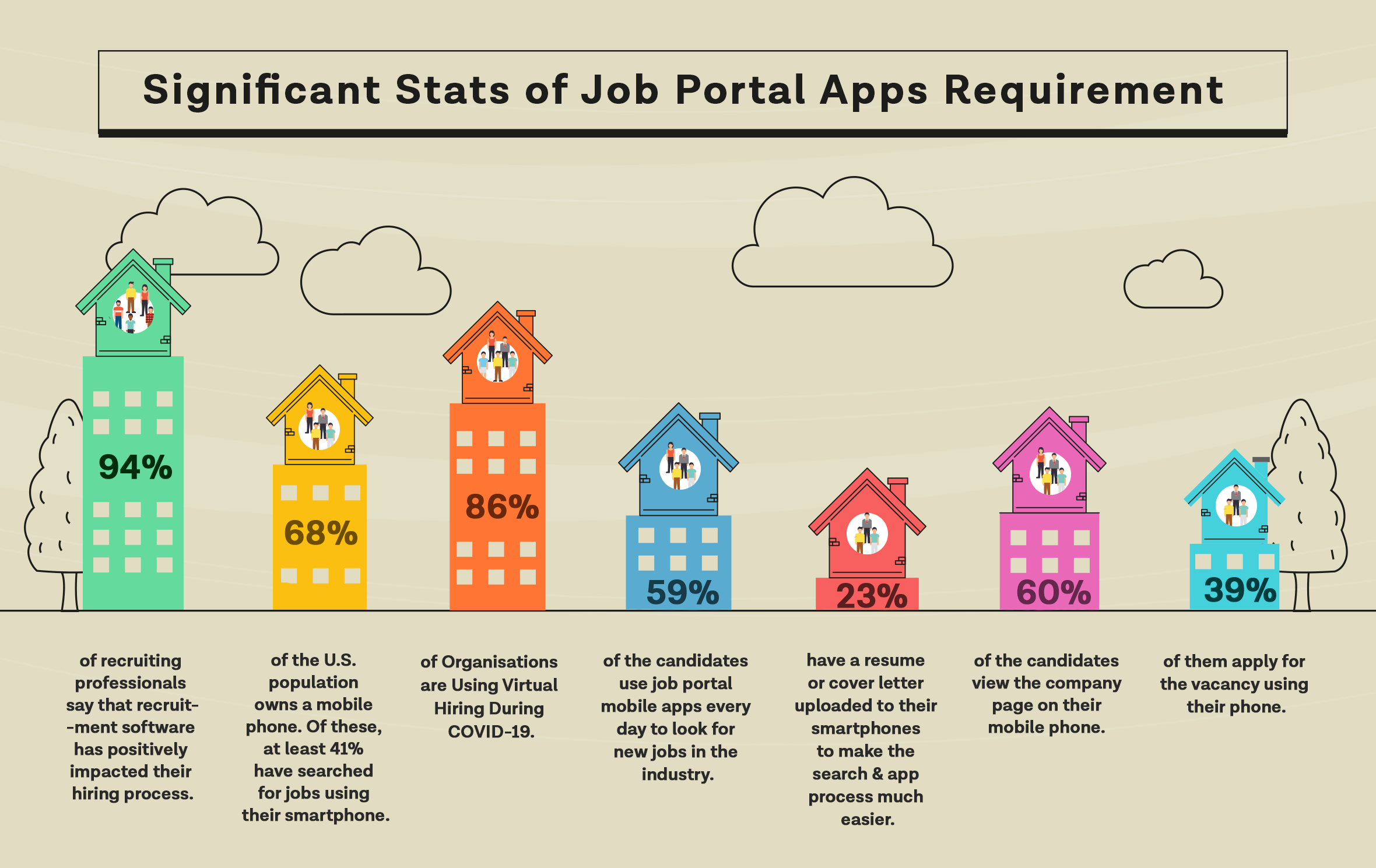 94% of recruiting professionals say that recruitment software has positively impacted their hiring process.
The online recruitment market is poised to grow by $3.52 bn in USA during 2020-2024.
68% of the U.S. population owns a mobile phone. Of these, at least 41% have searched for jobs using their smartphone.
86% of Organisations are Using Virtual Hiring During COVID-19
59% of the candidates use job portal mobile apps every day to look for new jobs in the industry.
23% have a resume or cover letter uploaded to their smartphones to make the search and app process easier.
60% of the candidates view the company page on their mobile phone
39% of them apply for the vacancy using their phone.
Top market players in Job search apps category
LinkedIn

:
It is the largest social networking apps for professional's career building. Here users build their own portfolio, connect with recruiters, get hired and share their career events.

Linkedin has 1 Billion+ downloads with 4.33 million

reviews on the Android platform.

Indeed:
The app focuses only on job posting and recruitment business model. Every second Indeed adds 12 jobs so that people can get their next job at fingertips. The app has 100 million+ download as per Google play store.

Jooble:
The app is another leader in finding jobs and searching companies letting people discover job opportunities. Jooble offers free access to 140.000+ resources online as the user downloads the app and signs up on the platform.
Naukri.com:
The application is India's largest job opportunities portal. The vast network of recruiters and job postings ranges across diverse industries. Naukri.com has 15 lakh reviews with 1 crore + downloads.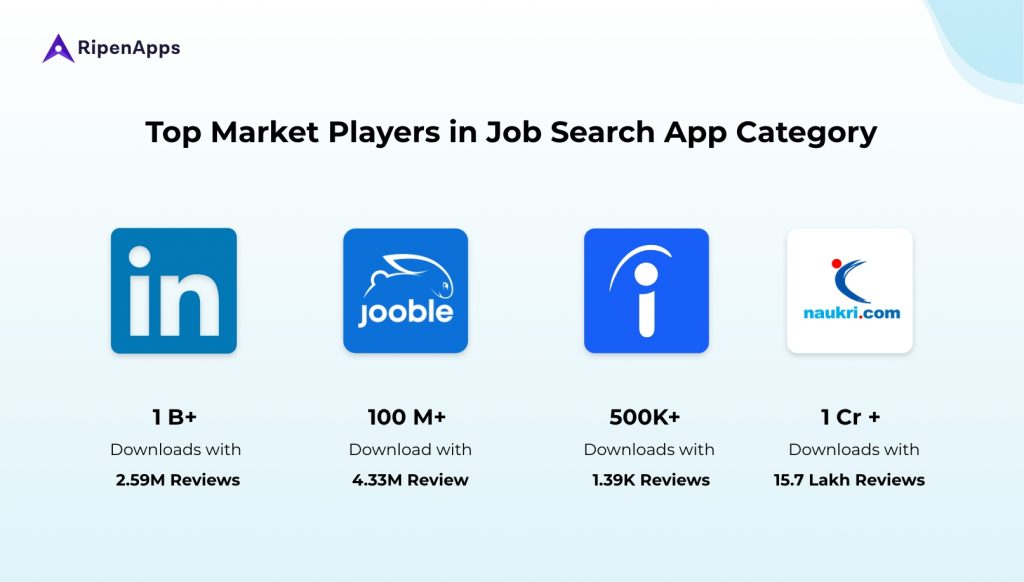 What are the benefits of Job Search Apps for both seekers and employers?
As per the estimation by Gartner, 2.3 million new jobs will be created due to advancing artificial intelligence technology. As per the figure, you can easily derive that the demand for online job search will increase with the advancement in technology. If you plan to create an advanced job portal, then read other major benefits of job portal apps for seekers and employers.
Benefits of job search apps for job seekers
There are various perks job search apps carries for job seekers. Here unlock the major perks.
Job posts push notifications
One of the top benefits that a job seeker never want to miss. With the great job recruiting app, a job seeker never misses any opportunity near him. A feature-rich and reliable job search app give regular updates whenever an opportunity related to the candidate's job profile appears. The app ensures that the seeker never misses any update and apply for their dream job to start their professional journey.
Confidential & Reliable
Keep your app secure by taking necessary security measures. Once the candidate profiles on such job portals, they update personal details, resume, skills, accomplishments and other official data, and these apps keep the data safe and private. It depends on the approval of the candidates. Only candidate approves to make their data visible to their particular choice.
Expeditious to soothe your way
Job portal apps are very efficient when it comes to the picture. These apps are much efficient as they are very effective in finding a perfect job for you. It also simplifies and shortens the recruitment process where a candidate needs to simply put the resume online and wait for the perfect employer to visit his profile.
Carries endless job opportunities
To get endless job opportunities, job portal apps are great to start with. These portals carry the lists of great opportunities. These portals carry vast job vacancies from the top companies. One can easily browse the list of good jobs and select their desired one.
Job in Cost-Effectiveness Manner
The candidate spends more money on transportation, convenience, and other stuff when they come to walk-in interviews, but with online job portals, it becomes easy to get the desired job by sitting at your home. Such apps provide the desired options and feasibility to search and apply for the job online without thinking about the money.
Benefits of recruitment apps for employers:
There are various perks job search apps carries for the recruiters. Here unlock the major perks.
The easy selection process of candidates
Using a job portal, you can easily view a list of the job applicants with the needed experience, skills, and expertise. This can make the hiring process much easier and efficient so that the recruiter can get the complete knowledge of the candidate and make the hiring process smooth and flexible.
Promotes their brand
Job portals enable employers to promote their firm online. According to a survey, 80% of employers agree that brands can augment their ability to attract superior talent and hire the best candidates for their brand through these portals.
Easy resume search
Most job portals have easy-to-use filters. You can set the right filters to locate the most suitable resumes with the appropriate set of skills and experiences. This simplifies the hiring process as the employers no longer need to go through every resume one by one.
What are the must-have features in the job search & recruitment app?
For the entrepreneurs who are into the recruitment process and wish to develop a digital platform like Naukri, it is important to know about the list of important features that you must ask your job portal app development company to include in your portal.
Job Seeker Panel
Social Sign Up and Login
This feature helps new users to sign-up & login via their social accounts consisting of Google, Facebook, and LinkedIn will ease onboarding.
Resume Management
The job search or recruitment app should provide a specific feature for resume management. The seeker can upload their resume in multiple formats to give an instant picture to the recruiters. Along with resume uploading, there should be an in-app feature where the seeker can create or edit their resume for a better process.
Profile Management
The profile management feature should state the complete information of the candidates, their details, their past working history, tenure, picture and other profile related information.
Advanced Job Search Filter
The app should carry an advanced job Search filter based on experience, location, keyword search, salary expectations, etc. Your app must enable job-seekers to search for jobs quickly. This functionality will help the seekers so that they can apply according to their suitability.
Send Resume
There should be a feature where the seeker can directly send the resume to the concerned person for a better reach and get an instant review.
Video Resume Creation
The app should also provide the feature of video resumes creation as this is the trending feature nowadays, and your job portal app should lag in terms of this innovative way of candidate introduction.
Schedule interviews via video conferencing
To keep the current scenario of the remote working norm in mind, your job searching app should consist of scheduling interviews via video conferencing so that candidates can perform the interview process remotely.
Push notifications for Job Alerts
This is an essential feature of any job portal app as it gives regular updates to the seeker about their preferred job, location and other things. Your app should have a push notification feature so that users can get the alert timely.
Bookmark Jobs and Employers
Your job portal should have a unique feature where they can bookmark the job or the employer to get the regular update from that particular bookmarked section.
Recruiter Panel
Sign Up/ Login via email
This is a very basic yet important feature so that recruiters can easily sign up either by using their email ids or directly using their social media accounts for login /sign up.
Job Creation/Posting/Editing
This feature allows the recruiter to create the job, post the job and edit the job as per their brand or the firm. This feature helps the recruiter to target their desired candidates.
Email prospects
There should be a feature of email, where the recruiter can target the email prospects via sharing an email to them.
Filter Resumes and Download
There should be a filter feature in the recruitment panel, where the recruiter can download or filter the app according to their requirement.
Send job Invites
The job invite feature helps the recruiter send the invites to candidates to get the extra channel to find the job, and the recruiter can get the extra medium to hire candidates.
Payment for Subscription Plans
There should be a smart way to make the payment. Integrating a secure payment mode is the utmost priority for any job portal development app company. Adding a reliable payment gateway makes it more comfortable to deal with the parties using the app.
Admin Panel
Manage Job Ads
There should be a feature of manage job ads, where admin can manage the job ads and their placings so that the ads review to the particular those seeking in that domain.
Manage Candidate Profiles
This feature allows the admin to manage the candidate's profile as per their details and required field.
Package Management
Admin can manage the package and provide the approximated package to give the seekers and recruiters a picture of getting the desired package.
Document Management System
Document extraction allows analyses and stores extracted useful information from an uploaded CV and another document automatically, as a result, it converts an unstructured form of resume data into a structured way. This feature lets the candidate and recruiter have a clear doc of the details.
Recruiter/Employer Profile Management
Admin panel manages the recruiter profile because everyone wants to target the entity which carries the complete details. Thus admin panel should have the profile management feature.
Invitations
Admin should manage the invitation that operates from recruiters. This feature carries the extra advantage of connecting candidates via invites.
Job Seeker and Employer Data Reports
Admin panel manages the data reports of Job seekers and employers. This should be the feature in the admin panel for such reports.
Advanced Feature of a Job recruitment mobile app:
Robust Backend Solutions
The main part of an amazing job recruitment mobile app is a responsive information base that stores every one of the details of each job searcher. So to flawlessly deal with this detail base, having a robust backend is an absolute necessity. This will likewise work with perfect front-end tasks.
Document Scanner
This is a significant feature that assists the candidates with examining every one of their records utilizing an in-built scanner. They can sweep their imprint sheets, ID confirmations, authentications, payslips, and so forth to add them to their profile.
In-app chat/message
This component can assist with working with consistent communications between the job searchers and the recruitment. The two can share the vital details and even timetable a meeting to push forward in the enlistment interaction.
Ticketing and Booking
This element empowers the app users, both job searchers and recruitment, to interview for any event or online course occurring on the gateway. They can likewise generate e-passes to the event for a smooth encounter.
eLearning solution
To upgrade one's professional profile, job searchers can select distinctive eLearning courses recorded hands-on gateway. Upon effectively finishing these courses, the up-and-comers will get an advanced authentication that they can undoubtedly add to their resume. This assists with enhancing the resume just as increment perceivability to the top enrolment specialists.
Document Management Module
This is a significant component that empowers applicants to look for applicants just as businesses store, make, oversee, or file digital reports. These reports can be put away safely on the entry and got to from any spot when required.
CRM Integration
Customer Relationship Management is a significant part of a job portal. Incorporating a robust CRM makes it simpler to oversee client inclinations and deal with them occupations in like manner. Plus, a CRM likewise assists with taking care of newsletter, user detail and assortment, showcasing and examination, and considerably more.
CMS Integration
A CMS assists with overseeing and adjusting every piece of the content that is accessible on the platform. It very well may be utilized to deal with the blog, job posting description, applicant resume, etc.
ERP Integration
An ERP solution for a recruitment and job search for a new job app helps diminish the general work. And in this way, lessens the expense of backend the board. Additionally, helps in better examination of a lot of information at a single spot.
Real-time Analytics
This feature empowers the admin to separate real-time data on things like complete positions allotted, various businesses connected, the number of bids for employment recorded on the app, and so forth.
Role-Based Dashboards
A custom dashboard is needed for different roles, for example, job searchers, job providers, consultancies, and administrator dashboards to perform different assignments.
Payment Integration
A great job portal joins numerous payment gateways for the accommodation of the users. You can offer well-known payment techniques like net banking, credit and check cards, mobile wallets, UPI, etc., to make the payment cycle bother free for all users.
How much does it cost to build a job recruitment mobile app development?
Considering the cost of job recruitment mobile app development, various factors determine the cost of such applications. Multiple factors decide the job search and recruitment app development cost like features, technologies stack, development team, app complexity, third-party integration, and resources and timeline.
Also, app development is a lengthy and complicated procedure that involves taking into account multiple factors.
Various companies charge hourly charges, various on a project basis that depends on their business model. To get a detailed view of cost, consult an app development agency with a clear costing feature.
Hire a leading mobile app development company now
The growing need to find the right job has led to a rise in the number of mobile recruitment apps available. Thus, there can be a significant hike in the price of development in impending times. So, the best thing to do is consult with a top mobile app development company right now. And turn your business ideas and concepts into a reality.
Therefore to ensure that your venture is efficient and profitable, you must add some unique features that are not available in the previous app versions. This will provide you with a much-needed successful edge.


FAQs
How much does it Cost to Develop a Job Portal App for my Business?
When we talk about the cost of developing a job portal app, there is no fixed. The cost of building a job portal app is highly affected by the features and functionalities that a client demands. Yet, the app will cost you about $30,000 to $60,000.
How much Time will it Take to Build a Job Portal App?
The timeframe for building a job portal app depends upon the complexities a client demands. When you embed advanced features, the time frame will vary. A good job portal app, will take around 6-12 months.
What is the Required Team Structure for Recruitment & Job Search App Development?
The following team structure or resources are required to build a recruiting app:
Project managers
UI/UX designers
Android iOS developers
QA and testers
What is the Required Tech Stack for Job Search App Development?
React Native or Flutter for cross-platform mobile app
MEAN or MERN stack for web app
MongoDB, and MySQL for Database management Connect with us to discuss your Project.
Contact Us