There was a time when Facebook was the sole champion in the social media landscape of Canada. But everything was about to change with the launch of TikTok. The social media app giant has become the most used platform among the new generation of users.
With their short-form video app idea, the company has ignited the short-form feature in every social media app. From Instagram to YouTube, Pinterest, and Snapchat, every social media application is trying to become TikTok now.
Are you wondering why? Why is TikTok the fastest-growing social media app in Canada? Let us find out by studying the TikTok stats, features, business, and revenue model in detail.
TikTok Statistics In Canada
The majority of TikTok users in Canada are under the age of 40.
According to Madeinca, 43% are 18-29 years old, 33% are 30-39 years old, 13% are 40-49 years old, and 11% of 50-64 years old
20% of the users in Canada use TikTok for news, marking platform's professional efficiency
The revenue amount of TikTok is expected to reach up to $385 billion by 2027 even in Asia, despite its ban
60% of the TikTok users are females in Canada
Below is a report socialmedialab in Canada demonstrating the frequency of social media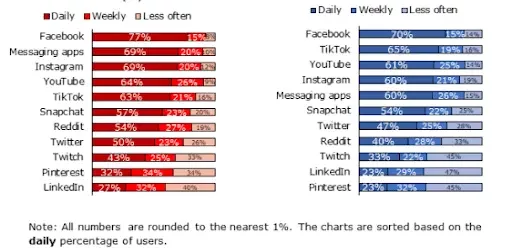 Unique Features Of TikTok That Set It Apart From Other Social Media Platforms
TikTok has several unique features that set it apart from other social media platforms. Although you will find these features in almost all social media sites as of now, they were unique in TikTok when it was launched.
Short-Form Video Format: TikTok's primary content format is short videos, typically 15 to 60 seconds in length, which allows for quick and engaging content. Today, every social media has rolled out their own short form video content.
AI-Powered Content Recommendation: TikTok uses a powerful algorithm that suggests content to users based on their preferences, creating a highly personalized feed. And, all that is for the videos, not even the images. If you also want to implement something like this then you will have to hire an experienced social media app development company.
Duets: Users can collaborate with each other by creating "duets," where they split the screen to react or interact with another user's video.
Challenges: TikTok often hosts viral challenges or trends that encourage users to create their own interpretations of a specific theme or song. You can see the same thing on Facebook and Instagram now.
Filters and Effects: The app offers a wide range of filters and effects that users can apply to their videos to enhance creativity. It allows users flexibility to make good-looking videos.
Music Integration: TikTok has a vast library of licensed music that users can include in their videos, and music often plays a central role in the content. However, it is visible everywhere on other social platforms as well.
Read More: Social Media App Development Guide- How to Build a Leading Social Networking App?
How Does TikTok Make Money? Business Model
TikTok's business model is closely related to its revenue models but it caters a broader perspective on how the company operates and creates value. No doubt the business model is successful and the foundation teams have hired expert app development partners for Android and iOS platforms.
By understanding the business model and then the revenue model, we can deeply analyze the social media app better to reach our conclusion. Here are the key components of TikTok's business model.
User Acquisition and Engagement
TikTok's primary focus is to acquire and engage users on its platform. The app's viral and user-friendly features, such as short video content, music integration, and easy-to-use editing tools, are designed to attract and retain users. The application can attain this using their intelligent algorithms.
User-Generated Content
The company relies on its users to create and share content. The business model is built around the idea that users will generate a significant portion of the platform's content for free, thereby reducing content production costs.
Advertising
Advertising is a fundamental aspect of TikTok's business model. Brands and businesses pay TikTok for advertising space and promotion on the platform. TikTok's algorithm also ensures that ads are shown to users likely to be interested in the products or services being advertised.
Data Monetization
The social media giant collects a vast amount of user data, which can be valuable for advertisers and businesses. This data can be monetized by providing insights, analytics, and targeting options to advertisers to improve the effectiveness of their ad campaigns.
Partnership and Collaboration
TikTok collaborates with content creators, influencers, and brands to promote their content and products on the platform. Partnerships may involve revenue-sharing agreements or other arrangements to incentivize creators and attract brands.
E-commerce Integration
The company's e-commerce features are part of its business model. By allowing users to shop directly on the platform, TikTok can earn commissions on sales and strengthen its position as a shopping destination. Today, the company is supporting a huge multivendor e-commerce marketplace.
Expansion and Global Reach
TikTok's business model includes global expansion strategies to enter new markets and adapt to local preferences and regulations. Expanding its user base across different regions is a key growth strategy.
Subscription Services
The social media tech giant has introduced subscription services in some regions. This can be an additional revenue stream and is part of its business model.
Read More: 9 Unique And New Social Media App Ideas For Entrepreneurs
Several businesses have utilized TikTok features and functionalities to market their products. And, the social media company has no restriction on the type of your business. Nearly every business can market their services.
For example, app-based businesses have built their products by hiring mobile app development company in Canada and are promoting their apps on TikTok. The story remains the same with others be it Manufacturing or retail business.
So, Why TikTok Is The Fastest Growing Social Media App In Canada?
The information in the blog might look distorted to you, but all of that adds up in building our conclusion efficiently. We have seen how popular the social media giant is among the young generations. Also, the platform has mastered the short video content format- the most convenient way of consuming content among users.
Further, the powerful AI takes care of suggestions that a user would stay engaged without keeping track of time. Not only the users are having a great engagement, but small businesses have also converted their sole proprietor businesses to full-blown companies. This is the reason why TikTok continues to beat other social networking giants like Facebook and Instagram becoming the fastest-growing social media app in Canada.