Intelligent automation is one of the hottest trends in the modern business world. It empowers enterprises and business organizations to transform automation capabilities. With Intelligent automation, many leading brands and enterprises have dramatically revamped their existing business processes and achieved significant growth.
And when it comes to implementing intelligent automation enterprise business owners often face challenges and complexities. Since IA comprises high-end and complex technology, you need expert guidance to successfully deploy intelligent automation in your business.
Being a digital transformation company, we are aware of where most business owners make mistakes and lack. Therefore, here in this article, we will guide you on how to get started with intelligent automation. Here, you will learn how to implement IA in your business processes to improve your productivity and efficiency.
So let's get started
What is Intelligent Automation?
Intelligent automation (IA) is the combination of three cognitive technologies: artificial intelligence, business process management (BPM), and robotic process automation (RPA). IA uses the combined capability of AI, BPM, and RPA to bring advanced-level automation. Therefore, intelligent automation is also known as cognitive automation.
IA uses the power of these three technologies to streamline and automate business operations. It enables enterprises and business organizations to enhance their productivity. As a result, this increases business output by improving processes and freeing up resources.
Understanding the Three Components of Intelligent Automation
Before we get started with intelligent automation, it is important to understand the three main components of IA. These three components lay the foundation. It allows you to effectively utilize each technology in all aspects of your enterprise. Here are the 3 components of intelligent automation: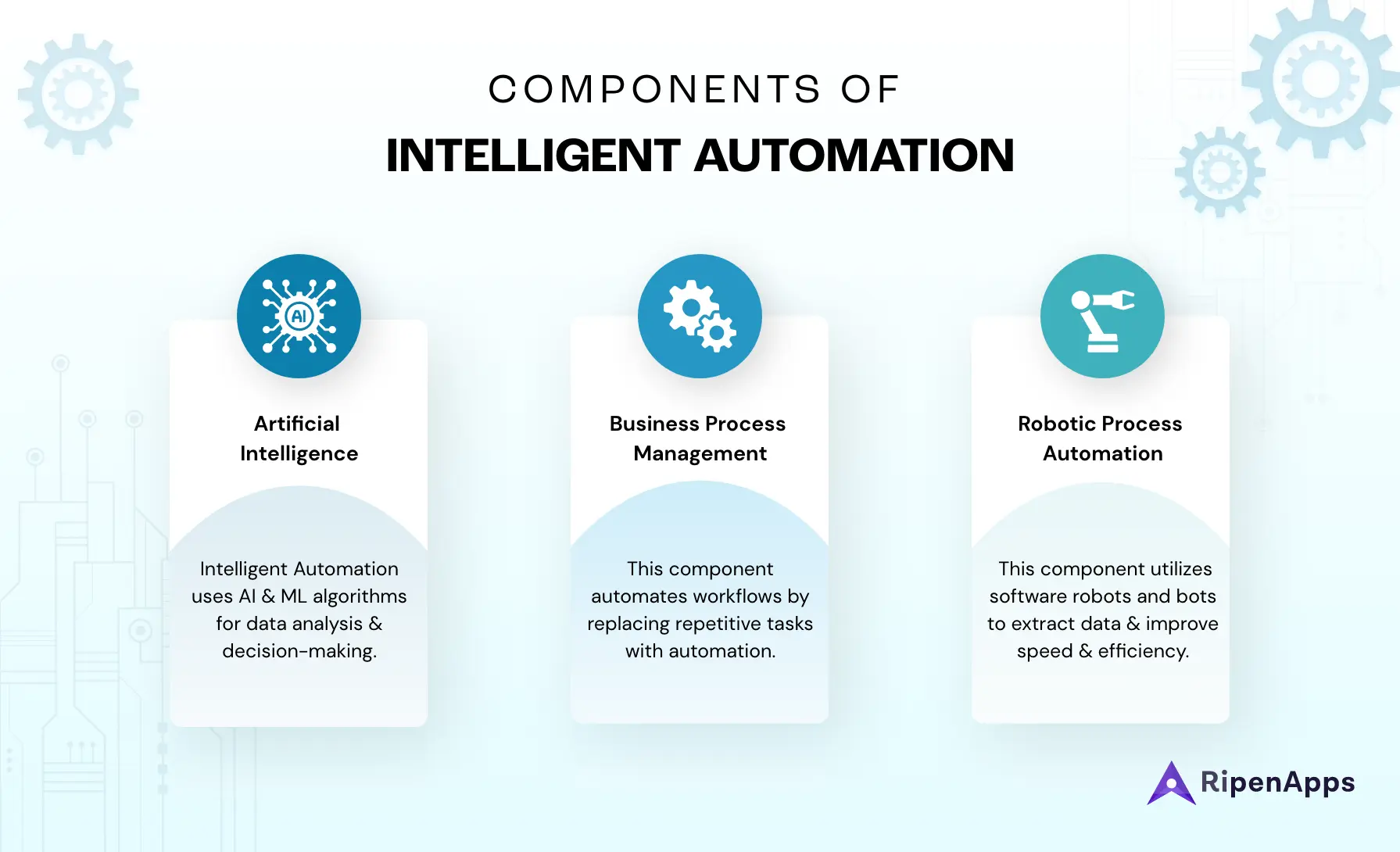 Artificial Intelligence: AI is the most crucial part of intelligent process automation. IA utilizes AI & Machine learning algorithms to analyze structured and unstructured data. AI enables enterprises to set up a large-scale knowledge base and derive valuable insights. Thus, AI works as the decision-making engine of intelligent automation.
Business Process Management (BPM): It is also known as business process automation. This component automates workflows by replacing repetitive tasks with automation. It enables organizations to simplify processes and enhance engagement and interactions.
Robotic Process Automation (RPM): This component utilizes software robots and bots to extract data and fill out forms. As a result, it helps in completing back-office tasks. RPA also assists artificial intelligence to manage more complex tasks. Consequently, it helps achieve better speed and efficiency.
Benefits of Implementing Intelligent Automation in Business
For business owners and enterprise stakeholders, productivity and efficiency matter a lot to achieve sustainable growth. And automation is one of the top methods to revamp business operations. Automation has been running as a top industry trend for the past several years. Many enterprises and companies have already implemented automation in their operations and processes.
However,  they cannot still achieve results at a substantial rate. This is where IA comes in which takes business automation to the next level. It empowers businesses with state-of-the-art technology solutions.
Traditional automation systems mostly allow organizations to automate manual tasks. IA, however, goes beyond this. Here are the benefits of intelligent automation:
Reduce operational costs by automating the workflow
Increase accuracy, productivity, and efficiency
Enhance customer experience
Prepare enterprises for compliance and data regulations
Better security through advanced AI & ML data-encryption algorithms
Save resources by reducing human labor costs
Future scalability to quickly adapt to emerging trends
So, it is evident to see why implementing intelligent automation is beneficial for enterprises and business organizations. Many enterprises and businesses have implemented IA solutions in their ecosystem.
Consequently, they have witnessed noteworthy improvements in their business productivity and efficiency. And due to this growing adoption and extensive benefits, the IA market is also growing at a fast pace. Have a look at the latest market data.
The global intelligent process automation market size is estimated to reach $37.63 Billion by 2030 at a CAGR of 16.50%, which was $9.52 Billion in 2021. (Straits Research)
The usage of AI and automation will produce $13 trillion in economic activity by 2030. (McKinsey Global Institute)
The adoption of AI and automation has the power to enhance productivity by up to 40%. (Accenture)

Steps to Implement Intelligent Automation
Implementation of intelligent process automation requires a well-defined and strategic approach. It involves complex and advanced technologies. Hence, you need expertise and the right knowledge to effectively implement IA and achieve your desired results. Below we have mentioned the steps by step process to implement IA.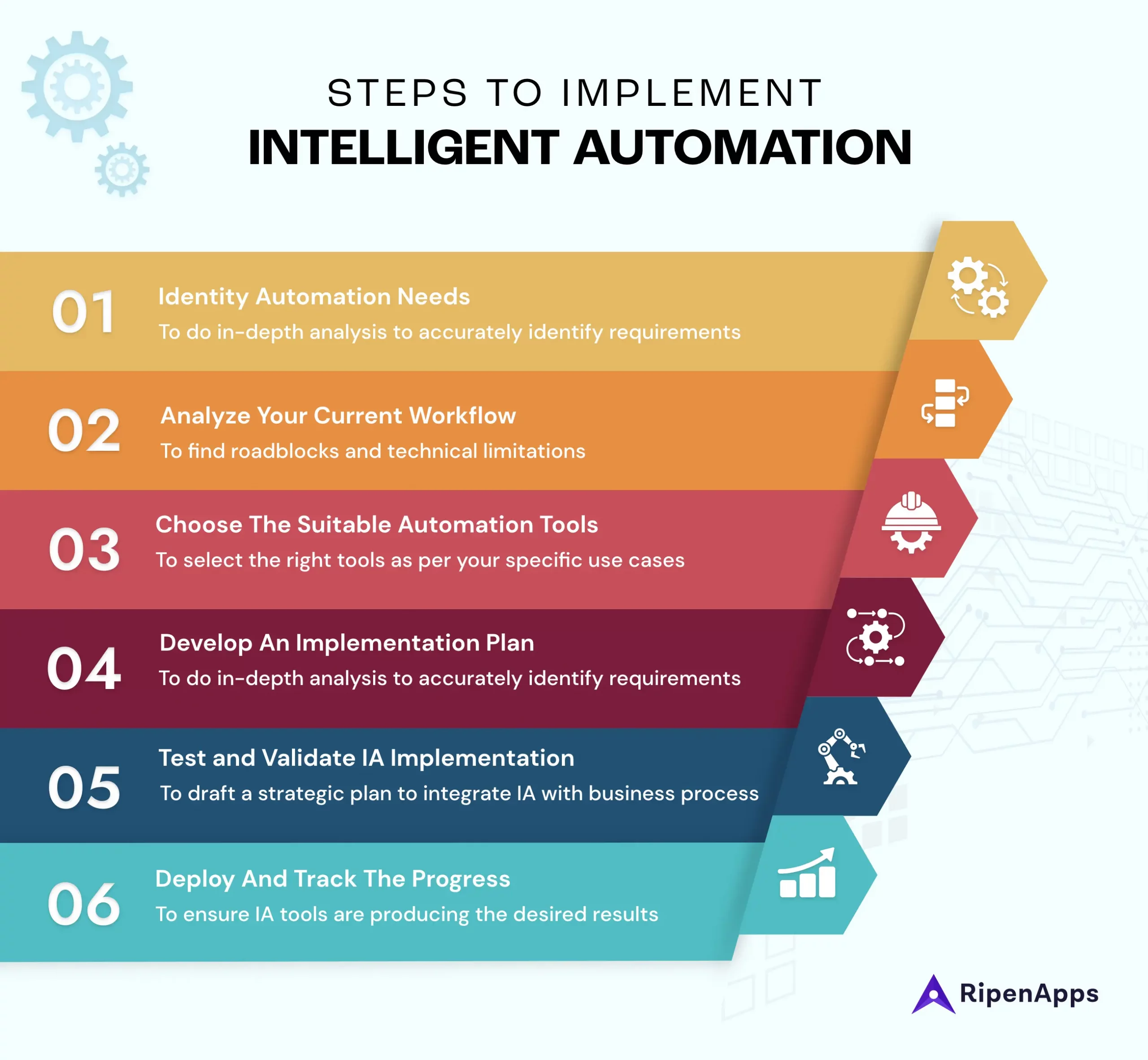 1. Identity Automation Needs
The first and foremost step is to identify which tasks or business processes need automation. You have to do an in-depth analysis to accurately and specifically identify your requirements.
For this, you need to conduct internal research or survey at the organizational level. This will give you insights and potential areas where automation is required. Besides this, you can also figure out the repetitive or manual tasks to check for possible automation transformation.
2. Analyze Your Current Workflow
This is something technical where you have to be very attentive. For enterprises and organizations, using up-to-date and compatible technologies is very crucial. It is because it makes your company ready for emerging industry and technology trends.
And this could be achieved when your enterprises use modern and market-fit technologies in business operations. Therefore, you should accurately analyze your current workflow to find out roadblocks and technical limitations.
This would help you prepare in advance before the implementation of intelligent automation. As a result, you can integrate the right software tools and automation solutions.
3.  Choose the Suitable Automation Tools
IA consists of various software tools and applications. There are different kinds of automation tools and solutions for business process automation. But not all automation tools or technologies are essential.
It depends on your use cases and business automation requirements. Thus, you should consider several key factors when choosing IA tools. For instance, the use case of each IA software tool, scalability, budget, and security standards.
4. Develop An Implementation Plan
Once you have all the essential information regarding your automation needs, draft a plan to integrate IA with your business process. Here, you are creating a digital transformation strategy to execute the IA. You have to outline the steps, list of tools and technologies, responsibilities, and goals to achieve with IA.
This step might be challenging. It is because this involves a holistic understanding of IA and your business processes. Therefore, it would be wise to consult a digital transformation consultancy. They would help you accurately identify your automation needs and prepare an effective implementation plan.
5. Test and Validate IA Implementation
Since you will use software tools and applications as a part of IA implementation. So, you have to test and validate the implementation to ensure its successful results. For this, your team or digital transformation company will create a separate testing environment.
Before applying IA, they will check whether IA tools and solutions are producing the desired results as per the defined plan. In case, if there are any kind of changes required, you can make a suitable reformation.
6. Deploy and Track the Progress
After testing and validating, you are all set to deploy intelligent automation. Make sure you give proper training to your employees and workforce. This will prepare them to be compatible with intelligent automation. And use it effectively to achieve the desired outcomes. Therefore, you have to pay attention to both aspects while deploying IA. Track its progress and train your employees to be adjustable with IA.
How Much Does it Cost to Implement Intelligent Automation?
Intelligent automation comes under digital transformation services. Hence, the cost of intelligent automation depends on the vendors or service providers. There are various factors associated with the cost of intelligent automation services. For instance,
IT environment (e.g. cloud or server)
Number of bots
Types of bots
Number of users
Frequency of usage
All these factors are different in digital transformation packages.  Thus, to estimate the cost, you have to check the service packages which you have chosen for implementing IA. On average, $6000 might charge for a monthly usage of IA software tools. But the exact figure depends on the complete project requirements.
Real-life Examples of Successful Implementation of IA
If you are a little tense and worried about implementing intelligent automation. Then, you should take a look at popular examples that successfully implemented IA in their business processes.
Coca-Cola: The world's most famous beverage brand implemented intelligent automation to streamline its supply chain management. They deploy software tools and applications to automate data entry and reporting tasks associated with production, inventory, and logistics.
IBM: The company used IA to optimize its financial reporting process and achieved great results in accuracy and efficiency.
JP Morgan: The company achieved substantial improvement in compliance and risk management processes. They implemented IA to automate the data analysis of large volumes of legal documents and information.
Besides this, there are many more examples of enterprises and brands that achieved significant improvement in their business productivity and efficiency. According to a Deloitte survey, 58% of executives have started their implementation of intelligent automation. Out of these, 38% are on piloting, and 12% are at implementation. and 8% at scale.
Hence, by considering all these statistics and real-life successful examples, it is evident intelligent automation can bring dramatic transformation in business productivity and growth. And since it helps enterprises and business organizations save huge costs and labor efforts, the usage of IA will likely increase more.
Concluding Thoughts
Intelligent automation is a powerful digital transformation strategy to upscale business productivity and efficiency. Today, most enterprises are running their business operations with traditional methods which consume high effort and time. By implementing intelligent automation, enterprises streamline and optimize their business processes. And thus achieve great improvements in several aspects.
But since its implementation requires expertise and the right selection of tools & technologies. So, you should consult an expert digital transformation agency. They will assist you in accurately analyzing your automation requirements. And assist in preparing an effective implementation plan for intelligent automation.

FAQs
1) Do I need a technical background to implement Intelligent automation in my business?
Not necessarily. But, of course, you must have a basic understanding of digital transformation and intelligent automation. This will help you determine your goals and automation requirements.
2) How much time does it take to deploy intelligent automation?
There is no specific timeframe for this, It is because the implementation of IA consists of several tasks. It depends on the size, complexity, and other factors associated with your enterprise or organization's operations.
3) What is the cost of intelligent automation services?
It might vary from company to company as per their service packages. Many things come under automation services. For instance, the number of bots, and the number of developers. frequency of updates, etc.
The cost of intelligent automation services depends on all these factors. To get a precise cost estimation, we advise you to consult a digital transformation service provider.
4) Can small and medium businesses also take advantage of intelligent automation?
Yes, intelligent automation aims to automate repetitive and manual tasks. No matter what your business is. If there are too many repetitive tasks and your company has to bear costs due to this. Then, your company can take advantage of intelligent automation. But this requires expert guidance and leadership to implement IA for achieving successful results. Connect with us to discuss your Project.
Contact Us