When digital transformation emerged, it opened a new doorway of technology innovation in business. Industries and business organizations started upgrading their business operations and marketing practices to achieve better results.
Over the years, many enterprises and companies have implemented digital transformation in their operations and services. But it may sound interesting to know that only 35% of digital transformation efforts are successful. According to a BCG report, it was found 850 organizations were able to achieve their digital transformation goals.
So what happens to the rest? Why majority of companies often fail to achieve their business goal despite using digital transformation?
The reason is they lack a digital transformation strategy.
Digital transformation is a powerful and next-generation technology. It is a set of multiple digital technologies that enable organizations to transform their existing processes and operations. But since digital transformation involves high-end technologies and business intelligence, companies often don't correctly analyze and strategize their digital transformation implementation.
As a result, they couldn't achieve what they expect. So, if your organization or company is set to implement a digital transformation, you must be aware of the critical components of a successful digital transformation strategy.
And today in this article, we will explain the 6 pillars of a digital transformation strategy that enables you to achieve your business goals successfully.
So, let's get started.
What is Meant by a Digital Transformation Strategy?
A digital transformation (DX) strategy is a well-defined and detailed action plan to effectively employ digital technologies and digital solutions in a company's business processes. It is a roadmap for the strategic implementation of digital transformation to achieve short-term and long-term business goals.
A digital transformation strategy aims to bring result-driven changes in business models, innovations in products and services, and the creation of new solutions to meet the evolving needs of customers. Digital transformation offers great benefits by helping companies upgrade and innovate their business process and capabilities.
In the current digital-first age, when industries are undergoing various changes, the need for digital transformation implementation is inevitable. And this is where the digital transformation strategy comes in to ensure the company successfully employs the DX.
Why Do Businesses Need a Digital Transformation Strategy?
Digital transformation is a high-level technology implementation. It empowers organizations to bring disruptive changes in all aspects of business and organizational activities. In the early evolution of digital transformation, companies were mostly using digital transformation for improving customer experience.
Later in the second wave of digital transformation, things got changed and companies started integrating DX in enhancing operational efficiency. Enterprises and business organizations started utilizing advanced digital transformation technologies like Robotics, artificial intelligence, machine learning, Big data, mobile apps, and cloud computing to enhance productivity and innovation at the organizational level.
Need for Expertise Due to Advancement in Digital Transformation
In the era of industrial revolution 4.0, digital transformation is reaching the next level. At present, digital transformation offers wider scope for technology innovation and implementation for business objectives. IoT, Web 3.0, Robotic Process Automation (RPA), Augmented and virtual reality are the prominent digital technologies.

So, implementing digital transformation with these innovative and advanced digital technologies requires good intelligence. Companies can't afford to make any mistakes or errors while employing DX since the cost of digital transformation services is also expensive.
This becomes even more challenging for mid and small-scale companies and business entities. Here are the current statistics about the digital transformation market. This will give you an overview of what's currently happening in the industry.
Digital transformation is the top priority for 74% of organizations.
Cloud, AI, and IoT are the top three areas enterprises are scaling up during digital transformation.
64% of organizations say that they need to develop new digital businesses to remain competitive in 2023 and beyond.
Larger enterprises struggle more with digital transformation.
Lack of skills and expertise is among the most common challenges in implementing digital transformation.
Thus, seeing these statistics, it is evident that businesses are adopting digital transformation at a substantial rate. But at the same time, not all companies have been successful in achieving better results through this.
This is because digital transformation requires great technology expertise and in-depth analysis of an organization's requirements to effectively use DX. Therefore, companies need a well-defined and properly analyzed strategy to drive the full benefits of digital transformation and attain business goals efficiently.
6 Pillars of a Successful Digital Transformation Strategy
1. Right Team for Formulating the DX Strategy
Digital transformation involves a holistic approach in order to bring result-driven changes in business practices. It is not just about using digitization to turn your business into a real problem-solver. Rather, it requires the correct utilization of digital technologies and a holistic approach to meet the goals. Therefore, to craft a result-oriented digital transformation strategy, you first need the right team and leadership. In any strategy, who and how formulates the strategy determines the success of the strategy.
A visionary leader with the right understanding of digital transformation can build a smart and result-driven digital transformation strategy. Hence, you should try to hire or choose the right team for formulating the digital transformation strategy for your company. And there are some unique qualities of the leaders that you should consider while hiring or selecting them
Good adaptability
Purposeful understanding of DX
Forward-thinking vision
Risk-takers and experimenters
Team player

2. Advance Preparation Before a Massive Cultural Change
If your DX goal is to transform your business operations at the organizational level. Then, you need to prepare advance well before its implementation. You need to be ready for a massive shift in the company's culture and communication. Employees are generally reluctant to any significant cultural change.
They need proper education and training in advance to have a functional understanding of new working methodologies. therefore, early preparation can help you achieve your digital transformation goals efficiently and quickly.
Educate your employees about the digital transformation
Conduct training sessions to prepare them in advance
Provide regular updates and be consistent to reassure them
3. Prioritize Business Process Optimization
Every business has a different set of processes and operations. Since you are focusing on enhancing the efficiency and productivity of business operations. So, you must keep business process optimization in your mind while crafting the digital transformation strategy. The DX strategy should meet the objectives of both customers and internal teams. Make sure that your DX strategy should cover all the interconnected business processes and organizational operations. This will make the entire workflow smoother and maximize the output.
4. Data Analysis and Curation
Data analysis and curation empower organizations to accurately identify their business' pain points. It allows them to properly analyze their overall company's functioning and performance to detect loopholes and thus deduce effective solutions. Digital transformation here helps business organizations to leverage the power of data and eliminates loopholes and pain points in business processes.
For instance, digital transformation allows companies to utilize Big data along with AI, ML, and data analytics tools to analyze customer or internal data. As a result, companies can know where to make improvements and what steps to stake. Hence, while creating the digital transformation strategy, you should consider the integration of data analysis and curation.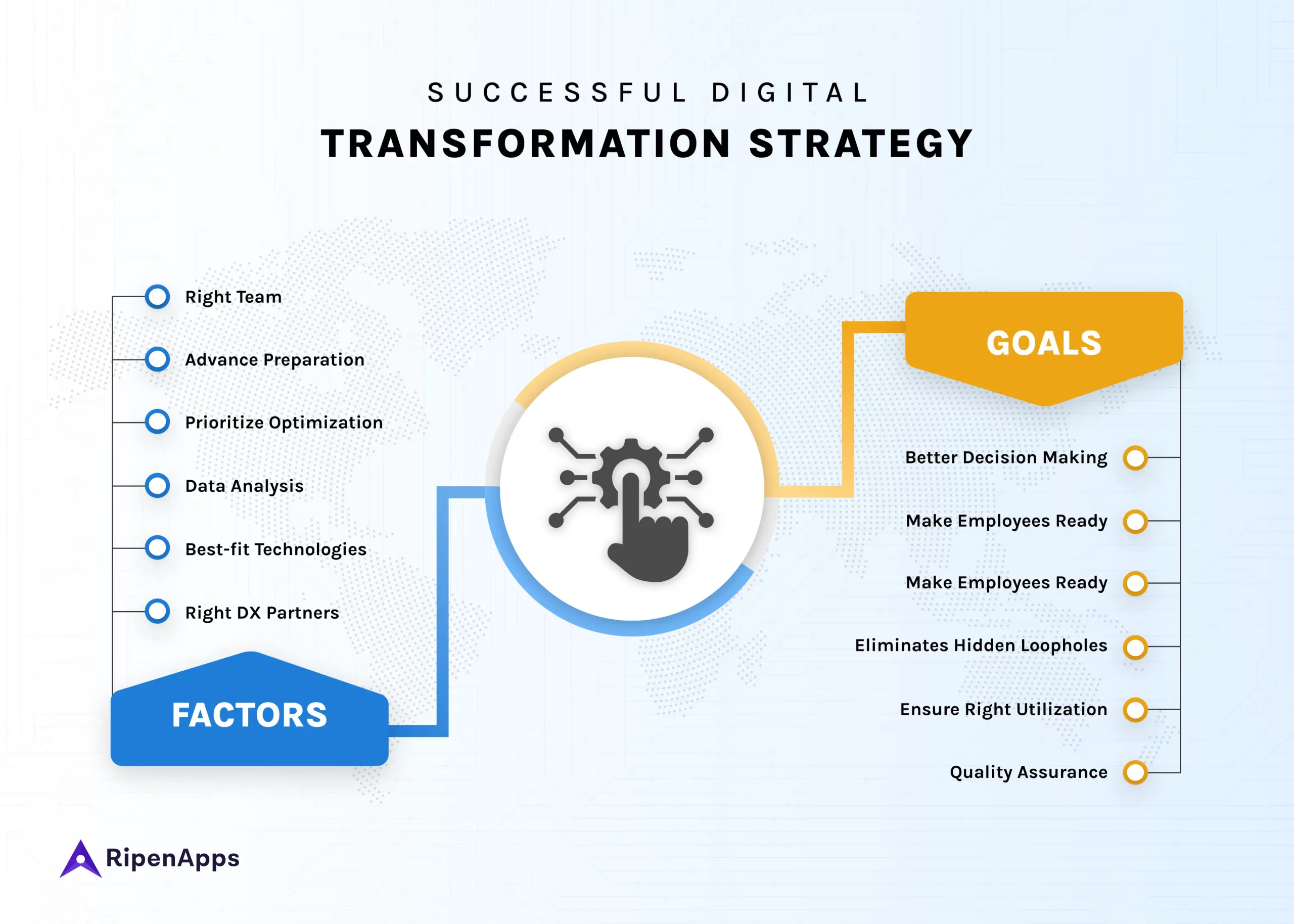 5. Suitable Digital Transformation Technologies
Digital transformation involves a wide range of technologies. And what technologies your organization requires makes it a truly crucial task while crafting the DX strategy. You need to properly analyze what digital transformation technologies your business or organization requires. This aspect is very important and crucial since the wrong selection of technology can ruin your entire investment.
Therefore, you should analyze your digital transformation requirements from customer or business operational levels. And then, choose the best-fitting technology. Here are the prominent digital transformation technologies that you can consider as per your needs
Artificial Intelligence and Machine Learning
Big Data
Real-Time Data Analytics
IoT
Augmented and Virtual Reality
Digital Twin
Additive manufacturing (3D Printing)
Mobile applications
Robotics
Robotic Process Automation (RPA)
Cloud technology
6. Right Digital Transformation Partners
To implement digital transformation in your organization or business, you must need a partner. This partner could be a digital transformation company or a digital transformation consultancy. Whichever you choose make sure they possess good experience and expertise to effectively deploy digital transformation. They must have clear and proper knowledge and understanding of your digital transformation requirements and goals.
All the stakeholders of your organization CEO, CFO, CTO, Directors, and Business Heads must work in a proper alignment with your digital transformation partner. As the industry is now filled with various companies that offer digital transformation services, you should pay attention to important factors to choose the right digital transformation partner
Does the DX company feel confident about its digital transformation goals?
Are they aware of what technologies suitable for your requirements?
How will they integrate digital transformation with your existing technology?
Do they possess good experience and skillsets for your specific use case and industry?
What results they have achieved with similar digital transformation use cases previously?
Final Thoughts
In the current digital-first age, every business or organization needs intelligent digital transformation strategies to drive the maximum value of DX. Many brands and leading enterprises have successfully leveraged the power of digital transformation by simplifying and adopting a well-defined digital transformation strategy. Moreover, these companies have been able to bring drastic changes in their customer experience as well as business revenues.
However, companies that didn't follow a strategic approach in implementation. They failed to achieve their desired goals despite integrating DX. Hence, to ensure your company or business drive full advantage of this transformative technology, you should consult a leading digital transformation company or consultancy.

FAQs
1) What is the cost of digital transformation services?
There is no certain cost for implementing digital transformation. It completely depends on the objectives, technologies used, and other aspects. To get an exact cost estimation, it is advisable to consult directly with a digital transformation consultancy.
2) How to create a successful digital transformation strategy?
The best way to craft a successful digital transformation strategy would be to take assistance from the right team who holds proven expertise in DX. They would gather detailed information as per your specific project requirements and craft a well-defined DX strategy.
3) What are the main components of a digital transformation strategy?
Vision and Leadership, agile approach, enhanced customer experience, data-intensive decision-making, streamlined collaboration, employee empowerment, and right technology enablement are the critical components of a digital transformation strategy. Connect with us to discuss your Project.
Contact Us