The education landscape has completely changed and mobile applications are must-haves for the education sector in today's digital world. More than 60% of the students in the USA have shifted to E-learning platforms. Not only students but global corporations like IBM have shifted their learning towards digital learning through applications.
E-learning apps today are earning billions. The online education provider Coursera is worth $7 Billion in valuation.
When entrepreneurs analyze the growing success of more and more businesses, they are bringing unique education app ideas. But, due to the increasing completion in the app development market, finding the right education app development partner becomes a challenge.
Best e-Learning App Development Companies
So, here are the best E-learning app development partners that you can rely upon. We have curated this premium list after analyzing the below factors of the companies.
Zing Portfolio
Client testimonials
Website content
Team expertise
Quality of projects
Social media pages
The below companies have strong vision about E-learning and believe that mobile applications are must have for education sector in the modern world. Hence, you can trust the below companies and consult them for your E-learning app development project without any concern.
1.Openxcell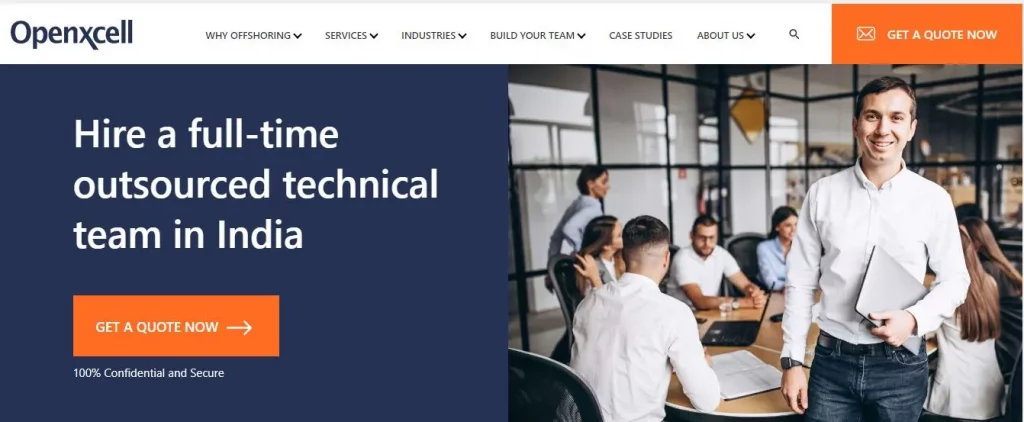 Openxcell has been helping businesses to build leading E-learning application solutions. The highly creative and dedicated team at Openxcell has proved their competency in the E-learning department since 2009. From machine learning and cloud computing to IOT and AI, you can build the most complex education apps. The E-learning app development companies aims to transform the digital experience of its customers. They do it by cost-effective, user-centric, and innovative solutions. Not only the aim, but the company has been focusing on its core values like integrity, transparency, and quality assurance as a priority for its clients. So why not leverage from the top educational app development companies?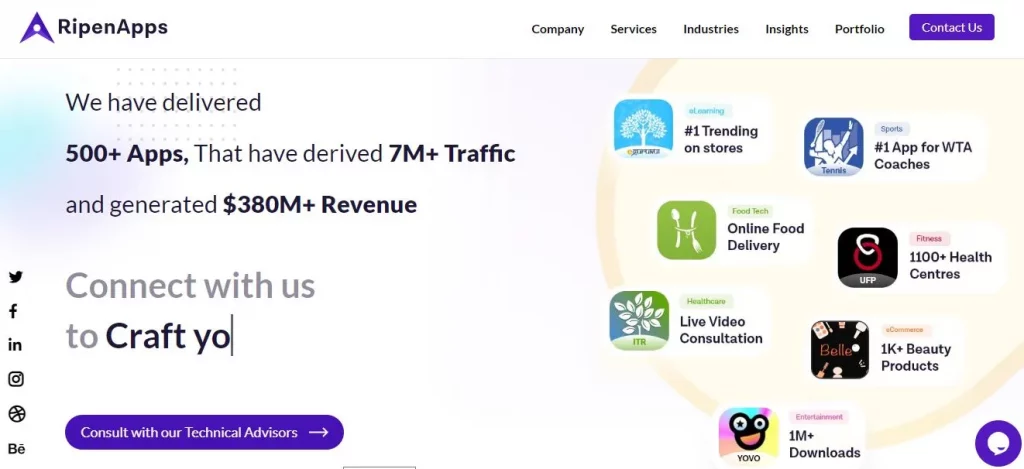 RipenApps Technologies has been empowering brands and startups with its innovative education app development services. Scalability, speed, and security are their major priorities while developing an E-learning app. And when a company focuses on these three pointers, it can ensure massive growth. The company has a team of 150+ experts and unlcoked more than 95% project completion & satisfaction rate. With this RipenApps can be the perfect E-learning app development partner for you. Be it on the user interaction or integrating the most complex features, companies' dedicated experts will ensure 100% of your satisfaction.
Have an E-learning app development project for RipenApps? Email them at [email protected], and discuss your project.
3.Indianic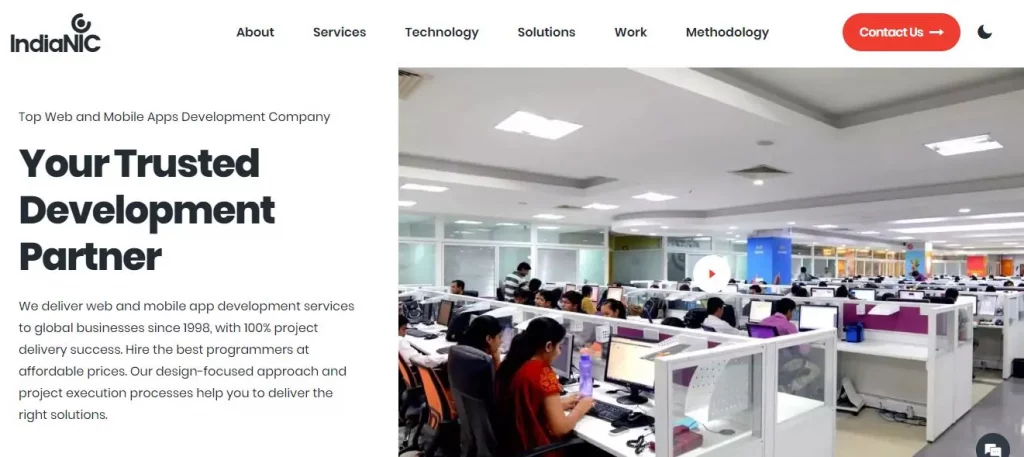 Indianic delivers mobile app development services to global businesses. The company was founded in 1998, and since then, they have delivered 100% project delivery success to their clients. For your E-learning app, the company ensures that your app gets all the important features. Tutors Talk, Next g, and Almamapper are a few of the top E-learning apps built by IndiaNic. The company has 3000+ clients globally, 7000+ projects delivered, and 600+ experts. Indianic is a great contender to become your top E-learning app development companies and convert your idea into reality.
4.NineHertz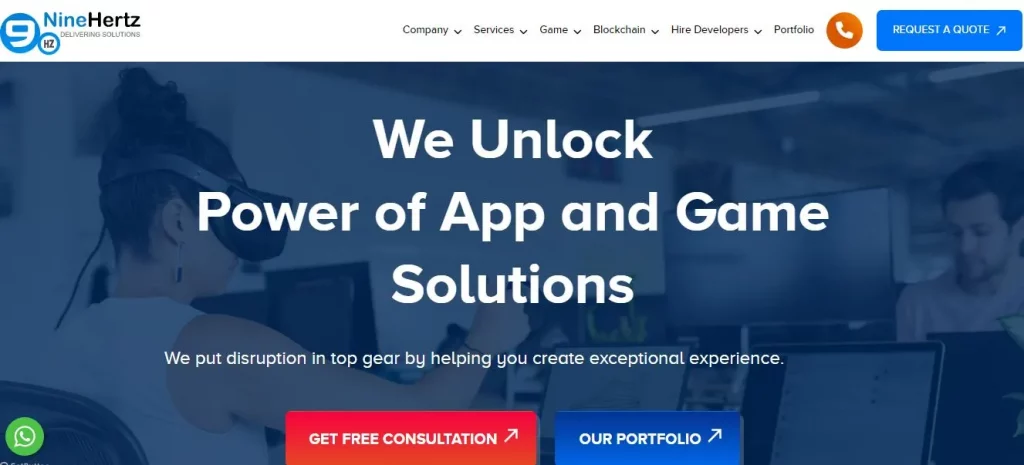 NineHertz unlocks the power of the app and helps businesses to create an exceptional experience. Their robust suite of IT consulting services has contributed to ample projects in the E-learning industry. When you work with NineHertz, you win a competitive edge in the market with their Custom E-learning app development service. Since 2008, the company has worked with the world's top brands. They have 1800+ successful projects launches in their portfolio. NineHertz's exquisite E-learning solutions have delivered some of the best E-learning apps with unique features.
5.CodeBrew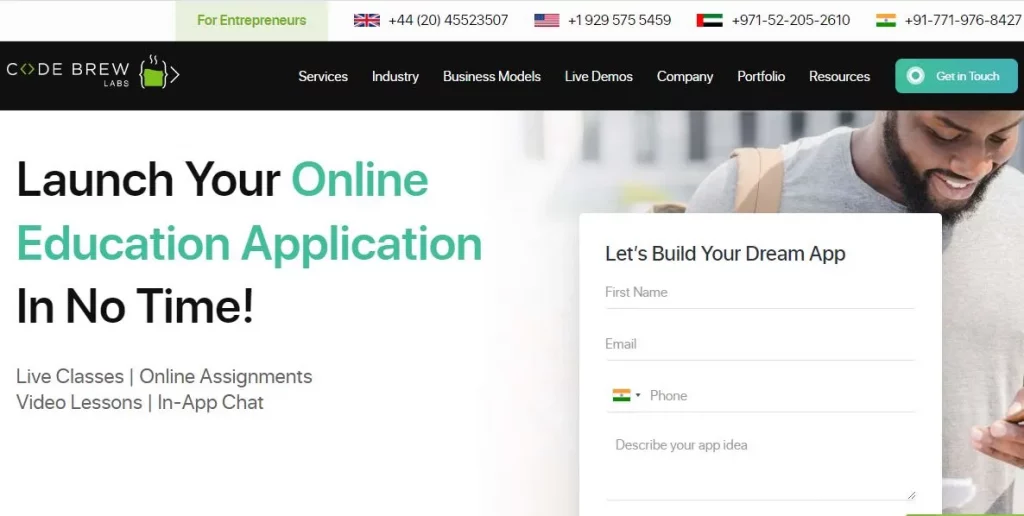 The CodeBrew team has been accelerating growth for businesses with the power of technology. The E-learning app development company has served 3000+ clients helping them discover their digital possibilities. Whether you want to build a prototype or a full-fledged custom E-learning app, CodeBrew can be your app development partner. The company offers interactive designs, flexible customization and smooth database integrations. These services sail through the satisfaction level of clients. If you are planning to build an app like Byju's, topper, khan academy, or any other app, CodeBrew has high potential to convert your idea to an E-learning app.
6.Innofied

Powering the future of tech innovation, Innofied can be your reliable E-learning app development company. The solutions are designed by the company to reduce the pain points of their clients. With 300+ clients and 11 years of experience, and 100+ members in the team, Innofied is a growing company. If you are a startup or a business looking forward to take your E-learning business to next level, we advise you to consult with Innofied. You can unfold cost details for your Education app and kick start your project at the soonest.
7.Qburst

QBurst will let you stay ahead of the curve in the Education industry through their digital solutions. Is it about enhancing the quality of your E-learning app? Or building a unique idea from scratch? QBurst can transform your idea into a product effectively. One of the key features that Qburst has highlighted on its website is the gamification of the apps. The client's testimonials are evidence that Qburst has worked with some top key players in the industry. So, what are you waiting for? If you have an E-learning app idea, you can freely consult Qburst.
8.Hidden Brains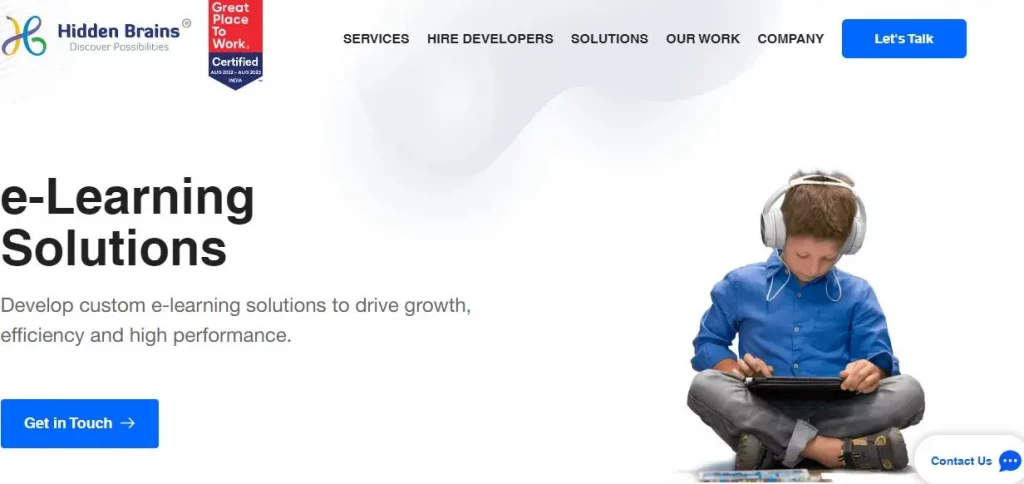 Hidden Brains is an award-winning E-learning app development company delivering high-quality technology solutions. The company has 19 extensive years of experience in delivering IT solutions and services. 2400+ clients and 700+ employees have proved their excellence. Businesses looking for E-learning solutions unlock growth, efficiency, and high performance while working with HiddenBrains. The diverse range of solutions can solve the most complex challenges for your E-learning businesses. Paperworkz is the recent work of Hidden Brains, and there are more E-learning apps under their belt that you can explore.
9.RedBytes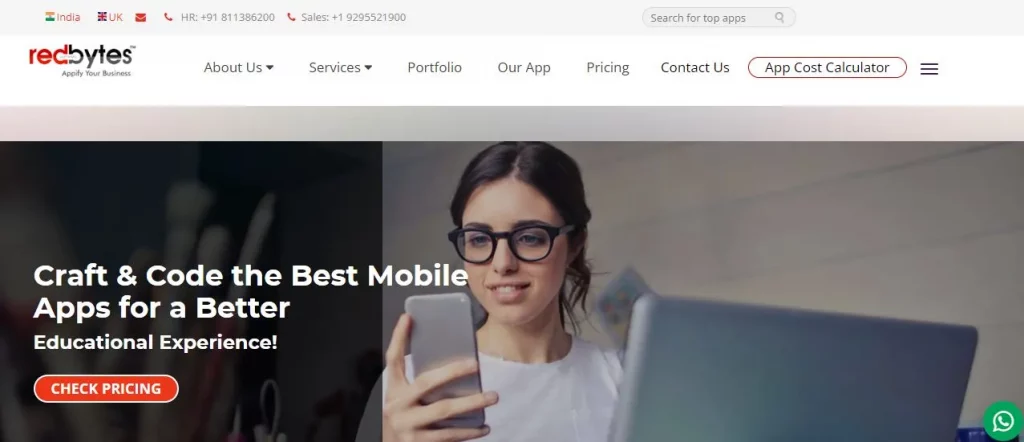 RedBytes is a team highly efficient in crafting and coding the best eLearning mobile apps. The company understands the ever-changing rate of smartphones among the audience. They also know how mobile is playing a major role in the learning process. When you work with RefdBytes, you unlock better ROI, 24×7 availability, cost saving, enhanced communication, and more. From easy authentication, push notifications, UI, and content to timetable scheduling, custom reporting, and tracking, redbytes will embed trending features in your eLearning app. Build your custom E-learning app and gamify it now with Redbytes.
10.Radixweb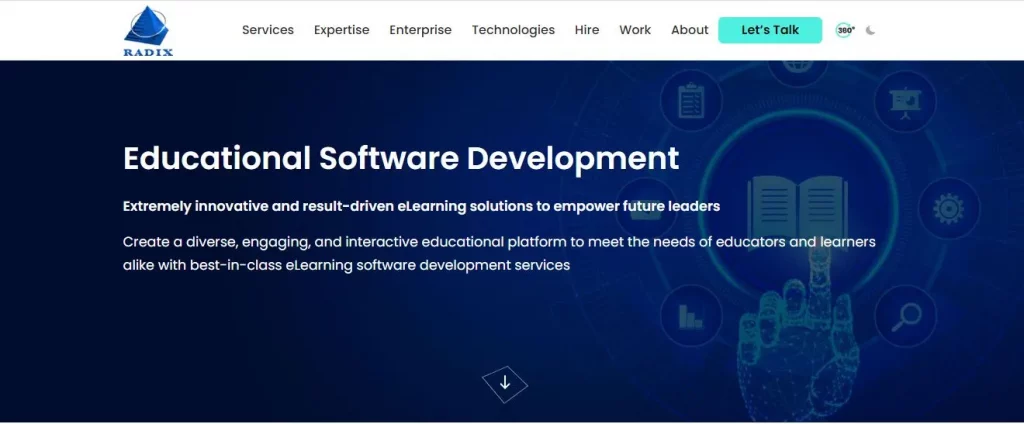 Radixweb has been building a smart approach to education app development. The company is highly experienced and innovative in building best-in-class e-learning apps. Being a business, if you are looking for embedding training features and functionalities, you can consult Radixweb with your E-learning app development requirements.
11.XiCom

With 50,000 man-years of experience in the app development industry, Xicom can be your right E-learning app development service provider. 300+ experts are part of the company who are actively contributing towards building cutting-edge solutions. The development process of Xicom is a key highlight of their business, where they allow customers to decide the engagement terms and timelines. If you are looking to transform your E-learning business, Xicom is the right choice for you.
12.Endivesoftware

For the E-learning solutions, you can also come in contact with Endivesoftware. The company has been building custom E-learning solutions for clients worldwide. From Student, Tutor to Admin panels, you will unlock a flawless and robust complete package of your E-learning app. Endivesoftware can be your go-to E-learning app development partner in case you are looking for a budget-friendly service provider. They also ensure high-quality app development service.
Final words
All the above-mentioned companies are experts in building E-learning app development solutions. Our aim in curating this list was to reduce your efforts in researching the right app development partner. You can check the website of those companies and kick-start your education app development project at the earliest.

FAQ's
Q1. How can I find the best educational app development company?
In order to find the best educational app development company make sure you review the following things.
Portfolio
Client testimonials
Website & content
Social Media pages
Reviews & Ratings
Q2. How can you find and hire the best app developers?
Finding and hiring the best app developers will demand you to research and analyze 1000's of companies on the internet. However, we have eased your work and you can read our list of top E-learning app development partners.
Q3. How much does it cost to hire an app development company?
The cost to hire an app development company depends upon multiple factors. So, it is always a great idea to consult the same with your app development partner. Connect with us to discuss your Project.
Contact Us