If you are planning dating application development, then you have nearly 400 million users to target from in 2023. Rest depends upon the demographics and your other filters as per your vision and mission. Since there are ample alternatives to a specific dating app built by best dating app developers, it will be challenging for you to hook users to your dating app. However, you can do it by focusing on the below Dating Application Trends and Features that are loved by users worldwide in dating apps. But before that let us watch some statistics associated with users and revenue to view the growth of the dating app industry.
User and Revenue Statistics in the Dating App Industry
According to Tinder, Gen Z (18-25-year-olds) are using dating apps more than any other generation.
The dating app market made revenue of $4.94 billion in 2022, showcasing the massive business opportunities.
20 million people use premium Functionalities in dating applications.
34% of users on Tinder suggested they would use AI to build or improve their profile.
Tinder is the most popular dating app among users.
The male and female ratio on dating apps is 34% vs. 27%.
57% of men said their experiences have been positive on dating apps.
Dating Application Trends and Features Users Want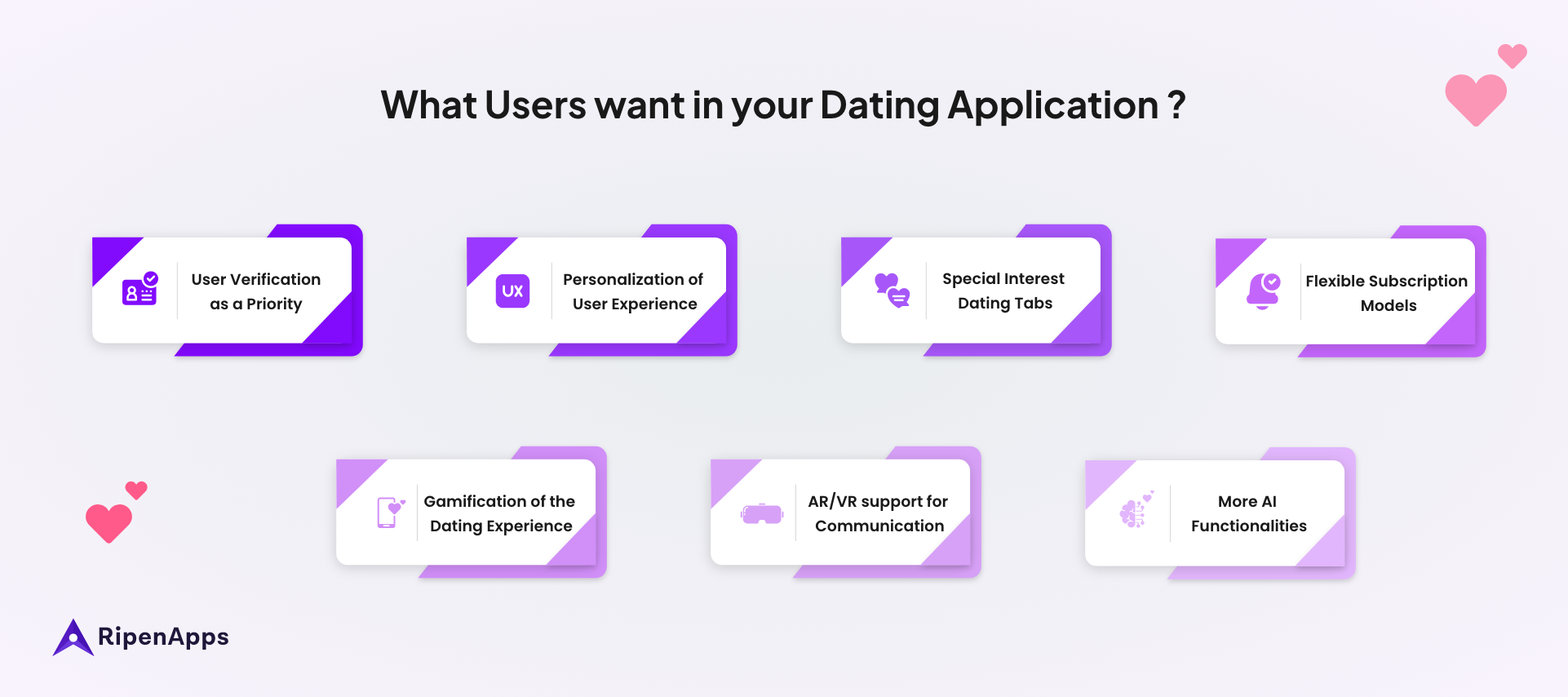 Mostly the aim of entrepreneurs while building a dating app jots down to make dating easier, fun, and affordable. But, to attain that, adding the right trends, features and functionalities becomes a priority. Here we are combining the trending features and functionalities that users want in a dating app. So don't forget to discuss them with your dating app development company in India, USA or worldwide.
User Verification as a Priority
When it comes to building a successful dating application, keeping the user base genuine is something that every dating app faces. But, if you successfully build a user base that is verified and genuine, your user base will exponentially increase and add loyal customers to your app.
Discord's verification system is a great example. The users have to take pictures with the piece of text having the written text provided by the channel verification authorities.
Further, in order to establish a genuine user base, you can opt for a personality quiz test rather than just letting users type what their personalities are like. The take personality quiz test's results will be added to the user's profile helping other users to know about the user. Finally, for the application, you can take necessary security measures developing mobile application to keep your dating app secure.
Personalization of User Experience
User experience is something designed keeping all the average users in mind. But the scenario is different now. Even the best dating app developers are exploring the highest potential of machine learning in dating apps. They are actively building a user experience that personalizes from user to user. But why?
Every user is different, and building a general user experience might not promise you the desired success of your dating app. Instead, you should embed machine learning and artificial intelligence capabilities where user experience algorithms learn on their own. This, in turn, delivers a user experience especially optimized for a specific user. From matches to suggestions and whatnot, users will see what they are interested to see and more likely to engage in.

Special Interest Dating Tabs
Just like users want personalization according to their requirements, they also want features according to their requirements. Adding separate interest features is what they demand that lets them connect with the community they desire for.
For example, some people might be looking for marriage, and combining them with singles looking for dating and casual relationships might make them uninstall the app. It is much better to provide a separate tab feature for marriage to deliver the functionality of special interest dating. Another separate dating tab can be for the LGBTQ community or a specific region.
Flexible Subscription Models
Earlier applications used to have one single paid subscription package to unlock the premium features. Once bought, users could unlock access to all the premium features in the app. However, the scenario changed with the modern dating application and even the best dating application development company has confirmed the flexible subscription model demand in dating apps.
Now, entrepreneurs want to offer the right subscription to the right user groups. Maybe a user wants 2 features premium instead of 10, than a completely 10 features subscription will be useless for them. In your app, you can separate features like:
Who viewed my profile?
Who liked my profile?
Region changes (especially on trips)
Reconnect past matches
If your users want to just buy who viewed my profile, you can offer it separately to them. It will boost your engagement rate, and this is something that users will love about your dating app.
Gamification of the Dating Experience
No doubt, games keep users hooked for hours, days, and months. The curiosity to explore more can be applied to dating apps also, and users love it. You can gamify the user experience by adding features like other apps.
Sending virtual gifts like discord
Sending Virtual roses like the Hinge app
Verified badges, like most social apps
Introducing reward points for building connections
Study multiple platforms that apply gamification for user engagement. You can even consult how your best dating app developers can gamify your application.
AR/VR Support for Communication
Metaverse is a trending term, and you must explore trending metaverse technologies to add to your dating app if you really want to deliver something very unique to the users. Here you have multiple options to explore:
AR-enabled user profiles to fantasize about your matches
Virtual dates to let users' profile they are sitting next to their matches
Virtual E-commerce lets avatars shop and try new outfits
Although it will require you to consult with a best dating app development company, exploring the dynamics of AR/VR will deliver an added benefit to you. You will be leading the dating app market by introducing trending functionalities like Metaverse.
More Artificial Intelligence Functionalities
AI is gaining popularity after the release of chat GPT. You will not be able to hook your users if you don't focus on AI.
Embed intelligent chatbots assisting users in messaging and other contents
Let users scan their IDs intelligently where your AI algorithms verify them directly from the government portals
Identification, moderation, and monitoring of harmful content on the platform
Some Innovative Dating App Examples for You to Refer
The above functionalities mentioned in the article will definitely drive you to the required user engagement and acquisition. Further, it is always a great practice to refer to innovative dating app examples while building a successful dating app. Here are some of the best dating examples you can refer to:
Bumble: Aims to allow women to make the first move with a vision to achieve women empowerment.
Coffee Meets Bagel: Potential matches each day at noon.
Happn: Location-based dating app
Hily: Normalizing social media approach to dating apps
Tinder: The most popular dating app
What Makes us the Best Dating App Development Company in India?
We are the best dating application development company in India and globally. In a decade of experience with multiple industries, we have deployed top-class Dating Application Trends and Features that users love. Our dedicated technology experts have simplified the most complex solutions for dating applications that are now leading the app store and play store popularity charts. From AR/VR integration and robust security to a high level of advanced and intelligent algorithms, our dating apps have proved our excellence and delivered top-quality satisfaction to our clients.
FAQ
Q:1 What are people looking for in a dating app?
People want a genuine dating app where users are verified. A safe environment for dating shall be actively monitored by the dating app. Rest trending features and functionalities are always loved by the users.
Q:2 What are the trending features of dating applications?
Trends are dynamic; however, there are some futuristic trends beloved by users. They include:
Gamification in the app
AR/VR dating experience
Intelligent recommendations/suggestions
User Verification
Flexible subscription models
Q:3 How to gather more users to your dating applications?
First, you have to build your app with an expert dating app development company. Now you have to offer them multiple subscription models, according to their needs. Also, ensure that your application has the trending features to hook more users to your app. Connect with us to discuss your Project.
Contact Us