When it comes to calculating Android app development costs, many business owners and app creators face complexities. And this is obvious since estimating the cost of app development especially for Android is not so easy. It involves various factors. However, to put it simply, the cost of Android app development goes between $10,000-$300,000.
It is a broad price range because the exact value varies depending on app requirements. If you also want to build your own Android app and need help in cost evolution here will explain in detail how much Android app development costs. By the end of this blog, you will better understand how to calculate the cost and get important tips to save prices as well.
Major Factors that Affect the Android App Development Cost
Mobile application development is a complex software development process. It involves various tasks, operations, and processes to deliver a full-fledged application. Particularly in Android, things become more challenging since the Android app development process requires great resources and effort. It has the largest user base, high device fragmentation, various tools & frameworks, etc. Therefore, when it comes to estimating the cost of mobile app development, you have to consider multiple factors which are given below.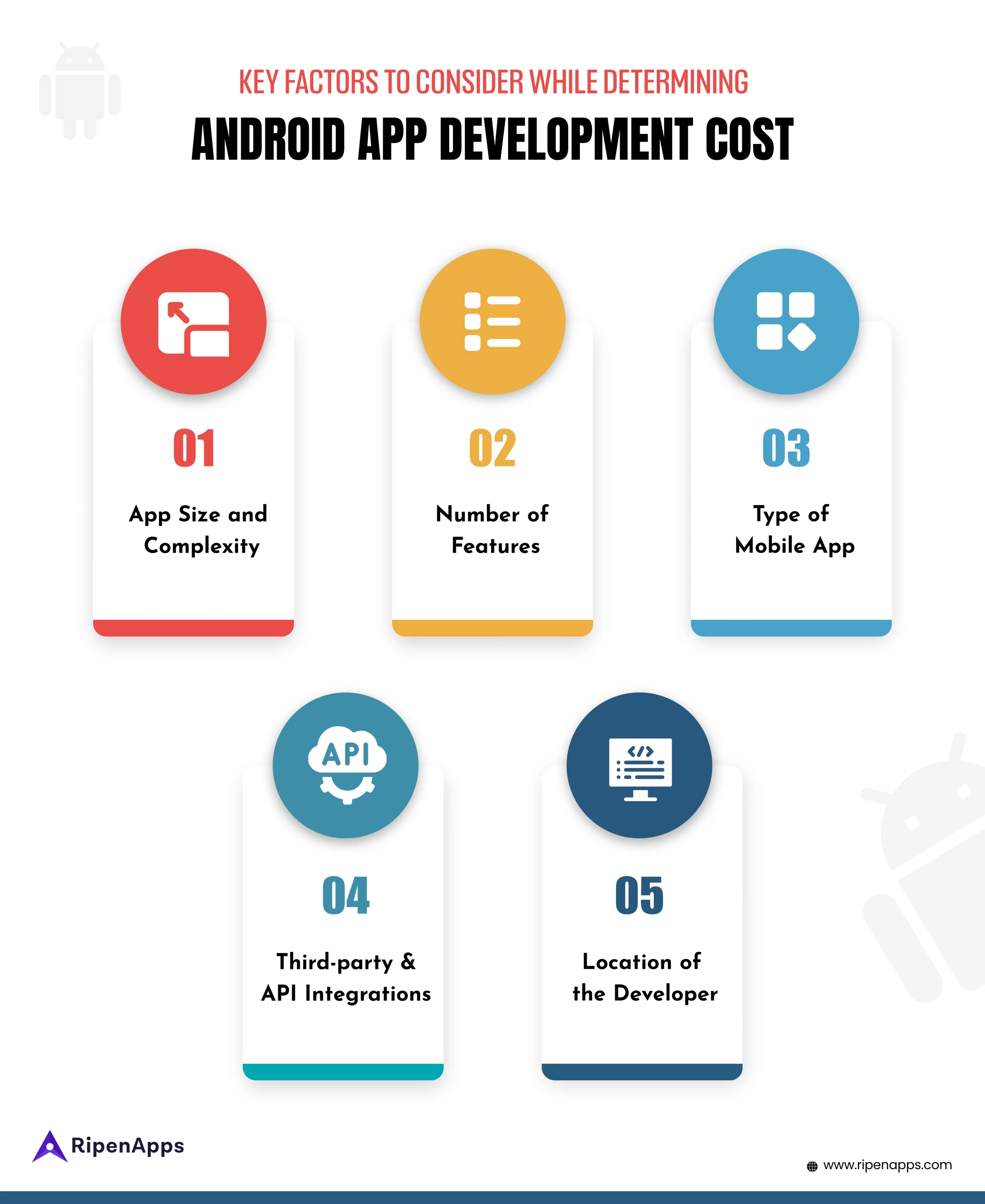 1. App Size and Complexity
It is obvious the size and complexity of your app are going to impact the overall project value. The more your Android app is bigger in size complexity the higher its cost would be. Large-size mobile applications acquire greater space. If your app contains complex design and architecture then Android app developers will have to put more effort. They might have to use multiple tools, frameworks, best Android libraries, and other resources. As a result, it will increase the overall cost.
2. Number of Features
Features are the prominent factors that affect the cost of developing an Android app. The more you add features the higher cost of the app would be. Therefore, you have to pay attention to the number of features that you are to incorporate into the app. You can compare your app with your competitors or other popular apps having similar niches. This would give you an overview idea of what possible features to include. And consequently, you can better estimate the price.
3. Type of Mobile App
There are mainly two types of apps in the industry-native and hybrid. Native apps are developed with platform-specific frameworks and UI tools. While hybrid or cross-platform apps are built with third-party or different open-source frameworks. So, what type of Android app you build has a direct impact on the Android app development cost. If you choose to go with native Android app, the price would be expensive.
Whereas, cross-platform would cost you low as compared to native. In addition to this, integrating new Android app development trends is also easier in cross-platform apps. Hence, you should carefully consider the app type while calculating the cost to build an Android app.
4. Third-Party and API Integrations
API integration is one of the crucial part of the app development process. It is implemented to enable some custom or specific services in the application. And since most of the APIs and third-party services are paid, it could affect the overall budget. For example, if your app requires Google Map services. Then, it would cost you $0.5 per 1,000 requests. However, different APIs and third-party integrations have different prices. Hence, you have to include their individual price while estimating the development cost.
| | | |
| --- | --- | --- |
| API Integration | Service | Pricing |
| Google Maps API | Navigation and geolocation | $800 |
| PayPal | Payment gateway | 2.9%+$0.30 per transaction |
| Booking.com API | Hotel and accommodation booking | $800 |
| Facebook Messenger API | Sending and receiving messages | $500 |
| Amazon S3 | Data storage and hosting | $0.005 per 10,000 requests |
5. Location of the Developer
Every country or region has different price range for developing Android apps. Whether you hire Android app developer or outsource your project to an Android app development company, their location would directly affect the project. If you choose to outsource your project to the best Android app development company in USA, it might cost you between $80,000-$200,000 for a medium-scale app. At the same time, in India, it might cost you between $15,000-$50,000.

How to Calculate the Cost of Android App Development?
There is a simple formula for the calculation of Android app development cost. You just have to put the value as per your own project requirements and get the exact cost estimation. To get the final value, you have to analyze the total hours involved in developing your app. And then multiply by it with the per-hour rate of your development company or developer.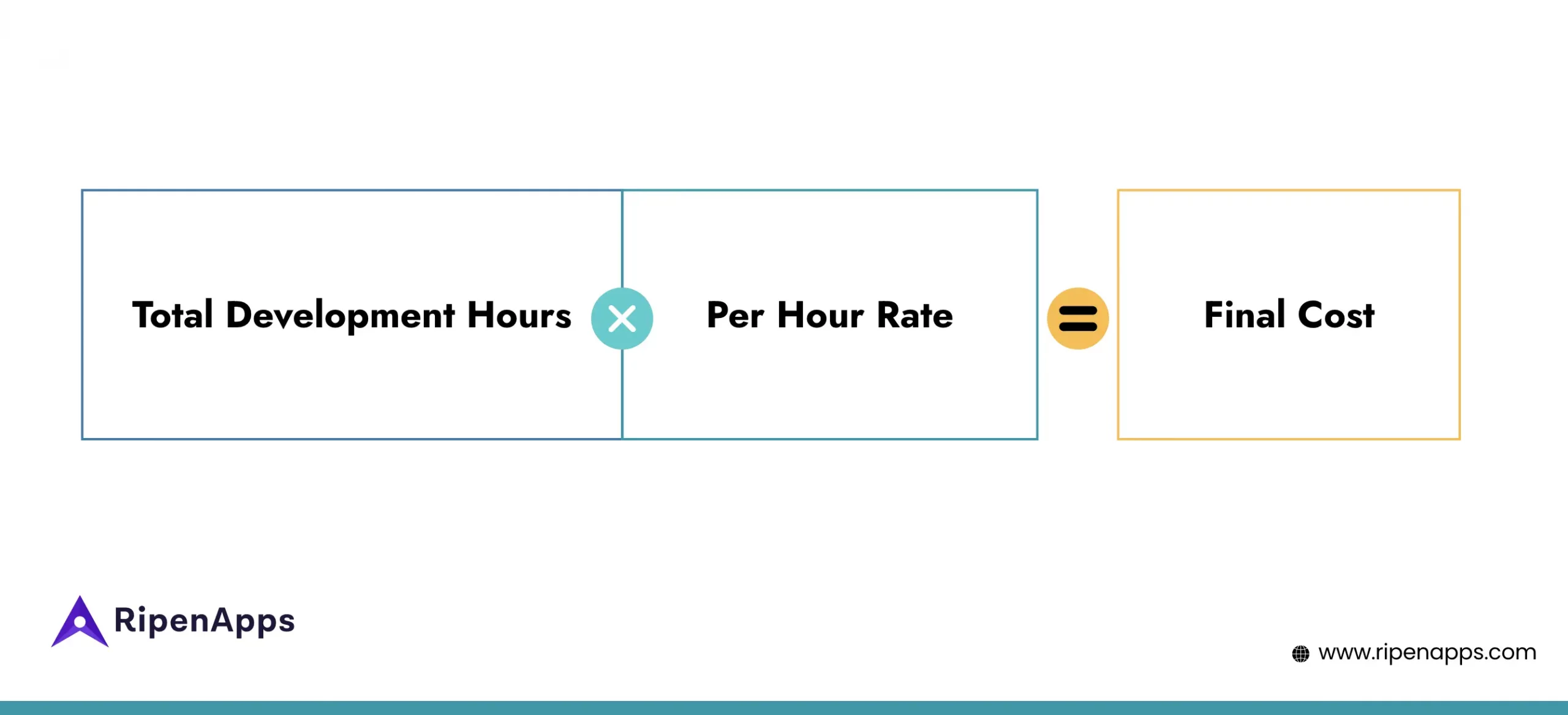 So, for example, let's say your Android app development company charges $25 per hour. And your project requires 850 hours for building an MVP-level application. Then, putting these values in the above formula, you get the below cost
850hours x$25= $21,250
(Note: here development hours include everything-research, design, prototyping, coding, and testing)
However, besides this, most top mobile app development companies follow two prominent pricing models.
1. Fixed Cost
This is the most popular and widely used pricing model in the mobile app development industry. In this model, the app development company and app owners agree on a fixed cost after discussing everything. In the fixed cost model, the Android app development company has to build the app under the pre-defined development budget and deliver it on the given deadline. Thus, it gives clarity and assurance to app owners about the cost. They don't have to worry about any unexpected changes in the cost.
2. Time and Material
It is quite a different pricing approach. There is difference between time & material and fixed cost model. In the time and material model, the price is not fixed. Rather it is much more flexible. The cost is determined based on the per-hour rate and development time. projects which might have unexpected outcomes. Hence, It is generally preferred for complex or temporary app development. For example, if you want to Apply Machine Learning in Android App Development. Then, you will need a developer who specializes in this task.
3. Hire Dedicated App Developers
In this model, instead of outsourcing your project to a company, you rather hire dedicated app developers. You set up your own development team and pay for developers on per hour rate basis. So, if you choose to build Android app through this approach, the pricing method would change.
Android App Development Cost Breakdown
As seen above, it is evident that there is no certain amount to Android app development cost. The final value depends on various factors. However, to give an overview, here we have shared a full list of cost breakdown of Android app development in different categories. Based on your business goals and specific project requirements, you can evaluate the cost.
Cost of Android App Development Based On App Size
| | | |
| --- | --- | --- |
| Size | Cost | Development Time |
| Basic Android app | $10,000-$20,000 | 3-5 months |
| Medium Android app | $20,000-$50,000 | 5-7 months |
| Enterprise Android app | $50,000-$300, 000 | 8-12+months |
Android App Development Cost As Per Industry
| | |
| --- | --- |
| App category | Cost |
| Social media apps | $25,000-$60,000 |
| E-commerce apps | $20,000-$50,000 |
| Healthcare apps | $35,000-$120,000 |
| Gaming apps | $40,000-$300,000 |
| On-demand apps | $20,000-$50,000 |
| Travel apps | $15,000-$60,000 |
| Fintech apps | $20,000-$50,000 |
| Mobile banking apps | $30,000-$80,000 |
| Restaurant app | $25,000-$100,000 |
| Food delivery app | $20,000-$70,000 |
| Video streaming app | $40,000-$100,000 |
| Dating app | $30,000-$150,000 |
| E-learning app | $15,000-$40,000 |
Cost As Per Country Location
| | |
| --- | --- |
| Location | Cost |
| United States of America (USA) | $120-$180 |
| United Kingdom (UK) | $100-$120 |
| India | $25-$50 |
| Australia | $100-$200 |
| Western Europe | $80-$100 |
| Eastern Europe | $30-$60 |
| Ukraine | $60 |
| Russia | $60 |
Cost of Developing Android App As Per Technology Trends
| | |
| --- | --- |
| App type | Cost |
| AI & ML app | $50,000 – $100,000 |
| AR/VR app | $20,000-$60,000 |
| IoT app | $30,000-$50,000 |
| Wearable app | $25,000-$40,000 |
| Mobile wallet app | $30,000-$60,000 |
| Cloud-based app | $40,000-$60,000 |
| Blockchain app | $40,000-$200000 |
| Foldable device app | $25,000-$80,000 |
| P2P mobile app | $20,000-$70,000 |
| Super app | $40,000-$250,000 |
Android App Development Cost Based On App Type
| | |
| --- | --- |
| App category | Cost |
| Native app | $40,000 |
| Cross-platform app | $25,000 |
| React Native App | $15000 |
| Flutter App | $10000 |
Cost to Build an Android App Like Famous Apps
| | |
| --- | --- |
| App like | Cost |
| WhatsApp | $40,000-$100,000 |
| Facebook | $20,000-$60,000 |
| Instagram | $50,000-$250,000 |
| TikTok | $40,000-$150,000 |
| Subway Surfers | $50,000-$200,000 |
| Snapchat | $35,000-$60,000 |
| Spotify | $40,000-$80,000 |
| Tinder | $20,000-$50,000 |
| IKEA | $45,000-$100,000 |
| Uber | $50,000-$150,000 |
| Airbnb | $50,000-$100,000 |
Hidden Costs in Android App Development
| | |
| --- | --- |
| Hidden services | Cost |
| App hosting | $70-$320/month |
| App maintenance | $3000-$10,0000 |
| Updates | $1000-$10,000 |
| App developer fee | $25 one-time fee |
| SMS notifications | $20-$30/moth |
Tips to Reduce Android App Development Costs
So, now you have got a clear idea how much does it cost to develop an Android app as per your project requirements. Since the adoption of mobile apps is skyrocketing, the demand for more consumer and business-friendly apps is increasing. This increased demand has pushed the Android app development market.
As a result, the cost of building an Android app is getting expensive gradually. Hence, startups and business owners must look for effective ways to cut down their costs to save their resources. To help you with this, here we have shared some useful tips that could help you reduce the cost of Android app development
Deeply analyze your app requirements
Start with launching the MVP app
Incorporate important features
Go with cross-platform app development
Include simple UI/UX design
Outsource your project
Use ready-made UI templates
Final Thoughts
Estimating the Android app development cost is a  very important task for startups and app owners. It gives them a roadmap to properly plan the budget and utilize their resources. And the above-detailed guide gives you a better understanding of Android app development costs in all aspects.
However, since the mobile application is highly dynamic software, it would be wise to take assistance from a professional company like RipenApps which specializes in Android app development services. We help you accurately analyze your project requirements and build a strategic plan to build your app under your given budget and deadline. Connect with us to discuss your Project.
Contact Us