Food delivery apps have transformed the way we order, enjoy, and experience food. They have bridged the gap between restaurants and customers, offering a wide range of advantages to both parties involved.
For restaurants, these apps provide a unique opportunity to expand their reach, increase revenue, and streamline their operations.
Meanwhile, for users, food delivery apps offer the convenience of enjoying restaurant-quality meals from the comfort of their homes or workplaces. It also comes with a wide variety of dish choices at their fingertips.
In this article, we will explore the Advantages of Online Food Ordering System for Restaurants and Users. Additionally, we will be shedding light on how these platforms have become an integral part of the digital era.
Online Food Ordering App System- What is it?
Online food ordering application system allows users to order their desired meals and dishes right to their doorsteps. These apps have become increasingly popular in recent years. This is especially true in urban areas, as they provide a convenient way for people to enjoy restaurant-quality meals without leaving their homes. Here are some well-known food delivery apps:
Uber Eats: This is a food delivery service offered by Uber, the ride-sharing company. Users can browse menus from local restaurants, place orders, and have their food delivered by Uber drivers.
Zomato: Zomato is an Indian food delivery app that also provides restaurant discovery and reviews. It is available in multiple countries.
Deliveroo: Deliveroo is a UK-based food delivery service that operates in several countries. It partners with a variety of restaurants to provide food delivery to customers.
These apps typically allow users to browse menus, place orders, track deliveries in real time, and make payments through the app. Some also offer loyalty programs, discounts, and promotions to attract and retain customers. There are number a major Revenue & Engagement Factors For A Food Delivery App that can leverage your business in terms of revenue and growth. However, it is essential to find the right food delivery app development company to build a successful application.
What is going on in the Food Delivery application market in 2023?
The Food delivery app market is continuously evolving and there is a lot going on in the market as more and more entrepreneurs are stepping into the market with their new ideas.
Market Size and Growth: The global food delivery market is projected to be worth US$269.80bn by the end of 2023.
Market Leaders: Uber Eats, DoorDash and Grubhub, are among the leading food delivery app companies globally.
User Adoption: The COVID-19 pandemic had a significant impact on the food delivery market, driving a surge in user adoption as people turned to food delivery apps for safe dining options.
Delivery Trends: Many apps introduced contactless delivery options. Delivery times were a crucial factor for users, and apps worked on optimizing delivery efficiency by following new strategies and building new trends.
Restaurant Partnerships: Food delivery apps continued to partner with a wide range of restaurants, from local eateries to large chains.
Loyalty Programs and Discounts: Subscription models like DashPass by DoorDash and Uber Pass by Uber Eats are offering perks like free delivery.
Sustainability Initiatives: Some food delivery apps started initiatives to reduce the environmental impact of their operations, such as promoting eco-friendly packaging and delivery options.
Search for Food ordering app development company:  

More and more

businesses are looking forward to

build

ing

their food ordering app resulting in the increased demand for app development partners.
Key Features and Functionalities to Build a Successful Food Delivery App
Advantages of Online Food Ordering System for Restaurants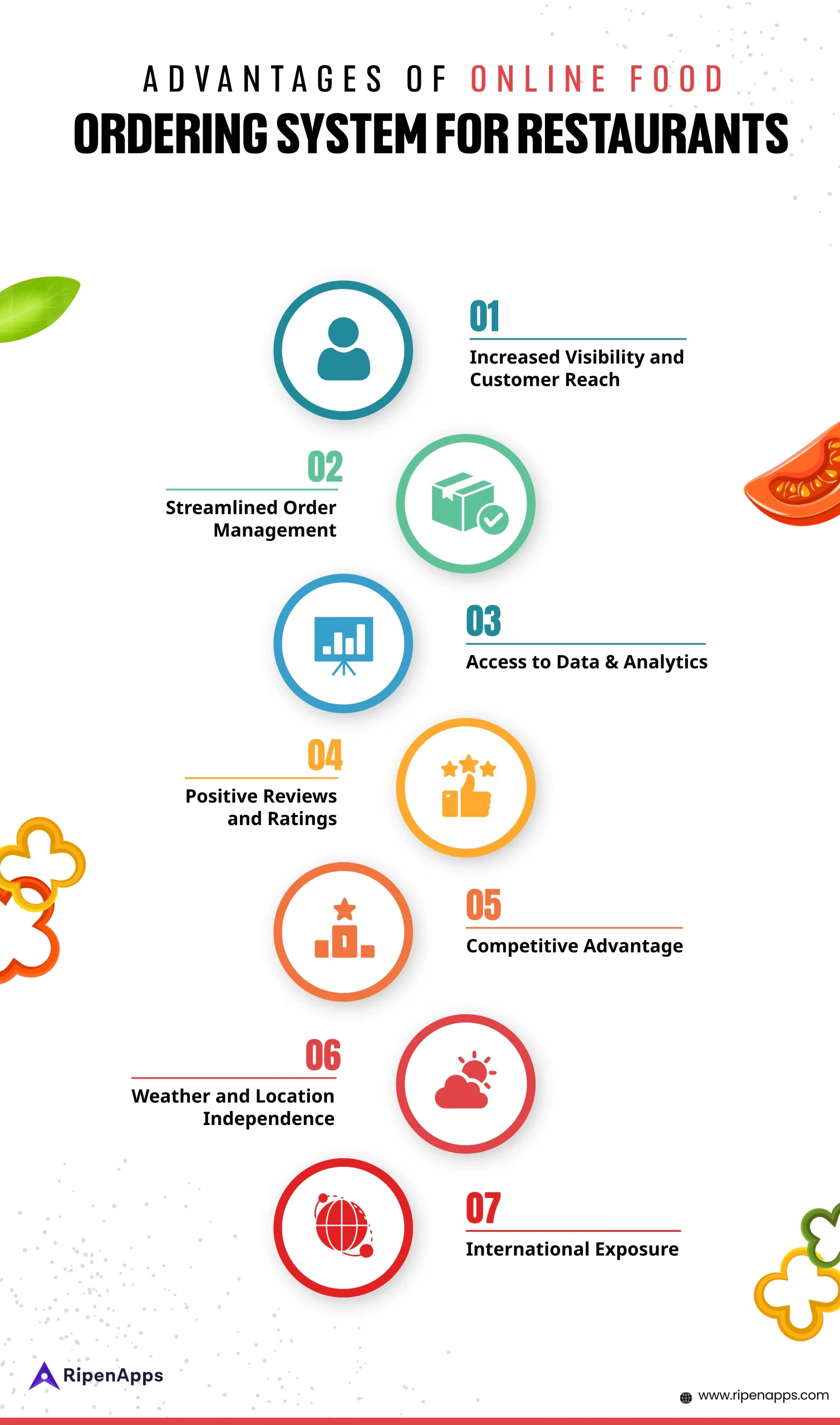 Food delivery apps offer several advantages for restaurants, which is why many establishments partner with them to expand their customer base and increase sales. Additionally, restaurants can also build their dedicated apps by finding a restaurant app development company. Coming back to the point, here are some of the key advantages of food delivery apps for restaurants:
Increased Visibility and Customer Reach: Food delivery apps provide restaurants with a platform to reach a larger audience. They can attract new customers who might not have otherwise discovered their restaurant.
Streamlined Order Management: Food delivery apps often have user-friendly interfaces for restaurants to manage incoming orders. This can help streamline order processing and reduce the chances of errors compared to phone orders.
Access to Data and Analytics: These apps provide valuable data and analytics to restaurants, allowing them to understand customer preferences, order trends, and peak hours. This information can inform menu adjustments and marketing strategies.
Positive Reviews and Ratings: High-quality food and service can lead to positive reviews and ratings on the app, which can attract more customers. Restaurants with good ratings often receive more orders.
Competitive Advantage: In a competitive market, having a presence on food delivery apps can give restaurants an edge over competitors. It separates them from the who may not offer delivery or who are not listed on these platforms.
Weather and Location Independence: Restaurants can maintain a steady flow of orders regardless of weather conditions or their physical location. They can reach customers even in areas where they do not have a physical presence.
International Exposure: Some food delivery apps operate in multiple countries, giving restaurants the opportunity to reach an international customer base.
While food delivery apps offer many advantages, it is important for restaurants to carefully consider the terms and fees associated with these platforms to ensure that the benefits outweigh the costs. Additionally, maintaining food quality and consistent service is crucial to building a positive reputation and customer loyalty through these apps.
Advantages of Online Food Ordering System for Customers 
Food delivery apps offer several advantages to users, making it more convenient and enjoyable to order food from their favorite restaurants. Here are some of the key advantages of food delivery apps for users:
Convenience: Food delivery apps provide a convenient way for users to order food from their preferred restaurants without the need to visit the restaurant in person. Users can order from the comfort of their homes or workplaces.
Wide Variety: These apps offer access to a wide range of restaurants and cuisines, giving users an extensive choice of food options. Users can explore different menus and try new dishes easily.
Real-Time Tracking: Many food delivery apps provide real-time order tracking, allowing users to monitor the status of their orders and know exactly when to expect their food delivery.
Special Offers and Discounts: Food delivery apps often offer exclusive discounts, promotions, and loyalty programs for users. This can lead to cost savings and encourage repeat orders.
Reviews and Ratings: Users can read reviews and ratings for restaurants and dishes, helping them make informed choices about where to order and what to eat. This can lead to more satisfying dining experiences.
Cashless Transactions: Food delivery apps typically support cashless transactions, reducing the need for users to have cash on hand. They can make secure payments through credit cards, digital wallets, or other payment methods.
Order History: Food delivery apps often maintain a history of past orders This makes it easy for users to reorder their favorite dishes or check their order history for reference.
Time Savings: Using food delivery apps can save users time, as they don't need to commute to a restaurant, wait for a table, or wait in line to place an order.
Availability 24/7: Many food delivery apps operate 24/7, ensuring that users can order food at any time, including during late-night cravings or in emergencies.
Overall, food delivery apps enhance the dining experience by offering convenience, choice, and a range of features that cater to individual preferences and needs. However, your application should be built by an expert food delivery app development company to ensure a maximum user base.
Final Words
In conclusion, food delivery app systems have ushered in an era of unprecedented convenience and choice in the realm of dining. For restaurants, these platforms offer an extended reach, increased sales, and valuable insights into customer preferences. They provide an efficient way to manage orders and reduce overhead costs. This results in making them an invaluable asset in today's competitive food industry.
On the other hand, for users, food delivery apps simplify the process of ordering food. It saves time, and offers a vast selection of cuisines. They enhance the dining experience with features like real-time tracking, special offers, and contactless delivery. Hence, making mealtime more enjoyable and hassle-free.
As the food delivery app market continues to evolve, it is evident that these platforms have reshaped the way we think about food. Further, they are making it more accessible and enjoyable for everyone involved. Connect with us to discuss your Project.
Contact Us