e-Gurukul breaks into the Ed-Tech market by providing an exemplary platform for PG-Medical Students – successfully increasing the winning rate in Medical PG. Adorned with the title of India's biggest online Platform for PG Medical Entrance Examination, RipenApps' nurtured App eGurukul has been featured in FORBES India for leading the EdTech scene in Medical studies & expanding the dimensions of e-learning.
The brainChild of DBMCI, eGurukul, was founded with the concept of PG Medical Coaching in India & to form "Top Rankers" of PG Medical Entrance Examination.
Accepting the fact that e-learning has revolutionized the whole structure imparting education by an amalgamation of digital technology, eLearning application development- "eGurukul" has come into the Picture.
With the advancing idea of providing conceptualized learnings to Doctors and forming them Star Rankers in PG Medical Entrance, team eGurukul has started looking for the top educational app developers. While looking for the best e-learning app development company, they chose RipenApps Technologies as their official app development & designing partner.
RipenApps' Nurtured eLearning App- eGurukul is WINNING the Shows: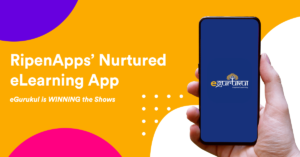 How the App's concept depicts- The rise of the e-learning age expands the dimensions of learning and has become an indispensable part of the ever-growing EdTech world. eGurukul is conceptualized in the traditional Gurukul style where the students are cut off from every distraction & encouraged to focus on their studies with eLearning advancement.
RipenApps' developed eGurukul is gaining immense GLORY and adding success feathers in their caps in a short span.
Count the Feat here…
Featured in Globally Renowned Business Magazine FORBES for leading EdTech Industry
In the Globally Renowned Business Magazine-FORBES, eGurukul & Team has achieved the honorable spotlight for a valuable offering role their App is playing in the EdTech domain. The progressive concept plus brilliantly developed app is creating glory in the Forbes section, where the uniqueness can only book the slots. Rising stats and winning activities of application have caught the eyes of Forbes editors to write the golden words and entitled app as an EdTech's Leader.
Top Trending App on Stores & Ruled at 1st Position on Stores in just 24 hours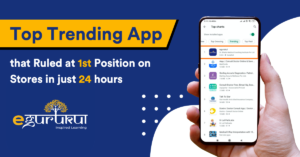 The Coronation day of eGurukul has recorded immense pride as the app recorded #1 Trending Position on App stores in just 24 hours and established itself as a "24-hour's Sensation."
What makes an app a 24-hour sensation is its flow and its look & feel, which is the essential requirement that a user seeks in any mobile app, and RipenApps have done a marvelous job in giving a tremendous look and feel to the brilliant concept of eGurukul.
Crossed 1 M+ Downloads & counting is still on
Since launch, App has recorded Million downloads as the features, and the application's user experience is mind-blowing. Learners find it an innovative masterpiece to unlock the learning materials loaded with complete Qbanks, Test Series curated by top faculties, 800+ hours of video leanings, medical blogs & articles, medical news, live classes, recorded lectures, and many more. Still counting downloads.
India's #1 e-Learning Platform providing conceptualized & advanced learning
RipenApps' devotion, diligence, and excellence in integrating advanced & innovative features to make eGurukul an EdTech Leader has made it India's #1 e-learning platform that is a blend of conceptualized & advanced learning.
We used a new-gen tech stack to implement prominent functionalities and features into the app that disrupt the education domain. This resulted, eGurukul has proved RipenApps- the best educational app development company again.
eGurukul is the #1 e-learning app termed Medical Facebook with its "Social Feeds" & "Doubt-Solving."
RipenApps made eGurukul- the first-ever eLearning mobile app that provided Social Feed & Doubts solving features and made it a Medical Facebook that learners have never experienced in existing mobile applications. e-Gurukul is the only e-learning application that provides social connectivity that connects students with faculties and friends to help them clear their doubts 24*7. The USP of the app is that users don't need anything if they have Gurukul.
RipenApps' Awesomeness: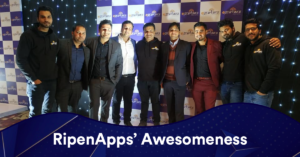 Team eGurukul contacted RipenApps seeking end-to-end help with design, development, QA, and deployment. The condition that the application should appear as India's #1 e-learning app which leads EdTech World and recently FORBES mentioned eGurukul as an EdTech Leader.
We deployed our Ninjas to bring the eGurukul Mobile App into production with some of the most robust technologies in the industry. With the support of the engineering and design team, we were able to launch the app &; in just 24 hours of launch app recorded 1st Position on Trending Section at Stores. Today's platform, making 'Inspired Learning,' witnessed a record download rate of over 1 M now.
It is a proud moment for our entire team, who worked to make eGurukul a synonym for excellence. We congratulate the entire team of eGurukul on getting featured at Forbes wishes that they see more success feathers. Connect with us to discuss your Project.
Contact Us