In the List of Top Trendy Mobile Apps on Google PlayStore, eGurukul (India's biggest online Platform for PG Medical Entrance Examination) an App developed by RipenApps has been recorded the topmost place and has set a record of being top trending app along with 10000+ downloads just after few hours of its successful launch. This achievement adds another star on the shoulder of RipenApps.

In this only 24-hour success process, RipenApps feels like having a broaden chest again for a value offering role their app is playing in the Education Domain- the purpose of educating millions of students who are fighting to procure the top position in PG medical entrance.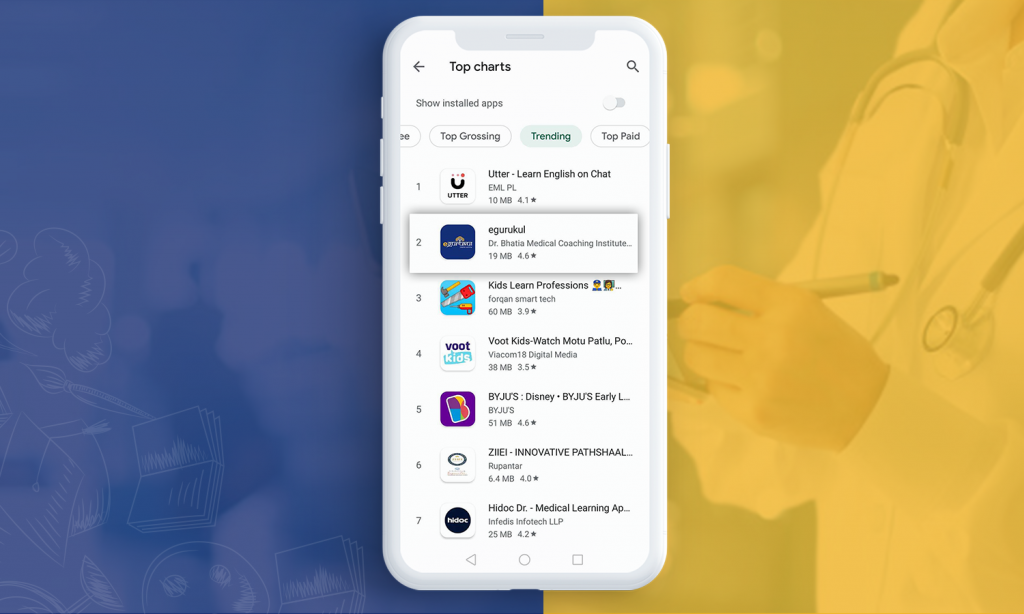 About eGurukul App
Speaking of eGurukul, it is an incredible Education app designed and developed by RipenApps exemplary in-house developers and designers to connect Educators with those who need it- anytime & anywhere
eGurukul is all working flawlessly from the very first day and is enduring all traffic coming to it. 
The name of the app itself is a representative of the Goal of the mobile app- "Digital institution to gain knowledge".
When the eGurukul team outreached RipenApps, they had an evident vision of what they desired, which our team started to work on immediately to make that abstract vision become a magnificent reality. 
What makes an application a 24-hour sensation is its flow and its look & feel, which is the basic requirement that a user seeks in any mobile app, and RipenApps have done a marvelous job in giving a tremendous look and feel to the brilliant concept of eGurukul. 
For users (Students), eGurukul provides ample facilities such as best content for the PG aspirants, not time-bound learning, offers different types of content like Question banks, DBMCI Test Series, Image-based Questions, Complete Topic Videos, Study notes, New pattern Exam with the Statistical report of progress, reduces the gap between educators and students. 
This app is designed to provide a vast amount of learning material that will pave the path to all PG aspirants on the way to crack Medical entrance.
Application is incorporating with the entire user-engaging feature with a touch of very recent UI/UX approach:-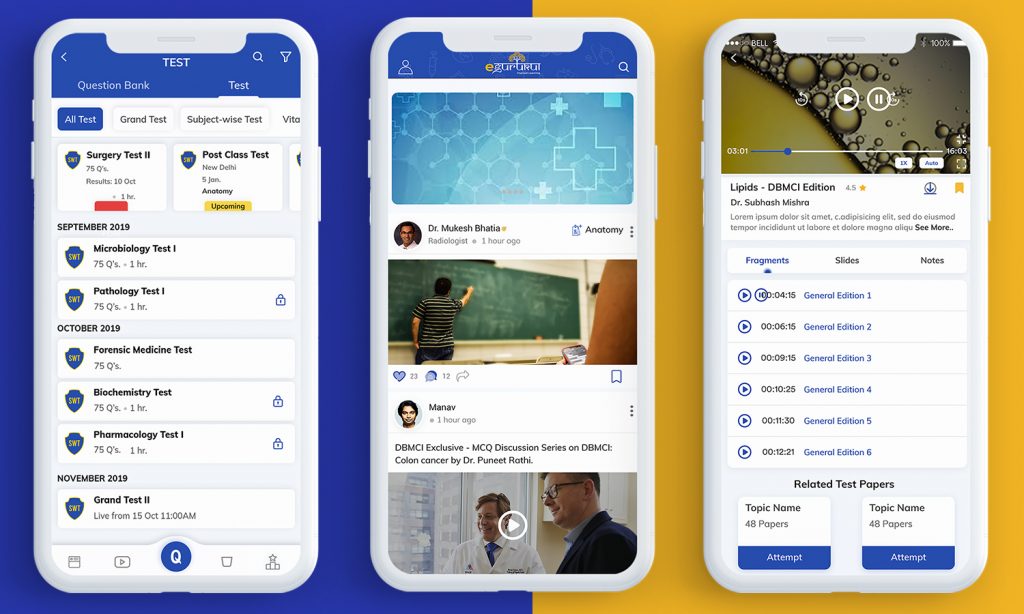 Social Feeds

 – Which covers 70% of the functionality of Facebook feed functionality

Video Streaming

 – Seamless streaming of videos on different network types with the advance feature of fast-forwarding, save to gallery, encryption, and other high-level security features.

Online Tests

 – Application is covering a wide variety of test patterns with multiple-choice answers along with the images, videos, and GIFS and result in analysis.

Leaderboard

 – Global Leaderboard is designed to engage students to give a competitive environment to improve its knowledge in different aspects and on various parameters.

Chatting

 – Students can chat with their mentors and faculties on a one-to-one chat with instant messaging for their doubt solving.
About RipenApps
RipenApps is a leading education mobile app development company serving many business verticals and domains with its excellent mobility solutions. It always welcomes these sorts of excitingly beneficial ideas to make them a gigantic success by giving them a life. 
The experts in the team have delivered 200+ projects to clients globally. Not only eGurukul, but numerous apps designed by the company have been recognized by many prestigious platforms, making them an expert in education app development, among others.
Ripeners put all the time, devotion, meticulousness & superiority to integrate all the required features in the prescribed time and always stand on delivering ultimate product full of potential as if we gave eGurukul. Connect with us to discuss your Project.
Contact Us