Bringing awesomeness to every product with quality endows RipenApps to thrive as one of the leading mobile app development service providers in India at GoodFirms.
Overview:
Based in India, RipenApps is a mobile app development company founded by industry specialists with the concept of helping startups, entrepreneurs & visionaries manufacturing great products on mobile platforms.
Being a team composed of innovative minds and specialists obsessed with technology, RipenApps utilizes the team's skills and experience at best to expand their business processes and make it smoother. The group provides an ease to businesses on the technological front to concentrate more on their core administration. Today, RipenApps even renders services from its offices in Germany, United States, and Dubai.
RipenApps prides itself on being the most innovative lab where high-tech execution takes place by exceeding all challenges and formulating high-end mobile app development & designing that renders startups & brands a winning walk. With such skills and a 150+ expert team, RipenApps has deployed 500+ apps on stores with 500M+ user interactions and is still counting.
GoodFirms' Research Process
GoodFirms is an online assessment portal helping service seekers to get the best software or service provider according to their marketing needs. To get assessed and validated regularly, the organizations need to get themselves listed at GoodFirms.
Each indexed business is evaluated on three principles –
Quality
Reliability
Ability
GoodFirms recently evaluated RipenApps for its core services such as mobile app development, app designing, and web development services in India, USA, and Canada, respectively.
Mobile App Development:
At RipenApps, the team believes, upbrings, innovates, advancements, growth, technology, and a few other things in their habit to deliver awesomeness to every product. The team never settles until they achieve the best.
Exhilarated as one of India's top app development companies at GoodFirms, RipenApps encourages an ecosystem that permits the ninjas to be genuine and aligned with the customer relation compliances, setting a family-like environment that breeds affirmative outcomes through a suitable method.
The mobile app developers never compensate for less & never delay going out of the box. They accost ventures with a 'lean' technique by integrating a quality assurance process to ensure that apps are thoroughly tested and market-ready before launch.
RipenApps holds a synergetic team that builds customer-centric solutions by diverting challenges into productive solutions. There will never be one answer; however, the expert team has delivered multiple solutions that enable the company to stand uniquely in the market.
The review displayed below proves the quality of apps developed at RipenApps.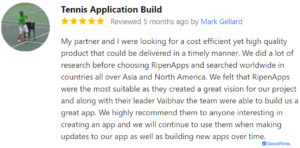 App Designing:
RisenApps craft splendidly and deliver experiences that shine by helping startups & businesses with creative, intuitive, immersive UI UX design that seamlessly guides users in providing the desired actions flawlessly.
RipenApps' expert creative team discovers & designs a visually stimulating & user-friendly experience for clients' business products. RipenApps' designing team consists of super-cool UI designers, UX Designers, Graphic Designers & animators dedicated to keeping clients' users at the center of their product's design with a fertile designing method from conceptualization to actual output.
From ideation to well-bred products, the designers adopted a magnificent way. They produced user-appraised solutions that win million's hearts and take companies to a reputed throne and ripe company-consumers association.
Thus, backed by the team of app designers rendering creative solutions, allows RipenApps to tap into the USA's list of top app design agencies at GoodFirms.
The review obtained at GoodFirms reflects the potential of the creative team at RipenApps.

Web Development:
RipenApps is a one-stop solution firm that uses – technology, creativity & authenticity are knotted tightly to derive top-quality web development services for startups, enterprises & businesspeople with the customer-first strategy.
In the finishing heeding era, RipenApps incur extensive web development services that mark a perfect web presence for startups, businesses, and unicorns and help them to glorify their brand image in the online ecosystem.
RipenApps always produces robust, secure, custom web solutions with high scalability as a leading web development company at GoodFirms. According to the inadequacy of a product, the team uses open source technology to produce a product with high-quality standards.
The review and the scorecard obtained at GoodFirms shows the quality of websites developed at RipenApps.
Review:

Scorecard:

About GoodFirms
Washington, D.C.-based GoodFirms is a maverick B2B research and reviews firm that aligns its efforts in finding mobile app development, app designing, and web development agencies delivering unparalleled services to its clients. GoodFirms' extensive research process ranks the companies, boosts their online reputation, and helps service seekers pick the right technology partner that meets their business needs.