2021- turned out like a kaleidoscope at RipenApps, where work, fun, cherishments, and thrills have gone hand-in-hand. The year was full of opportunities and new doorways, which the RipenApps team have toasted with brilliance. As each month, week, and a day at RipenApps, there is something worth sharing with others, and thus, we have lots of memories of 2021 to share. RipenApps' year 2021 was like a beautiful canvas, where the combination of some brights and a few dark colours made a beautiful painting. The year 2021 saw RipenApps recording various glorious moments. From achieving the major goal of successful project deliveries and hitting various success records with full-on celebration and enthusiasm, RipenApp's journey was full of achievements and opportunities throughout the year. This rewind-reel is a walkthrough of some interesting projects we have worked on and a few internal processes that helped us shape our success chart.
Let's take a look at Rewind-reels of events that made headlines in the RipenApps in 2021:
Raised Toast for the year 2021
In 2021, we raised three cheers for our New Year involvement of togetherness, achievements, fellowships & supportive relationships, and remembering all the dazzling moments; we entered in new year to add more colours of success, happiness, creativity & cherishment to the beautiful canvas of RipenApps' picture.
Year Welcome in RipenApps Style: Brand-new web presence with new services added
We had started the year 2021 with a brand new web presence as we renovated our website's look, brand's icon, and the entire flow of the website. With the excellence of the designing and development team, we have successfully stepped in the new year with a new website look. With our goal to provide our visitors with an easier way to learn about RipenApps services and solutions and allow the visitor to browse information based on their own choice, we made a beautiful & interactive website and added various services to our stack.
New York's agency TheWebAppMarket selected RipenApps as a Featured Company
Our success, growth & brilliance have made us a shows-topper, and we won the title of "Best App Development Company in 2021" by TheWebAppMarket. The New York's prestigious platform TheWebAppMarket has noticed our successful journey of developing and delivering hot-selling digital products, our customer-centric approach, our prestige, and our ripened portfolio adorned with mind-blowing products and recommended products us as a Number-1 choice for a perfect app development partner.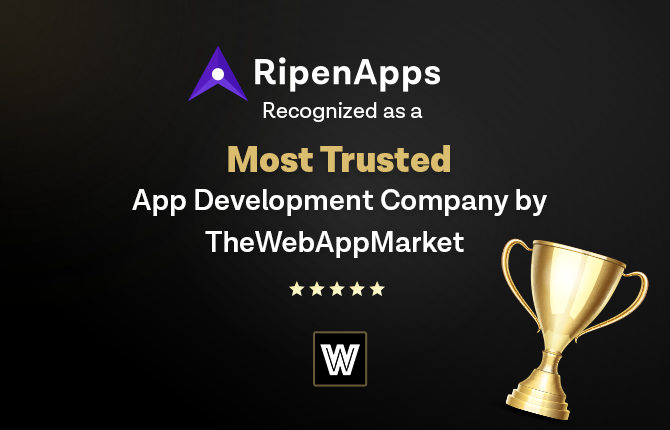 Our 100% on-time delivery success rate helped us remain at Top on various Platforms
At RipenApps, we believe, up brings, innovates, advancements, growth, technology, and a few other things in our habit to deliver awesomeness to every product. We never settle until we achieve the best. The zeal to bring excellence & innovativeness to one place and the formation of outstanding solutions has enabled us to secure the Top positions at various prestigious platforms like GoodFirms, SelectedFirms, TopDevelopers, AppDevelopmentAgency, Develop4u, StandardFirms in 2021.
These platforms have entitled and recommended us as a "Top Mobile App Development Agency."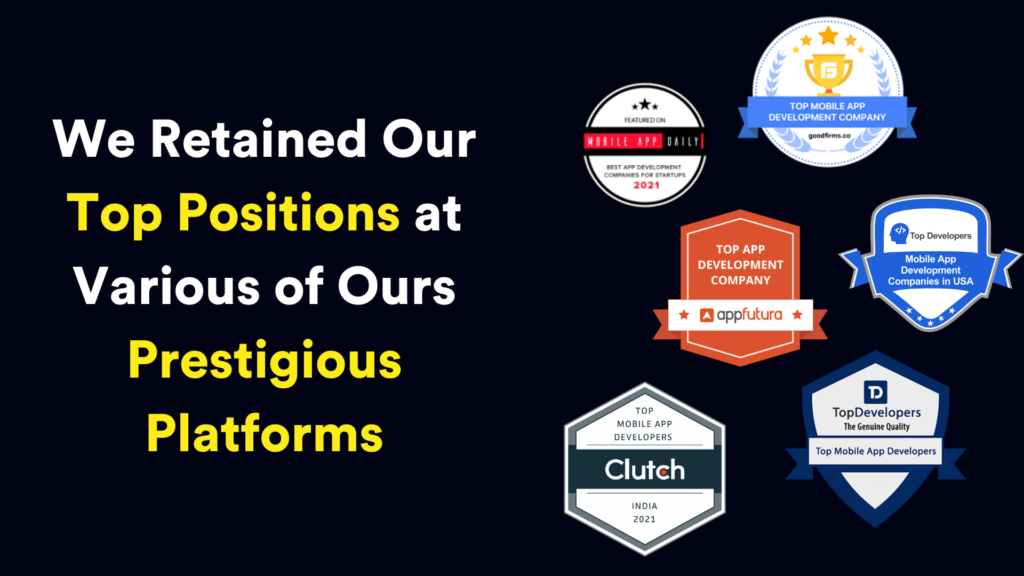 New year & a brand-new 12000 sqft workspace, we again headed to a lovely office:
In just 4 years, this is our 4th office space which is much beautiful and bigger. In 2020, we again bided a farewell to our old office & headed to a brand-new office. Everyone was thrilled to get their new place, new environment. But we carried some old office memories where we got our big hits projects, lots of awards & accolades, and many moments to cheers in our hearts.
We headed to a new office, which is 12000 sqft with 100 times higher zeal, plans, goals, dedications, and commitments to break every challenge by giving a long-lasting impression.
We multiplied the number of Tech-geeks & excelled in the Growth Chart
In 2021, even though the world was suffering from Pandemic's 2nd wave, we never stopped giving talents a chance to join the mind-blowing platform to showcase their potential. We even accelerated our hiring bars, organized "Online Placements Drives", and again made 100% hirings to our Ripeners Team. Even though the last two years were shattered, everyone & techies again failed to sustain themselves in their jobs, but at RipenApps, we have opened our doors for adding more gems to our shelves.
We raised our employee count and the revenue bar as well, which resulted in awesome outcomes-
"We have delivered 500+ Apps, That have derived 7M+ Traffic and generated $380M+ Revenue."
Actively Supported and Participated in Vaccination Drive
Being the responsible citizens of the country, Ripeners were being proactive at saving our world from the disaster pandemic and doing their part to get ourselves vaccinated. Considering the safety measures of our team a priority, the company decided to facilitate the vaccination drive for its employees. The objective of the COVID-19 vaccination drive was to get the RipenApps' employees vaccinated at the soonest possible time and control the widespread of the fatal virus. Thus, we protected our near & dear ones from getting infectious.
Our Diverse Projects turned out into Blast, and we again recorded the #1 app development company's position that delivered 100% Chartbuster Apps
In 2021, we again recorded a massive number of accolades for our delivered products. RipenApps is always known for its 100% success-oriented delivery rate, and in 2021 we didn't only maintain our virtue but even excelled at collecting more accolades for being the top app development company. Our success-oriented approach, power-packed zeal & latest technologies and tools combined made a mind-blowing portfolio for 2021, which comprised of million-downloads recorded digital solutions. We almost marked excellence in every industry and delivered various of products. Examarly, Swish Fintech, Hanchens, Hamro, Bufft, BelleXD Listit, Blog Buster, Amfixo, Mind Alcove, Cotax, eGurukul 2.0, and many others.
RipenApps nurtured the eLearning App "Examarly" featured in top-rated platforms like YourStory & Dainik Jagran
RipenApps Team holds mastery in developing an application for multiple industries, but the eLearning industry is our personal favourite. By saying it is a personal favourite, our eLearning product "Examarly- A Leading Learning Platform" again got centred at very well-known platforms, i.e. YourStory No.1 newspaper- Dainik Jagaran. Examarly got featured as the app provides valuable offerings in the EdTech domain. Apps' progressive concept plus brilliantly developed app has listed its glory in the sections mentioned above, where the uniqueness can only book the slots.
"Cheers to Examarly"
RipenApps Success Story covered by Hindustan Express
RipenApps got founded in 2017 & has clocked 1 Mn USD in Revenue, expanding its workspace from 400 Sq-ft to 12000 Sq-ft and a Team of 3 Members to 250+. This success story is highly appealing and has made a giant name in journalism "Hindustan Express" inclined to publish in their centre edition. The Platform Hindustan Express overviewed RipenApps' charisma and selected us as an inspiration to the other technical bodies in the race to deliver the best digital products in the technical market.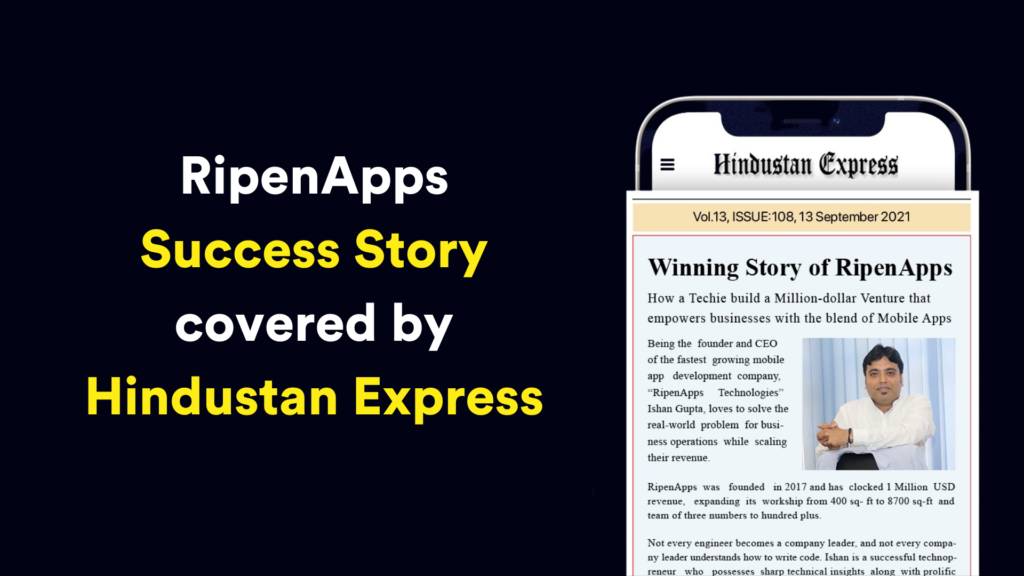 Recognized as a top educational app development company by SoftwareWorld
The research and analytics team of SoftwareWorld has conducted their market research on more than 500 Educational app development companies to define the most experienced and innovative e-learning app development team. They've put RipenApps in the list of "TOP" as the best example of their customer-facing work & great possibility for the business. They proudly awarded RipenApps- as a top Educational App development company globally.
Celebrations were throughout the year
Though the year was tough to survive as the pandemic's second wave again shattered the world, to keep our employees motivated, our audiences smiling, and most importantly, our clients satisfied, we executed impressive work methodology and celebrations throughout the year. Because at RipenApps, work & fun go hand-in-hand.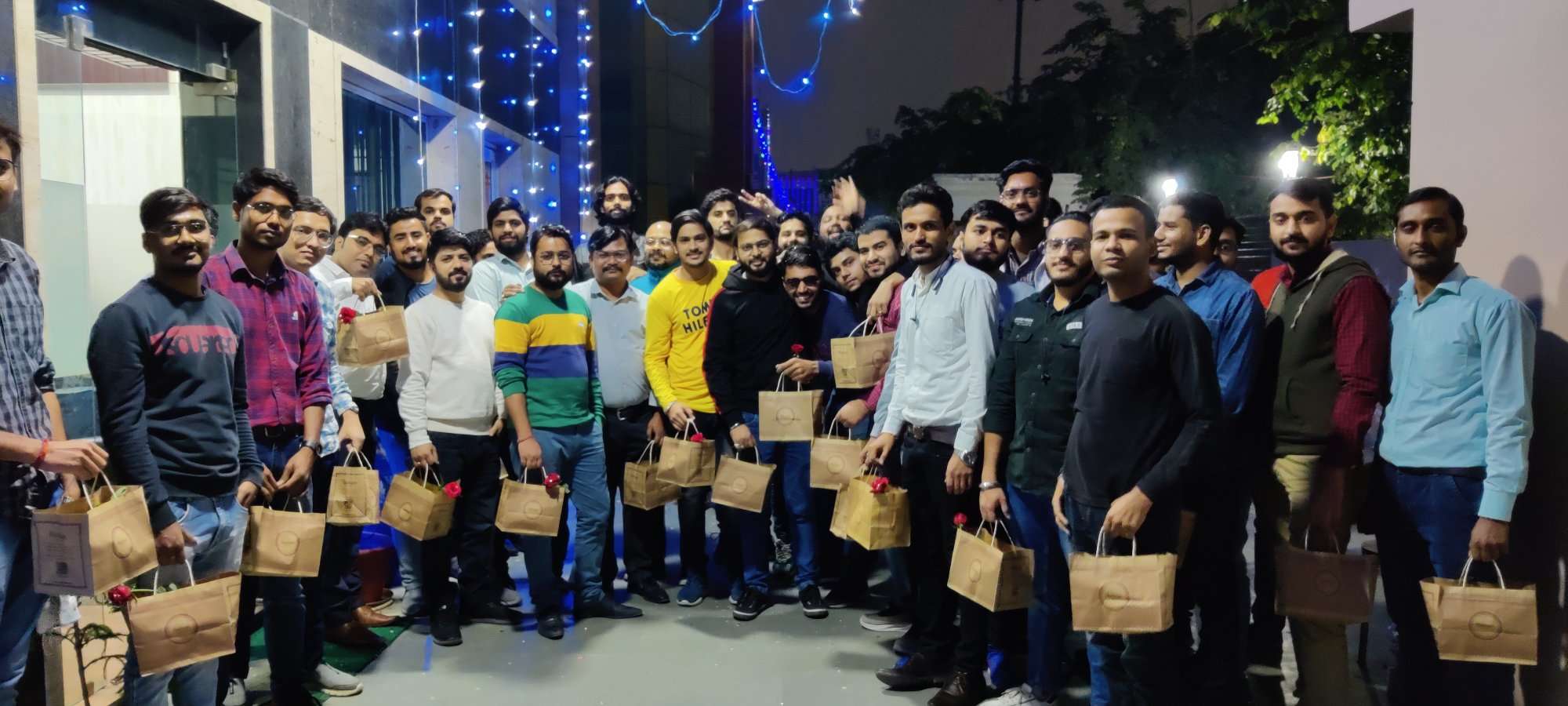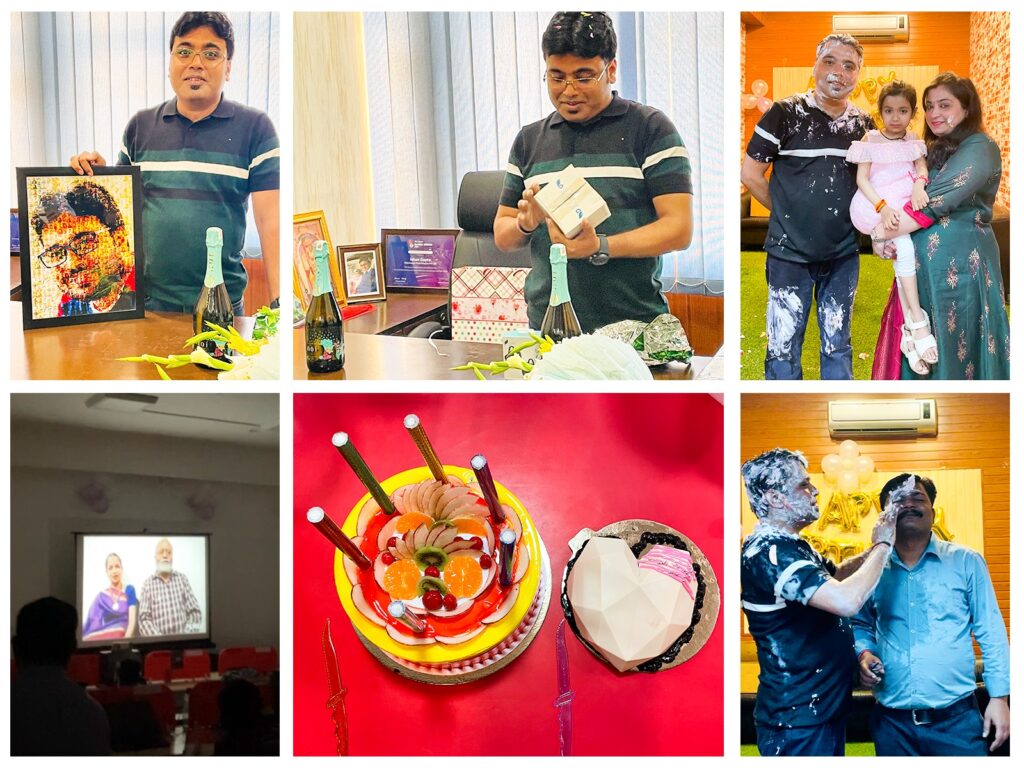 Happy New Year 2022
Even under the pandemics, we had again made this year a virtuous one for our clients & their user-base, our team, our associations through our innovative work culture. After adorning the biggest highlights from our journey throughout the year 2021, we look forward to another fantastic year. We hope for a time to experiment with new technologies and introduce millions of digital solutions to the market.
We have all set to welcome the new year, new opportunities, new relationships, new memories, new success trophies, and a target to maintain our record of being the #1 Global Technical Partner. Connect with us to discuss your Project.
Contact Us