"Startup India- a new India, a Digital India" 
"The Startup India initiative by the Indian Government in 2016 has catalysed the startup ecosystem and has resulted that India is now "World's 3rd Largest Startup Ecosystem" over 61000 recognized startups. And, the day when this initiative took place is now known as the National Startup Day."
Honorable Prime Minister Shri Narendra Modi has recognized January 16 as a national startup day quoting that startups are the "backbone" of New India. The day signifies and motivates new business ideas, adding them to the startup revolution. As per Honourable PM verdicts, "I see startups, technology, and innovation as exciting and effective instruments for India's transformation." For the nation's sustainable growth and generating large-scale employment opportunities, startups are an important vaccine. Further, the day does not only target developed cities, but it also targets tier 2 and 3 cities falling in semi-urban or rural areas. Startups can make India a hub for digital trends preparing young minds to incorporate technology into their businesses.
The government has provided several schemes, initiatives, and programs marking big support for the Indian startups to deploy their startups.
Startup Assistance by Indian Government
The Indian economy has seen many startups becoming unicorns with the assistance of government initiatives in the startup industry. Startup fund schemes act as an assistant for businesses' market entry and commercialization. One such assistance is the Seed Fund scheme, announced on April 19, 2021. It focuses on the availability of capital to the essential entrepreneurs in the early stages of their companies. All the startups incorporated less than two years ago will fall in DPIIT recognized list, making them eligible for Seed Fund Scheme.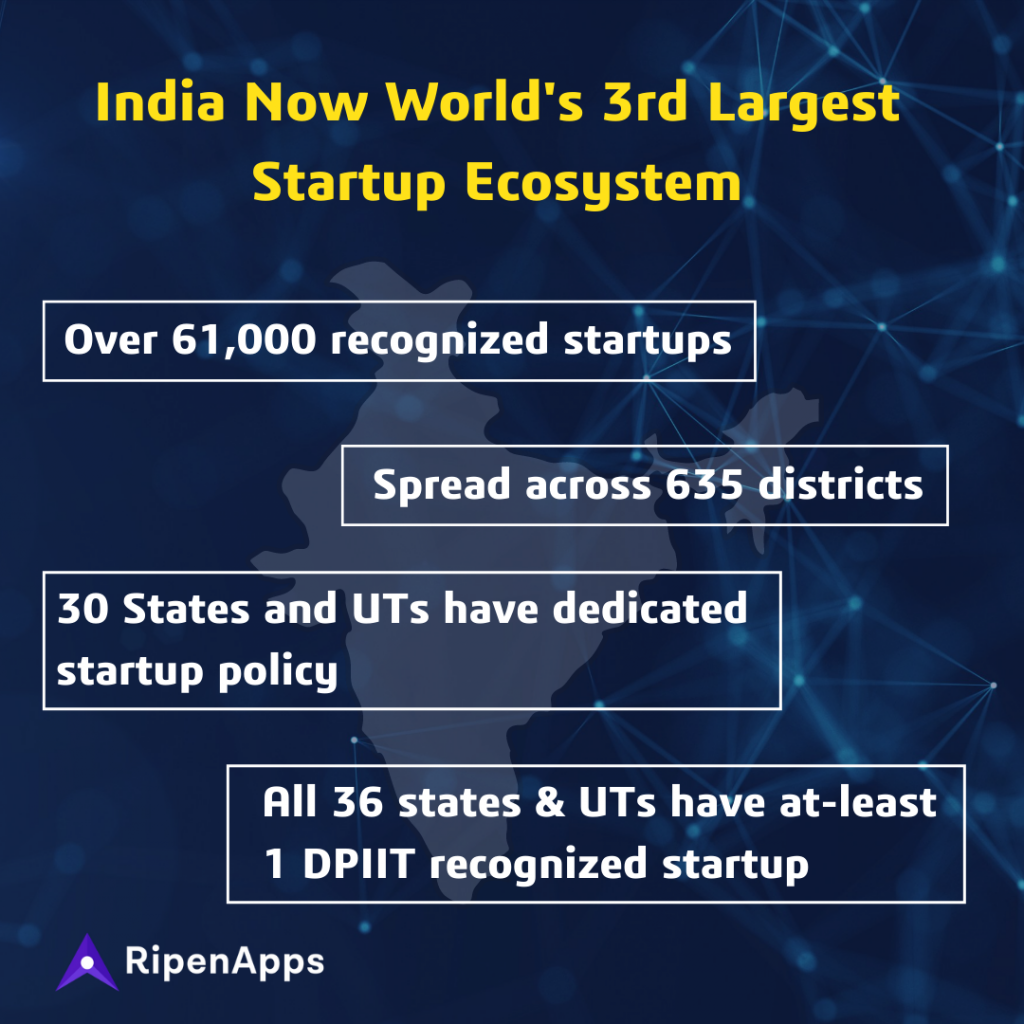 This resulted:
Over the last five years, the number of startups in India has grown from 500 to over 61,000.

The number of patents granted has increased from 4,000 to 28,000.

While 2.5 lakh trademarks were registered in 2021 compared to 70,000 in 2014.

Meanwhile, the country's ranking in the Global Innovation Index has moved to 46 from 81.
India has been on the digital journey for a long time. Government programs and strategies prepared blueprints for digital India, making it one of the fastest-growing countries in the technical world.
India's Digital Journey
In 2014, the number of smartphone users was not significant in India. Rural areas are still deprived of smartphones, and some don't know or have seen a smartphone in real. With the government change, India's #MakeinIndia and #DigitalIndia projects empowered the digital age making 504 Million active internet users from 233 million in 2014. The telecom industry, Reliance Jio, reportedly changed the digital age and gave the internet in the hands of every Indian. The app market in India significantly grew because of more smartphones users. According to the World Bank, India added 500 million-plus smartphone users between 2015 and 2020.
Before the digital age, businesses were not active on the technology side. However, with the increased users of smartphones, businesses assured the requirement of digital teams and agencies to keep with the trend. Now, most startups take assistance from the government and technology to deploy their ideas.
Startups in Digital India
Since India is home to robust tech minds, business tycoons are regularly searching to implement their business ideas, taking the help of the Indian government and skilled labor. When the economy was ridden with the pandemic, businesses realized the power of technology and apps for their businesses which users could access from their houses. Startup funding has further promoted the interest of investors in technology-based startups. Digital payment solutions such as PhonePe became a hub and choice of every Indian performing online transactions. The financial apps gave users autonomy of investing just with their smartphones. 
Online apps like Pharmeasy became an online medical hit and proved that the medical industry's online medical store is the future. 
E-commerce apps like Udaan supported more than 25000 sellers in India, gaining the unicorn title. In 2022, the emergence of technology is driving new startups. With the startup day on January 16, the term has gained extra relevance and highlighted motivating more innovative minds to revolutionize their startup.
RipenApps- Fueling the Vision of Startup India by Powering Multiple Industries with Chart-buster Apps
RipenApps is fulfilled with the vision to fuel and empower startups in India and across the globe with the power of innovative digital solutions. We have been ripping several success stories for startups and brands, letting them build products that maximize engagements. Below are some excellent startup ideas fuelled by Ripenapps to align with Startup India's theme.
1. eGurukul- India's leading Online Platform for PG Medical Entrance
 eGurukul is a brainchild of DBMCI aiding the learning industry with 25 years of expertise and experience. With the vision to ripen their students, RipenApps, bought the business idea live on the internet, adding tons of useful features such as ease of access, time management, an innovative classroom, and a newsfeed for leaderboards. eGurukul is operating with the vision to help various PG aspirants to accomplish their further goals in medicals. RipenApps have further updated the application to a 2.0 version boosting better ideas and features with no bugs, a better User interface, and upgraded exam patterns.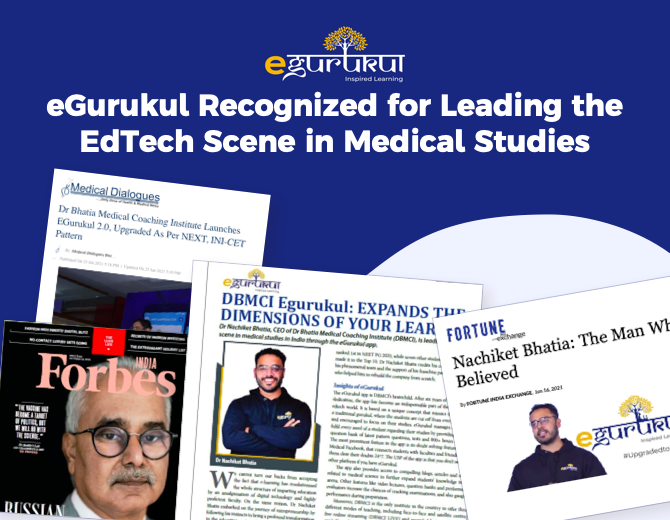 Major Recognitions:
The mind-blowing idea of providing concept-based learning and innovatively crafted mobile app- eGurukul is catching the limelight and recording massive accolades. The App has been recognized by ForbesIndia, Medical Dialogues agency, a team of medical/scientific writers, recognizing India's topmost medical learning application.
App has crossed more than the 1Million plus downloads with a title of the top trendy app on the App Stores.
2. Examarly- India's Most Recognized eLearning App for UPSC Aspirants
Every year, 10 Lakh plus aspirants appear for the UPSC exam with a zeal to clear examinations. Examarly is a score improvement platform for UPSC aspirants delivering professional study plans and effective revision schedules. The app assists students with an assessment test, helping them identify weak areas and assisting them with micro-study plans for better scores. With the aid of RipenApps services in the e-learning industry, the app stays strong with 50,000 plus downloads on the app store and 4.6-star ratings helping thousands of students daily.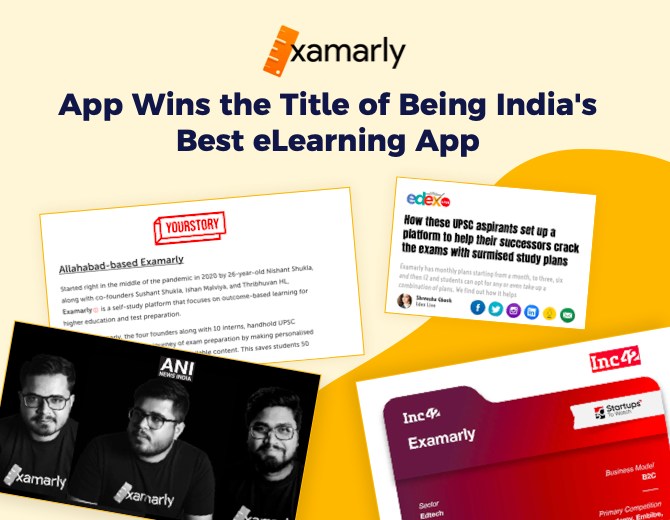 Major Recognitions:
The startup was identified as the top 10 startups of 2021 by YourStory. Further, YourStory also acknowledged it in StartupBharat, quoting that the app is giving tough competition to companies like Byjus in Edtech. 
Inc42 recognized Examarly in the list of 30 startups catching eyes in October of 2020.
RipenApps has focused on boosting the startup and assisting innovative ideas like Examarly with our robust app development service.
3. Hanchens: Powering New-age Supply Chain Industry
Startups in the E-commerce industry are gaining wide attention following businesses like Amazon and Flipkart. Hanchens is one such Gurgaon-based startup targeting mostly business to business players where they are offered everything within recorded timeframes of 30-9- mins. RipenApps designed the app in such a manner that Hanchens and its customers can easily connect to each other with an organised delivery model. Hanchen is strongly operating in 4 verticals from Grocery to Supermarket and Pharmacy to Home Chefs.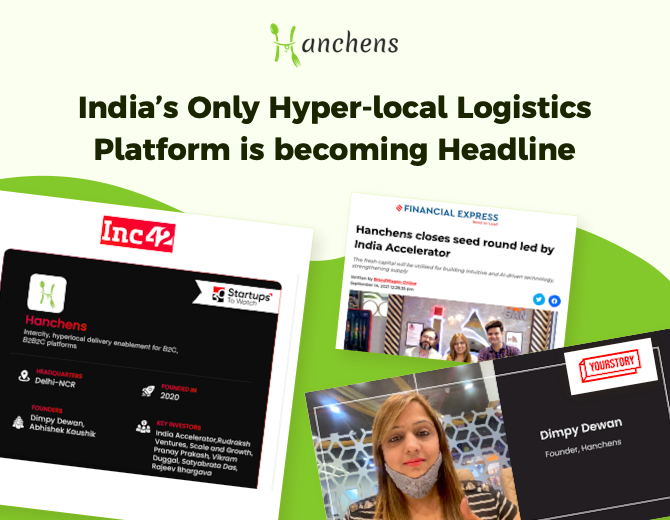 Major Recognitions:
YourStory recognized Hanchens as a "fast-growing hyperlocal delivery" app fulfilling 100,000 orders and doubling its revenue every month. 
The Financial Express, BCC News, INC42 prestigious platforms are praising Hanchens and recognizing it as the best in the Hyper-local logistic sector.
The techie team at RipenApps carries experienced e-commerce app developers ready to contribute to startups and help them skyrocket our e-commerce solutions.
4. Amfixo- Leading Online Platform in Job and Training Sector
Amfixo is a training and job portal app providing consumers with a wide range of courses to excel in. The app is in one portal for training where users can enhance their skills and avail desired certifications to boost their careers. RipenApps have contributed to the app with its vision to enhance the learning experience of blue-collar professionals. We regularly keep an eye on the jobs & training providing platform so that a business does not miss minute details of success. RipenApps have successfully deployed the app with an easy user interface understandable to the majority of the public. Amfixo is gradually becoming a leader aligning with the vision of RipenApps, where we embedded advanced tools & techs important for training and career advancement for the general public. 
Major Recognition:
The mind-blowing features and virtue of the app are raising the rating bars at App Stores, and App is hitting over 10k downloads.
Boost your Startup with RipenApps
Since startups are the backbone of digital India, RipenApps is passionate about helping startups succeed in their implementation. We have recorded 500 Million plus user interactions and deployed 500 plus apps for the startups aligning our manifesto with StartupIndia. RipenApps is set to sail business startups in 2022 with our advanced digital expertise in app development, designing & consultancy services aiming to contribute to education, e-commerce, finance, travel, health and social networking industries.
Share your next mind-blowing startup idea, and we are ready to add your product to the next-billion dollar startups' list. Connect with us to discuss your Project.
Contact Us