India is the land of diverse cultures and traditions and known for its multiplicity. Rich with culture, languages & religions, Indian food is the tempting corner that delights foodies.
With the technical rouse, various food delivery mobile apps can be seen in the market with different functionalities, because apps have made soothing the tastebuds with the favorite food so easy. With the commencement of food delivery apps, getting your favorite local food at your doorsteps is easier than ever.
A revolutionary concept of connecting foodies from their favorite local food restaurant with the help of technology incepted a Food App market leader- Hanchens- a food takeaway & delivery app that comes with the best discounts and thousands of flavors at one place.
What exactly is the Hanchens?
Hanchens is India's only food-ordering app that delivers thousands of flavours from app to plate in 3 simple steps & enables foodies to treat their taste-buds with mouth-watering and variety of cuisines from various Restaurants, cloud kitchens, local and trusted brands.
The motto behind the inception of Hanchens is to eliminate the unpleasant experiences that foodies confront while searching for their favorite food. Loaded with never-heard deals and discounts, the app offers the local taste in less pay.
Rich with the features, Hanchens holds the supremacy in hygienic food delivery, rich & simple user-experience that direct foodies to their desired food, cut down extra charges, and opens the door of zero-commission app onboarding to food merchants.
Dimpy & Abhishek, Founders, Hanchens, said,
"Unpleasant experiences faced by foodies while ordering drove us to launch HANCHENS – Food Ordering App."
Distinct Feature of Hanchens
Hanchens, a food takeaway & delivery app, has access to a wide range of city specials, local restaurants & selected food corners providing thousands of taste at your plate.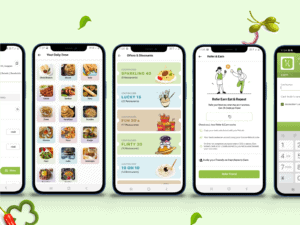 Exciting offers & deals
App offers unlimited, exciting, never heard before offers and discounts at every order you place at its maximum band.
App to Plate in just 3 Clicks
Hanchens provides no hassles and gets you faster to what you are seeking in just 3 simple steps. Hanchens' seamless user experience is integrated with customer segmentation and service differentiation.
Safe & Secure Deliveries
Keeping all the safety and hygiene at priority, the app provides Safe, secure, and hygienic deliveries by their dedicated delivery Captains
Quick Takeaways
App offers Quick and Safe Takeaways, where users can plan & schedule by pre-booking their order on Hanchens.
Free Deliveries for early sign-ups
Hanchens come up with the most wonderful treat and that is free deliveries for early birds, register first and enjoy the free deliveries.
Browse for restaurants & foods
App offer feature of browsing where user can browse restaurants from "In the Limelight", "Top Trending Cuisines" and "In your Vicinity". Brilliantly designed- "Your Daily Dose" for top foods.
Exclusive Filter
An exclusively designed filter option helps zero down on cuisine, distance, food category, and price. There is an exclusive separation for veg & non-veg lovers.
Digital Payment Option
Dil s Local food ordering & delivery app supports digital India where users pay digitally and raise the digital literacy bar in India that Hanchens fully supports.
 Refer & Earn
App offers to Refer, Earn, Eat, Repeat by earning unlimited Credits through friends and family. "Credit balance" gets auto-applied to the next order that offers earning option with food.
Areas where Hanchens Serves
Hanchens is currently available in Gurgaon with Takeaways & food delivery service. But the Hanchens delivery app is working hard to expand its reach to new locations and allow users to order local food from their favorite local restaurant & city specials.
RipenApps' joined hands with lavishing Concept & crafted- Hanchens
Hanchens, a food delivery app lets you order your favourite food from the best local restaurants & city-specials in the Gurgaon. The app is very simple to use and has bundles of discounts and offers for delivering your food from app to plate.
The mind-boggling concept of changing the way India eats, Hanchens called RipenApps for creating the food revolutionary that is For India, By India, Buy India.
RipenApps became their official technical hands and deployed them a dedicated team with interesting ideas to add more perks to their app.
Our deployed team brings the "HANCHENS" into production with the help of some of the most robust technologies in the industry. With the support of the engineering and design team, we were able to launch the app that is winning the heart of the foodies in Gurugram.
Hanchens is exclusively available on Google PlayStore. Connect with us to discuss your Project.
Contact Us