In today's world, the term 'working mom' has become a very common phrase. Many families require both parents to work to make ends meet and create a better future for themselves. However, this leads to the age-old problem of who will look after the children. Hence, there is an increasing demand for babysitters and nannies.
The need for such an app arises with the increasing use of mobile apps for everything-from booking appointments to ordering food. The app can be used by homemakers and working women who need some form of assistance in childcare. There are many benefits associated with such babysitter & nanny finder apps. It eliminates emotional factors and allows parents to choose someone they are comfortable with individually instead of blindly trusting an agency.
A mobile app for finders and sitters is a necessity in this day and age. It saves time and money for both the parents and the caregivers, who are often struggling with the logistics of arranging a babysitter or nanny.
This blog outlines the various aspects of babysitting & nanny finder mobile app development, such as demand for babysitting & nanny finder, benefits, market size, top features, development cost, etc. To reveal the rest insight, one must have
What is Babysitting & Nanny Finder Mobile App, and its Working?
Nanny finder is an app where you can look for a nanny. The app is made to help you with your search. You can search by criteria such as location, skills, hourly rate, and education requirements.
The app has gathered a lot of information about the available nannies and put them into categories. The categories have been created to help you make the best decision possible during your search process.
How do Babysitting and Nanny Finder Apps Work?
Childcare has become a hassle for many parents. One can argue that there are many reasons why the current situation is such, but the fact remains that many parents have to look for childcare services, nannies, and babysitters on their own.
Babysitting and nanny finder apps make this process easier. They allow you to post your requirements and wait for people who fit your needs to contact you.
The app eliminates the need for a third party, connecting you directly to potential caregivers.
How Babysitters & Nannies Perform their Roles?
Professionalizing childcare services is a trend that is only growing. More and more babysitters and nannies are taking care of families. They help with many tasks that the family cannot do themselves.
Childcare professionals can help parents teach their kids a skill or activity they don't have time to teach themselves. They can also help with household chores like cooking, grocery shopping, and laundry.
Childcare professionals can also help teach children life skills such as hospitality, manners, and etiquette.
This trend is increasing due to the industry's ability to provide more services than ever before at a reasonable cost-what used to be done by the family is now outsourced to a professional caregiver.
Market Size & Impressive stats of Babysitting & Nanny Finder App
Babysitting and nanny finder apps have been around for a few years, but the market size and stats have steadily grown. These apps are popular because they help people locate babysitters and nannies in the area. Usually, these apps require people to post a General description of what they're looking for.
The demand for this kind of app has also increased, which is why there is more competition in the market. So many apps have been released that it is hard to tell which one you should download first.
These apps are becoming so popular that it's not uncommon for mothers to use them instead of asking friends or family members if they can watch their kids while they go on their own.
Find the impressive stats on babysitting jobs across the world:
The U.S. childcare market was valued at USD 54.3 billion in 2019 and is expected to expand at a compound annual growth rate (CAGR) of 3.9% from 2020 to 2027.

Per a survey, US parents pay $17.73 per hour to have a babysitter or nanny for their childcare.

Families spend $30k and $75 on babysitters and nannies for their childcare, but 69% find it hard to have one.
Benefits of Babysitting & Nanny Finder App Development
The benefits of using a babysitter and nanny finder app are enormous. The app will not only make finding the right person for you and your family easy, but it will also save you time.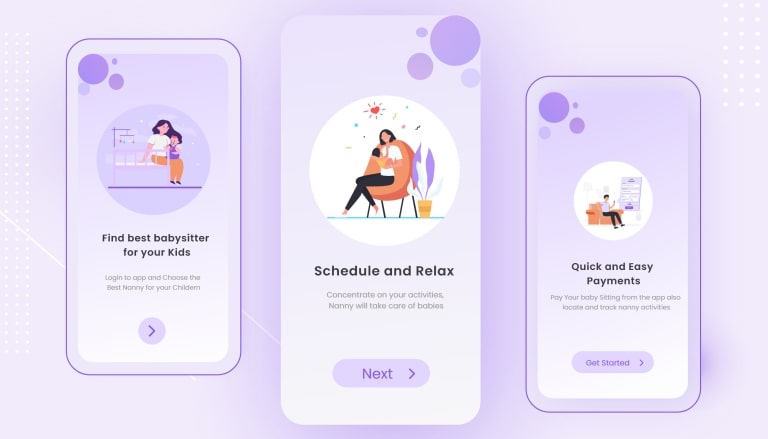 Smartphone babysitters can be found with just a few clicks on the babysitting and nanny finder app. You can save time by pre-selecting which days, hours, and age range you need someone to take care of your children.
Benefits for Parents:
The app will help parents save their time and energy by letting them find the best babysitter for their children.
The app will also provide recommendations on how to deal with different situations and answer questions that parents might have about babysitting
Parents can use the app to schedule an interview with potential candidates to make sure it's a good match for both of them
You should probably develop one if you're a parent with no idea where to find a babysitter or nanny!
Benefits for Babysitters:
Babysitters have to deal with many things- from getting ready for the day at a particular time to ensuring their kids are ready for bed. Because of this, it can be difficult for some babysitters to find other jobs on top of their current ones.
Thankfully, some apps help find babysitters in the area and even help match them with people who need them.
This is an excellent way for those looking for babysitting jobs to get more work and make more money while they're at it.
The app helps babysitters showcase their skills among the target clients and cam work.
Top Market Players in the Race for Babysitting & Nanny Finder Mobile App
Sittercity

Helpr

Care.com 
Bambino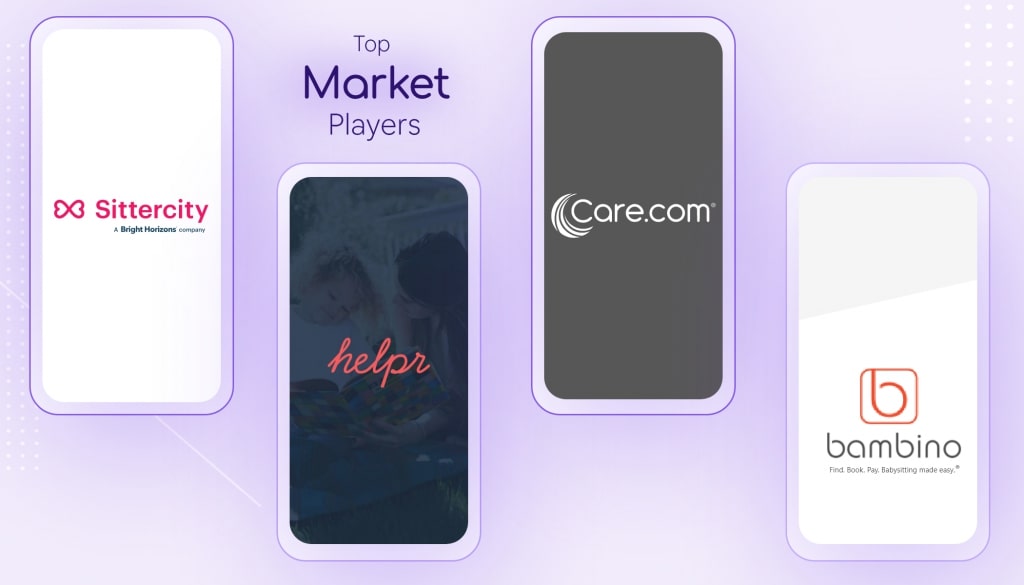 Various Features of Babysitting & Nanny Finder App
Nanny Finder is a large marketplace for families looking for childcare assistance. It has different features that make it easy to connect with nannies available for short or long-term positions or occasional babysitting jobs.
The babysitting app, Nanny Finder, helps babysitters and parents connect more personally. It helps to find the right match for you and your family. The app has many features that make it a one-stop shop when looking for childcare help. Some of these features include – Nanny Finder's in-app chat feature, Questionnaire, and Earned Trust Score. These features make the app easy for parents and babysitters or nannies.
Essential Features for Parents in a Babysitter or Nanny Finder App: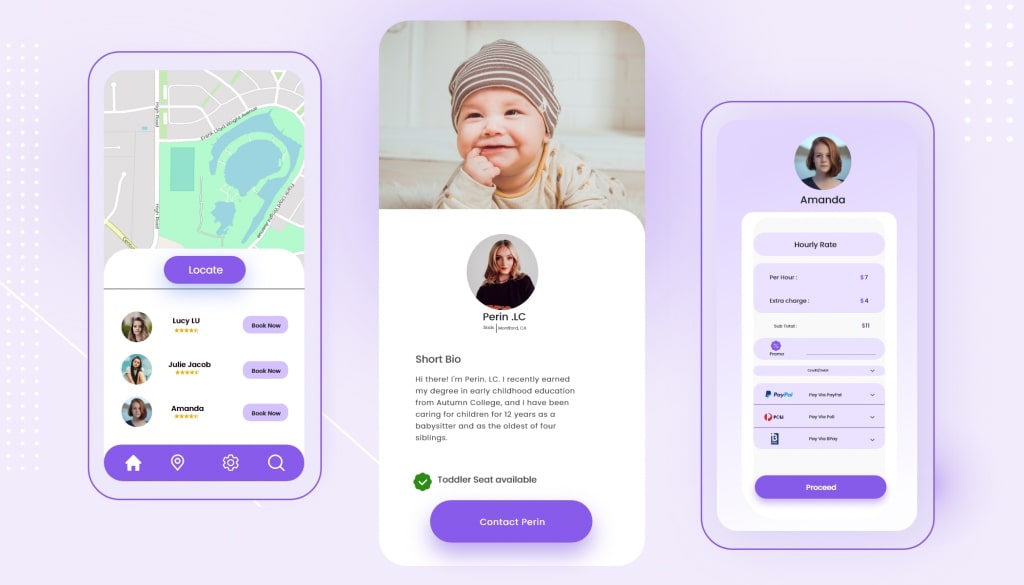 Availability Feature

The availability feature allows parents to check the availability of nannies for their childcare. This feature will be beneficial for parents who are looking for babysitters that can work later in the evening when most other people might not be available and other availabilities related information.

Push Notifications Feature

The Push Notification feature in Babysitting and Nanny Finder App is a great way to ensure parents know when their children are playing with their new friends. The Push Notification feature proves to be an excellent way for parents to keep an eye on their kids by letting them know if their children are playing with any new friends.

Online Payment

Online payments are a common feature for booking appointments or buying items and services online. Babysitting and Nanny Finder is not different. It has an online payment service that can be used to book an appointment with a babysitter or nanny without needing to leave your house. This helps families to pay their babysitters through the application.

Booking/Scheduling Features

Since the app is for parents who need childcare services, booking/scheduling features help them book and schedule the service. The app also makes a user's life easier by providing all information about babysitting and nanny services in one place.

Live Tracking

The Live Tracking Features feature in the Babysitting and Nanny Finder App is a lifesaver for parents. This new feature in the app gives peace of mind to parents by letting them track the location of their nanny or babysitter. This way, they can be assured that their children are safe, with someone trustworthy.

Customer Chat Service

The Babysitting & Nanny Finder App is a one-stop shop for parents looking to hire nannies and babysitters. Features in the app allow parents to browse and read reviews and book sitters. There are different features available:

1) Chat with sitters
2) Block or unblock a sitter
3) Send messages to other parents on the app
4) Review your past interactions with this sitter


Cost Estimation

The Cost Estimation Features feature of the Babysitting and Nanny Finder app allows parents to find babysitters and nannies by estimating their costs upfront.

Viewing the Profile

The company Babysitting and Nanny Finder has a wonderful app for parents. It offers a wide range of features to help parents find the perfect babysitter or nanny. And one of these features is viewing the profile. Let's take a look at what it offers.

View History

The new View History features allow parents to monitor their child's whereabouts more easily. The feature will allow parents to see where their child has been in the past 24 hours. This new update will allow parents to have more significant insights into the work of their babysitters, nannies, and caretakers. Parents can view where they were in the past 24 hours and a map displaying all of the locations they visited during that time period.
Essential Features for Babysitter in a Babysitter or Nanny Finder App:
Register

The register feature allows babysitters or nannies to register their profiles on the app for maximum visibility of their job roles.

Dashboard Features

A babysitting app with a dashboard feature will help babysitters manage these jobs efficiently. They can generate a fair and competitive hourly rate, add new clients and watch their past clients' schedules, send updates to the parents about their time at home, and track miles for tax purposes.

Parents Information

This is where parents can provide information about themselves and their kids so they can be contacted through our app. Parents can also provide information on things they want to share with the babysitter, such as favorite movies or books. The babysitter can then ask questions to the parents through this feature. Parents can also upload pictures if they want to do so before the meeting starts.

Service History

This feature is where babysitters can provide their past service history or reviews to help the parents. Parents can have the service history and validate the babysitters at their convenience. All the past services of babysitters can be accessed from here.

Availability Feature

The availability feature allows a babysitter or nanny to see which families are looking for a babysitter or nanny, what hours they are looking for, and if any of those hours match the babysitter's/nanny's availability.

Payment

This feature allows babysitters or nannies to have their payments through the application. They can ask about the parent inside the app, and the parents can share the deposit within the app.
Other Important Features of Babysitting & Nanny Finder Mobile App:
Push Notifications

Parents receive push notifications with an update each time their kids are getting picked up from school or a particular event, making them feel safe and secure when their kids are in another person's care.

In-app Navigation

This beneficial feature helps babysitters or nannies find the best route to reach the location. This feature help nannies find the best route to the child's home and reach there on time.

In-app Call/Chat

In-app call/chat is one of the best features that help parents and babysitters communicate with each other. A babysitter can communicate with the parents, and parents can use chat with each other. For example, the babysitter can ask the parents about the child or elucidate any nuances. Alternatively, the parents can ask the babysitters any queries that they may have.

In-app Cam

With the in-app cam feature in the babysitter finder app, parents and babysitters can connect in a video call and chat in real time to address any issue. This feature is convenient in an emergency as both parties can interact face-to-face.

Payment Gateway Integrations

For customers to confirm their booking, they will need to type in their details, including their full name, home address, email address, and credit card information. All saved details will be stored in the app and used again in the future should they wish to book another appointment with a babysitter or nanny. The app can have payment gateway integration to accomplish the same.

Report & Analytics

With this feature, the app admin can collect all the required information on different metrics such as new users, inactive users, user acquisition rate, e-store numbers, babysitter with the highest ratings, etc., and devise ways to improve the performance of the app.
How to build a babysitting & nanny finder mobile app?
Developing a babysitting or nanny finder mobile app involves steps that need to be accomplished to have a feature-rich and feasibility-developed babysitter & nanny finder app. Start with insightful research and comprehend the entire process of babysitter finder app development in detail.
Competitor and Market Analysis
Competitor & market research is crucial to comprehending the entire app development process. Before delving into the technicalities of making a babysitting app, research the entire market. Validate the demand for your application and the features in your app.
Look out for the rivals and analyze their business model features and other essential integrations.
Idea Ignition and Idea Formulation
While performing the idea ignition and idea formulation, looking at the rivals is imperative as it will give you an edge. Formulate your app with the right features and benefits like:
Define the strength that will give you an edge over rivals. Is there a gap you could fill? Do not just copy someone else's model; build on your peculiar strength. For example, babysitting agencies stand out by offering:
Availability of bilingual babysitters

Preference on gender basis male nannies or female.

Chef babysitters help parents or babies to cook the meals.
Find the Right App Development Partner.
Once you ignite and formulate the idea, hiring the right app development partner is imperative because half of your success depends on the technical partner.
Mobile app development for babysitter finding is quite a complex task requiring different experts' contributions.
It requires a project manager who can maintain the communication between the client and team, distribute the tasks and ensure that the deadlines are matched.
Business analysts help clients portray the correct requirement and help the team get the right requirement that needs to be developed with the help of wireframing.
UI UX designers are the one who converts the wireframes into actionable designs that provides a clear roadmap of the application.
Front-end developers (iOS, Android) turns sketches into actionable insights and form a complete application that is responsive and actionable.
The backend Developer manages the operational logic of the app and data use, which consists of server and cloud storage.
Quality assurance monitors every stage of android and iOS mobile app development and checks every process and feature to guarantee a bug-free result.
Build an MVP
Building the MVP is quite a beneficial thing that helps users to get the right project at less expense. In MVP creation, the user can get the essential benefits and features at first, and then once the app gets tested, the owner can launch the whole application with many features.
——–Also find more about MVP and it's benefits:——-
Different Monetization Strategies of Babysitter & Nanny Finder App:
The below-mentioned part describes the different ways to monetize your babysitting app. Here we have mentioned several ways that are the most common monetization techniques.
Commission
The app owner of the babysitter app can choose the monetization technique where he charges a pre-decided commission fee for both parents and babysitters for every service available through the application.
Subscription
Subscription is one of the best app monetization strategies in which the app owner can provide paid or free options to the users. He can add the unique features that get unlocked once you avail of the paid or subscription feature.
Individual babysitters or the service-providing company working online has to give a fixed amount at regular intervals as a subscription. An admin decides the amount.
Advertisements
Advertisement is also one of the robust monetization strategies. The owner of the online babysitter app can make money by running-related advertisements. App admin can integrate the ads related to childcare products like diapers in their app to have some extra amount from the application. 
How Much Does it Cost to Develop Babysitter-Nanny Finder Mobile App?
Everybody mainly searches for the question – how much does it cost to develop a nanny finder application if the owner is willing to delve into the babysitter & nanny finding business? Deciding the exact cost of the babysitter finder mobile app. Several factors decide the cost of any mobile app, so the nanny finder app also has some.
The major cost factors are to build the resourceful mobile application of an on-demand babysitter mobile app.
Complexities of application, features of apps

Choice of app development platform (iOS, Android)

APIs and third-party integrations

The complexity of the UI/UX design

Size and location of the app development company
Considering these factors, the approximate cost of developing an on-demand babysitter-finding app may range above $10,000. However, the development cost may also increase if you enhance the functionalities.
To get the proper knowledge about babysitting & nanny finder app development, proper consultation with the top on-demand mobile app development company.
Concluding Notes:
The babysitter and nanny finder app is a gift for the parents working and can't get enough time to take care of their babies. It also motivates emotionally as the app encourages parents to focus on their responsibilities by their stuff without worrying about their children. Thus babysitting is a massive industry with an on-demand business model showcasing immense potential for market growth.
Suppose you are looking to start a business and looking to develop an on-demand babysitter-finding app to help working parents hire reliable caregivers. In that case, you must connect with a top mobile app development company. They will help you contour your idea and kick-start the development process.
FAQs
How much does it cost to develop a babysitter app?
Deciding the cost of a babysitter finder application varies on various factors. The cost of the nanny finder app consists of different factors like the complexities of the app, features and third-party integrations, platform of app development, team structure, app development time, and efforts. These all decide the cost of the app, and the estimated cost of the babysitter finder app is- MVP budgets start from $36,000, while the total cost to make a babysitting app with the most sophisticated features can reach $300,000. This is just the estimated cost. A top app development company can elaborate more.
Why Should I develop a babysitter app?
The babysitting services market is increasing daily as the working parents cannot have enough time to take care of their children when they need proper care for their babies. Thus babysitting services and babysitter app development is in demand.
The babysitter app lets your customers helps to access the facilities and nannies for their children in a trusted and secure way. It helps users keep checking on their nannies and the activities they are performing in caring for the child.
How do you hire the best babysitter app, developers?
Hiring the best babysitter app developer carries out research work. Find the best on-demand app development company that understands the customer requirement, validates the app idea with the market need, and has years of experience developing an on-demand apps like babysitting and nanny finder apps.
Conduct research on top app development companies,

Verify their portfolio,

Identify their technical expertise,

Validate their client review and explore their technical advantages.


 
What are the top babysitter apps in the market?
There are various top market players in the babysitter finder app list race.
Bambino

eNannysource.com

Helpr

Care.com Connect with us to discuss your Project.
Contact Us