As of 2021, smartphone users are using an estimated 6.4 billion smartphone subscriptions, a figure that is expected to climb to 7.5 billion by 2026. With such a huge number of smartphone users across the globe, it's no surprise that the mobile app industry is thriving at a higher pace. App usage and smartphone incursion are growing at an impressive rate without any signs of slowing down. In the future, apps are projected to rise more and more.
The huge rise in app usage portrays that people are much convenient towards using smartphones and mobile apps. Some major factors are making users inclined to use mobile apps, and the user experience comes first. Talking in the mobile app owners' words, providing a better user experience in mobile app usage always attracts more eyes & renders greater customer satisfaction. 
Various factors enhance the mobile app user experience & customer satisfaction rate, i.e., better features & functionalities, soothing UI UX, easy navigation and many more. But do you know, there is a feature 'live chat' that enhances customer satisfaction as people are taking it much convince while using apps. 
It's about 92% of customer satisfaction rate using live chat, which is considered the highest number. And as more than 70% of all chats are recorded from mobile, this feature 'Live chat' is one factor uplifting the user experience in mobile apps.
Why are businesses targeting a 'live chat' medium to enhance the app's user experience?
In today's era, every business owner dreams and tries hard to provide a better user experience from their app to unlock desired success for their venture. On the same side, they follow this golden way to keep their business and their target audiences in sync. Following the digital trends in mind, top-notch online presence establishment is all the brands are seeking.
To provide a better user experience & customer satifaction rate through the mobile app, businesses find Live chat a better functionality to follow the attention-grabbing CTA's rule. Thus, in-app chat is recorded as the best option to give instant support to the users.
Let's dive down to grab some more insight over it:
What is exactly the live chat feature?
Live chat can be defined as an online communication service that enables users to communicate with the brand's support with one tap. This particular service is recorded as the highly usable one to get the user's query cleared.
With the help of the in-app live chat feature, users can get their query assisted within the app with just a few clicks in no time. Like another standard communication medium, i.e., email, phone call support, and others, live chat has a quick response rate.
Some Stats that are showing the rising heed of live chat feature: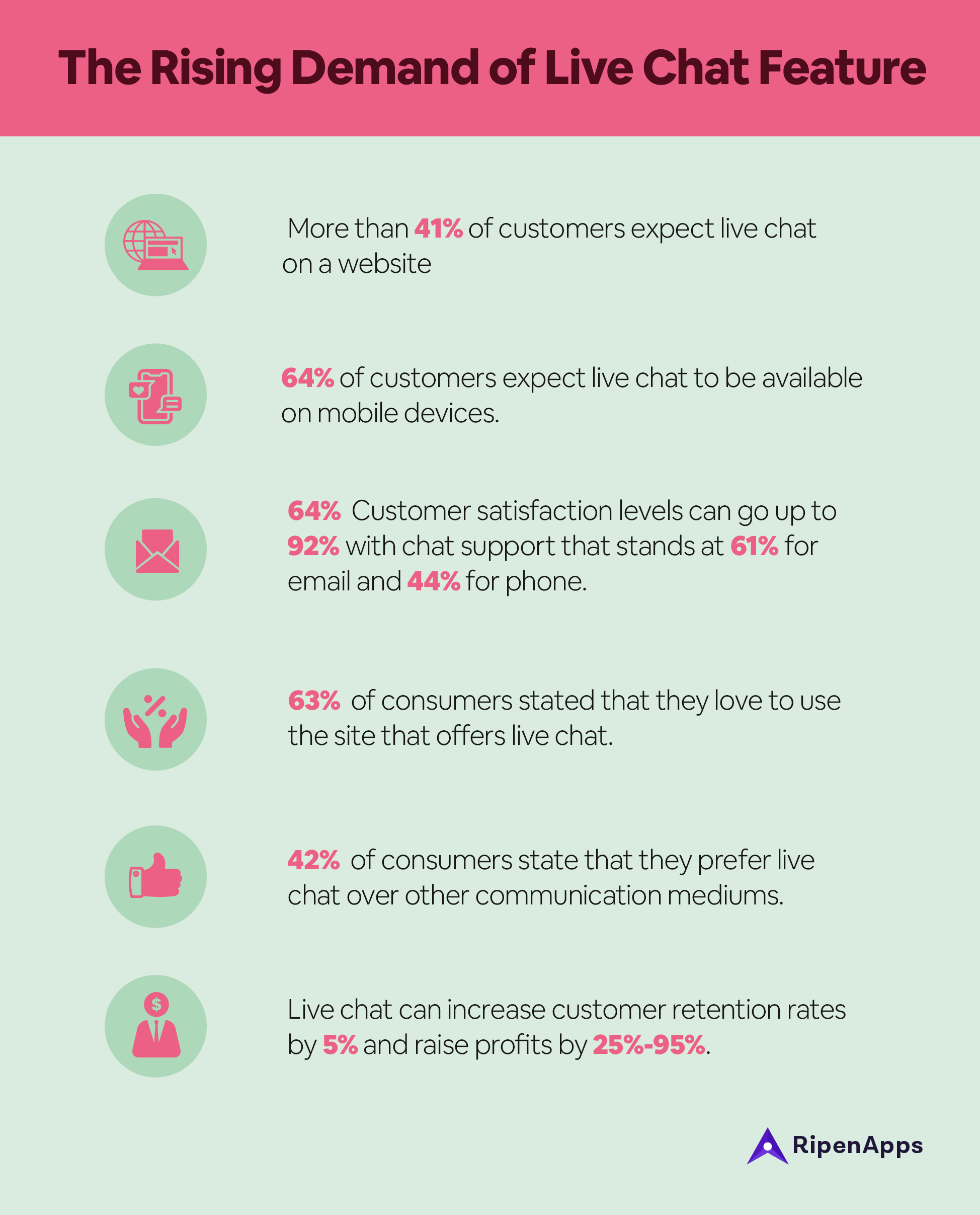 More than 41% of customers expect live chat on a website.

64% of customers expect live chat to be available on mobile devices.

Customer satisfaction levels can go up to 92%, with chat support at 61% for email and 44% for phone.

63% of consumers stated that they love to use the site that offers live chat.

42% of consumers say that they prefer live chat over other communication mediums.

Live chat can increase customer retention rates by 5% and raise profits by 25%-95%.
What are the other major benefits of integrating the Live Chat feature in apps?
Mobile apps are helping businesses to find heights of success via improving businesses users' experience. And integrating the Live chat feature in-app is like the cherry on the cake. An app owner can provide users with smooth, quick, and reliable support by integrating live features. See what more live chat feature does carries in its bag of benefits:
Offers in-app Customer Support
An in-app live chat include empowers value-based help without your users leaving your application.
On looking for help inside an app, various business apps divert users to an outside interface or something else altogether. The redirection may be to an outsider visit app or some other help channel. Such redirection regularly disturbs the user's experience by causing dissatisfaction, which might even prompt app uninstallation. Fortunately, an incorporated live chat feature can productively change this situation into a smoothed out ongoing communication experience.
Upgrades User Experience
Each client wishes to have an engaging involvement in the apps they connect with. Therefore, they anticipate exceptionally customized encounters and need extra help in the event of any inquiry.
To better the user experience, the app owners can utilize the live chat elements to acquire inside and out data about user conduct and track the guests' perusing history to push customized shopping suggestions. Likewise, live chat makes it conceivable to gather input from the users with no overview, which can also be used to develop the app's user experience further.
Personalized round o clock assistance
Chat makes the impression of an incredibly customized experience. It causes each user to feel that your image offers devoted help and accumulates more trust. Furthermore, it empowers you to treat each user diversely and resolve their issues effectively and adequately.
Plus, it additionally empowers you to comprehend and handle their persona. Your representatives and leaders can utilize this space to push customized ideas to users and transform each visit into a business opportunity.
Expanded sales and conversions
All of the advantages recorded above reduce how the chat included in an app can lift your presentation and increase sales and conversions. In addition, AI-backed bots or specialists can facilitate and expand lead capability and subsequently multiply changes also.
Live chat popup combinations can be utilized in the apps to grasp users and move them to make wanted actions. Chats can likewise acquire a ton of involvement and stop for a minute works for your users. This enables you to settle on great choices and draw in more deals.
It Saves Costs
The live chat choice is unmistakable due to its capacity to save costs by considering numerous chats all at once. Have you at any point needed to call a users care hotline and get held up forever in the light of the fact that there's nobody accessible right now to converse with you? That happens when there's a lack of labor.
When you choose a live chat incorporated into your business app, you can react to different tasks simultaneously. Therefore, you will not need to enlist significantly a larger number of individuals than is required. Of course, you'd need to hire dedicated app developers to accomplish this, yet it aside your time and amount.
Chop down Negative Reviews
The absence of in-app support might lead the users to leave a negative audit on various social media platforms, confining others from downloading the specific app. Yet, if the app is loaded with an in-app user care choice, settling users' inquiries will be tasks of seconds for you.
This interaction radically chops down the general reaction time and, at the same time, expands the user's trust and positive reviews on your app. But, of course, app owners also consider positive reviews when accomplishing the ideal business income.
Conclusion:
Aside from continuous messaging, companies can even use an app chatbot to promptly get to client details and past discussions without drifting through an ocean of data. It accompanies an efficient dashboard that improves administration specialists' proficiency and assists organizations with superior control on their daily user experience tasks.
Besides, numerous mobile app development companies across the market deal such a suite that empowers simple associations of the live chat with any current CRM to execute a serious level of personalization in communication.