Let me ask you one question- what is a very important thing in your life? Most of us must be thinking about our family, love, and friends right? But stop and think twice. The most important thing that should be at first is your health only because nothing will else matter if you're not able enough to care for yourself.
Good health is the way to all happiness and to make your every dream come true, you need to have great health & a happy mind. In today's hectic and shindy lifestyle, it is almost tricky to take care of health fitness. And when paying too much in the Gym & fitness club becomes higher than expectation, well, in that case, do not take tension, with the same question, we also brought you the solution, Ultimate Fitness Pass, the app is all you need. UFP (Ultimate Fitness Pass) App is the one pass and your ultimate access to fitness is in your hand.
ULTIMATE FITNESS PASS: Workout wherever, whenever!
With UFP (Ultimate Fitness Pass) App, one can get the dose of ultimate fitness via just entering postcode to find gyms near and get ultimate offer-rich coupons to unlock the door of fitness journey with impressive cost and workout wherever, whenever & whether it's near home.
UFP provides flexible membership plans in the form of day passes and monthly passes, and have 1,5 and 10-day passes as well as an ongoing monthly pass called The Monthly ∞ Pass.
UFP also allows many gym owners to access their membership with UFP.
Prima Features of ULTIMATE FITNESS PASS App:
Visit Gym Everywhere: Search gym as per your convenience via entering Postcode to find gyms near you, whenever & wherever.
Live Passes: Passes available once you get a login to the app with multiple offers.
Membership Plans: With UFP, one can leverage unlimited access to gyms that are available on the membership plan according to your preference named as- The Monthly ∞ Pass.
Purchase Passes: Purchases passes by paying "Pay as you go Passes" to visit gyms & fitness centres. Purchase from its 1, 5 and 10-day visit passes.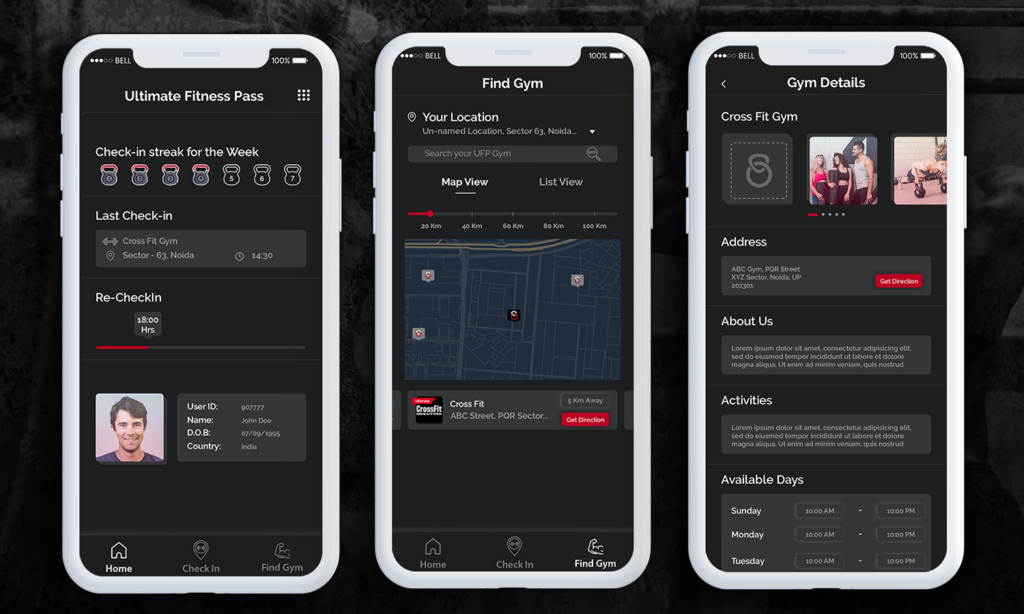 How it Works:
Most of us think that getting in shape and being fit requires lots of money wastage at the gyms. But, the truth is totally different from this myth, to get fit all you need to do is download the Ultimate Fitness Pass App & get easy & cost-effective access to Gym.
Get started via downloading the UFP app and signup. Now, here you can login to your ultimate fitness pass lives here. From there, one can choose a best-fit plan from available one. From their you are able to unlock your live passes.
One can visit any fitness spot, gym and centre across Australia & New-Zealand, so there is no matter of excuse now.
A big round of Applauds for a technical partner- RipenApps:
In our in-detail review, this app is tremendous and is intended to honor and highlight the exemplary works of the RipenApps' developers. The app can actually be a handy tool for both gym seekers & Gym owners. With its amazing features like membership plan & live passes, Ultimate Fitness Pass is one of its kind apps that have walked the way that was earlier unexplored.
For making the idea alive, UFP ideation's hand has handed over their mind-blowing idea to RipenApps Technologies as their technical hands & Opted RipenApps as the best healthcare & fitness app development company.
RipenApps took the project and deployed a team of best app developers, designers, analysts, and "UFP (Ultimate Fitness Pass)" came into production.
Now, UFP (Ultimate Fitness Pass) is helping people maintain their health in Australia & New-Zealand at a great and high pace. A big round of applauds for all the Ninjas of RipenApps who worked and made this superb app that is a door to Ultimate Fitness.
See the mesmerizing UI of UFP at Behance & Dribbble.
Download the Ultimate Fitness Pass App from App Store  & PlayStore & get easy & cost-effective access to Gym
And also visit the feature-rich & explanatory website of UFP here. Connect with us to discuss your Project.
Contact Us