A wedding is the most memorable day of someone's life, and everyone wants it to be a Pixel-Perfect Day. From finding a perfect match to setting up a venue that is as royal as your married life is going to be, it is quite daunting yet responsible. Not only should the wedding be the most special day, but the journey to creating it is just as important.
Couples need well-customized and easy-tracking platforms that provide options for ready-made setups, customized plans, and information resources for wedding ceremonies in less stressful and confusing ways because years back, finding a match was a lengthy process, organizing a wedding, finding perfect vendors, and everything.
But, nowadays, where every second thing is "Online," technology has revolutionized every possible sector by its charisma and made our lives easier & comfortable. Everything can be done using apps, and wedding planning apps are no exception.
Wedding planning apps are becoming increasingly popular as couples look for ways to streamline their wedding planning process. With the current situation, couples are also turning to technology to help them plan their weddings in a virtual setting.
Wedding planning apps can help couples plan a wedding from start to finish and offer various features such as budget tracking, vendor recommendations, and even vendor communication.
Following the league of wedding planning app development, RipenApps recently developed and launched a feature-packed & UI UX-rich wedding planning mobile application named The Wedding Hat.
Introducing the best wedding planning app- The Wedding Hat
Planning a wedding is now easier than ever with The Wedding Hat!
The Wedding Hat is one of the best wedding planning apps, which is an on-the-go wedding guide providing you with everything you need under one hat. App provides a vast list where users can browse from trusted vendors and hire them directly through the app. TWH App does have free access to smart digital planning tools that will make your wedding planning journey easier and more fun.
App helps couples plan a wedding from start to finish and can offer a variety of features such as budget tracking, vendor recommendations, and even vendor communication. Apps provide couples with access to tips and advice from wedding professionals and allow them to share their planning progress with family and friends. App includes a vendor listing and a suite of tools to help you plan your event.
To add a touch of magic to make wedding sparkle, TheWeddingHat covered everything under one HAT
App has covered a vast suite of services that make one's wedding grand. App provides a range of options from all the vendor categories one will need to plan their wedding. With a large vendor listing, verified reviews, and a range of planning tools, The Wedding Hat provide door to access the best value for your budget, including your venue, wedding decorations, the perfect wedding dress, catering, gifts, cards, invitation, videography/photography, and all other aspects. Including weddings, TheWeddingHat offers you the chance to plan any event using the best services offered by the app.
Explore the Interesting features offered by TheWeddingHat
TWH app is very useful for couples who want a more hands-on approach to planning their special day and for event planners and wedding planners. The app can manage the entire wedding planning process from start to finish. In addition, the app has a vast feature list to make your event "a day to remember."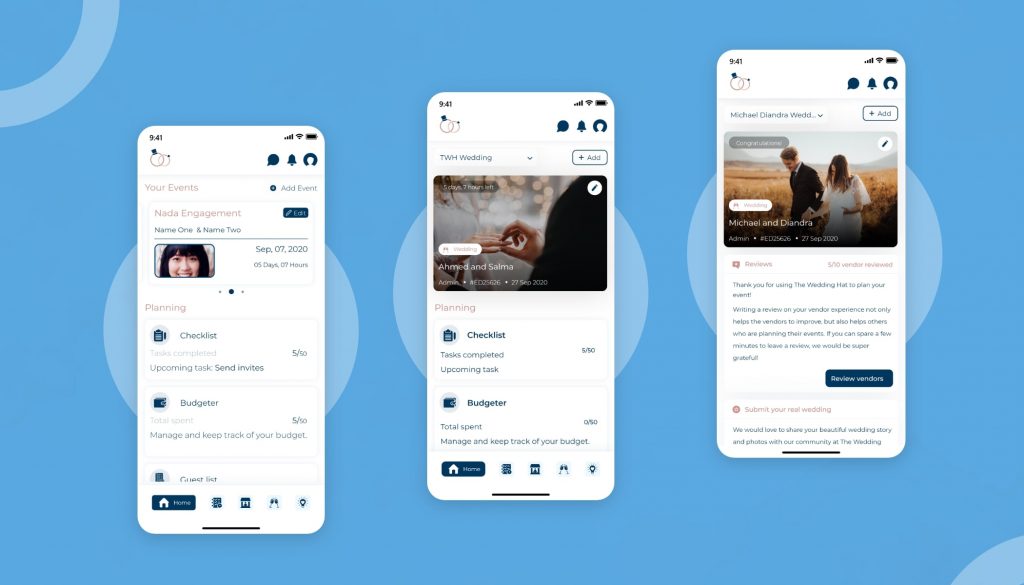 Find your venues and suppliers
Search for venues and suppliers through the vendor listing and filtered results. Visit their storefront and discover their services, packages, deals, and discounts. Message and hire vendors directly through the app.
Checklist
App provides a feature of a checklist where an extensive list ensures that users don't miss any steps to creating the perfect wedding before saying, "I do." Planning a wedding journey and keeping track of all the tasks is easy with the app's checklist tool.
Budgeter
App provides access to a budgeter tool that guides the user on how much to spend. No need to add details of vendors booked through the platform; these will be automatically reflected on the budget. Users can also keep track of payments made.
Guest List
To help the user not forget anyone and make their day hassle-free, the app provides a guest list tool to send customized e-invites to their guests. In addition, guests can RSVP directly through the e-invites.
Vendor Team
Too many great choices and need help to decide? Bookmark favorite vendors for easier access later in the Vendor Team tool with TWH. Users can also keep track of hire requests, Vendor negotiations, and hired vendors for all events.
Dream Board
Users can keep their favorite dresses, jewelry, real weddings, and articles in one place.
Wedding Party
App helps you invite your friends and loved ones to help you choose and organize all wedding details and, most importantly, make it fun!
Articles
The application covers a collection of different wedding topics that will guide users and inspire them while planning your wedding!
Community Forum
The app consists of a forum that allows users to ask questions, take other opinions, and get inspired by different experiences in the bridal community.
RipenApps helped The Wedding Hat's team make their idea a successful digital product.
TheWeddingHat is collecting massive applause since its productive features, and soothing UI UX captures various eyes. Moreover, since the app is designed to add a sparkling touch to users' every grand event with its vast range of services and features, RipenApps has helped the TheWeddingHat team to go digital with their idea.
When the team came to us with the magnifying idea of launching a wedding planning app that covered productive features and a mind-blowing user interface, we understood the complete ideology and deployed a team.
Our team of event planning app experts worked on the end-to-end creation of the TWH app. We used industry-loved technologies and frameworks across native Android, iOS, and the backend to build an engaging event planning app experience for the brand Connect with us to discuss your Project.
Contact Us