If you are a newly-founded startup or aspiring entrepreneur willing to start a startup, you must require one thing- capital.
And without capital, there is a high chance that your startup might fail before even getting you to take product ideas to the market. This is where startups need to raise funds and investments to establish their business model and support their growth.
However, most startups and business founders mostly approach seed funding. But pre-seed funding is another way of raising funds and investment from investors that could help you establish your venture before setting up the entire machinery and workforce with capital investment.
If you are looking for a secure and helpful method to raise investments at the very earlier stage of your start-up launch, here in this guide, we will explain pre-seed funding for startup founders. You will know everything about pre-seed funding that would help you to raise investments successfully just by having a business idea.
What is Pre-Seed Funding?
Pre-seed funding is about investing in a business idea that has not developed yet completely. It is an early stage of funding where investors give capital to a startup to support them build its product. Investors seek equity in return in the startup as a pre-seed investment. A pre-seed startup funding comes before seed funding and Series A round investment. It might follow raising funds from an angle round or the phase of bootstrapping with your own financial resources.
Difference Between Seed and Pre-Seed Funding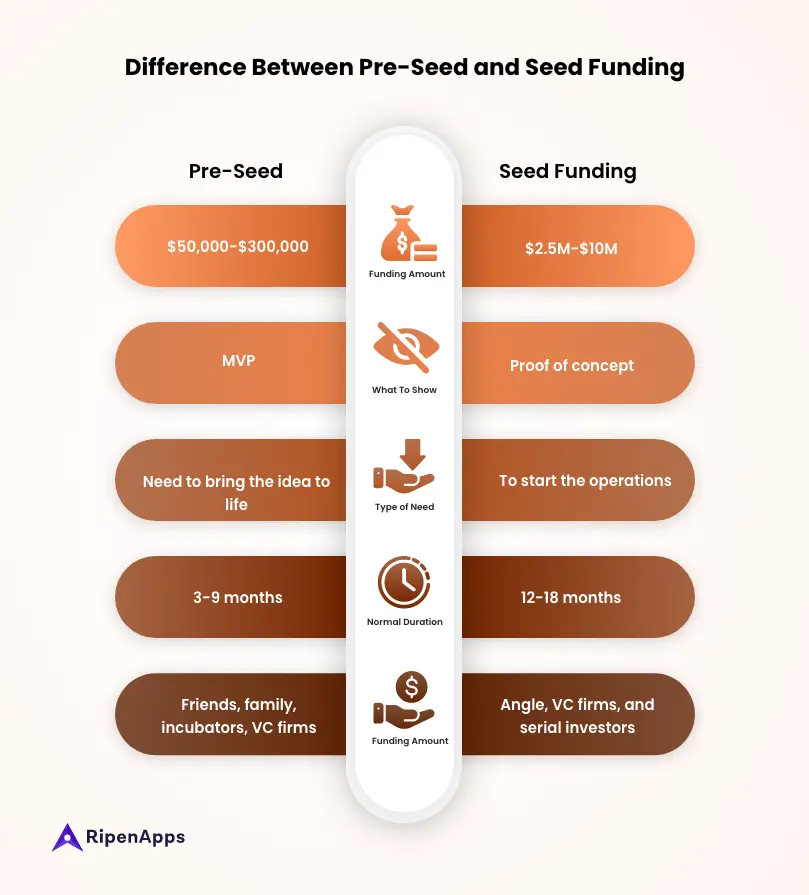 Seed funding works as the first official round of funding. It involves more formal investment and gives essential supportive growth after the pre-seed funding phase. Pre-seed funding comes at the earliest phase of investment raising with a minimum viable product or an innovative business concept.
Whereas, pre-seed funding comes before the seed funding stage. It is about raising investment in the business idea that is yet to develop and launch to the market. It allows startups and business owners to get funding at the stage of the startup idea or product discovery phase that has the potential to disrupt the market.
So, on comparing seed and pre-seed funding, here are the key differences between them.
Seed funding works as the first official round of funding. It involves more formal investment and gives essential supportive growth after the pre-seed funding phase.
Pre-seed funding doesn't have the scope to acquire a substantial investment amount. It usually can get up to a $2 million investment. But startup founders tend to get higher investment amounts by seed funding. Through seed funding, they can raise $50,000-$200,000, or even more.
In seed funding, investors seek some proof of traction of the product having positive signs for future growth. In pre-seed funding, there is no proof of real-life performance or market traction.
Benefits of Pre-Seed Funding for Startups
So after understanding the pre-seed funding, you might feel wondering if it is so challenging, and why startups should adopt this approach at all. It is a fact that getting investment through a pre-seed funding approach is quite difficult for startup founders and business owners. Investors don't like to invest their money in a risky idea that has not come officially into the market without having real-life positive growth.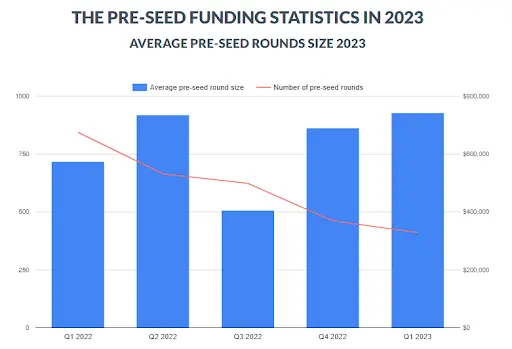 According to the latest market report, the number of pre-seed funding rounds has decreased by 50% in 2023. But still, the average size of pre-seed funding is decently higher than historical averages.
However, pre-seed funding is viable and enables startups to raise money from investors if they truly have an innovative or revolutionary product concept. With pre-seed funding, startups can arrange sufficient money to set up foundational resources and space.
For instance, acquiring an office space, rescuing a team, and in-house technical and non-technical facilities to build and launch the fully-functional product. By adopting a pre-seed funding approach, startups and entrepreneurs get many advantages such as-
Offer more autonomy in shares to investors to gain investment
Ask for minimal investment to start the startup
Get investment at the earliest round of funding
When Should Startups Start Raising Pre-Seed Funding?
Pre-seed funding comes at the earliest stage of product development and launch. There are certain conditions you should consider to assure you are ready for negotiation with investors.
1. You Have a Great Minimum Viable Product (MVP)
The success of pre-seed funding largely depends on how much effective or problem-solving your idea is. Your minimum viable product (MVP) should bear the potential or innovative capability to disrupt the market and take the lead in the competition. This will convince investors as to why they should invest their money in just a business idea.
2. You Have a Team of Experienced Investors
It requires a very intelligent and product success analysis approach to make investment decisions. Therefore, those investors who have quite an understanding or experience in your niche or industry for which your product is built for. They are more likely to invest in the idea.
3. Product has High-level Problem-solving Ability
Your product must have top-level problem-solving ability that could fit the needs of its target audience. It should appeal to the target user group through its innovative solutions and establish a long-lasting need in the future as well.
4. Started Onboarding New Customers
If you have acquired a few customers or a small customer base through pre-product launch marketing, you can move ahead to seek investment through pre-seed funding to increase the customer base. You can use the initial customer base or active onboarding to present as proof before investors.
5. You Need Funds to Build the Prototype
Having an idea isn't enough. Business owners need to build a prototype for their product to test its viability. However, in the case when you don't have sufficient resources or money to create the prototype for your product, you certainly need pre-seed funding. You should approach investors with initial financial assistance with an impressive pitch.

How to Get Started with Pre-Seed Funding?
Rasing investment through pre-seed startup funding requires the same approach as seed funding. The key difference is here you have to work harder and smarter to convince investors for a non-tested product. Getting funds via seed funding is easy as compared to pre-seed. Therefore, you have to consider various factors and follow a defined process to successfully obtain money.
1. Determine Whether Pre-Seed Funding is Suitable for You
As we discussed, raising money through pre-seed startup funding is quite a more difficult task than the seed funding approach. Startup founders have to work hard and put great effort into convincing investors for investing in an idea on paper that is yet to build. Therefore, you need to analyze whether you need this funding approach. Or you can also decide when is the suitable time to start working on it based on your product development stage.
2. Create a Compelling Pitch Deck for Pre-Seed Funding
Pre-seed funding approach requires an intelligent and quite analytic approach. Since you don't have a real-life product with proven positive results, investors will likely seek solid reasons to invest in your untested product idea. Thus, you have to create a compelling pitch about your product. The pitch or the investment proposal should be able to capture the investor's attention and present all the details.
For instance, product features, business model, target audience, market penetration scope, problem-solving ability, and much more. Especially, for non-technical business founders, have to be well-prepared before presenting an idea. Investors might think how can a non-technical entrepreneur build a tech startup? So, create a compelling pitch for it.
3.  Choose the Right Investors
Not all investors will invest in your proposal. You have to conduct research and filter out the selected potential investors who might be interested in providing money at the early stage of product development and launch. And startups also don't have sales data to contact or approach directly to the investors.
Therefore, you need the right way to outreach target investors and interested business people groups who might be receptive to your business idea. Generally, there are three kinds of pre-seed investors whom you can approach-
Angel Investors- These investors make small-level investments of around $25,000-$50,000. This is suitable for startups having a mobile app-based business model. It is suitable to raise investments to fund an app from investors.
Venture Capitalist Firms- Venture capitalist firms mostly invest in developed companies and business ventures. However, there are some VC firms that have an interest in investing in a fresh and newly-launched startup if it has scope for achieving success in the future.
Incubators and Accelerators- Incubators don't provide capital for funding startups. But they offer other business-related facilities such as training, office space, access to active investors, etc. Accelerators mostly invest in already-growing startups. However, some accelerators also offer pre-seed capital to startups.
4. Negotiate for Investment
Once you have a target investor group, it's time to come before the offer table. Do present your business idea effectively with a compelling presentation of the product or business concept. And when investors show interest in offering money, you should be wise while accepting the offer. Make sure you get any deal in written form.

This is essential because it would save you from possible disputes and misunderstandings in the future between you and the investor. While you might be excited to have an offer, you need to pay attention to the offer seriously if it doesn't fit well. Don't be afraid to walk away if the offer is not suitable for your startup.
How to Attract the Attention of Investors for Pre-Seed Investment?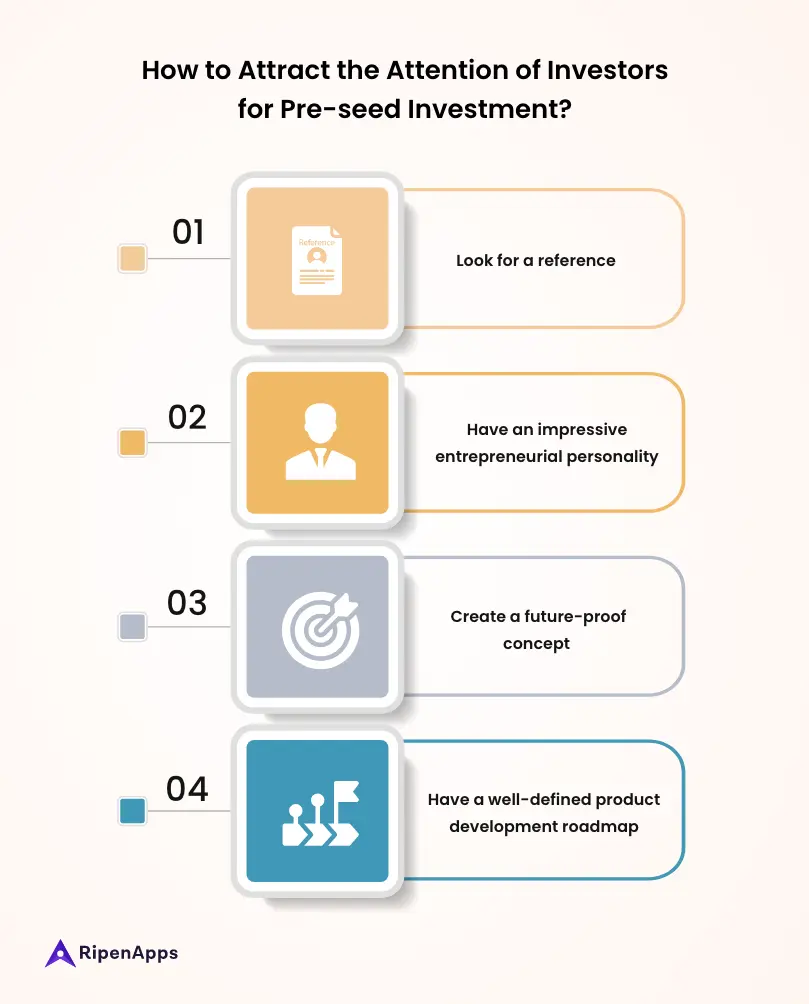 Getting money out of an investor's pocket through pre-seed funding is not easy at all. You have to come up with a brilliant idea that has the capability to revolutionize the market or bring significant disruption. Most investors are likely to provide money in seed funding only. Very few investors show interest in investing in startup ideas. But there are some useful tactics that can help you attract the attention of investors in your pre-seed funding idea.
Look for a reference: Try to approach an investor who might be in your contact links. This would create trust and reliability.
Have an impressive entrepreneurial personality: Since you are betting on an untested and unproven product idea your personality should be expressive enough to convince you are an experienced and expert startup founder.
Create a future-proof concept: No matter how creative your product is, if it doesn't have great market scope in the future, investors won't be interested in the idea.
Have a well-defined product development roadmap: If you have software, a mobile app, or any digital product concept, you should have a well-defined product development roadmap. You should be able to convince investors how you will turn your idea into a revenue-generating product. If you have a mobile app, say you are going to build it with the best mobile app development company.
Final Thoughts
Raising investment through pre-seed funding is a challenging task. It requires great research and a well-planned approach to convince investors. You also need assistance from a product development company to validate your product idea and its viability.
However, with the right strategy pre-seed funding can help you get money to give your startup an initial push. The best way would be to consult an experienced digital product development company that can assist you in validating your product concept and raising investment from investors successfully through pre-seed funding.
FAQs
1) How much money could be raised usually through pre-seed funding?
Pre-seed funding generally acquires small-level investment. Investors might like to provide money between $25,000-$300,000. It might go higher in some cases depending on the size of the startup.
2) How to find investors for pre-seed funding?
There are certain methods. You can first start searching n your reference links. Or you can conduct research on investors on business platforms. Or you can also publish an open invitation for pre-seed funding along with rewarding offers.
3) When is the best time for my startup to start for pre-seed funding?
When you have validated your product concept and defined essential details like the target market and its audience, business model, key features, and its future scope. Connect with us to discuss your Project.
Contact Us