Blockchain technology is emerging at a very fast pace. A variety of industries have benefited from the use of Blockchain technology, and many more are looking forward to opting for it. From healthcare to finance and education, you can see blockchain solutions everywhere. Since apps are playing a key role in transforming the mobile life of users, the future of iOS app development is also shaped by Blockchain technology. How? Let us find out in this article. But before moving to the role of blockchain in the future of iOS app development, we will like you to present the statistics related to Blockchain technology.
Statistics in the Blockchain and iOS Market
Global blockchain market valuation is nearly $5 Billion.
By 2029, the market is expected to reach $163.8 Billion, showcasing the CAR of 56.3%.
Web3 and DeFi are the most popular sectors in the Blockchain industry for investment.
iOS is responsible for 67% of app consumer spending.
The iOS app market made over $86.8 billion in 2022 through apps and games revenue.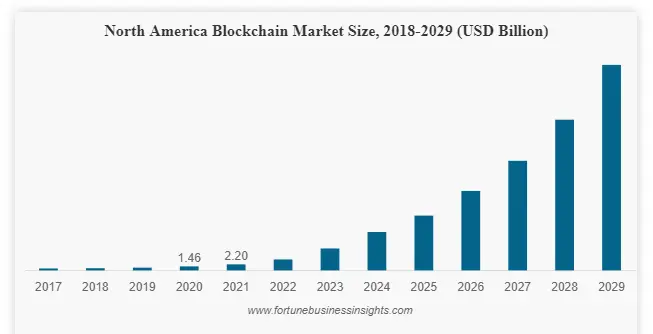 Figure 1: Source
Blockchain technology is continuously leveraging the app development market. Since iOS is targeting a premium business market, integrating Blockchain technology will benefit the iOS app development company in several ways. Here is the Role of Blockchain technology in the future of iOS app development.
Role of Blockchain in iOS App Development
The leading iOS app development companies are using blockchain technology to deliver robust iOS apps that ensure growth for businesses. Here is how Blockchain plays a key role in building robust iOS applications.
Reliable Solution
When using Blockchain to build iOS apps, the whole mobile app development process becomes collapse free. Since users want iOS apps that work flawlessly without errors, Blockchain technology firmly stands strong on these grounds. The blockchain nodes can be distributed globally, ensuring that all the nodes work in perfect sync. All the information is replicated to the iOS devices smoothly. And the same is achieved without any replication of the data or unnecessary tasks. iOS apps built with blockchain technology are highly reliable for users and businesses.
Security at its Peak
The largest fintech giants are incorporating Blockchain into their systems because Blockchain leverages high-quality security for the products. Advanced cryptography techniques play a huge role in keeping products and services risk-free. Each block contains the address of its interconnected nodes. Until and unless the nodes are verified, the transaction or activity does not complete. This, in turn, makes iOS app development highly secure for iOS app development companies. Any form of modification in the data is nearly impossible in Blockchain. Hence, encryption and safety is a primary aspect of using blockchain technology to prevent iOS app rejections while developing apps.
Ease of Use
Blockchain technology is open-source and easy to use. The technology might sound complex, but when you understand its base, you will know how amazing the technology is in building iOS apps. From designing the apps to deploying them, the whole process becomes easy on the grounds of robustness and security. Further, the technology is cost-effective, letting iOS app development company build iOS apps keeping the efforts and time frame at the lowest.
Unlocked Transparency
Users and businesses shall both remain transparent in terms of activities related to data collection and security. Since Blockchain is a public ledger, there is nothing that remains behind the scenes. Tracking activities is easy from a user point of view as well as the business. All the activities are also accessible easily from remote locations at any point in time. This, in turn, prevents any form of fraud activities or false information from being shared with the users. The mobile apps using blockchain technology ensure transparency that leads to strong scalability for businesses.
Role of Blockchain Across Industries
iOS app developers can deploy apps to diverse industries using blockchain technology. The adoption is wide. Let us check out some of the implications of Blockchain technology across industries.
Auditing Industry
Financial reporting is itself an industry. The CA's are known for performing auditing of the financial data. Through Blockchain, the same can be performed in real-time data via read-only nodes. Businesses working in audit and assurance departments can achieve faster scaling by streamlining processes. Further, the security factors always stand strong with blockchain technology.
Healthcare Industry
The heath care industry is shifting towards digitalization. The vast record of patients is causing issues in terms of organization and management for healthcare departments. From medical billing to other records, Blockchain can let the healthcare industry unlock secure integrity.
Energy and resources
Governments of the majority of the industry are going green. By 2025, $18 billion is the predicted growth rate of technology in the energy sector. Ethereum is a great example of blockchain technology unlocking open source and decentralization in various industries. And energy and resources are not different.
Public Sector
The government has to manage millions of records related to the population, whether it is about land or corporate shares. Sharing of the data and resources can be in the distributed format with utmost security through Blockchain. Streamlining the process will result in reducing fraudulent cases for the government.
Supply Chain
Blockchain and supply chain are going hand in hand. The opportunities to connect the entire world with blockchain technology have become easy. Users can stay synced throughout the world with tight security. Further, the tracking process is efficient, and human errors are removed with Blockchain technology.
Top Blockchain-Based App Ideas for iOS App Development
There are ample opportunities for Blockchain-based mobile app ideas. Here is the top iOS app development that can use Blockchain technology to deliver a high level of robust features.
Gaming apps: Micro-transactions are increasing, and acceptance of Blockchain based cryptocurrency unlocks new revenue streams.
NFT marketplace app development: Building a marketplace to sell and buy NFT tokens.
Peer-to-peer lending app: Borrowers and lenders are connected via the globe worldwide. You can build a 100% decentralized industry.
P2P cloud storage: A rental app that can connect users, allowing them access to cloud storage space.
Fintech apps: More transparent and secure fintech app development.
Crypto wallet apps: Bitcoin, ether, and NFT token wallet app
Why Choose RipenApps to Build your Blockchain-Based iOS App?
RipenApps has been awarded as a top blockchain app development company globally. The company has successfully delivered ample products to overseas clients, and all of them are driving growth and revenue to them. With their exceptional and top-class blockchain app developers who have dedicated expertise in blockchain technology, the company has been able to deliver more than the expectations of customers.
The company follows a 100% quality assurance practice where they focus highly on the testing of the products. Further, transparent communication ensures that clients are updated regularly with their project milestones.
Whatever you belong from, RipenApps can convert your blockchain idea into a product that drives growth and revenue to your business. Connect with us to discuss your Project.
Contact Us