25% of users abandon apps after opening them once. If we analyze the metrics, we can identify that mobile app design is the first thing a user notices. And, if it is not up to the mark, users are more likely to abandon the application. So, how shall mobile app designers approach the mobile app design process and deliver the best mobile app design services? Find out in our complete designer's guide to mobile app design.
How to Begin the Mobile App Design in the Right Way?
There is a difference between starting the mobile app design and starting it the right way. However, the beginning should always be, 'How shall my app look?'
Later, the above question must be followed by the following insights.
Enlist the number of screens in your mobile app
Build a wireframe of the layout
Explore existing templates from top mobile app design services providers like RipenApps to get the trending ideas
Start building the design using top UI/UX designing tools, or in case you are new, Canva can be a great start.
Once you are focusing on the above pointers, you can unleash a solid and right start toward mobile app design.
What is the Step-by-Step Approach for Mobile App Design?
We hereby discuss the detailed approach towards building a mobile app design- step by step. These steps are followed by top mobile app designers who build exceptional products.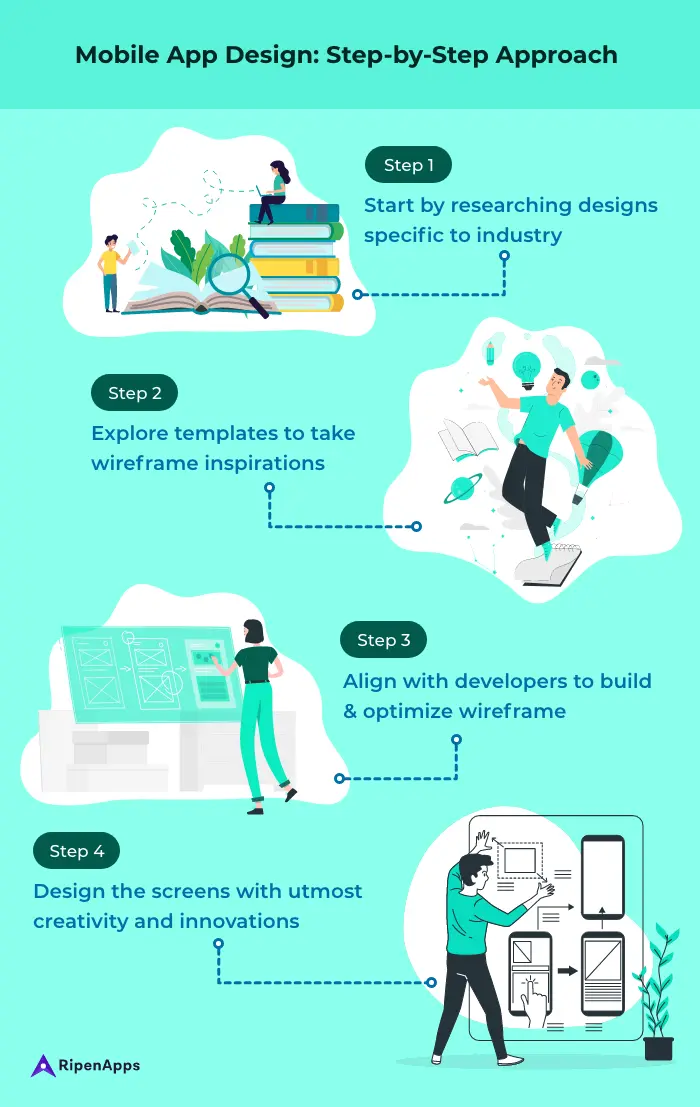 1. Start by researching designs
Best mobile app designers learn from the mistakes of others. They research bad examples as well as great examples to build a blend of the two. Bad examples give them an idea of what mistakes other designers are making. And great examples teach them what excellent parts they can add to their mobile app design.
Further, the research process also helps designers to understand what the audience is looking for. And there can be no activity better than researching the examples and market to understand Mobile UI designing trends.
Another important activity is analyzing the user comments on the app store and play store. With this mobile app, designers can strategically pinpoint what the audience wants in the current era.
Finally, competitors' research helps designers to understand what is going on in their industry. How competitors are working and what approach they are following.
2. Templates give inspiration/save time
Some might not utilize the power of analyzing the mobile app design templates. Not only analyzing it, but you might also integrate the free ones in your own designs. This process saves time and effort; however, the designer must be well-versed in the basics.
Templates also deliver inspiration to the designers. For example, Pinterest might give you unique UI/UX design inspiration.
3. Aligning with developers to optimize the wireframe
Development and designing might look separate, but both fields work in alignment to deliver a great product. Experienced designers stay aligned with developers to optimize their wireframes.
The discussion generally takes place to understand the flow of an app. For example, what screen should pop up when a user taps on a specific button?
4. Design the screens with the utmost creativity and innovation
This step is about designing the actual mobile app. Here you have to keep your optimum creativity and innovation if you want to build some brilliant graphics. Researching will also play a key role here. From analyzing the color scheme to the corner of the buttons, you have to finalize everything. Finally, keep taking regular feedback on your designs with the team and the client whenever required.
How to ensure that your Mobile App Design Services Drive Engagement and Conversion?
Now that you have studied the mobile app design process in detail, it is time to understand how best designers work. The best designers build designs to drive conversion and engagement. Here is how you can ensure the same by working on the below pointers. These pointers are also popular with best web design agencies for startups & small businesses since they want to drive more conversion.
1. App Navigation and Exploration
Designers must design the app in such a manner that even a beginner user can operate it. Your app should work as a guide for navigation through smart design.
1. Address the tasks clearly and place calls to action strategically
2. Highlight the key features and keep them within the user's reach
3. Make menus user-friendly by using the right labels and no overlap with a clean look
4. Let users go back easily in one tap
5. Do not let users wait for the tasks to load
2. Effective In-App Searching Process
You might ignore the search feature; however, it has become one of the most important design elements. Users want to save time and effort, which is why they turn towards in-built searching.
1. Highlight the search field and place it strategically
2. Embed advanced features like root words, predictive text, and suggestions as the user enters something in the search field.
3. Let users filter and sort their searches in your mobile app
3. Important E-commerce Design Principles
Since the E-commerce market is growing, the focus on user design shall be in-depth to take E-commerce mobile app to a subsequent level. Ensure the below if you are building an E-commerce app or your app contains any kind of Commerce.
1. Keep the previous purchase information ready right in the search option or wherever it is required so that users can conduct repeat searches
2. Keep an important focus on ratings & reviews and make them readable to the general audience. Letting users add photos and videos is another important task
3. Let users compare products simultaneously so that they can easily decide the best choice for them
4. Ensure multiple third-party options in your mobile app with easy designs
5. Be sure to include a screen where users can easily manage/add their payment methods or cards.
4. Sign-up/Sign-in Process
Applications want to connect with customers. Instead of providing just merely a service offering signing process is one of the top UI/UX design trends in today's market. Apps want customers to become a part of their platforms. While building sign-up/sign-in screens, you must focus on a few pointers.
1. Avoid the need to input login or sign-up info from the user by letting them use Facebook, Google, and other sign-in/sign-up platforms.
2. Keep sign-in and sign-up representation separate so that users do not confuse or end up with extra taps
3. Simplify the authentication failures or updation like forgot and change password screens.

5. Cater User Needs in terms of Usability and Comprehension
While designing the mobile app, ensure that you deliver a good experience. Build app designs with usability and comprehension in mind catering to user needs.
1. Use terms that your users know and can easily interact with
2. Provide text labels and visual illustrations to clarify wherever it is required
3. Responsive visual feedback hook and engage users
4. For images, let users zoom in or out whenever they want to. This allows users to have more control over what they are interacting with.
5. Take the user's consent wherever you require through a dialogue box
6. Forms are also important from a Design Perspective
Users interact through forms. Whether it is about shooting a query or signing up for the newsletter, you must design the form very well.
1. The design of forms should be user-friendly and let the information use an auto-fill feature
2. It is good to communicate the form errors in real time as soon as the user enters the information.
3. Match the keyboard input with the required text input in the form. For example, change the keyboard to numbers if the form is asking users to type phone numbers
4. Provide helpful information wherever a user might need it.
Build your Mobile App Design with RipenApps to unlock Conversion and Engagement
We are one of the most approached UI/UX designing agencies worldwide. Since our inception, we have been highly focused on mobile app design services because we know that design is the first impression to your users. At RipenApps, we have creative, talented, and top-notch expert designers who have built some exceptional products in diverse industries. Check out our Behance portfolio to further explore our creativeness, innovation, and how skillfully we craft mobile apps that bring you conversion and engagement.
FAQs
Q1. How to design mobile app design?
Mobile app design requires designers to follow a robust process. Researching is the first step they have to perform which is followed by building a wireframe. Finally, the wireframe is later converted into full-fledged mobile app screens.
Q2. What are the 4 design areas to build a successful mobile app?
The most important 4 design areas to build a successful app are:
Planning
Wireframing
Designing
Testing
Q3. What are the steps in app design?
Mobile app design follows the following steps:
Market research
Wireframing of product
UI/UX design
Testing product
Q4. What is a good mobile app design?
A good mobile app design is determined by an intuitive design. The design must be minimal and clean for the users. It also should be easy to navigate and present illustrations keeping the user in mind. Connect with us to discuss your Project.
Contact Us