Being an entrepreneur, covering a significant portion of the market, is dreams of day & night. In the competition-facing world, the rivals can be or even a step ahead in trying to gain the users that you are targeting. This indeed indicates that you never put a pause to chase your users. And, in the chase, being always updated with the trends in e-commerce to engage users with your brand is important. Hence, to reach your potential customers and keep the chase active, mobile apps are like a boon to the e-commerce zone.
To form online shopping easier, e-commerce has changed its landscape by making online shopping far more manageable with mobile apps' help. The traditional way of buying and purchasing things was quite complex. But today, the help of e-commerce has changed the way to look at the buying & selling activities for users and vendors.
Technology & trends have digitalized the face of e-commerce. With advancements in consumer behavior, mobile apps have the potential to exceed the expectations of users in a productive & creaseless manner. Improve the shopping experience & build a long-lasting relationship with your customers by choosing mobile apps as your technical partner.
Before Unlocking the Benefits, Gaze What the Market has to Say: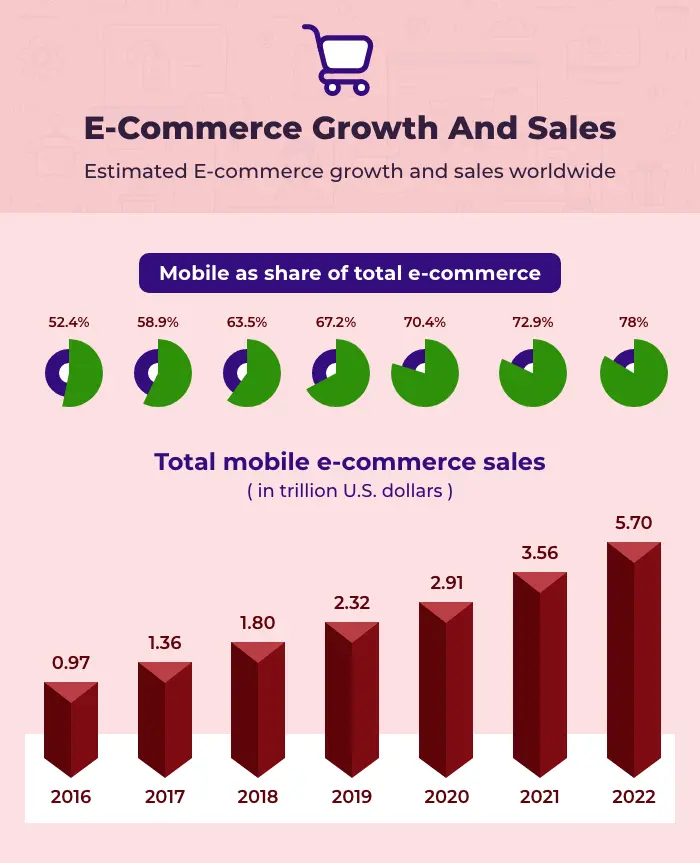 By the end of 2023, mobile e-commerce sales are expected to generate $510 Billion in revenue and $700 Billion + by 2025.
93% of smartphone users in the age group of 18-39 use smartphones to purchase.
Online retailers see more than 50% of traffic coming from mobile devices.
eMarketer expects global retail E-commerce sales to reach $7.058 trillion by 2025.
82% of Internet users in the United States have used a mobile device to shop online
35% of US consumers use only their mobile device to buy online
In 2022, the US spent $387 billion in mobile e-commerce purchase
Experts estimate that US mobile commerce sales will eclipse $420 billion
Conversion rates from mobile apps are 3x higher than mobile sites
Mobile shoppers spend 2x as much money as other customers
53% of smartphone users buy from company-specific apps
42% of smartphone users plan to do more shopping from their mobile devices in the coming year
Potential Benefits Mobile Platform Brings to the E-commerce Industry
Here we are mentioning some of the benefits of Ecommerce app development. These benefits are giving great heights to the e-commerce industry in 2023 and raising the sector's bars to a great height.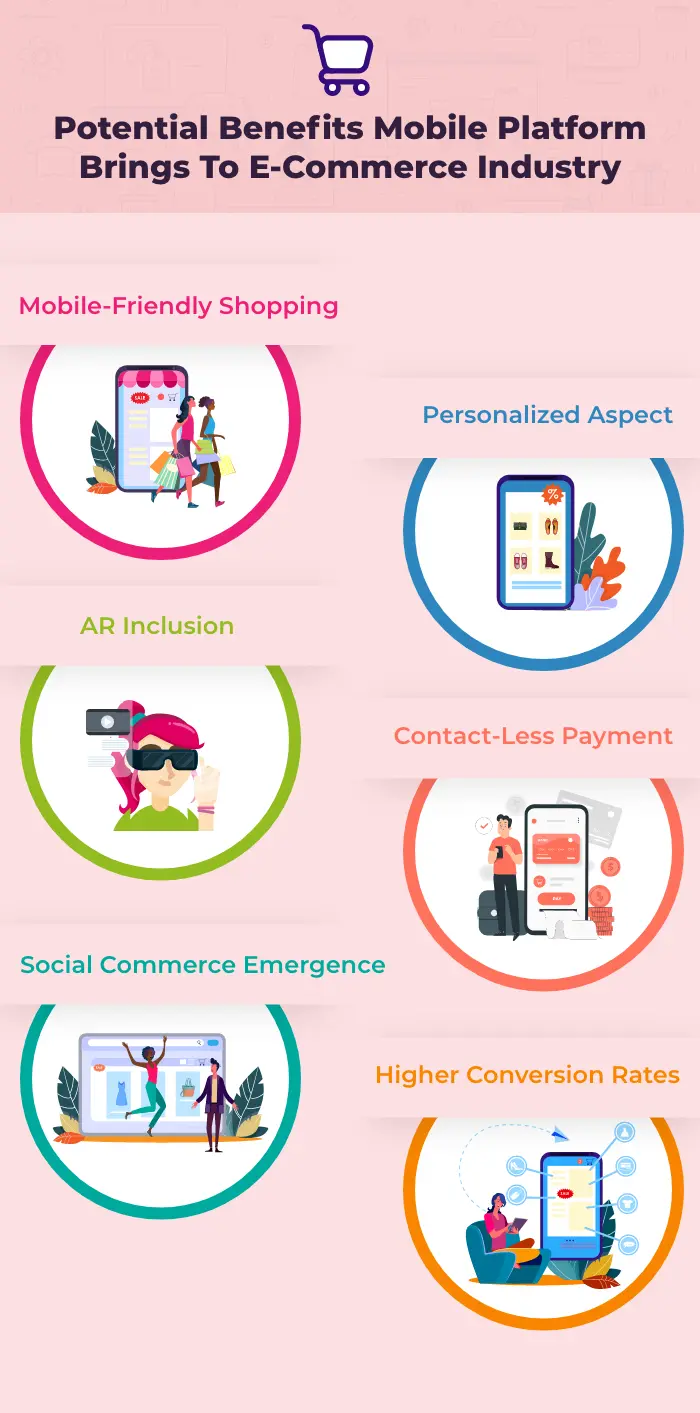 1. Mobile-friendly Shopping
It has been recorded that mobile applications in searches, purchasing, selling & track delivery of goods have increased by 80% over the past few years. This is the witness of the mobile app's power to e-commerce businesses' expansion. Websites for accomplishing the e-commerce related task are not enough now, as it requires the power of complete mobile app development. To let high visibility to your brand so that it reflects at every corner and every palm, give your e-commerce business- the power of mobility. Give your brand a treat of great mobile application and your user, a flexible way to shop.
2. Contact-less Payment
The devastating situation of the current pandemic is not getting settled very soon, but the lives & activities need to be done regularly. Well, in that unsafe scenario, the world found a new way to stop the transmission of disease- social distancing. But this normal way "social distancing" has challenged the businesses in many ways. E-commerce industry found it too devastating, but mobile apps have given the breath of relief for various enterprises via offering contact-less payment. Your users don't require to contact you directly, but you can provide a contactless payment gateway to keep your user safe. Let your user buy the goods via mobile apps and perform a contactless payment to make themselves safe. In that way, mobile apps have made e-commerce business operative during a pandemic.
Variety of mobile payments solutions are there to make contact-less payment:
Apple Pay
Google Pay
Amazon Pay
Visa Checkout
PayPal etc.
3. Even your customers are on mobile apps
Consumers love to window shop or buy products in their leisurely time. And, with the advent of smartphones, consumers no longer want to sit with laptops, desktops, or books. They do it all with their smartphones. So, when all your customers are on mobile platforms, why do you not want to shift? However, you must ensure that your application loads the fastest because 47% of customers leave if an app takes more than 2 seconds to load.
4. Personalized Aspect
To satisfy customers, personalization is the primary factor that streamlines the online shopping experience. Personalization gives shoppers a vast-varied way to seek about the various products and services. As a result, mobile apps enable your store to showcase the products broadly. Shifting your store on mobile makes follow-ups & other gesture consists of leaving emails, product detailing a far easy. Apps are giving users a better-approach to seek the products and product details. Make your store & products more personalized with the power of mobile applications.
5. AR Inclusion
AR with Apps already has started grabbing the market. Several e-commerce companies have implemented this tech-combo of AR with Apps to provide virtual experience to the customers. Several restaurants and eyeglass companies have already started this mind-blowing concept to show the virtual tours & frames to the consumers. This will apply to e-commerce, where Multi-Vendor E-commerce Marketplaces allow visitors to virtually try on clothing items to "see" how they will look in the chosen stuff.
6. Social Commerce Emergence
When stores sell online and offline & marketing can be done socially, likely selling & marketing through multiple online channels i.e., Amazon, Facebook, B2B, eBay, etc., e-commerce stores can set various sources to sell & market their products. Giving your store mobile visibility could lead to social visibility as people can get to know about your store or product by scrolling the feeds of their social channels. Social commerce emergence to m-commerce is making the customer more engaging.
7. Higher Conversion rates
At the end of the day, it is about business. And all companies are looking forward to unlocking more business.
A mobile app hereby delivers you higher conversion rates. The conversion rate increases by 130% on the mobile app as compared to a mobile browser or desktop website. Products go to the cart and stay there for a longer period of time. And most likely, customers buy them in the end. So, having a mobile app will undoubtedly bring more customers to you.
Unlocking the competitive advantage
If you are solely operating on an E-commerce website and do not have any form of a mobile app, you are at a disadvantage. Although there are so many businesses that are still to go mobile, you can be the early mover. An E-commerce app will unlock a competitive edge for you, and before the biggest competition realizes the power of mobility, you will be the one leading the game. In 2023, E-Commerce app development solves a bunch of problems for the retail industry delivering growth to businesses. Right now, every retailer is working with platforms like Amazon, and you can build your own legacy by building a mobile application.

Conclusion
Recent year has increased the demand for mobile apps in various industries, and e-commerce is on the top among rest. Let your store on mobile via giving it the wings of the mobile app and grab the E-commerce app development trends. Get a good developer who can take your site mobile or create an app that can encourage customers to download and use.
RipenApps holds mastery in e-commerce app development and already recorded various success in this domain. Let your store on mobile & leverage the best potential. All you need to ping us at [email protected].
FAQs
Q1. How do I take my e-commerce business to the next level?
You can take your E-commerce business to the next level through the following strategies:
Building a mobile app
Website Renovation
SEO-friendly product description
Great image quality
Q2. What is the future of e-commerce business?
The future of the E-commerce business is sustainable. The industry will see a growth rate of 265% packing enormous opportunities. By 2023 e-commerce will be a $5.9 trillion industry.
Q3. How does mobility impact e-commerce?
Mobility is a trend because more and more users are shifting to smartphone apps. Building an E-commerce mobile app will ensure that you are in the mobility trend and deliver what users want. This, in turn, will deliver more growth to E-commerce businesses. Connect with us to discuss your Project.
Contact Us