Wearable technology in healthcare is bringing a disruptive transformation. It has brought dramatic changes in the way people manage their health & lifestyle. With the growing adoption of apps and digital platforms, the use of wearable technology for healthcare is reaching the next level.
As per GlobalData, the wearable tech market is expected to reach a whopping $103246.29 million by 2029 at a CAGR of 8.60%. In the USA alone, 30% of adults utilize wearable healthcare devices like fitness trackers, smart glasses, smartwatches, smart glasses, and more. (Source)
And since the demand for more wearable healthcare devices is growing, the future scope of wearable tech in healthcare seems more promising. From tracking health to managing diet and diagnosing patients to accessing medical data, the benefits of wearable healthcare are extensive.
Therefore, wearable technology is shaping the future of the healthcare industry. For startups, businesses, and healthcare service providers, this technology offers immense business opportunities. It allows them to establish their venture in healthcare and solve people's problems innovatively.
So if you aspire to take the advantage of wearable technology in healthcare, read this blog.
What is Wearable Technology?
Wearable technology is a kind of electronic device which can be worn. Wearable devices can be worn as accessories, embedded in clothing, etc. Individuals can use wearables for various purposes like tracking fitness and accessing data related to the body. They can also use its capabilities through mobile applications, smartphones, or IoT devices.
Wearable devices are hands-free electronic gadgets that are powered by sensors and microprocessors. They are built to communicate data between the device and the human body via the internet.
What is Meant by Wearable Technology in Healthcare?
Wearable technology in healthcare refers to the use of wearable devices and software applications for medical and healthcare purposes. This includes wearable medical devices like smartwatches, fitness trackers, smart health watches, wearable ECG monitors, wearable BP trackers, biosensors, etc.
Wearable technology offers a broad spectrum of usability in healthcare and medical services. It allows people to use wearable devices through mobile apps and smartphones for tracking multiple physical as well as bodily activities.
As a result, this helps people get real-time and accurate health data. This not only helps the healthcare sector but also consumers in several ways.
Current Market State of Wearable Technology in the Healthcare Industry
The healthcare industry is getting advanced with the growing adoption of digital transformation technologies. Hospitals, clinics, doctors, and medical institutions are increasingly leveraging modern technologies to streamline their operations and provide better healthcare solutions. And the emergence of wearable technology in healthcare has brought a whole new disruption in the industry.
This technology empowers the healthcare sector with many benefits. From enhancing the efficiency to the delivery of healthcare and medical services. Medical and healthcare institutions across the globe are using various kinds of wearable medical devices for multiple use cases. For instance, collecting patient data, remote patient monitoring, providing faster access to services, and more.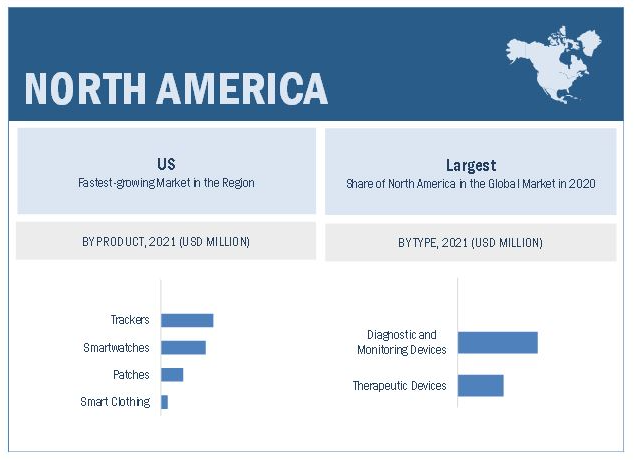 Especially in the USA, many healthcare institutions use wearable device applications for diagnosis and patient treatment. As a result, wearable technology is working as a boon since it benefits both service providers and consumers.
Therefore, the demand for more feature-rich wearable device app development for healthcare is growing a lot. The wearable healthcare market is turning into a big market segment in the industry. Here are the latest statistics

Why Healthcare Industry Adopting Wearable Technology?
Wearable technology provides immense benefits to the healthcare and medical industry. It empowers organizations and people with personalized and real-time data accessibility. Whether it is patient care, healthcare management, fitness tracking, or athletes performance evaluation, wearable technology offers many benefits that involve: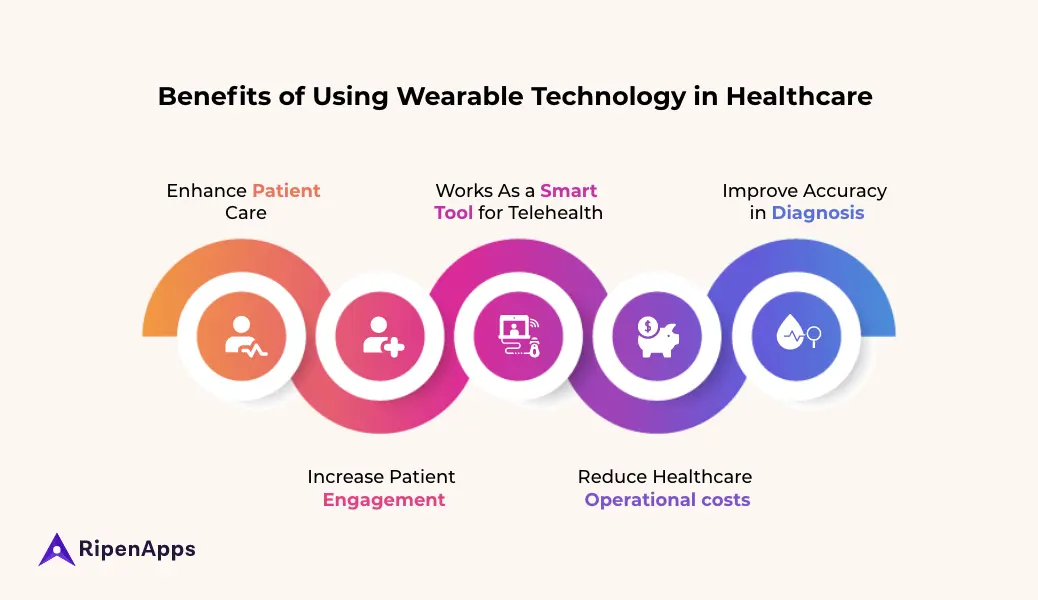 1. Enhance Patient Care
Wearable health devices come with a variety of features. It allows to track patients' health-related data like BP, oxygen level, heart rate, calories, and other important information. These devices are used and implanted in patient's bodies.
Hence, it makes it easier for healthcare professionals in various ways. For example, enhancing patient care by continuously and accurately monitoring patients' health, managing disease, and ensuring medication adherence. A wearable device allows hospitals or doctors to remotely monitor patients from a healthcare mobile application.
2. Increase Patient Engagement
Wearable technology enables patients to easily track a variety of health progress metrics. It involves accessing their health information and overlooking vital signs anytime and at any location. Moreover, they can also give their feedback or record patterns on their health behaviors like diet, calorie intake, sleeping patterns, etc.
This feature helps patients identify potential areas for improvement and make a well-informed decision. Besides this, healthcare organizations and clinics can use wearable devices to record patients' medical data in clinical trials effectively. Thus, wearable technology helps in increasing patient involvement and engagement.
3. Reduce Healthcare Operational Costs
This is one of the top reasons why the healthcare industry shows openness to embracing wearable technology. With wearables,  healthcare organizations can reduce the costs of daily operations. Wearable devices help them to collect data quickly and easily and thus deliver improved services. Whereas, traditional operations mainly involve manual efforts or the use of expensive medical equipment.
But since wearable devices are much more affordable than high-standard medical equipment. They also assist in saving substantial costs. Therefore, they are using multiple types of healthcare apps to use wearable devices. Consequently, the demand for healthcare app development is also acquiring a fast pace.
4. Work As a Smart Tool for Telehealth
Telehealth is one of the emerging trends in the healthcare industry. Today, consumers prefer using services online through mobile apps. This not only helps them save significant time and effort but also in effectively getting digital healthcare services. Companies are developing a variety of wearable and telemedicine apps with modern features. They ultimately help doctors, clinics, and medical institutions in providing their facilities on mobile and web platforms.
Businesses hire dedicated mobile app developers to build wearable healthcare applications as a business model. Here, wearable technology aids in improving digital healthcare.  This is because wearable tech offers features and empowers users with added capabilities. Hence, its usability scope in the future seems wider.
5. Improve Accuracy in Diagnosis
The accuracy and reliability of medical data play a critical role in diagnosis. The healthcare industry has to face many challenges in delivering accurate diagnoses. It is because traditional hardware devices come with certain limitations. In this case, wearable health devices empower doctors, clinics, and healthcare professionals in collecting patients' health data accurately.
This becomes possible due to the capability of wearable devices. It records information in real-time using modern sensors and microprocessors. Therefore, wearable technology in healthcare works as a transformative tool by improving diagnosis.
Future of Wearable Technology in Healthcare
The wearable healthcare technology sector is evolving dramatically with growing innovation and advancement. People are using wearable devices and applications not only for medical purposes but also for general well-being. Businesses are also working with top mobile app development companies for producing feature-rich wearable apps. They look for developing smart devices that empower users with innovative healthcare abilities.
And since their wearable devices are also used by mobile applications and smartphones. The rise in wearable technology in healthcare will also give a boost to mobile app development services. As a result, the future of the healthcare industry seems more equipped with wearables.
As per Insider Intelligence research, the number of health and fitness app users will reach $91.3 million in 2023 from 88.5 million in 2022. This upsurge in the wearable healthcare technology market will impact the decisions of several industry players. Healthcare service providers, consumers, and businesses will take advantage of the emerging benefits of this technology.
So how wearable technology will impact the future of the healthcare industry? Here are the trends that are gradually emerging and creating a new scope:
1. Wearables in Sports & Athletics
Wearables are highly beneficial for sports and athletics. Sports professionals and athletes use smart wearable devices and applications for a wide range of purposes. It includes tracking their performance, speed, heart rate, training sessions, and other important health metrics.
This helps them to ensure maximum performance and optimal health. Hence, seeing its importance, the use of wearables in sports & athletics will increase more.
2. Integration of IoT & AI
Wearable technology offers scope to integrate other technologies like artificial intelligence and the Internet of Things (IoT). These advanced technologies help companies develop intuitive and innovative features for wearables. This allows them to create features that users look for.
Many Companies integrate AI & IoT in wearable app development for building innovative healthcare digital solutions. And since its integration is increasing, thus, this trend will emerge more.
3. Wearable Apps for Healthcare
Healthcare app development is one of the top trends in the industry. Whether it is a patient or healthcare service provider, healthcare applications serve every segment's needs. And with the integration of wearable technology in healthcare. The prominence of wearable apps for medical, fitness tracking, and other healthcare is on the rise as well.
The healthcare sector is using wearable apps for utilizing different wearable devices. For example, biosensors, wearable ECG monitors, etc.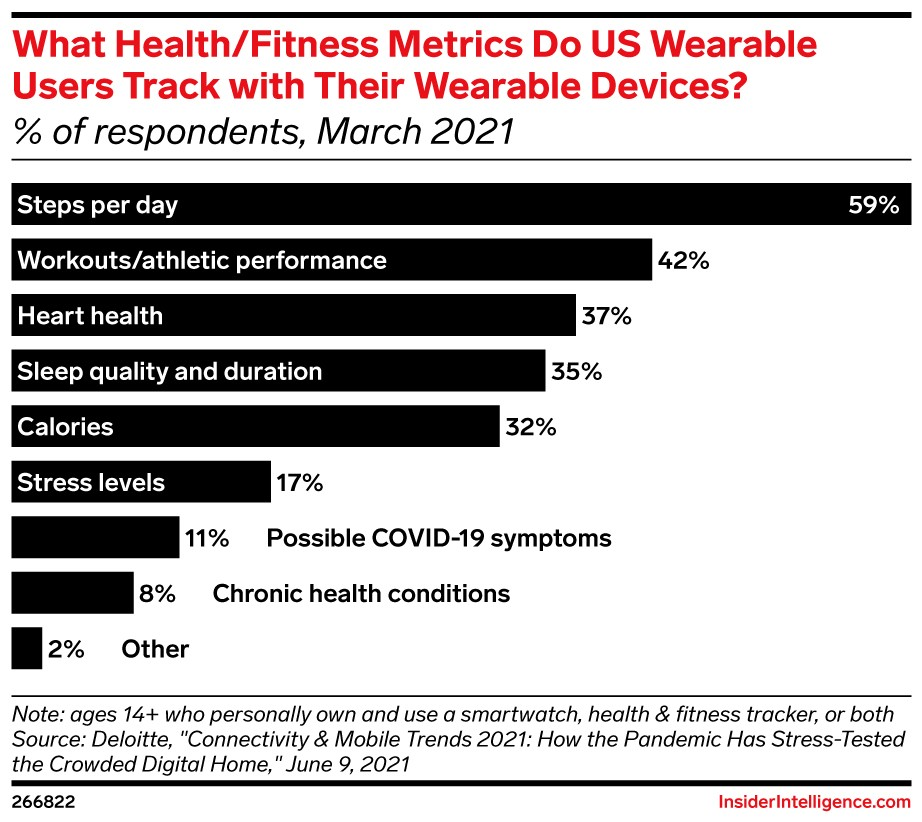 4. Increasing Demand for Wearable Medical Devices
Wearable technology comes with advanced and innovative devices. These devices cater to the ranging needs of the healthcare and medical industry. There are many types of wearable medical devices such as-
Smart health watches
Wearable ECG monitors
Biosensors
Wearable Blood Pressure Monitors
Wearable Fitness Trackers
Continuous Glucose Meters
These wearable devices come with custom features. It allows healthcare professionals to track and monitor health-related information of patients accurately in real-time. These devices have solved various existing problems which the healthcare sector was facing with the previous healthcare system.
And therefore, due to its growing usage. The wearable healthcare devices market is poised to reach $30.1 billion by 2026 at a CAGR of 13.2%.
Conclusion
Thus, it is evident to see how wearable technology in the healthcare industry is bringing a disruptive change. From service providers to consumers, wearable technology provides benefits to all. It helps in delivering fast, accessible, and cost-efficient healthcare services.
Hence, for businesses and healthcare service providers, this certainly sounds like a lucrative opportunity that wants to build future-proof healthcare digital solutions.
However, since it requires immense expertise in developing wearable health tech solutions. It is wise to take assistance from a professional mobile app development company like RipenApps. This is because the company specializes in creating solutions with wearable healthcare technology.
FAQs
Q1. Can wearable medical devices detect health abnormalities?
Yes, wearable medical devices are equipped with biosensors and microprocessors. They record sensitive physiological behavior like heart rate, calorie consumption, BP, etc. This helps in detecting health abnormalities.
Q2. How startups and businesses can take advantage of wearable technology in the healthcare industry?
Startups and businesses can develop custom wearable applications for healthcare service providers or feature-rich apps for consumers.
Q3. How much does it cost to build a wearable device application?
The cost of wearable app development depends on several factors.  It includes include the size of the application, OS platform, number of features, and much more. Thus, the best way to know the cost would be to get a quote from a wearable app development company as per your specific project requirements. Connect with us to discuss your Project.
Contact Us